White Chicken Enchiladas is loaded with shredded chicken and rolled in a flour tortilla. Then topped with creamy white sauce for delicious flavor.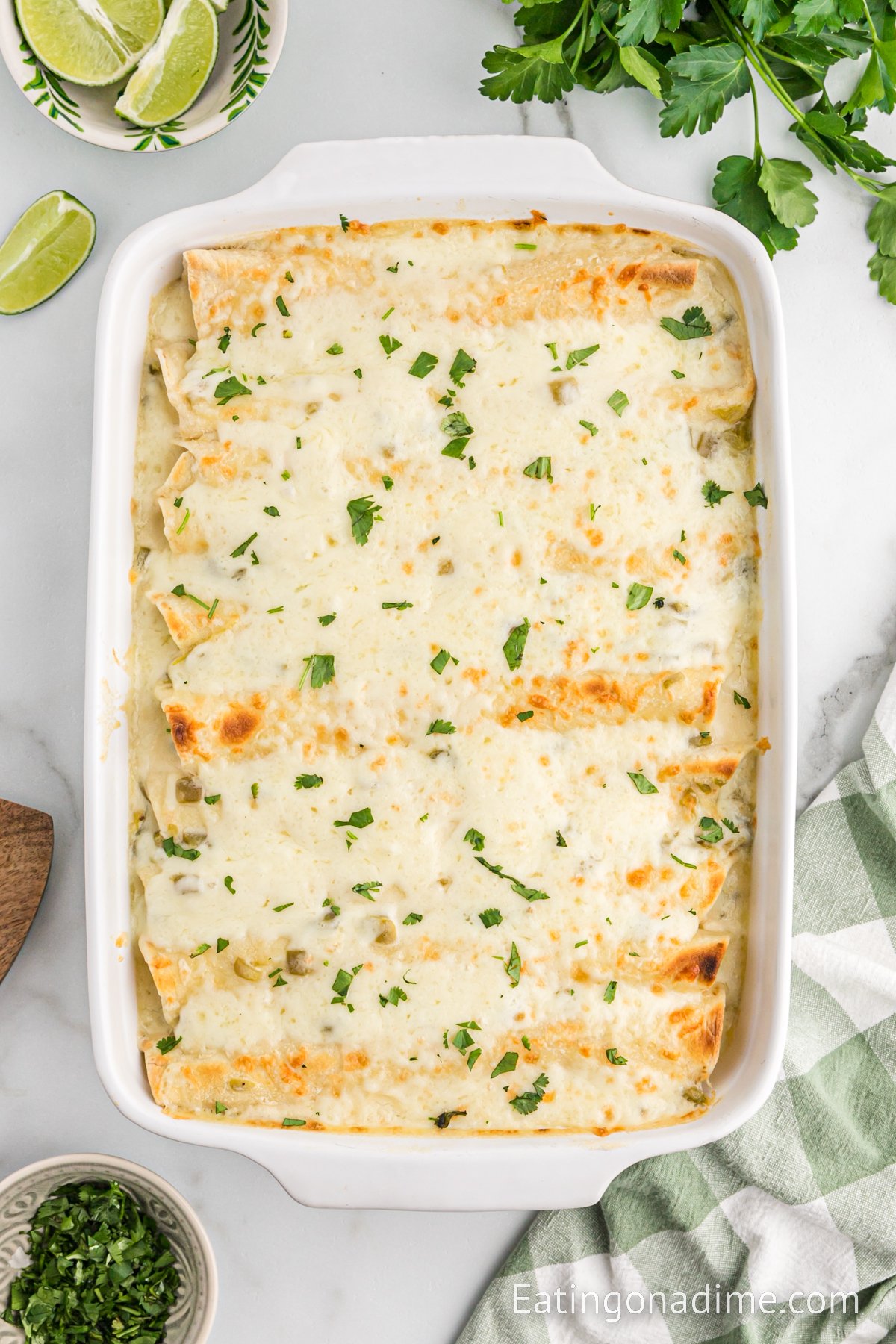 White Chicken Enchiladas Recipe:
If you love making chicken enchiladas, then you must try this White Chicken Enchiladas. Cooked chicken is shredded and mixed with cheese and layered in a flour tortilla. Delicious creamy sauce is poured over the enchilada and baked.
These enchiladas are restaurant quality but easily made at home. These enchiladas are not spicy but loaded with flavor. The creamy white sauce really brings the enchiladas together.
If you are looking for an easy enchiladas that takes minutes to prepare, make these White Chicken Enchiladas. They are always a crowd favorite. Top with sour cream and guacamole for a delicious meal idea.
What is White Chicken Enchiladas?
White chicken enchiladas are enchiladas are topped with a white creamy sauce and baked to perfection. The white sauce is made up of chicken broth, sour cream, and green chiles and cooked with flour for a thick sauce.
Mozzarella Cheese is topped over the white sauce for a cheesy chicken enchilada recipe.
What is the best way to prepare Shredded Chicken?
These white chicken enchiladas are best made when you have leftover chicken. But you can easily make shredded chicken by making it in the instant pot or crock pot.
Once you have prepared the chicken which can easily be made ahead of time, shred the chicken with a hand mixer or stand mixer. This saves so much time and easily shreds the chicken.
Ingredients:
Shredded Chicken
Salt
Pepper
Shredded Monterey Jack Cheese (divided)
Flour Tortillas
Butter
All Purpose Flour
Chicken Broth
Diced Green Chiles (4 oz can)
Sour Cream
Fresh Cilantro, chopped
How to Make Chicken Enchiladas with White Sauce:
Step 1 – Heat Oven and Prepare baking dish – Preheat the oven to 350 degrees. Spray a 9X13 baking dish with non-stick cooking spray.
Step 2 – Combine chicken with cheese and seasoning – In a mixing bowl, stir together the shredded chicken. Add in the salt, pepper and 1 cup of the shredded cheese.
Step 3 – Roll chicken in flour tortilla – Place the chicken mixture into each of the flour tortillas. Then roll them up and place them seam side down in the prepared baking dish.
Step 4 – Melt butter and flour – Melt the butter in a medium size saucepan. Whisk in the flour and let the mixture cook for approximately 1 minute to thicken. Watch it closely so it does not burn.
Step 5 – Add chicken broth – Then slowly whisk in the chicken broth until smooth. Let it thickened on medium heat (do not bring to a boil). Then stir in the sour cream and the green chiles. If the mixture is too hot, let it set for a few minutes before mixing in the sour cream so that it does not curdle.
Step 6 – Bake Enchilada – Pour this sauce over the enchiladas. Bake for approximately 20-25 minutes or until the enchiladas are heated through.
Step 7 – Top with Cheese – Turn off the oven and turn the broiler on. Top the enchiladas with the remaining cheese. Broil the top of the enchiladas until the cheese is melted and the tops are a nice golden brown color.
Step 8 – Serve – Top with fresh chopped cilantro and enjoy.
Can I Use Corn Tortillas instead?
Yes, you can use corn tortilla with this recipe. If you do decide to use corn tortillas, make sure you heat them up before trying to roll them. They will tear if the corn tortillas are not warmed.
Substitutes and Additions:
Chicken – You can use a rotisserie chicken for this recipe or boil chicken breasts until cooked through and then shred.
Sauce – If you prefer you can make this recipe with red enchilada sauce.
Change the Meat – If you love shrimp, make these creamy enchilada with shrimp instead of chicken.
Spicy Option – We used green chilis in the sauce, but feel free to add some spicy ingredients. You can mix in some diced jalapenos or fire roasted chiles.
Cheese – We top the enchiladas with Monterrey jack cheese but you can easily use mozzarella cheese. For an extra spicier flavor use pepper jack cheese.
Toppings – We love cilantro on top of this white chicken enchiladas. It adds color but you can also use chopped green onions.
Tortilla – We used burrito size flour tortilla with this recipe. But you can easily use corn tortilla or a low carb tortilla option.
Seasoning – We used simple seasoning in this recipe, but feel free to add more seasoning if you prefer.
Cream Cheese – Cream cheese can be added with the sauce instead of sour cream to make it creamier.
Recipe Tips:
Sour Cream – When purchasing the ingredients for this recipe, make sure use full fat sour cream. It makes the sauce creamy as the low fat sour creamy separates the sauce.
Make Ahead – These white chicken enchiladas can easily be made ahead of time. Simply shred your chicken and mix with the ingredients. Roll them in the flour tortilla and place in the fridge. On baking day, make your white creamy sauce and pour of the enchiladas and bake.
Creamy Sauce – Add the chicken broth and whisk until smooth with the other cream sauce ingredients.
What to Serve with White Chicken Enchiladas?
When we make white chicken enchiladas there are many different sides to serve with it. You can keep it simple with a green salad or one of these other delicious sides.
Refried Beans – Make refried beans in the crock pot for an easy side.
Easy Spanish Rice – Make a easy side of Mexican rice for the perfect side with these enchiladas.
Toppings – Make sure you serve with a side of sour cream, salsa, and guacamole. My kids love to top their enchiladas will all of these with a side of tortilla chips.
Can I Freeze White Chicken Enchiladas?
If you would like to freeze these enchiladas, we recommend freezing them prior to adding the white sauce over the top. The sour cream can get runny in the freezer which will change the texture of the enchiladas.
Prepare the chicken and place them in the flour tortilla and roll them up. Store in a freezer safe container covered with plastic wrap and foil. Place in the freezer and store for up to 3 months.
When you are ready to serve your enchiladas, allow them to thaw in the fridge overnight. Make the white creamy sauce and pour over the thawed enchiladas. Then bake according to the recipe instructions.
How to Store Leftovers:
Refrigerate the leftovers in an airtight container for up to 5 days.
Why we Love this Recipe:
Easy to Make – If you are looking for a recipe to use your leftover chicken, make these enchiladas. They take minutes to prepare and a great way to use up your leftovers.
Simple Ingredients – The ingredients are simple and can easily be found at the store. The creamy sauce cooks easily on the stove and it adds so much flavor to the enchilada.
Kid Approved – If you are looking for a recipe that even the kids will eat, make these enchiladas. My pickiest eater request this meal all the time.
Print Recipe here White Chicken Enchiladas:
More Enchilada Recipes to try: