3 Ingredient Orange Chicken is a quick and easy dinner idea that is flavorful and simple to make. This recipe is ready in less than 20 minutes.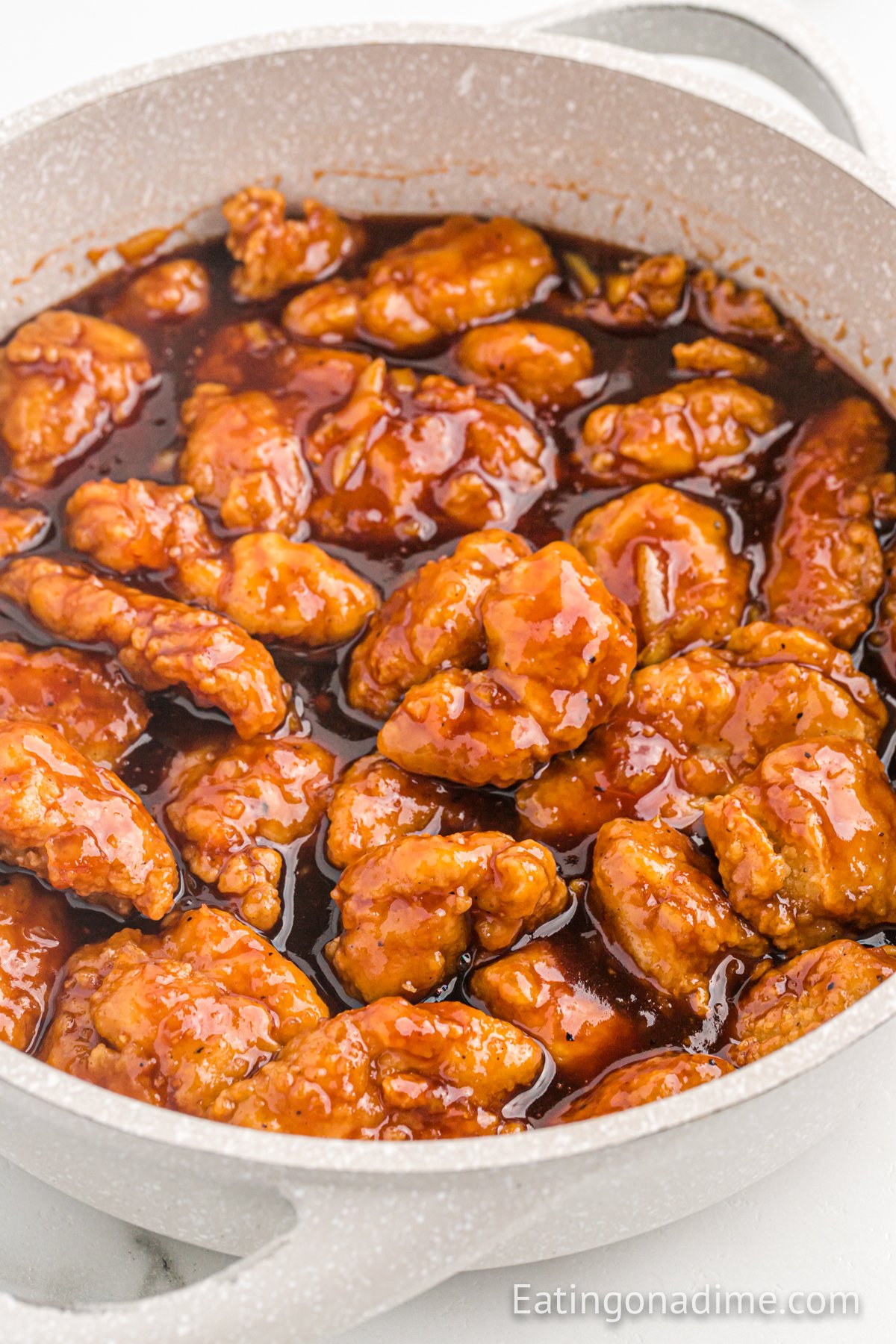 3 Ingredient Orange Chicken Recipe:
This Easy Orange Chicken Recipe has only 3 ingredients. It is quick and easy dinner idea that your family will love. The crispy chicken texture mixed with the sweet and tangy sauce makes this a family favorite. We love this meal for a quick dinner.
Chinese Orange Chicken is a popular Chinese Food Take Out recipe but now you can save money and make it at home. This is the perfect meal to use pre made chicken nuggets or leftover chicken nuggets.
This full of flavor meal is made with easy ingredients and simple process. Perfect weeknight meal when every one is going in different directions. Serve over a bed of white rice with a vegetable and you have a complete meal.
What is Orange Chicken?
Orange Chicken is a popular Panda Express Chinese Take Out food that consists of deep fried chicken bites that are covered in an orange sauce. It is a thick sauce that thickens as it covers the orange flavored chicken.
Ingredients:
Pre-made Chicken Nuggets (24 oz bag)
Orange Marmalade
Barbecue Sauce
Soy Sauce
How to Make Orange Chicken:
Step 1 – Prepare the chicken based on the package instructions.
Step 2 – In a large saucepan over medium high heat, add the orange marmalade, barbecue sauce and soy sauce. Stir together and simmer on low for 15-20 minutes.
Step 3 – Remove from heat, toss in the chicken nuggets until the chicken pieces is well coated with the sauce.
Step 4 – Serve as is or over white rice and green onions and enjoy!
What is Orange Sauce made of?
There are many ways to make orange chicken. But we like to keep things easy, so we took pre made chicken nuggets and added a three ingredient orange glaze.
The glaze is easy to make with orange marmalade, BBQ Sauce, and Soy Sauce. The sauce is tangy and sweet but we love it even more as it taste amazing.
Tips for the Best Orange Chicken Sauce:
Use any type of chicken – We love making this recipe with premade popcorn chicken for a quick and easy meal for your family but any type of chicken nuggets or chicken breast would work great in this recipe.
Make Orange Sauce – We love to make this sauce with these 3 ingredients. But it can also be made with fresh orange and then mixed with orange zest. Add in some honey, soy sauce, ginger, garlic and rice vinegar in a large bowl.
BBQ Sauce – Use any flavor of BBQ Sauce that you prefer. There are options that have extra spice or sweetness in the sauce.
Lighten Up – If you prefer you can pour this sauce of turkey meatballs or chicken meatballs for an amazing twist to this easy recipe.
Can you Make this dish in the Slow Cooker?
Yes, you can easily make this dish in the slow cooker. Use uncooked chicken or the pre made chicken nuggets and place in the slow cooker. Then combine the three ingredient sauce together and then pour over chicken.
Cook on low for about 5 hours. It may take longer if you are putting frozen chicken in the slow cooker.
This would be a perfect meal to make for a weeknight meal or to feed a crowd. If you have your kids friends over, this would be the perfect meal to make.
How to Serve Orange Chicken:
White Rice – We love to serve this orange chicken over white rice.
Cauliflower Rice – If you prefer, this recipe served great over cauliflower rice.
Steamed Broccoli – Serving orange chicken with rice and steamed broccoli completes this meal.
How to Store Leftovers:
Refrigerate the leftovers in an airtight container for up to 5 days.
Print Recipe here for 3 Ingredient Orange Chicken:
More Skillet Chicken Recipes: