This post may contain affiliate links. If you make a purchase through links on our site, we may earn a commission.
If you love pineapple and need a simple dessert, this Baked Pineapple Dessert is a must try. The pineapple gets caramelized as it bakes and each bite is sweet and delicious.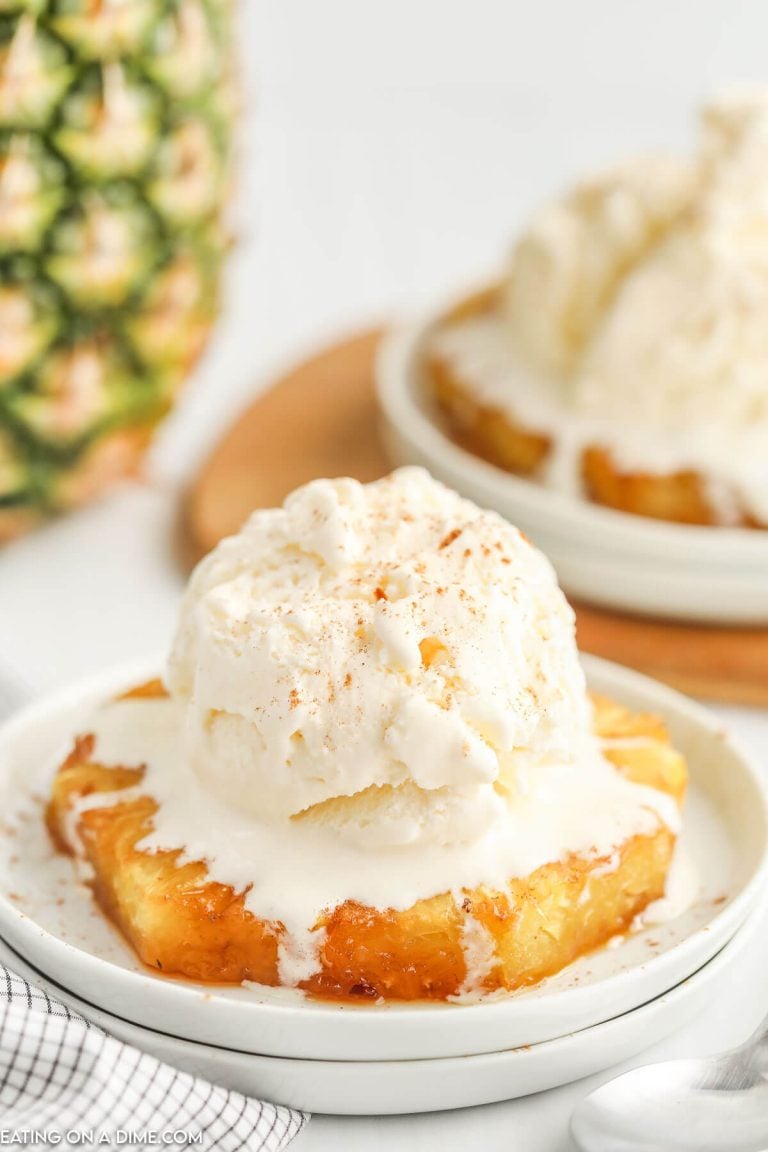 Easy Baked Pineapple Dessert Recipe:
We love pineapple so my family was super excited to try this Baked Pineapple Dessert. This simple dessert was so delicious and easy to make. Baked Pineapple is sweet and loaded with flavor.
If you have never baked pineapple, you are seriously missing out. I love when Aldi has a sale on pineapple because we can get them super cheap. The pineapple is caramelized to perfection while being soft and tender.
If you love pineapple, try this easy baked pineapple dessert. This is the perfect weeknight dessert. It is light, refreshing and the easiest fruit dessert you will make. Serve with a scoop of ice cream for a decadent treat.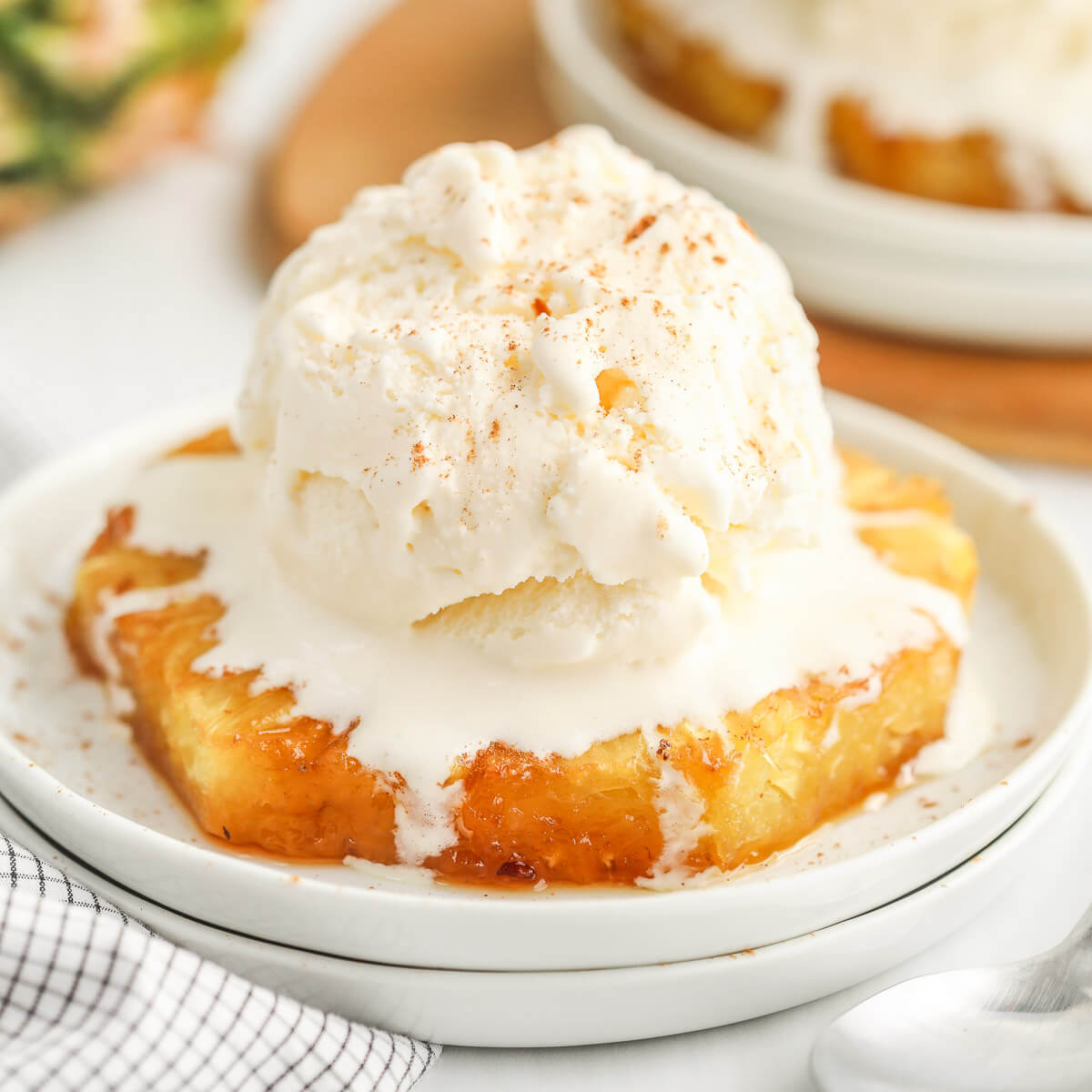 Serve with a Scoop of Ice Cream:
Now if you are feeling decadent and why not? Vanilla ice cream is a must in my book. The cold ice cream melts on the warm pineapple and it is so delicious.
You care going to love how easy and delicious this recipe is. If you have a few extra minutes, try this Easy homemade vanilla ice cream recipe with the baked pineapple.
We even like to add some whipped cream with a cherry for a delicious dessert. If you love pineapple upside down cake, then you care going to love this dessert.
Ingredients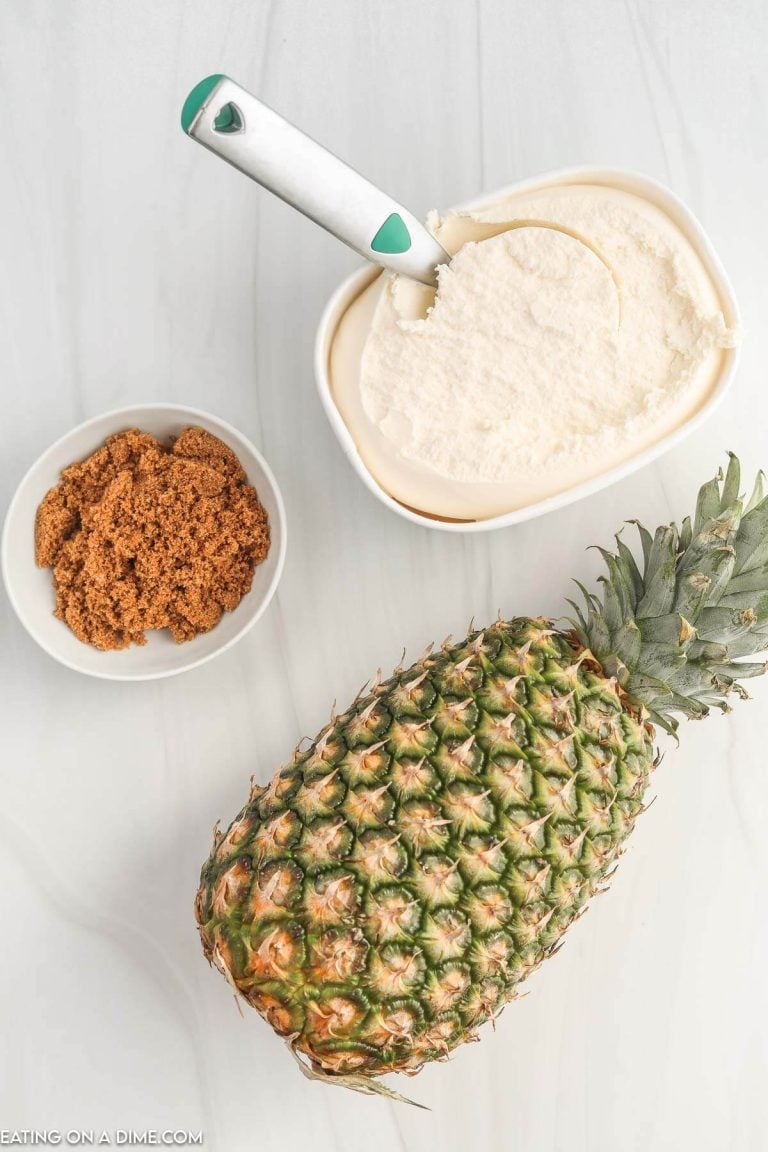 How to Make Baked Pineapple Recipe without Bread:
Step 1 – Prepare Oven – First preheat oven to 425 degrees.
Step 2 – Slice Pineapple – Next, slice the pineapple to the desired size. Our slices were about 1/2″ thick and it yielded 7 slices. It was a small pineapple.
Step 3 – Baked in the Oven – Place the pineapple slices on a foil lined baking sheet. You can also use a baking mat.
Step 4 – Top with brown sugar – Sprinkle the brown sugar on top.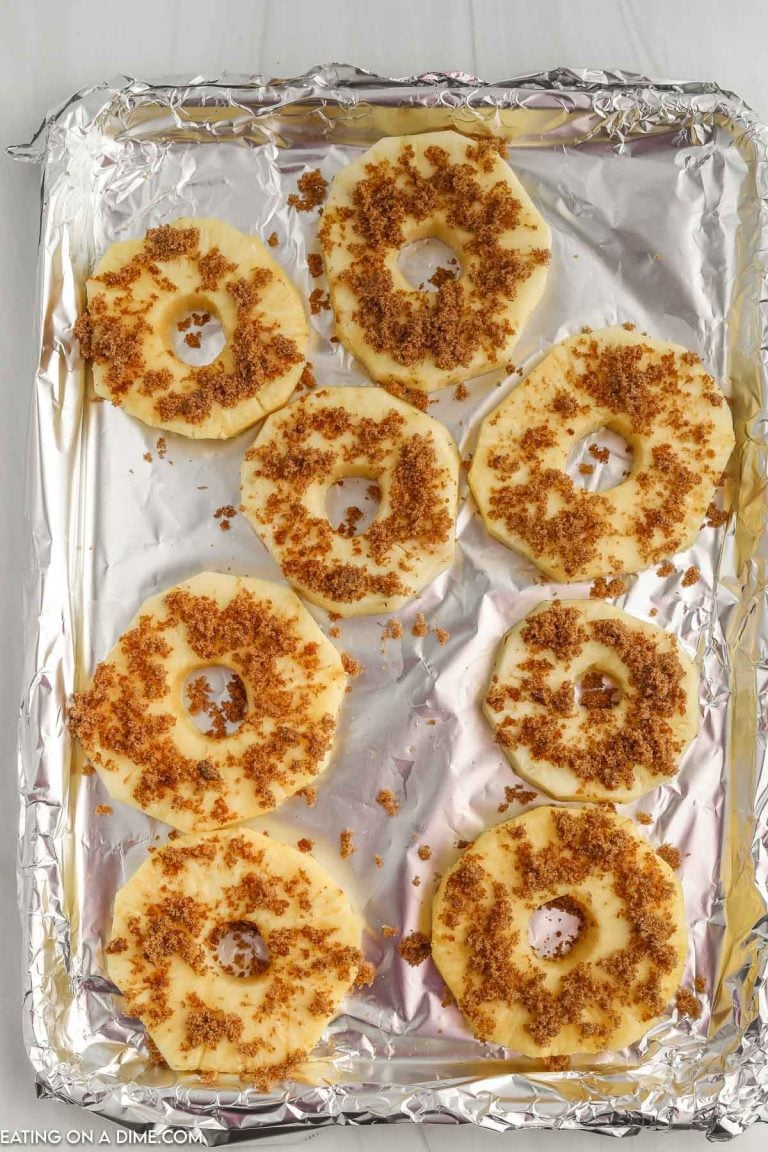 Step 5 – Bake Pineapple – Bake for 20-25 minutes until tender.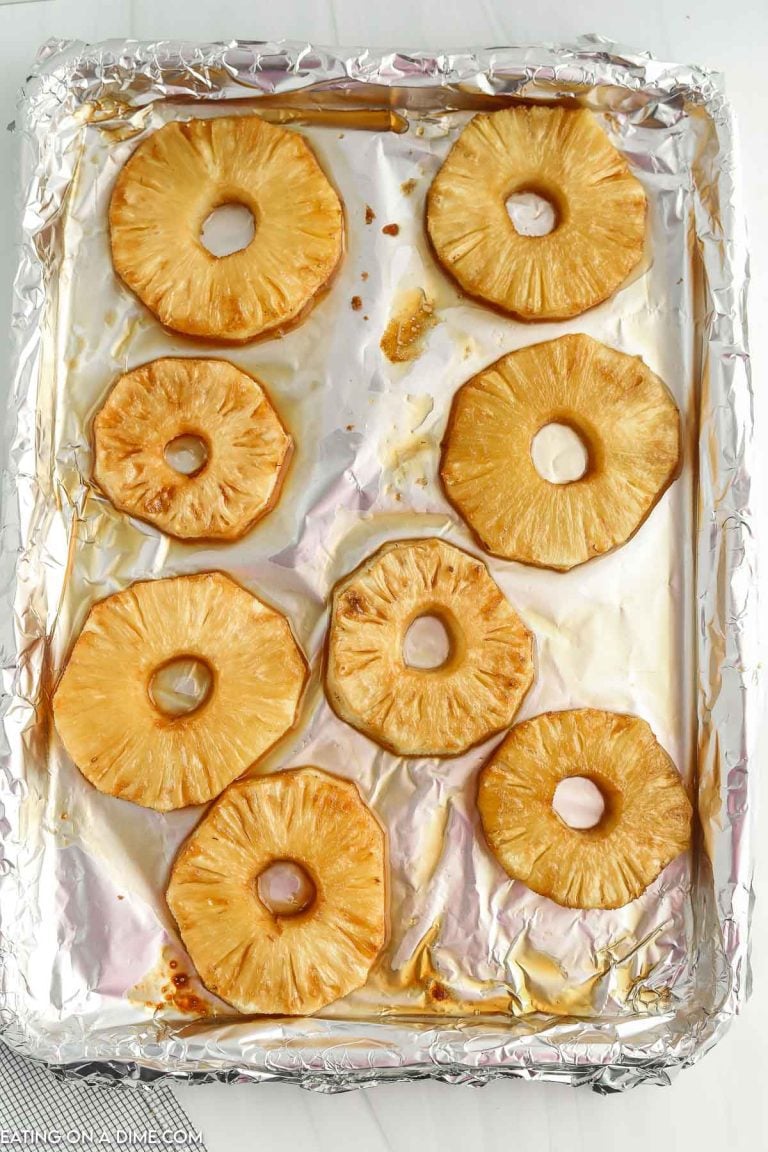 Step 6 – Serve and enjoy – It is that easy.
Serve with a scoop of vanilla ice cream and you are all set to enjoy the best dessert. If you are feeling fancy, add a mint sprig to have a really awesome dessert with very little effort.
Tips for Easy Pineapple Dessert:
Pineapple – We recommend using fresh pineapple for this dessert. Canned fruit doesn't hold up very well in this recipe.
Slicing pineapple – Slice pineapple about the same size so it cooks evenly.
Baking Sheet – We recommend lining baking sheet with parchment paper or foil. This allows for easy clean up and to easily remove the pineapple.
Brown Sugar – We used brown sugar in this recipe, but you can easily use a healthier sweetener to fit within your diet.
Topping Ideas:
Vanilla Ice Cream
Cinnamon
Nutmeg
Caramel Syrup
Whipped Topping
Crushed up graham crackers
Mandarin Oranges
Not only does this make an amazing dessert but you can serve the slices alone with holiday ham, as a side dish and more! Everyone will love it.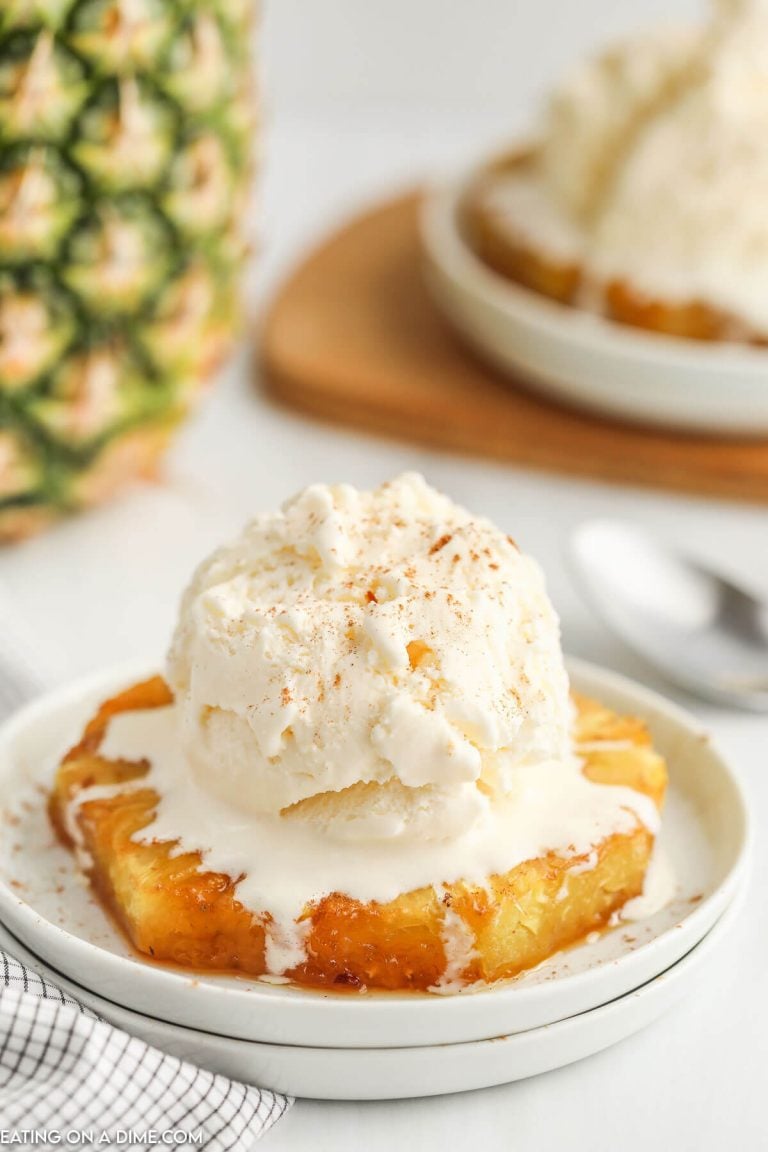 Try this Delicious and Easy Baked Pineapple Dessert today.
Baked Pineapple Dessert Variations
Pineapple – If you do not have fresh pineapple, try using crushed pineapple or pineapple chunks in a prepared baking dish. It will still be amazing but have more of a baked pineapple pineapple casserole consistency.
Casserole Dish – Instead of a baking sheet, you can use a casserole dish if you would like to serve it that way.
Top with Sauce – Add caramel sauce on top of the ice cream for an extra treat or even cool whip.
Serve as a side dish – Omit the ice cream and serve this as a side dish to ham, chicken and lots more. Grilled chicken or baked ham would be amazing with this. We really love this.
How to Store:
Place leftover baked pineapple in an air tight container. It will stay fresh for up to 3 days.
If you prefer to have it warm again, heat in the microwave for about 30 seconds then top with ice cream.
Why we Love this Recipe:
Simple Ingredients – This is a perfect recipe to make for yourself or serve to a crowd. It only requires a few ingredients and they can easily be changed.
Healthy – This healthy dessert is perfect if you wanting something sweet but trying staying within your diet.
Crowd Favorite – My family loves pineapple, and they love it even more when baked and served with a scoop of ice cream.
Print this Baked Pineapple recipe below:
Baked Pineapple Dessert
If you love pineapple and need a simple dessert, Baked Pineapple Dessert is a must try. The pineapple gets caramelized as it bakes and each bite is amazing.
Ingredients
¼

cup

packed brown sugar

1

Pineapple

1/2

gallon

Vanilla Ice Cream
Instructions
Preheat the oven to 425 degrees F.

Slice pineapple to desired thickness (mine were about ½" thick and my small pineapple yielded 7 slices).

Place the pineapple on a foil lined cookie sheet.

Sprinkle the brown sugar on top of the pineapple slices.

Bake for 20-25 minutes until the edges of the pineapple are golden brown.

Serve topped with ice cream and enjoy!
Recipe Notes
I usually make this with fresh sliced pineapple but you use sliced canned pineapple too.  If you used canned, check the pineapple after 10 minutes as the pineapple will cook quicker since the pineapple is thinner.  
Nutrition Facts
Calories
572
kcal
,
Carbohydrates
77
g
,
Protein
9
g
,
Fat
26
g
,
Saturated Fat
16
g
,
Polyunsaturated Fat
1
g
,
Monounsaturated Fat
7
g
,
Cholesterol
104
mg
,
Sodium
192
mg
,
Potassium
603
mg
,
Fiber
3
g
,
Sugar
68
g
,
Vitamin A
1062
IU
,
Vitamin C
55
mg
,
Calcium
323
mg
,
Iron
1
mg
Try these other easy pineapple recipes: