This post may contain affiliate links. If you make a purchase through links on our site, we may earn a commission.
We have gathered the Best Crackers for Charcuterie Boards. Charcuterie boards are the perfect appetizer for all your parties.
Best Crackers for Charcuterie Boards:
We love making the perfect charcuterie board which includes the best, cheese and fruits. But we also want to have the best crackers on the tray. These 9 crackers make your board charcuterie board complete.
Whether you choose a multigrain cracker, gluten-free crackers, or a saltine cracker they all go great with your cheese, meat and fruit.
Charcuterie Boards are a staple at all of our gatherings. A meat and cheese board is always loaded with the best cheeses and meat but the best crackers are a must.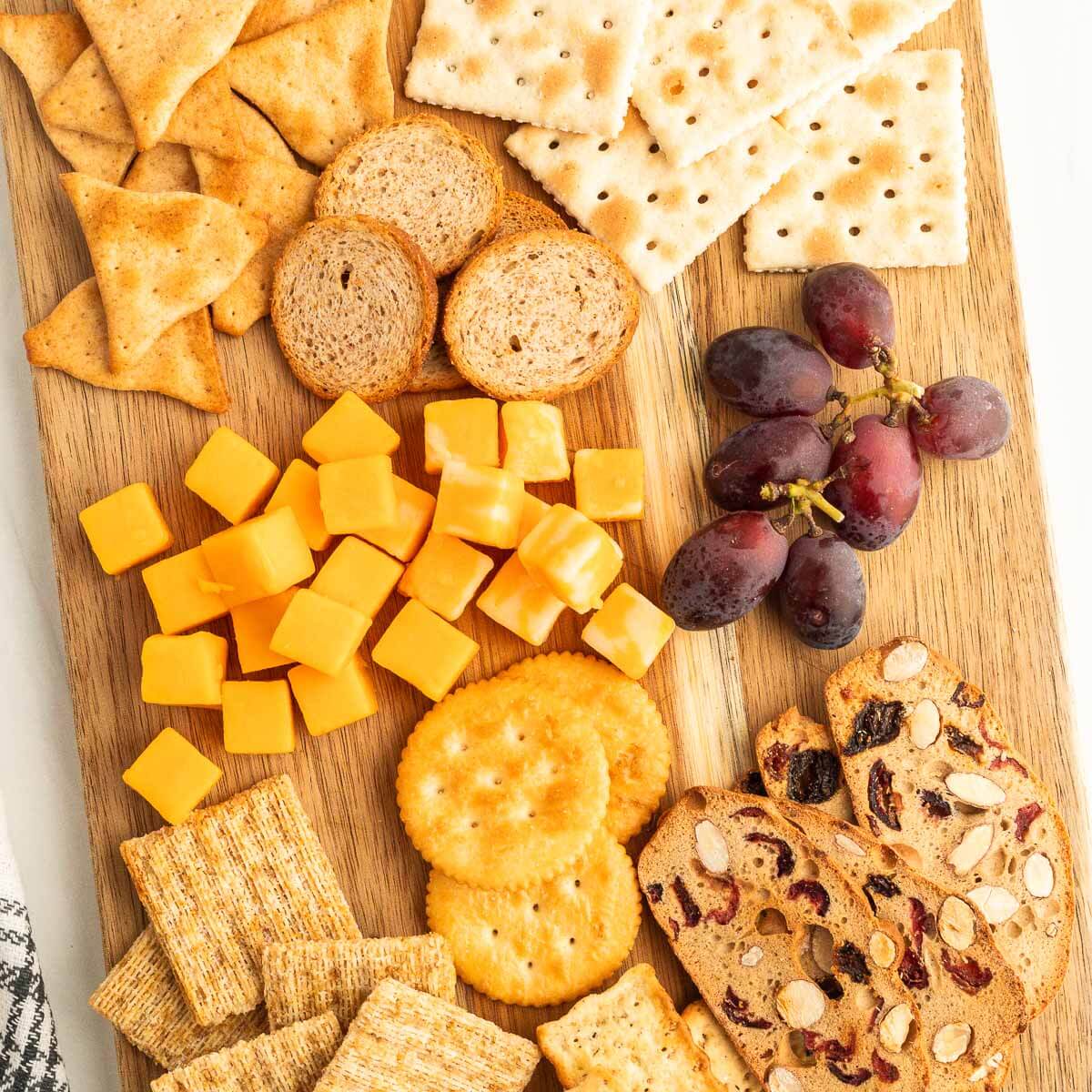 What Is Charcuterie?
Charcuterie is a French word that references prepared and cured cold meats. It is often paired with cheese, fruits, nuts and your favorite crackers when served on a charcuterie board.
Do you serve crackers with a charcuterie board?
Yes, we think crackers are the perfect addition to a charcuterie board.
How many crackers do you need for a charcuterie board?
You will need 3-8oz of crackers for guest. You will only need closer to 3 oz if you are serving your charcuterie as a snack or appetizer. You will want to increase to 6-8oz of crackers if you are serving it as a meal.
What are the best Cheese for Charcuterie Boards?
It is very easy to use any type of cheese that you prefer. Most of it will need to be cubed to fit nicely on the boards. These are some of our favorites to include on the boards.
Sharp Cheddar Cheese
Brie Cheese
Creamy Cheeses
Goat Cheese
Blue Cheese Crumbles
Aged Cheeses
What kind of crackers are best for Charcuterie Boards?
There are many types of crackers to choose from. We really like multigrain crackers and artisan crackers as you can easily find many different options at the store. Variety of crackers is always important, especially when you have a crowd.
Choosing the right kind of cracker is based on your preference and the type of items you are adding to your board.
These 9 crackers all go well with just about any type of board your choose to make. These options work well with kids and adults, and I am sure that all will be eaten.
1. Saltine Crackers
Our pantry is always stocked with Saltine Crackers. I know if I am putting a last minute board together, I can easily throw these on my meat and cheese board.
2. Buttery Crackers:
These crackers are a family favorite. Like the Saltine Crackers, I love to my pantry stocked with Ritz Crackers or Club Crackers. The butter flavor is always delicious stacked with cheese and ham.
3. Herb Crackers:
There are a variety of Herb Crackers to choose from at the store. The have flavors that are seasoned with Rosemary with a hint of olive oil or Italian Seasoning. They are delicious by themselves or with a slice of cheese.
4. Crostini:
Crostini are delicious and the perfect cracker for a Charcuterie Board. They are thin and are always full of flavor. Stack cheese, ham and a green olive for an amazing snack.
5. Multi-Grain Crackers:
Multi-Grain Crackers are my favorite. They usually are made with wheat flour which fits perfectly within my diet. I love that are usually sprinkled with Sea Salt for added flavor.
6. Water Crackers:
Water Crackers are thin and delicious. They have the perfect crunch and work perfectly on your charcuterie board. If you are looking for a cracker to serve with your cheese and wine tray, make sure you have some water crackers.
7. Fruit Crackers:
Fruit crackers are different type of cracker that adds great flavor to your board. They are crunchy and delicious and served great with a creamy cheese. I like to spread cheese and top with a slice of turkey.
8. Crispbread
These crispbread crackers are a little larger than a normal size cracker. They are great served with cheese, cracker and a slice of fruit but they are delicious by themselves.
9. Pita Crackers:
Pita crackers are right up there with multigrain crackers. I love the shape and it is something different than a normal cracker. I usually get mine in the bakery section at the store.
How to Put a Charcuterie Board together:
There are many options that you can include on your board. Depending on the size of your board, make sure you have enough items to fill it up. Include different types of cheese, meats and fruit for the ultimate board.
I like to choose at least 4 types of crackers and place them in different areas of the board. Charcuterie Boards are always a great way to gather friends and family around the table.
Tips for the Best Charcuterie Boards:
Use a variety of crackers – Make sure you have atleast 3-4 different kinds of crackers or baguette slices

Mix up cheeses – The general rule is to have 2-3 hard cheese and 1-2 soft cheese for your charcuterie board. Havarit, gouda, gruyere cheese, parmigiano reggiano, manchego, chevre, and camembert are great choices.

Add fruit – Fruit is a must for a charcuterie board. We like to include grapes, strawberries, blackberries, but even dried apricots and pears work great too.

Add 1-2 Jams – Jams are so fun on boards. A fig jam or pepper jellies just really make the board extra special.

Add Cured meats – Salami, prosciutto, are great cured meats. You want to have the savory flavors in with your sweet additions.

Fill it up – Use sprigs of fresh herbs to make the board look fancy and to fill in the gaps. It adds dimension and texture to your charcuterie board.

Use what you have for a board – No need to buy a fancy charcuterie board. A simple cutting board or even a small cookie sheet will work.
Add what you want – Don't stick to the usual ideas. You can include dips, pickles, veggies and anything you want!
Best Charcuterie Boards: