This post may contain affiliate links. If you make a purchase through links on our site, we may earn a commission.
Learn how to make a Charcuterie board for your next party and totally impress your guests. You will be pleasantly surprised how simple it is to make the best ever charcuterie board.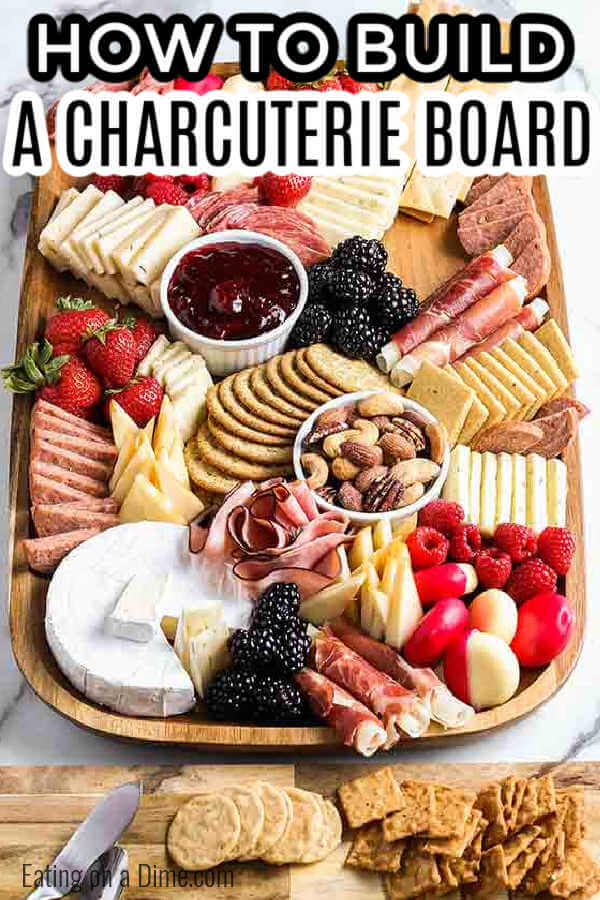 How to make a Charcuterie board
I have always been a little hesitant to make a charcuterie board. Something about it just seemed sort of fancy and intimidating.
If you have been hesitant to make one of these, don't be. I am going to show you how to make a charcuterie board that is so quick and easy. Plus, it will look so amazing and put together. If you love this make sure you try our Summer Snack Charcuterie board too.
They are perfect for parties and they look absolutely gorgeous. However, they are easy enough for any night of the week. You will see just how simple it is. Now if you love cheese and crackers you might also like our Pepperoni cheese ball or our Garlic and Onion Cheddar Cheese Ball Recipe.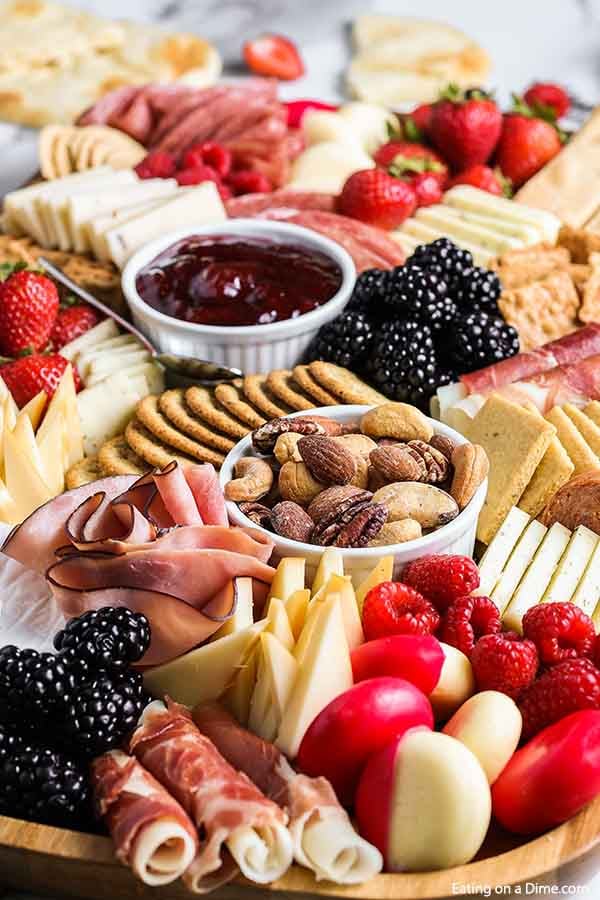 What Is Charcuterie?
Charcuterie is a french word that references prepared and cured cold meats. It is often paired with cheese, fruits, nuts and crackers when served on a charcuterie board.
Ingredients:
Meats used – ham, summer sausage, salami and prosciutto
Cheeses used – brie, apple smoked gruyere, green onion white cheddar, cranberry cheddar, babybel
Fruit – strawberries, blackberries, red raspberries
Crackers (See Best Crackers for Charcuterie Boards)
Mixed Nuts
Fruit spread
Bread
How to make a DIY Charcuterie board:
Start with large board. One with edges is the easiest to use.
Place bowls on first, then add brie cheese.
Next, fill small bowls with fruit spread and mixed nuts.
Add larger crackers.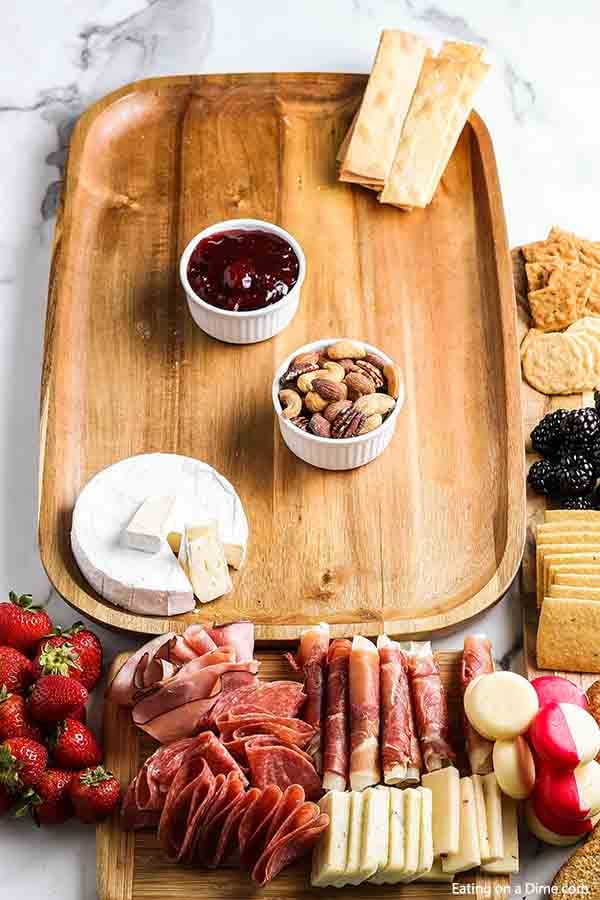 Then add the largest items like the strawberries, large round crackers and baby bel cheese.
Add a section of medium size items like sliced cheese and smaller crackers.
Add the meats. To form meat fans simply fold each piece of salami and ham into quarters.
Fill holes with blackberries and red raspberries.
Then fill in with smaller items like cheese and summer sausage.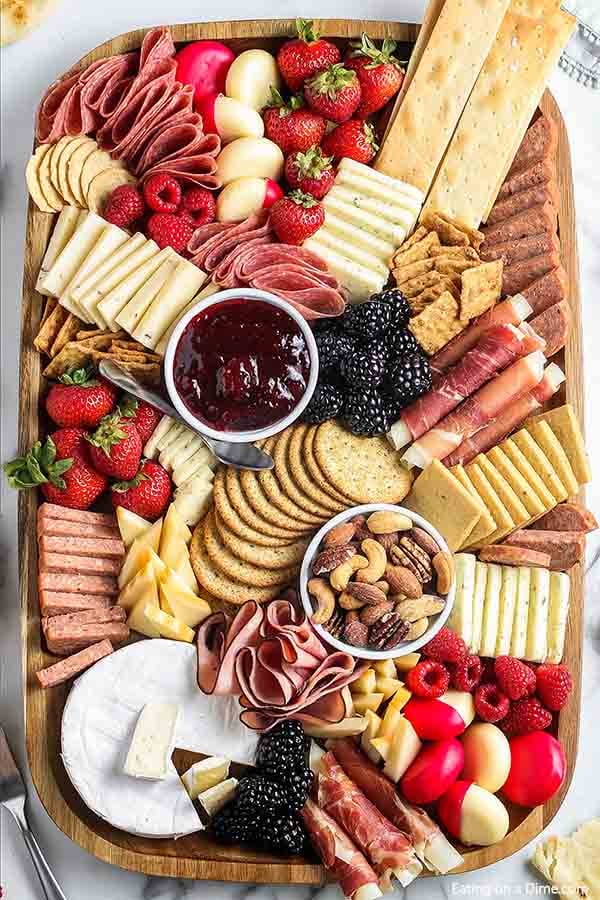 And last, add the smallest items like crackers. You can also fill in any empty space on the board with fresh herbs.
Serve immediately
What Crackers should I use?
I recommend using a variety of different crackers so there are some for everyone.
Also, I like to get different shapes, flavors and colors so that the board looks pretty as well.
Plus look to see how the crackers are stacked on each other to make sure that they will work on your board.
What types of nuts to use:
Generally, I use mixed nuts as I always have those on hand. However, you can use any nuts that you prefer.
That's why making your own charcuterie boards are so fun. You can easily make them based on your preferences.
What type of fruit spreads to use:
Again, this is really based on your personal preference. You can use a jam, preserves, fruit butter or chutney.
I also love using a spicy fruit spread to give a spicy option on the board as well.
It's that easy to make a simple charcuterie board.
It really is so pretty to serve and everyone will love it. Plus, it is pretty tasty too and perfect for snacking.
We love to make these for the holidays or special occasions. They are ton of fun and so delicious.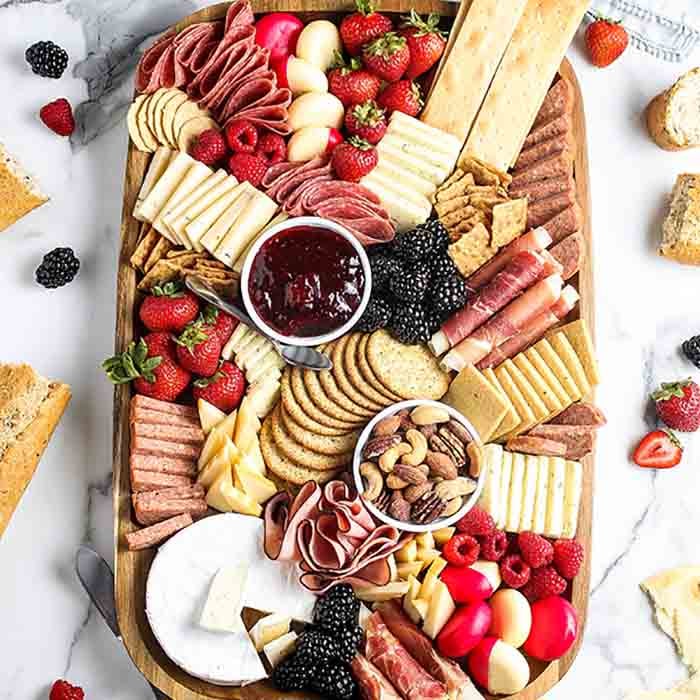 Tips for Charcuterie Board Assembly:
Use a board with an edge. It will make it SO much easier to put together and get the ingredients to stay in place. If you don't have one, there are several charcuterie boards here for a good price. We have used a wooden cutting board or large board to make a charcuterie platter and it was perfect.
These are best served immediately or fairly soon after putting together.
Try to include a variety of meats, cheeses and fruit. Not only does it look pretty to have a nice selection but it will ensure your guest have options to choose from. Everyone will enjoy several variety of cheeses and sliced meats.
Use fresh fruit that is in season to enhance the flavor of your board. Plus, they will be priced better at your grocery store if you purchase in season.
Use different types of crackers with the meat and cheese board. Include gluten free options so all guests can have an option.
Make sure to use high quality ingredients in your assortment of cured meats cheeses.
Add some kid friendly cheeses and crackers and the entire family will enjoy this tray. Children love a cheese plate and dried fruit. My kids love cream cheese so you can also include that in a small bowl as well.
Make sure you have a wooden board to make this.
You can use a cutting board or wooden tray. We like the charcuterie boards here that are designed just for these. They are so handy and many of them have grooves for the crackers and such.
I spotted a few with places for cheese knives. They definitely will make putting one of these boards together easier if you are new to making these.
Charcuterie Board Ideas:
Now that you know how to make a charcuterie board, try other ideas. It is fun to use other types of cheese, meat and crackers. Each board really is a masterpiece and it is fun to see how they turn out.
Use your favorite type of cheese. You don't have to use the exact cheeses that I used in this recipe. I love making it with a mixture of soft cheese and hard cheese. Also, people love seeing blue cheese on a charcuterie board too.
Sometimes, I will make a charcuterie board just for the kiddos. They love when I do this for movie night. I use a few slices of deli cheese, crackers, pepperoni and ham, crackers and fruit. They love strawberries and grapes.
Also, you can make a healthy board by just filling it up with your favorite fruits and veggies.
They think it is the coolest snack try ever and love when they their own charcuterie tray.
What to serve with a Charcuterie Board:
This is a popular appetizer recipe and I love serving it with wine. Meat and cheese just go great with your favorite type of wine in my opinion.
If you're not a wine drinker, it's also great to serve with your favorite easy punch recipe.
Generally, I serve this board as an appetizer but it can be very filling, so you can easily serve this board for dinner as well.
Print this easy charcuterie board below:
Charcuterie Board
Learn how to make a Charcuterie board for your next party and totally impress your guests. You will be pleasantly surprised how simple it is to make.
Ingredients
Meats used – ham

summer sausage, salami and prosciutto

Cheeses used – brie

apple smoked gruyere, green onion white cheddar, cranberry cheddar, babybel

Fruit – strawberries

blackberries, red raspberries

Crackers

Mixed Nuts

Fruit spread

Bread
Instructions
Start with large board, using one with edges is easiest

Place bowls on first, then add brie cheese

Fill bowls with fruit spread and mixed nuts

Add larger crackers

Then add the largest items like the strawberries, large round crackers and babybel cheese

Add a section of medium size items like sliced cheese and smaller crackers

Add the meats. To form meat fans – fold each piece of salami and ham into quarters

Fill holes with blackberries and red raspberries

Then fill in with smaller items like cheese and summer sausage.

And last, add the smallest items like crackers.

Serve immediately
Nutrition Facts
Calories
668
kcal
,
Carbohydrates
99
g
,
Protein
20
g
,
Fat
22
g
,
Saturated Fat
7
g
,
Cholesterol
52
mg
,
Sodium
993
mg
,
Potassium
397
mg
,
Fiber
4
g
,
Sugar
53
g
,
Vitamin A
115
IU
,
Vitamin C
9
mg
,
Calcium
137
mg
,
Iron
4
mg
More Charcuterie Board ideas:
Try these other appetizer recipes: