This post may contain affiliate links. If you make a purchase through links on our site, we may earn a commission.
Make Cinnamon sugar pretzels for a delicious snack for after school, Game Day and more. It is super easy to make and kids go crazy over these.
Cinnamon sugar pretzels
My kids are always hungry and can really go through some snacks. I am always looking for frugal but tasty options. Once I made these easy cinnamon sugar pretzels, I knew they were going to be an instant hit.
It is amazing how easy and delicious it is to jazz up plain pretzels. You probably already have what you need in the pantry. If you need to pick up a bag of pretzels, they are always super cheap.
Everyone loved the sweet pretzels and even asked to have more for dessert. I would declare that a success.
I love the flavor of a cinnamon sugar soft pretzel but rarely have the time to make pretzel dough. These crispy pretzels satisfy that craving and make the best snack.
Ingredients:
Pretzel Twists. You can use squares or sticks also.
Vegetable Oil. You can substitute melted butter for the oil if you prefer.
Brown Sugar. You can use light or dark. It really does not matter if you have a preference. Just use what is already in the pantry.
How to make Cinnamon Sugar pretzels
First, preheat the oven to 200 degrees.
Then, while the oven is warming up, get out a large mixing bowl.
Next, combine the oil sugar and cinnamon in a small bowl. Stir this together so it is well combined.
Once mixed, add the pretzels to a large bowl with the cinnamon sugar coating. Stir all of this together until the pretzels are thoroughly coated.
Finally, put the pretzels on a baking sheet. Bake for about 10 to 15 minutes until golden brown. It is best to stir half way during cooking until the mixture has dried.
Let the pretzels cool completely before storing. It is really important that you don't skip this step. I know it is hard because they smell amazing.

However, it is very important that you give these pretzels time to cool. The coating needs to cool and storing them too soon can cause them to stick together.
How to Store:
Put the pretzels inside an air tight container for up to 5 to 7 days.
Why we love this recipe:
It is quick and easy. This recipe is so fast that you can easily make this whenever a snack attack happens. Your family will be happy and you will love how easy it is.
The entire recipe is mainly pantry staples. No fuss and no complicated ingredients. Just a few simple ingredients and you can make this.
The cost is minimum. If you have kiddos that snack all the time, you know how fast they can go through snacks. The money can add up.
Perfect for gift giving. Trust me when I say that adults love this treat as well. These are great for handing out to friends and family during the holidays.

Grab some of those cute seasonal cellophane treat bags and tie them with ribbon. It is that simple.
Lunch box snacks. Those prepackaged snacks for lunchboxes really add up. I make a double batch of these so I'll have extra for school.

Once they are cool, go ahead and put them inside individual snack size baggies. Now, you have snacks ready for the week that didn't cost a fortune. It was pretty quick too.
Tips:
Line your baking sheet with parchment paper or a silicone baking mat. This will make cleanup much easier. The cinnamon sugar mixture with the oil can make a bit of a mess on the pan.

You will be so glad you put something on the sheet before baking the homemade pretzel. You can just toss the parchment paper or easily clean the silicone.
Variations for Cinnamon sugar pretzel bites:
Pretzels. We used pretzel twists but you can substitute them for any type you prefer. Other ideas include sticks and square pretzels.

Sometimes you can find seasonal shapes around Halloween and Christmas. Those would be so cute for parties.
Gluten free. Substitute gluten free pretzels if you need a gluten free option. This is cheaper than buying the ready made gluten free snacks in the store.

If you have friends on your gift list that are gluten free, this would be a great treat to surprise them with.
Seasoning. Try other combinations. Garlic Ranch is delicious for another easy and tasty snack idea.

When we are in the mood for a savory snack, this is my go to recipe. The combination of garlic and ranch is amazing.
This snack will be a hit.
The entire family will love this recipe. Life is busy and most days just don't allow time for homemade dough and all that. This simple recipe is the perfect solution the next time you are craving pretzels.
Whip this treat up in minutes and be prepared for the kids to go crazy. In fact, you might want to just go ahead and make a double batch.
From after school snacks to parties and more, these pretzels will not go to waste. Everyone will ask for them again and again. No one will believe just how easy they are to make.
Make these today and start snacking. I bet you can't eat just one.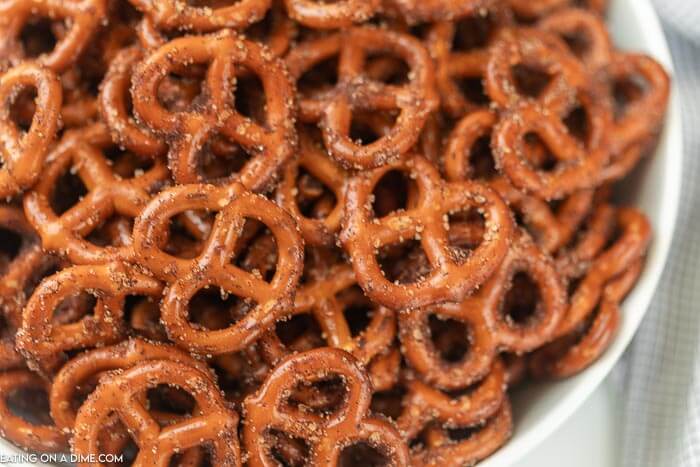 Print this cinnamon sugar pretzels recipe:
Cinnamon sugar pretzels
Make Cinnamon sugar pretzels for a delicious snack for after school, Game Day and more. It is super easy to make.
Instructions
Preheat the oven to 200 degrees F.

In a large mixing bowl, combine the oil, both sugars and cinnamon.  Mix well to combine.

Then stir in the pretzels and stir until the pretzels are thoroughly coated.

Place the pretzels on a baking sheet and bake for 10-15 minutes stirring half way between the cook time until the mixture has dried.

Allow the pretzels to cool.
Nutrition Facts
Calories
288
kcal
,
Carbohydrates
40
g
,
Protein
4
g
,
Fat
13
g
,
Saturated Fat
2
g
,
Polyunsaturated Fat
7
g
,
Monounsaturated Fat
3
g
,
Trans Fat
1
g
,
Sodium
480
mg
,
Potassium
63
mg
,
Fiber
2
g
,
Sugar
10
g
,
Vitamin A
4
IU
,
Vitamin C
1
mg
,
Calcium
24
mg
,
Iron
2
mg
More Pretzel Desserts: