Rolo Pretzels Recipe is the perfect combination of sweet and salty and just amazing! Each bite is so decadent and this recipe is very simple to make.
Rolo Pretzels Recipe
Rolo pretzels are the best! Sure, I do love a my White Chocolate Cinnamon Sugar pretzels and I really love my Pretzel kisses, but these rolo pretzel bites… they have a special place in my heart.
They are so delicious! Everyone goes crazy over these bite size treats!
Since they are so easy to make, I don't mind making them often. The kids love for me to make these when they have friends coming over.
Everyone loves them!
Rolos and pretzels make a tasty combination!
The perfect combination of sweet, salty, chocolatey, carmely…. (is that a word?) deliciousness!
These are a must have at any holiday gathering. From Christmas, to Easter, to 4th of July, to Mom's having a bad day and needs chocolate – Rolo pretzels come to the rescue.
The kids love making them on their own. I love that they can make something they are proud of without making a huge mess.
They are a lot of fun to bake together and lots of precious memories will be made. It is the perfect treat to make with the kids and just a ton of fun.
Plus, they are so amazing!
Pretzels and rolos and m&ms is all you need for pretzel rolo treats!
I told you it was simple! We are all about simple and easy and this recipe does not disappoint.
Ingredients for pretzel rolo treats:
Pretzels (I love the square pretzels, but regular ones will work too)
rolos
m&ms
You only need a few simple ingredients to make these amazing treats! Everyone will go crazy over pretzel rolo treats.
How to make rolo pretzels recipe:
First, lay out the pretzels in a single layer on a baking sheet with parchment paper. The waxed paper will make for easy clean up.
Remove all the wrappers from the rolo candy. Place one role on top of each pretzel. Easy!
Bake for a few minutes and remove from oven.
You want to put an m&m on each rolo pretzel as soon as it comes out of the oven.

Let each rolo pretzel bite harden. You can put them in the fridge to help speed this along.
Keep reading for the full recipe.
Anyone can make rolo pretzel bites recipe.
You can store the treats in an air tight container so they stay fresh. Just make sure they have cooled completely before doing so.
Otherwise, they will stick together and make a mess.
Get in the kitchen any day of the week and make some rolo pretzel bites for your family to devour. Everyone will love this sweet and salty treat.
There is just something so delicious about the combination and each bite is so tasty. You seriously can't go wrong with these little pretzel bites. Yum!
Everyone will love this Rolo Pretzels Recipe.
Rolo pretzels make a quick and easy treat. Whether you are doing searches related to rolo pretzels for a holiday treat or just snack, these pretzel bites are sure to impress.
Each chocolate covered caramel bite only takes a few minutes until rolo is melted and ready to enjoy. The hardest part about this recipe is letting them cool completely once you remove from oven.
Everyone is so eager to enjoy these snacks that it is hard to wait. They don't last long around here because we all gobble them up quickly.
It is one of our all time favorite recipes and every single person loves them! That is for sure something because we rarely all like the same thing. 🙂
Remember to change up Rolo Pretzels Recipe by the holiday:
Christmas – use red and green m&ms and make rolo pretzel reindeer or rolo pretzels Christmas
Valentines day – use pink and red m&ms
St Patricks Day – use green m&ms
Fourth of July – use blue and red m&ms
Easter – use Easter m&ms
halloween rolo pretzels- Use Halloween m&ms on top of each rolo.
As you can see these rolo pretzels are perfect for any holiday or any occasion. You could even do pink or blue for a baby shower or reveal party.
The ides are endless for these fun and tasty treats. Give them a try this week!
Try some of these other variations as well:
Pretzel rolo peanut butter variation. These are so yummy with a little peanut butter.
Substitute hershey kisses instead of rolos on top of each pretzel.
Try different shapes of pretzels. The holiday ones are fun at Christmas.
Print this Rolo Pretzels recipe below: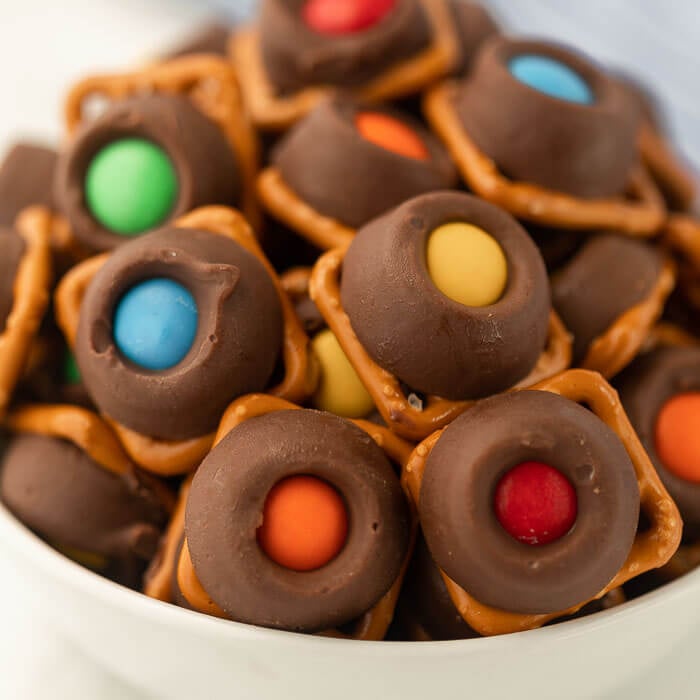 Rolo pretzels
Rolo pretzels are our favorite pretzel treat. These rolo pretzel bites are the easiest dessert. Everyone loves our favorite pretzel treats with rolos.
Ingredients
24

Pretzels

I love the square pretzels, but regular ones will work too

24

rolos

1

bag of m&ms
Instructions
Preheat oven to 200 degrees F.

On a cookie sheet, lay out the pretzels in a single layer.

Remove all the rolo wrappers (get the kids involved on this onand place one rolo on top of each pretzel.

Bake in a preheated oven for 3-5 minutes until the rolos glisten but still keep their shape.

Remove from oven and immediately lightly press an m&m on each rolo pretzel.

Allow to cool completely so they harden. I like to place them in the fridge until completely cooled.

Store in an airtight container.
Nutrition Facts
Rolo pretzels
Amount Per Serving
Calories 623
Calories from Fat 360
% Daily Value*
Fat 40g62%
Cholesterol 1mg0%
Sodium 32mg1%
Potassium 342mg10%
Carbohydrates 76g25%
Protein 5g10%
Vitamin A 18IU0%
Calcium 36mg4%
Iron 3mg17%
* Percent Daily Values are based on a 2000 calorie diet.
Chocolate covered peanut butter balls melt in your mouth and taste amazing.
Try these other Pretzel Treats:
Find more Easy Dessert ideas here: