This post may contain affiliate links. If you make a purchase through links on our site, we may earn a commission.
This Hershey Kiss Pretzels recipe is my go to Holiday treat and we love to make them year round. Give this salty sweet treat a try!
We pretty much look for any excuse to make these yummy pretzel kisses. In fact, my sister makes them every holiday and it is the one pretzel treat that all my kids look forward to.
Seriously… Easter, Christmas, Thanksgiving, a family gathering… these Pretzel kisses are expected. I love them too!
You may also love this Pretzel Toffee Recipe.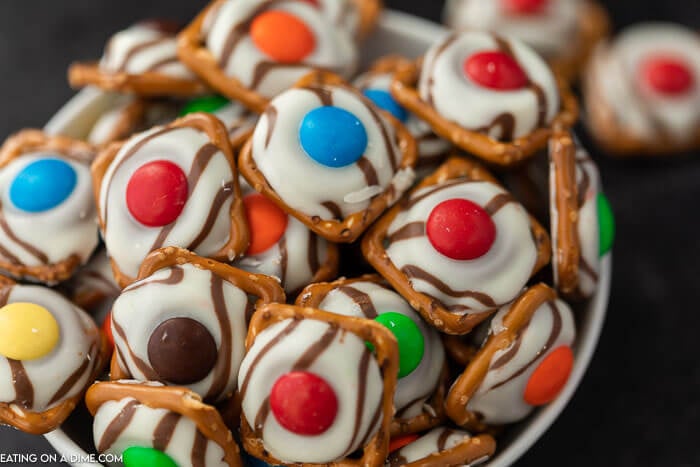 Are they Pretzel Kisses or Pretzel Hugs?
I call them pretzel kisses, but my husband insists that they are pretzel hugs. Sure we are using hugs, but aren't hugs part of the Hershey Kisses family, right?
Make sure you leave a comment and let me know what you think. Meanwhile, no matter what you call them you are going to love this pretzel treat!
What you need:
bag of pretzels – I like the square ones but you can use the regular pretzels too.
package of Hershey Kiss Hugs
bag of m&m's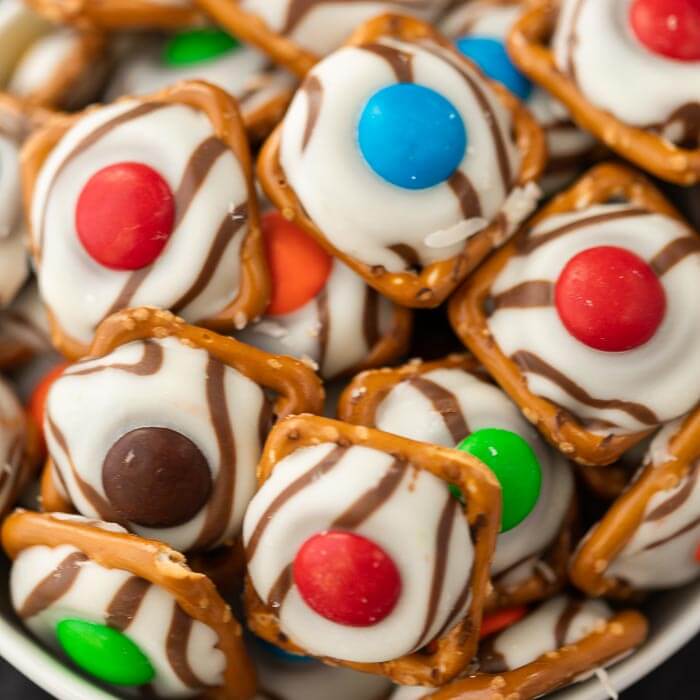 How to make Hershey Kiss Pretzels
First, preheat the oven to 200 degrees.
Next, get a cookie sheet out place the pretzels flat.
I always get the kids to help with this step. Unwrap all of the Hershey kisses and put one on top of each pretzel.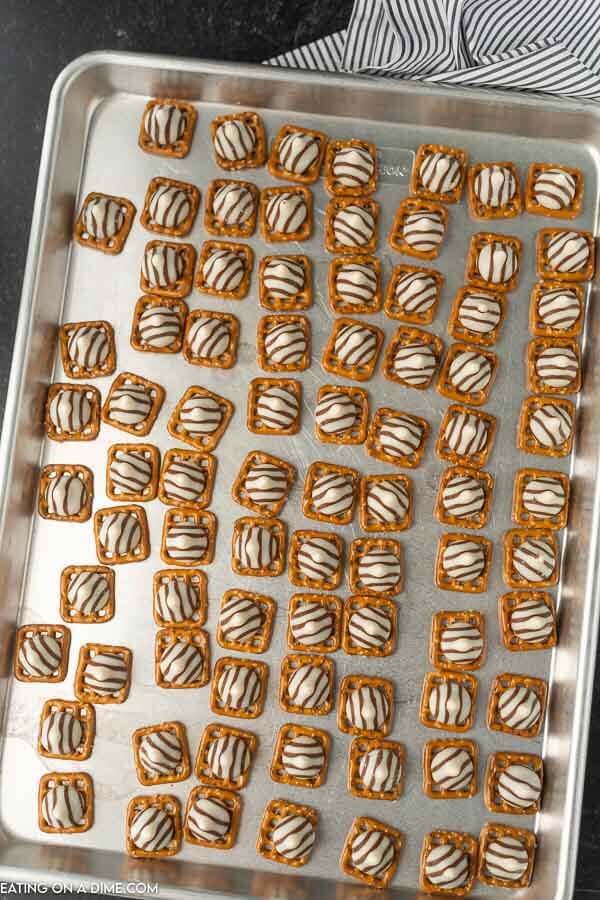 Finally, bake until the Hershey kisses begin to melt slightly. This only takes 3 or 4 minutes. They will start to glisten but still keep their shape. You don't want them completely melted.
Immediately take the pan out of the oven and put one m&m on each pretzel kiss. Push down slightly so it will stick to the melted chocolate.
Let cool and enjoy! I normally put them in the fridge to help speed along the hardening process.
How to store:
Put the treats inside an air tight container and store up to 7 days. However, if truth be told, we don't normally have any left after a day or so. Everyone eats these pretty quickly because they are so delicious.
Pretzels Hugs are perfect for any occasion!
You can change the M&M's for seasonal M&M's. Make them for Christmas, Valentine's Day, Easter, Halloween and more.
Make these for birthday parties, Game day and even baby showers. Just use the M&M's that match your theme.
The ideas are endless. Enjoy these year round like we do by simply changing the color of M&M's. So fun and easy!
You could even try using different types of M&M's. I think peanut butter and hazelnut spread M&M's would be yummy.
Let us know how you like these and what type of M&M's you use. We always make red and green pretzel hugs at Christmas. Since everyone love these, we make them any change we get. I have a feeling you will be the same way!
Make these Hershey kisses pretzels with your family today!
This sweet and salty treat is so simple, inexpensive and quick to make. It is a win all around!
Hershey Kiss pretzels
The salty and sweet combination is delicious in this hershey kiss pretzel recipe.
Ingredients
24

Pretzels

I love the square pretzels, but regular ones will work too

24

Hugs

1

bag of M&Ms
Instructions
Preheat over to 200 degrees F.

On a baking sheet, lay out the pretzels in a single layer.

Remove all the Hugs wrappers and place a Hug on top of each pretzel.

Bake in a preheated oven for 3-5 minutes until the Hugs are slightly melted but still keep most of their shape.

Remove from oven and immediately lightly press an m&m on each Hug pretzel.

Allow to cool completely until the chocolate solidifies harden. They will cool at room temperature but you can also place them in the refrigerator for 1 hour for the chocolate to harden.
Recipe Notes
Store in an airtight container for up to 7 days. 
Nutrition Facts
Calories
56
kcal
,
Carbohydrates
8
g
,
Protein
1
g
,
Fat
3
g
,
Saturated Fat
2
g
,
Trans Fat
1
g
,
Cholesterol
2
mg
,
Sodium
21
mg
,
Potassium
1
mg
,
Fiber
1
g
,
Sugar
6
g
,
Vitamin A
13
IU
,
Vitamin C
1
mg
,
Calcium
16
mg
,
Iron
1
mg
More easy dessert ideas