What's not to love about Key lime cupcakes? All the flavor of key lime pie gets baked into individual cupcakes for a treat no one can resist. The homemade icing is decadent while being super easy.
Key lime cupcakes make the best treat. 
From the light and fluffy cake to the creamy frosting, this recipe can't be beat. The secret to this quick recipe is a cake mix but we jazz it up so it tastes homemade.
It's perfect for a Summer cookout, luncheon or even a bridal shower. The cupcakes are light and sweet while being so pretty.
If you love easy and delicious, this is sure to be a hit.  Cupcakes are always a good idea around here so make sure to check out all our cupcakes recipes. We have a recipe for every occasion.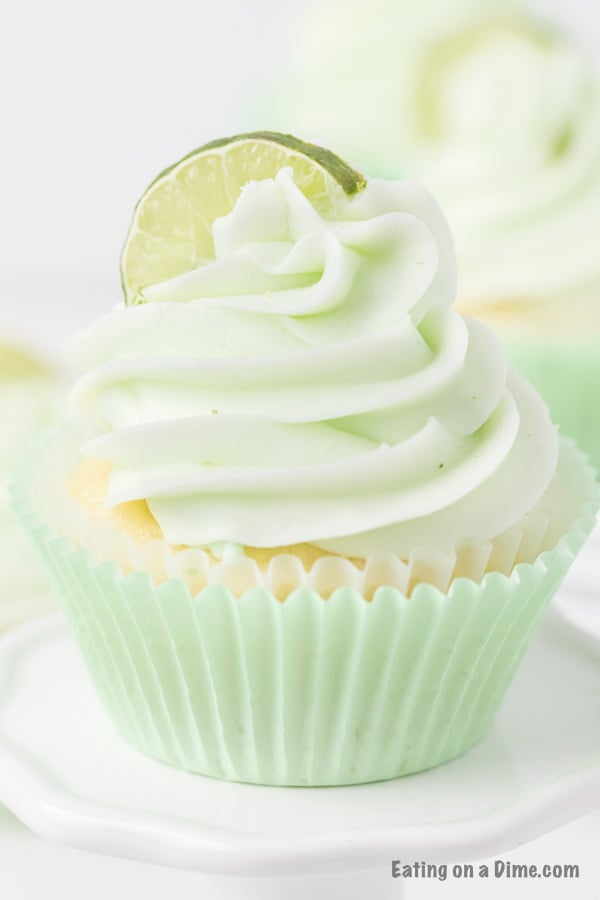 What is so amazing about Key lime cupcakes recipe?
The water in the cake mix gets replaced with lime juice. Amazing flavor! No one will guess this started with a box mix.
The cake mix make this super easy! You get all the flavor from homemade without the work. Yeah!
Homemade frosting! Need I say more?
Let's get started!
Let's transform cake mix into something extra delicious. These Key Lime cupcakes are really special. I think your family will be pleasantly surprised by how delicious they are.
Since we are "cheating" by using a cake mix you can have this recipe made in no time. It is so easy to make even the kids can get involved on this one.
Ingredients
white cake mix- plus, all of the ingredients per the box instructions.
lime juice – this is what gives the cupcakes amazing flavor and transforms each bite into the best cupcake.
Ingredients for Frosting:
Butter– Make sure to get real butter!
Powdered Sugar
Lime Juice– this gives this recipe all the lime flavor
Lime Zest- this looks pretty and tastes amazing
Green Food Coloring– you don't need much but this gives it a pop of color.

How to make key lime cupcakes:
1. First, make the cupcake batter as the box says with the exception of the water. This is where all that flavor comes from.
You are going to substitute ½ cup of the water with ½ cup lime juice. This is the secret to that amazing lime flavor and tangy taste. No one will guess this started with a cake mix!
2. Second, get your muffin pan ready and add the liners. Don't overfill these or you will have a huge mess.
About half way is best and I use a cookie scoop to make sure they are all equal. Plus, it speeds up the process too.
3. Bake those yummy cupcakes and let cool.
Finally, it is time to make the frosting. 
This will help pass the time while the cupcakes cool. The frosting is really easy but so creamy and decadent.
1. Get a large bowl or use your stand mixer. Mix the butter until it is fluffy and add the lime juice and green food coloring.
2. Second, add the powdered sugar but not all at once. This can get messy so it's best to add a cup at a time.
3. Once, the sugar and butter are mixed really well, add lime zest and mix again.
Your cupcakes should be cool by now and ready to decorate. You can either use a Wilton throw away bag or a ziploc bag if you don't have the piping bags. Just cut the corner off and frost each cupcake.
More tasty ideas: 
Sprinkle graham cracker crumbs on top.
Make mini cupcakes instead of regular size.
Garnish with a lime slice on each cupcake.
Don't these just look amazing? I could gobble them up right now. Oh wait, I already did. 🙂
Next time you have a party, a luncheon or you just want to impress your family make sure you whip up a batch of these amazing Key Lime cupcakes. I guarantee someone will want the recipe!
No one ever believes this starts with a cake mix. It is so delicous.
Print key lime cupcake recipe:
Delicious Key Lime Cupcakes
Do you love key lime pie but don't want to do all that work? Make sure you try our delicious key lime cupcakes! They are easy to make and taste amazing!
Ingredients
Ingredients for cake:

1

box

White Cake Mix + box ingredients

1/2

cup

Lime Juice

Frosting:

1

cup

Butter

6

cup

Powdered Sugar

6

tbsp

Lime Juice

2

tsp

Lime Zest

1

drop

Green Food Coloring
Instructions
Make batter according to box EXCEPT replace ½ cup of water with ½ cup lime juice.

Fill liners about ½ full.

Bake 16-18 minutes or until toothpick inserted in middle comes out clean.

Allow to cool completely on wire rack.

Cream butter in a large bowl.

Add lime juice and food coloring.

Add powdered sugar 1 cup at a time and beat until incorporated.

Add lime zest and whip until distributed.

Transfer to piping bag to frost cupcakes.
Recipe Notes
I love transforming a cake mix into something extra delicious like this Key Lime Cupcakes recipe!
Nutrition Facts
Calories
266
kcal
,
Carbohydrates
48
g
,
Protein
1
g
,
Fat
8
g
,
Saturated Fat
5
g
,
Cholesterol
20
mg
,
Sodium
217
mg
,
Potassium
25
mg
,
Sugar
38
g
,
Vitamin A
240
IU
,
Vitamin C
2.7
mg
,
Calcium
51
mg
,
Iron
0.4
mg
More easy cupcake recipes: