This post may contain affiliate links. If you make a purchase through links on our site, we may earn a commission.
Skip the store bought creamer and make Homemade coffee creamer instead with only 3 ingredients. Not only will you save money but it tastes so rich and creamy. We love it!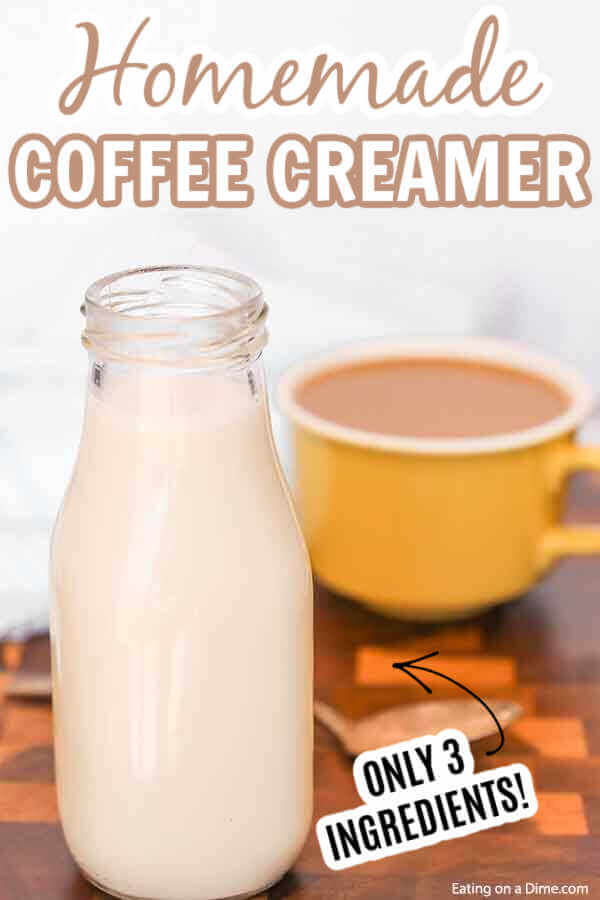 Homemade coffee creamer
I have a super easy and super yummy Homemade Coffee Creamer recipe for you to try. Personally, my favorite flavor is French Vanilla, so this is the flavor I chose to make this time.
If you prefer a different flavor, be sure to read all the way through this post. I list a variety of other flavor options at the end. There is something for everyone! You might also like our homemade powdered coffee creamer.
Let's get started!

Ingredients you need for homemade coffee creamer:
Sweetened Condensed Milk – Check out how to make homemade sweetened condensed milk if you don't have any on hand.
Milk (or any variety) We used almond milk.
Flavoring of Your Choice
That is it. Only 3 ingredients! The bonus? You probably have these items sitting in your fridge or pantry right now.
It doesn't get much simpler than that.
How do you make a good coffee creamer?
It is so simple and you will love it!
Start by whisking together all the ingredients in a large bowl. That is it!
Store in an air tight container in the refrigerator. The creamer will last until the expiration on the milk that you used to make it.
Enjoy!
[amd-zlrecipe-recipe:264]
The Result
In my honest opinion, this is the BEST homemade coffee creamer recipe.
Everyone loved this homemade coffee creamer recipe!
Honestly, I tried making it a few different ways. I used regular milk (it was ok, just not as rich and creamy as with the Almond Milk).
We have also tried making this with coconut milk. I did NOT like it this way, but I had never had coconut milk before.
If this is something you use regularly, you might like that option. Feel free to experiment to find what you prefer the best.
The Cost – is homemade coffee creamer recipe cheaper?
If you're wondering why you should make your own instead of just purchasing it at the store, let's have a look at the cost breakdown.
Liquid Coffee Creamer costs about $2 each on sale. Sometimes we can find a coupon for about $0.50 off, so we might be able to get a 16 ounce bottle of liquid coffee creamer for about $1.50 – that comes to $0.09 per ounce.
Here is the cost if you make it yourself:
Sweetened Condensed Milk, 14 oz can – $1.29 (bought generic brand at Aldi) = $0.09 per ounce
Hiland Almond Milk, ½ Gallon – $1.50 (after coupon) = $0.02 per ounce

That is only $0.06 per ounce or just $0.88 for the equivalent of an 16 oz bottle! Now that's a nice savings for not having to shop the sales or use coupons! (Don't forget, we can get Sweetened Condensed milk for cheap around the holidays.)

Different Flavor Options
French Vanilla is my flavor of choice, but there are a variety of other flavors that are very easy to add. What
Amaretto
1-2 tablespoons Almond Extract (in place of vanilla)
Caramel
1 tablespoon vanilla extract
1-2 tablespoons caramel syrup
Hazelnut
1-2 tablespoons Hazelnut extract (instead of vanilla)
Irish Creme
2 tablespoons chocolate syrup
1 teaspoon instant coffee
1-2 teaspoons vanilla extract
1 teaspoon almond extract
Mocha
1 tablespoon cocoa powder
2-3 teaspoons sugar
(Additional instructions – in order to completely dissolve your powdered ingredients, gently heat cocoa powder, sugar and about ¼ cup of milk until just mixed.)
Homemade vanilla coffee creamer is my favorite!
What flavor do you love the most?
What Will You Make?
Every time I make this homemade coffee creamer, I still can't believe how easy it is. Why don't you give this a try and let us know what you think. Which flavor is your favorite?
If you didn't find your favorite, just play around with a variety of flavors you like. You are bound to find something suitable for your coffee.
Be sure to share your flavor combinations with us here. We'd love to hear how you made this your own!
I love sweetened condensed milk and it really makes a rich and creamy coffee creamer. You can experiment with sugar free syrups or flavoring if you prefer.
Try almond milk or fat free milk. There are so many options from cocoa powder, hazelnut extract and even pumpkin spice and maple syrup. Let us know what combination you try.
Your morning coffee will be even more amazing with so many creamer options that save you money.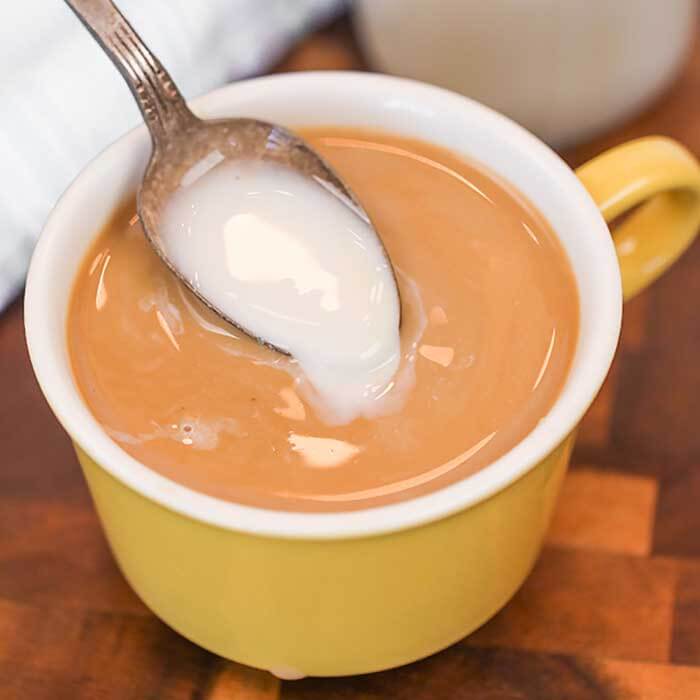 Print this easy homemade coffee creamer recipe below:
Homemade Coffee Creamer
This Homemade Coffee Creamer Recipe is so easy to make and will save you 50% or more just by making it yourself. My favorite part is that you only need 3 ingredients to make it!
Ingredients
1

can sweetened Condensed Milk

14 oz.

1

cup

Almond Milk

1

Tbsp

Pure Vanilla Extract
Instructions
Whisk together all the ingredients in a large bowl.

Store in an air tight container in the refrigerator.

The creamer will last until the expiration on the almond milk that you used to make it.

Enjoy!
Nutrition Facts
Calories
48
kcal
,
Carbohydrates
8
g
,
Protein
1
g
,
Fat
1
g
,
Saturated Fat
1
g
,
Cholesterol
5
mg
,
Sodium
30
mg
,
Potassium
53
mg
,
Fiber
1
g
,
Sugar
8
g
,
Vitamin A
38
IU
,
Vitamin C
1
mg
,
Calcium
51
mg
,
Iron
1
mg
More Homemade Recipes: