This post may contain affiliate links. If you make a purchase through links on our site, we may earn a commission.
This Easy Homemade White Gravy Recipe brings back memories of growing up having delicious gravy. I cannot resist delicious white gravy served over mashed potatoes or biscuits for breakfast. It is the top of my list as my favorite comfort food.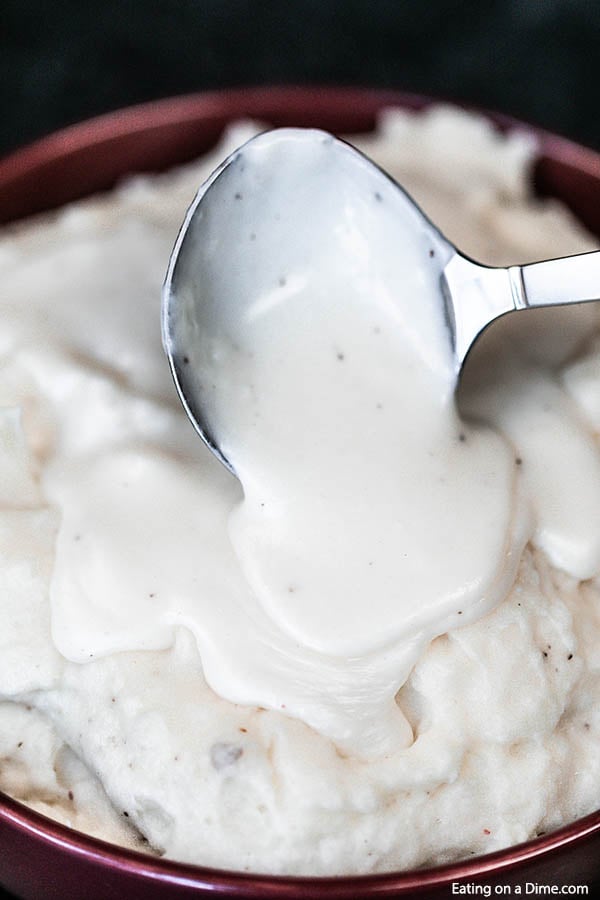 Homemade White Gravy Recipe:
Words cannot describe how I feel about white pepper gravy. I remember the first time that I realized that white gravy is a Southern food. White Gravy is smooth and creamy and a perfect addition many main dishes. My family favorite is fried chicken fingers with mashed potatoes and white gravy.
I can probably eat a large bowl of gravy. It is the perfect comfort food. My mom made this white gravy recipe when I was growing up with mashed potatoes and I think I might like the gravy more than the potatoes!
White Gravy is also great for breakfast. I try to make biscuits and gravy for breakfast on the weekends. My family looks forward to it. They aske for biscuits and gravy over any other breakfast items.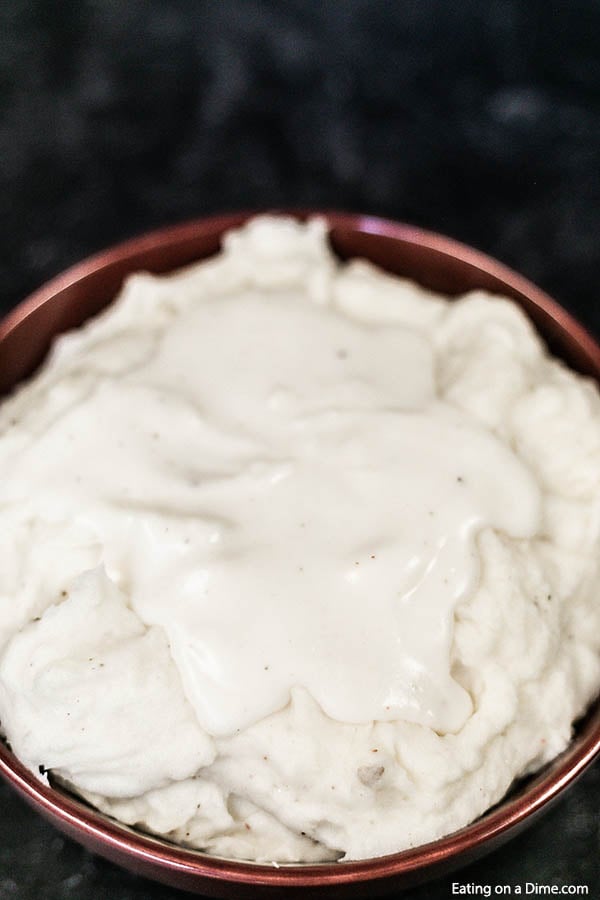 How to make gravy from scratch?
Luckily now wherever you are from (this is no longer just for the South), you can enjoy this easy milk gravy recipe with flour. This gravy is great served with mashed potatoes, biscuits, chicken strips and chicken fried steak!
Earlier this week I made my family homemade fried chicken strips for dinner with mashed potatoes so of course there has to be white gravy. We will not buy the package brown gravy mix again.
However, once I figured out how easy it is to make white gravy from scratch, we started making our own. I thought today we would talk about how to make white gravy with ingredients from your pantry. You are not going to believe how easy this recipe is!
Making Homemade Gravy ahead of time:
Did you know that you can make homemade gravy ahead of time? I love to save time in the kitchen, so when I am meal prepping for the week and gravy is on the menu, it is very easy to make a batch.
Once you have the gravy made, refrigerate the gravy in a airtight container. The gravy will get extra think. Poor the gravy in a saucepan and place on the stovetop. Add in a little milk to your desire consistency and now it is ready to serve.
Now your family can have gravy anytime of the week.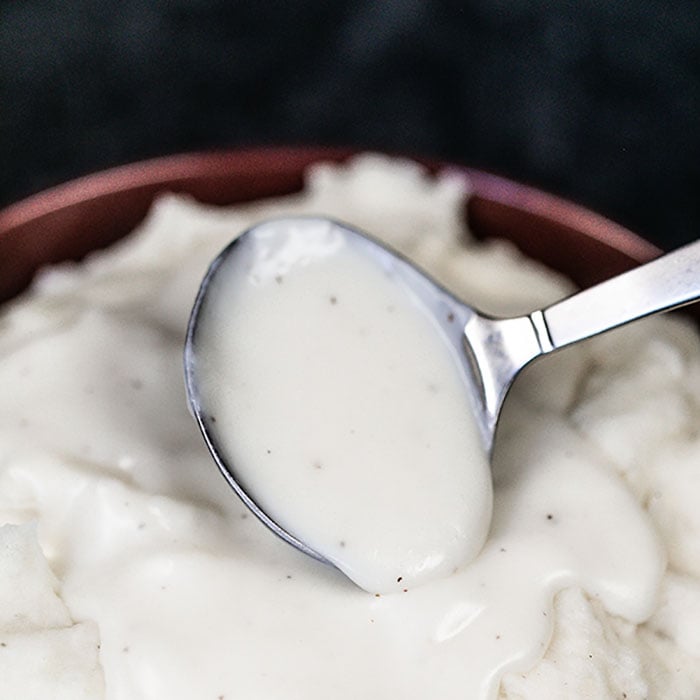 How to use White Gravy:
There are different types of gravy that you can serve. It all depends on what your main dish is. Here are a few of our favorite ways to use White Gravy:
Chicken Fried Steak
Serve over Biscuits (Try Biscuits and Gravy)
Mash Potatoes
Pork Chops
Fried Chicken
Dipping sauce for your French Fries
Hashbrowns
As you can see the options are endless. Try it for breakfast, lunch or dinner. We know that you will find that this recipe and the ingredients are so easy that you can probably make it right now.
What is white gravy made of?
You only need 5 ingredients to make this delicious and easy homemade white gravy and they are all pantry basics so I bet you already have them in your cabinets!
Flour
Milk
Butter
Salt and Pepper
Can you believe that this is all you need to make this easy white gravy recipe?
That means this homemade white gravy is much more frugal than the packets at the store. So you can enjoy a delicious white gravy and save money too. Plus you know exactly the ingredients you are using.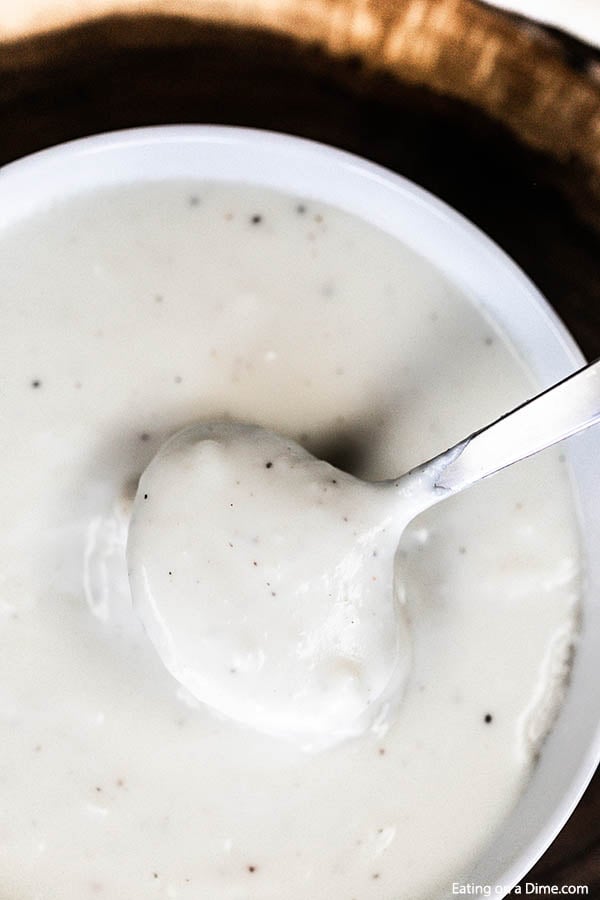 How to make white gravy with flour and milk:
First heat the butter in a medium sauce pan over medium heat until the butter melts.
Then add in flour and whisk it into the melted butter and the flour turns a light brown.
Once the butter and flour are combined, slowly stir in milk until smooth and creamy.

Continue adding milk and whisk to make sure that there are no lumps in the flour mixture. Heat while stirring constantly.

Add in your salt and Pepper.
Then allow the gravy to simmer for approximately 3-5 minutes or until the gravy thickens to your desire consistancy.
If the gravy becomes too thick, add more milk. You may need add up to another cup of milk depending on how you prefer your gravy.
If the gravy is too thin, allow it to simmer longer until it thickens more.
Once finished, you will want to test your white sauce gravy and add more salt if needed. I personally like more sauce than others. You may also want to add more black pepper.
Serve the gravy immediately while it's still warm and enjoy!
It really does take less than 10 minutes to make, more like 6 minutes to be honest. Next time you are in the mood for some good 'ol country white gravy save money by making your own!
Variation Ideas:
Here are a few substitutions that you can use in case you're missing an ingredient for this recipe.
Butter – Bacon grease is a great option if you're all out of butter. I love using bacon grease to make delicious sawmill gravy.
Pan Drippings – If you are making fried chicken or any other recipe with drippings, you can use those drippings instead of butter. Especially when making fried chicken or chicken friend steak.
Milk – You can used heavy whipping cream or half and half. Also, chicken stock is a good substitution if you need a diary free option.
Sausage Gravy – If we cook sausage, I will crumble up a few pieces to use to mix in with white gravy. This is my family's prefer way of eating biscuits and gravy.
How to store white country gravy leftovers
This gravy is great heated up as leftovers as well. I store any that is left in the refrigerator in an air tight container for 5-7 days. There is nothing better than left over biscuits and homemade white gravy to enjoy throughout the week or as a late night snack!
You can even toast some bread, so an easy snack.
Homemade White Gravy is a must:
This easy and delicious white gravy recipe is an American staple and my family loves it as much as I do. And since this recipe is ready in less than 15 minutes, I know you'll be making it for your family all the time now too!
Easy ingredients and quick and easy to make your family will be requesting this all the time!
Print this homemade gravy recipe below:
How to make White Gravy
Learn how to make this White Gravy Recipe in just a few minutes and with pantry ingredients. Save money by making your own white gravy!
Instructions
In a medium sauce pan, combine butter and flour.

Heat over medium heat until butter melts.

Once butter and flour is cooked, pour in milk.

Continue to pour in milk and whisk to make sure there are no lumps.

Allow the gravy to simmer for about 3-5 minutes or until thick.

If it is too thick, add more milk. You may need up to another cup of milk.

If it is to thin, allow it to simmer longer.

Taste and add more salt if needed.

Serve immediately.
Recipe Notes
You can store in a covered container in the fridge and reheat.
Nutrition Facts
Calories
137
kcal
,
Carbohydrates
8
g
,
Protein
3
g
,
Fat
10
g
,
Saturated Fat
6
g
,
Cholesterol
28
mg
,
Sodium
296
mg
,
Potassium
107
mg
,
Fiber
1
g
,
Sugar
4
g
,
Vitamin A
368
IU
,
Calcium
94
mg
,
Iron
1
mg

What to Serve with Gravy:
More Gravy Recipes: