This post may contain affiliate links. If you make a purchase through links on our site, we may earn a commission.
How to Zest a Lime to add the tangy flavor to your recipes is easy to do. Follow these preferred methods to help you zest a lime.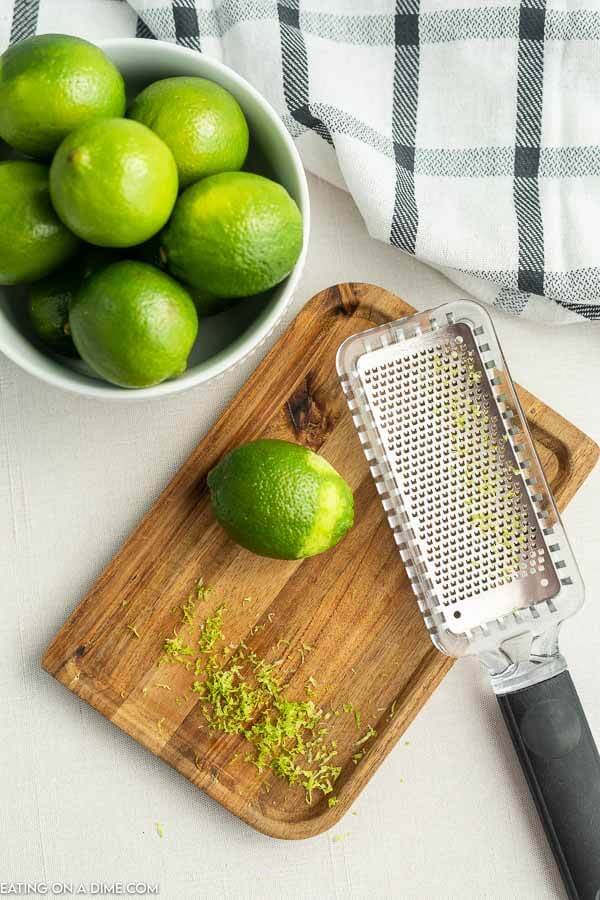 How to Zest a Lime?
Zest is a great way to add flavor and brightness to so many different recipes. It is great on soups, salads, dressing, drinks and even key lime pie.
There are many different ways to add zest to your recipes. These preferred methods will help add the tangy flavor and brightness to your yummy recipes.
This citrus fruit can be used in many different ways
What is Lime Zest?
Zest is the outer peal of the lime finely shredded. It is not the whole peel it is the top later of the outer peel. The white part is what holds in the juices of the lime.
The outer layer is what you want to focus on. This is where the all the citrus flavor comes from. This is the part that you zest for your recipes.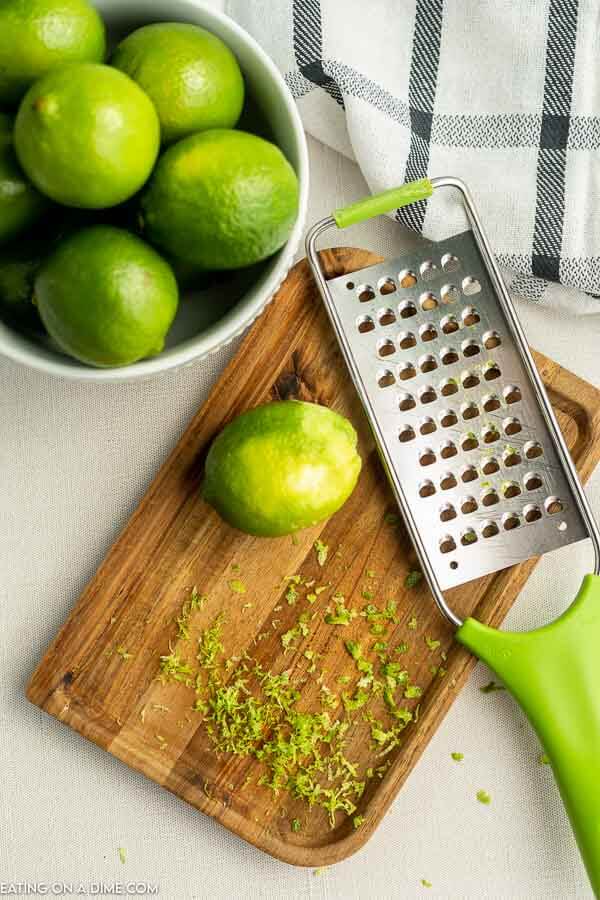 How much Zest is in 1 lime?
Depending on the size of your will determine how much zest you will get. It will also depend on how thoroughly you zest the lime and the thickness of the lime.
One normal size lime – 2 teaspoon of zest
How to Zest a Lime without a Zester?
If you don't have a zester there are other tools that can be used. You can even use a box grater. There are many things that you probably have already that can zest a lime in a pinch.
Vegetable Peeler
The vegetable peeler is a great tool to use when you don't have a zester. Use the peeler to grate large pieces, focusing on the outer strips of peel of the lime. Making sure you don't get any white pith. Once you have peeled strips you can chop in small pieces with a knife.
Sharp Paring Knife
Using a sharp knife is another great option. You will hold the lime and turn the lime, and peel thin strips of the outer layer on part of the peel on a cutting board. Then you can chop into small pieces with the knife.
What is the best way to Zest a Lime?
The best way to zest a lime is with a Zester with the sharp holes. It is normally not a tool that is part of your favorite kitchen utensils but it is a very handy tool. Rotate the lime while zesting to make sure all sides are done.
We have used it with oranges and lemons when a recipe calls for it.
What to do with Lime Zest?
There are many recipes that call for Zest. These are our favorites:
Baked Goods – Cookies and Muffins
Dressing
Marinades
Cocktails – Zest the rim of your glass
Tea Flavoring
Frosting for Dessert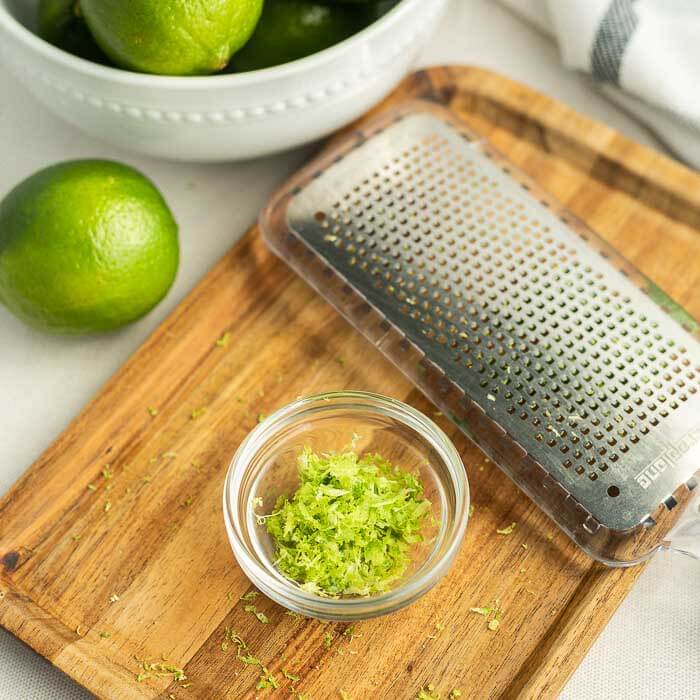 Lime Zest Substitute:
If you come across a recipe that requires zest and you don't have any, these are the best substitutes. For 1 teaspoon of zest this is the substitute amount:
Lemon Peel Zest – 1 Teaspoon
Lime Juice – 2 Tablespoon
Lime Extract – ½ teaspoon
Dried Lime Peel – ⅓ teaspoon
How to Store Lime Zest?
To store zest, place in a zip lock bag or a small container in the refrigerator. zest will last about 2 weeks in the refrigerator.
It also freezes great too. Place zest on a baking sheet lined with parchment paper and freeze. Once frozen, then place frozen zest in a freezer safe container. It will last about 6 months in the freezer.
Tips & Tricks:
Use or store zest quickly so that it doesn't harden.
Make sure to wash lime before zesting. It has been handled by a lot of different people
Only zest the top layer so you don't get the white part.
Use the zested lime in many different drinks or food recipes.
More Kitchen Tips:
Recipes to Make with Lime: