This post may contain affiliate links. If you make a purchase through links on our site, we may earn a commission.
My family absolutely loves anything with the word sausage in it and I love a simple recipe. This Instant Pot Sausage and Peppers Recipe meets both of these requirements and is perfect if you are following a low carb or keto diet.
Keto Peppers and Sausage Recipe:
We love using our instant pot. It makes for a busy weeknight dinner and this Keto Italian sausage recipes is one of our favorite. It is loaded with flavors and only requires a few ingredients.
Keto Sausage and Peppers are delicious and low carb but can easily be served over rice or pasta. It is hearty and delicious and even though it is keto friendly, my kids can't get enough.
This keto recipe cooks in less than 30 minutes and the results are a delicious one pot meal. This recipe is even delicious in the crock pot, but when in a rush the instant pot does all the work.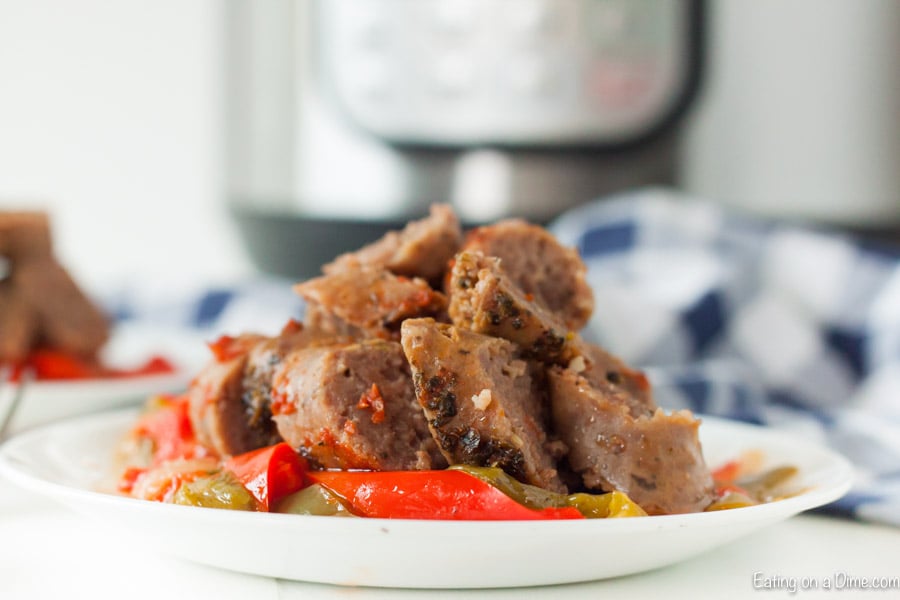 Ingredients:
Italian Sweet Sausages
Red Peppers
Green Bell Peppers
Large Onion, sliced
Italian seasoning
Minced Garlic
Tomato Sauce 15 oz
Chicken Broth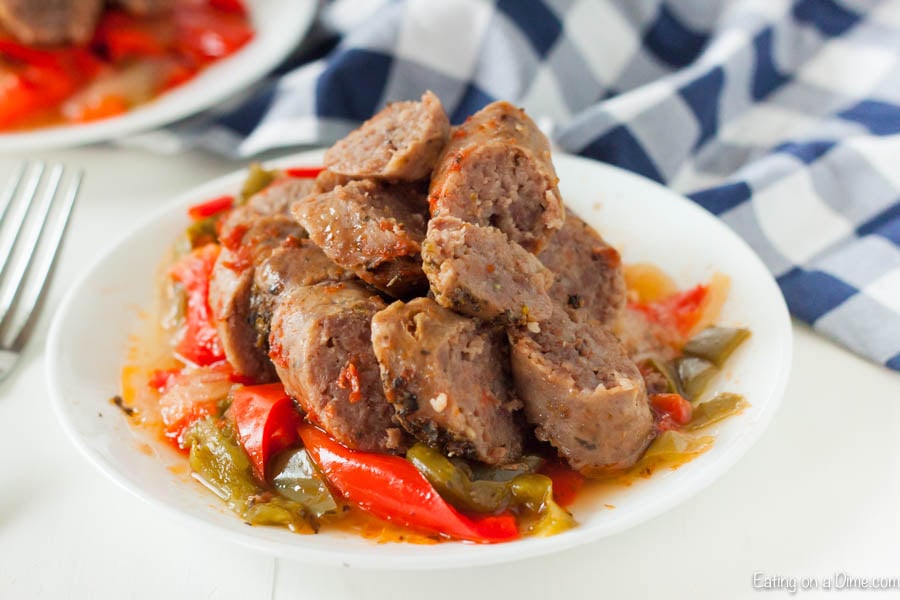 How to Make Sausage and Peppers in the Instant Pot:
Step 1 – Combine everything in the Instant pot. Add lid and set the valve to sealing.
Step 2 – Set the pressure (high pressure) to 20 minutes.
Step 3 – When it is finished cooking do a quick release to remove the pressure.
Step 4 – Slice the sausage and serve.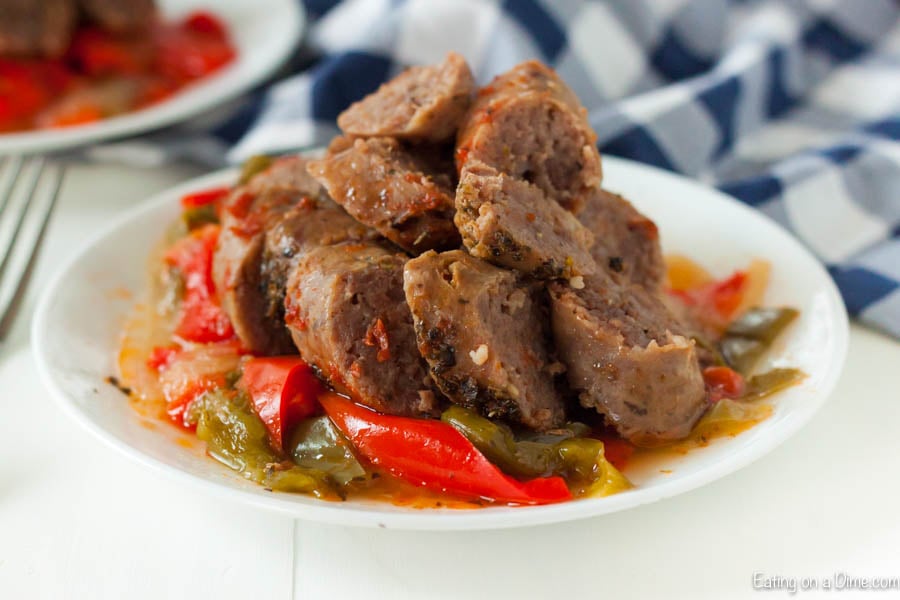 How Long to Cook Frozen Sausage in Instant Pot?
My favorite thing about electric pressure cookers is that you can take food from frozen to an amazingly cooked meal quickly. You can cook frozen sausage in the instant pot as well.
I would increase the pressure cooking time to 25-30 minutes depending on the size of the sausage links that you chose for this recipe.
Recipe Tips:
Preparing Onions and Peppers – Make sure to slice the peppers and onions about the same size. This allow them to cook evenly and not become mushy.
Pressure Cooking – We like to cook this low carb sausage and peppers on high pressure and then do a quick release.
Substitutions and Additions:
Seasoning – Feel free to change the seasoning to what you prefer. We love the Italian Seasoning blend, but you easily use fresh herbs.
Peppers – You can use different vegetables in this recipe. Peppers work great, but you can also use broccoli or squash.
Onions – Substitute the onions for yellow or sweet onions.
Sausage – There are a variety of sausage to use this recipe. We love the flavor of the Italian Sausage Links, but you can also choose from turkey, pork or chicken. There are also sweet, mild, or hot options. You can even use smoked sausage.
Garlic – We love the flavor of garlic, you can choose from minced garlic or fresh garlic cloves.
Broth – Broth gives this dish so much flavor. You can use chicken or vegetable broth.
Tomato Sauce – The tomato sauce that is added really brings the ingredients together. You can use spaghetti sauce or homemade marinara sauce.
Browning Sausage – There is no need to cook sausage in olive oil prior to putting in instant pot.
What to Serve with Instant Pot Sausage and Peppers:
Rice – I usually serve instant pot sausage and peppers with rice. You can use instant rice or I love pressure cooking the rice as well. It tastes like it was made in a rice cooker. My family loves it when I serve them instant pot sausage and rice for dinner.
Potatoes – I also enjoying serving instant pot sausage peppers and potatoes. You can throw diced up potatoes (your favorite type) in the pressure cooker with the other ingredients for a great side dish to serve with this quick and easy meal.
Low Carb – However, if you are following a low net carb or keto diet, you can serve this recipe by it's self and it still tastes amazing. This is a simple and easy keto recipe that will quickly become a regular on your meal planning schedule.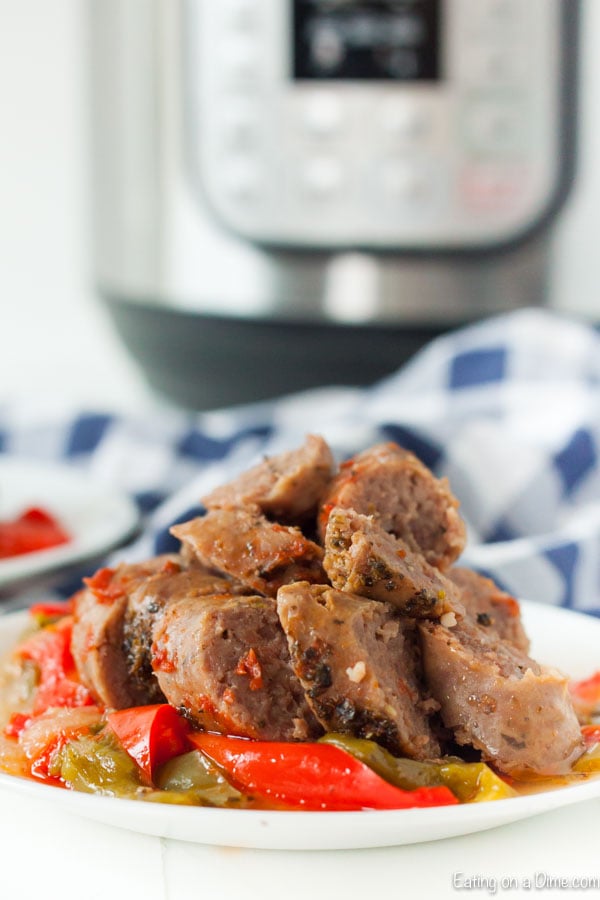 Easy Pressure Cooker Sausage and Peppers:
I always stock up on sausage when they are on sale as I can always find a great price for peppers and onions. Then I have sausage on hand when I need to make this quick and easy recipe.
If you are interesting in reducing your grocery budget, check out my 8 Tips for for Saving Money on Groceries by Menu Planning! By spending a little extra time meal planning, I reduced my grocery budget by 50%.
Plus, being able to throw this together quickly and easily really helps to avoid the temptation of getting take out. Trust me, this sausage and peppers instant pot recipe tastes better than take out anyway.
Take out these days is not that fast and costs a small fortune. It is even more if you have 8 kids like I do. I like to use the extra money I save by meal planning to eat out when we want to instead of when we have to!
We often use what we have in the freezer or what is on sale that week. By shopping when things are on sale I save money on groceries and it really helps our budget. Saving money and feeding a big family is doable.
Everyone in my family loves this sausage and peppers in the instant pot recipe and I hope your family enjoys it as well.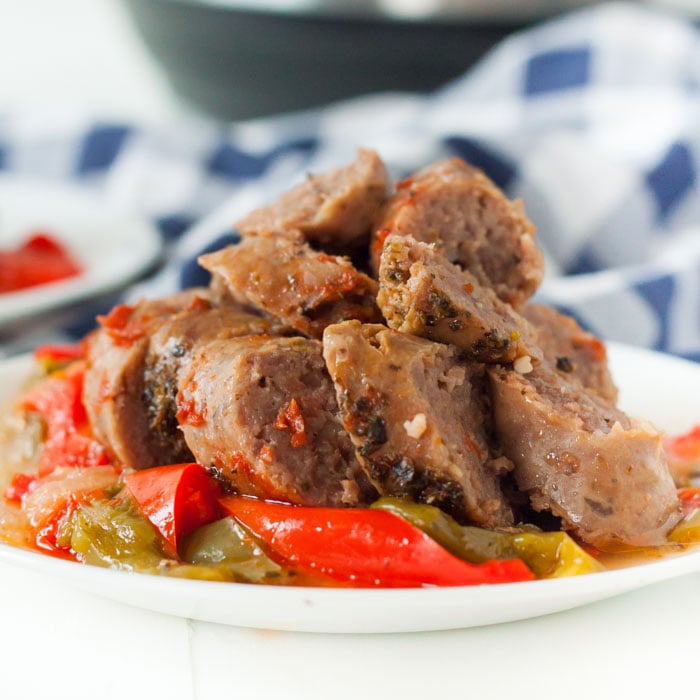 How to Store Leftovers:
Sausage peppers and onions store great in the fridge. Make sure to store in an air tight container and it will last about 4 days in the fridge. This recipe is even better the next day as the ingredients really marinate together.
Print this Sausage and Peppers Instant Pot Recipe Below:
Instant Pot Sausage and Peppers
I hope you try this low carb and keto instant pot sausage and peppers recipe. This is a quick and easy pressure cooker recipe that everyone will love!
Instructions
Combine everything in the Instant pot. Add lid and set the valve to sealing.

Set the pressure (high pressure) to 20 minutes.

When it is finished cooking do a quick release to remove the pressure.

Slice the sausage and serve.
Nutrition Facts
Calories
711
kcal
,
Carbohydrates
12
g
,
Protein
29
g
,
Fat
59
g
,
Saturated Fat
21
g
,
Cholesterol
143
mg
,
Sodium
1401
mg
,
Potassium
855
mg
,
Fiber
3
g
,
Sugar
6
g
,
Vitamin A
2790
IU
,
Vitamin C
170.2
mg
,
Calcium
65
mg
,
Iron
3.3
mg
More Instant Pot Recipes: