Today we are making this delicious Oreo Truffles Recipe with the key ingredient being…. OREOS! Ok, I know it was obvious since the name includes Oreos, but these easy no bake Oreo balls are just so good.  These truffles are delicious crushed up Oreos covered with a delicious chocolate shell that everyone loves.
No Bake Oreo Truffles
It is officially day 7 of our 25 Days of Christmas cookie exchange recipes. Today is a good one! Ok, maybe they are all really good, but I have a sweet obsession with Oreos.
I normally prefer homemade cookies to store bought, but there is something about an Oreo that no one can recreate. I love most desserts that include Oreos and this recipe is no different.
It's only 3 ingredients and so easy to make.  Also, everyone loves these when I make them.  You can't go wrong with this easy and delicious dessert recipe!

You only need 3 ingredients to make Oreo Truffles!
I love creating desserts for my family but get easily intimidated with super complicated recipes.  Luckily this one only requires 3 ingredients, so I knew that I wouldn't have any problems creating these Oreo balls.
8 oz Cream Cheese Softened
14.5 oz Oreo Cookies
14 oz Chocolate Dipping Chips
Candy Decorations (optional)
How to make Oreo Truffles:
Ok now that you have everything you need for this recipe, let's get started on how to create these Oreo truffle balls.
First I like to line a baking sheet with wax paper or parchment paper so that clean up is simple.
Then you are going to finely crush your Oreos.
I highly suggest you use a nice food processor like these on Amazon if you don't have one. You could use this mini food processor but it won't get the Oreos quite as fine.
I prefer the Oreos to be crushed into fine crumbs as they mix easier. However, if you don't have a food processor, you can also crush Oreos in a ziplock bag with a rolling pin.
Then put the multiple cups cookie crumbs in a large mixing bowl and add cream cheese once the cream cheese has softened. You'll want the cream cheese to be softened so that it'll combine well with the Oreos.
I usually just allow the cream cheese to sit at room temperature for a few hours before making this recipe to soften.

Who is ready to make Oreo Chocolate Truffles?
Once the Oreos and cream cheese are thoroughly combined, roll small amounts into individual balls.  I used my cookie scoop to assist in creating the mixture into the ball shapes and it worked perfectly.  Then place the Oreo balls on the prepared baking sheet.
Next place this baking sheet in the freezer for 15 minutes to 30 minutes to allow the Oreo and cream cheese mixture to harden.
During this time melt the chocolate.  I used chocolate chips for this recipe but you could also use melting chocolate or almond bark as well.  Either of these would work great.
I melted the chocolate I used for this recipe by melting in the microwave.  I heated it in the microwave intervals in one minutes intervals.  Stir the chocolate between the intervals until it was completely melted.
Then remove the Oreo balls from the freezer and dip them into the melted chocolate. I used a fork to dip them and allowed the excess chocolate to drip off before placing the Oreo balls back on the baking sheet.
At this time, consider topping the truffles with your favorite sprinkles or additional crushed up Oreos.
Then place the Oreo balls in the refrigerator until the chocolate sets.  Then they are ready to enjoy!
Variations for this Recipe:
This recipe is easy to switch up to make it your own.  Consider using white chocolate too.  Sometimes I like to make a combination of milk chocolate and white chocolate so there is a variety of options for my family to enjoy!
Also, you can use any type of Oreos for this recipe.  I have used the peppermint Oreos and the vanilla Oreos before and both were delicious.  Don't be afraid to use your favorite type to create delicious truffles.
Now the one I made are great for Christmas, but you can make these for really any occasion.
We also love to make these simple and delicious Chocolate Covered Rice Krispie Treats for holiday gatherings or parties.
'Peanut butter and chocolate fans will go crazy over these Easy Chocolate peanut butter cups.
Print this easy Oreo Truffles Recipe below:
3 Ingredient Oreo Truffles Recipe
Try this easy Oreo Truffles Recipe this year. How to make Oreo balls. These no bake oreo balls are easy and are the best oreo chocolate truffles.
Keyword:
3 Ingredient Oreo Truffles Recipe
Ingredients
8

oz

softened Cream Cheese

14.5

oz

Oreo Cookies

14

oz

Chocolate Dipping Chips

Candy Decorations

optional
Instructions
Line a cutting board or baking sheet with parchment paper.

Finely crush Oreos in food processor.

Combine cream cheese and crushed cookies until well blended.

Form mixture into 1" balls and place on prepared sheet.

Place in freezer for 30 minutes.

Heat chocolate by microwaving for 1 minute stirring and repeating until melted.

Using a fork dip each ball into chocolate to completely coat. Shake off excess and return to tray.

You can optionally decorate with candy decorations.
Recipe Notes
This dessert is a hit no matter where you take them. They will likely be devoured in minutes.
Nutrition Facts
3 Ingredient Oreo Truffles Recipe
Amount Per Serving (1 g)
Calories 99
Calories from Fat 45
% Daily Value*
Fat 5g8%
Cholesterol 6mg2%
Sodium 50mg2%
Potassium 14mg0%
Carbohydrates 12g4%
Protein 1g2%
Vitamin A 80IU2%
Vitamin C 0.1mg0%
Calcium 17mg2%
Iron 0.3mg2%
* Percent Daily Values are based on a 2000 calorie diet.
If you need an easy dessert that is sure to be a hit, try Oreo Magic Bars Recipe. These Magic Bars are a tasty twist on traditional magic bars.
Make sure you take a minute to check out all the delicious recipes in our Christmas cookies exchange recipes series.

Try these other Oreo desserts: 
If you like this recipe, try this easy Homemade Peanut Brittle Recipe for an amazing treat.
Try this Puppy Chow Recipe for another simple but delicious treat you can enjoy anytime of the year.
We are crazy about oreo cookies and this Oreo Ice Cream Cake Recipe is out of this world!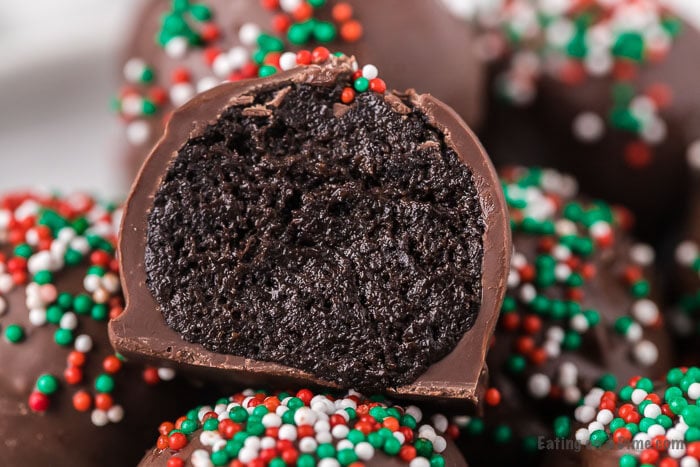 Enjoy deep fried oreos at home for a fraction of the price!
If you enjoy this recipe, check out these easy dessert recipes: