This post may contain affiliate links. If you make a purchase through links on our site, we may earn a commission.
Today we are making this delicious Oreo Truffles Recipe with the key ingredient being…. OREOS! These Oreo balls are one of my favorite easy no bake desserts. 
I normally prefer homemade cookies to store bought, but there is something about an Oreo Cookie Balls that no one can recreate. I love most desserts that include Oreos and this dessert recipe is no different.
It's only 3 ingredients and so easy to make.  Also, everyone loves these 3 ingredients Oreo balls when I make them.  You can't go wrong with this easy and delicious dessert recipe. If you love Oreo balls, you might also like Peppermint Oreo Balls.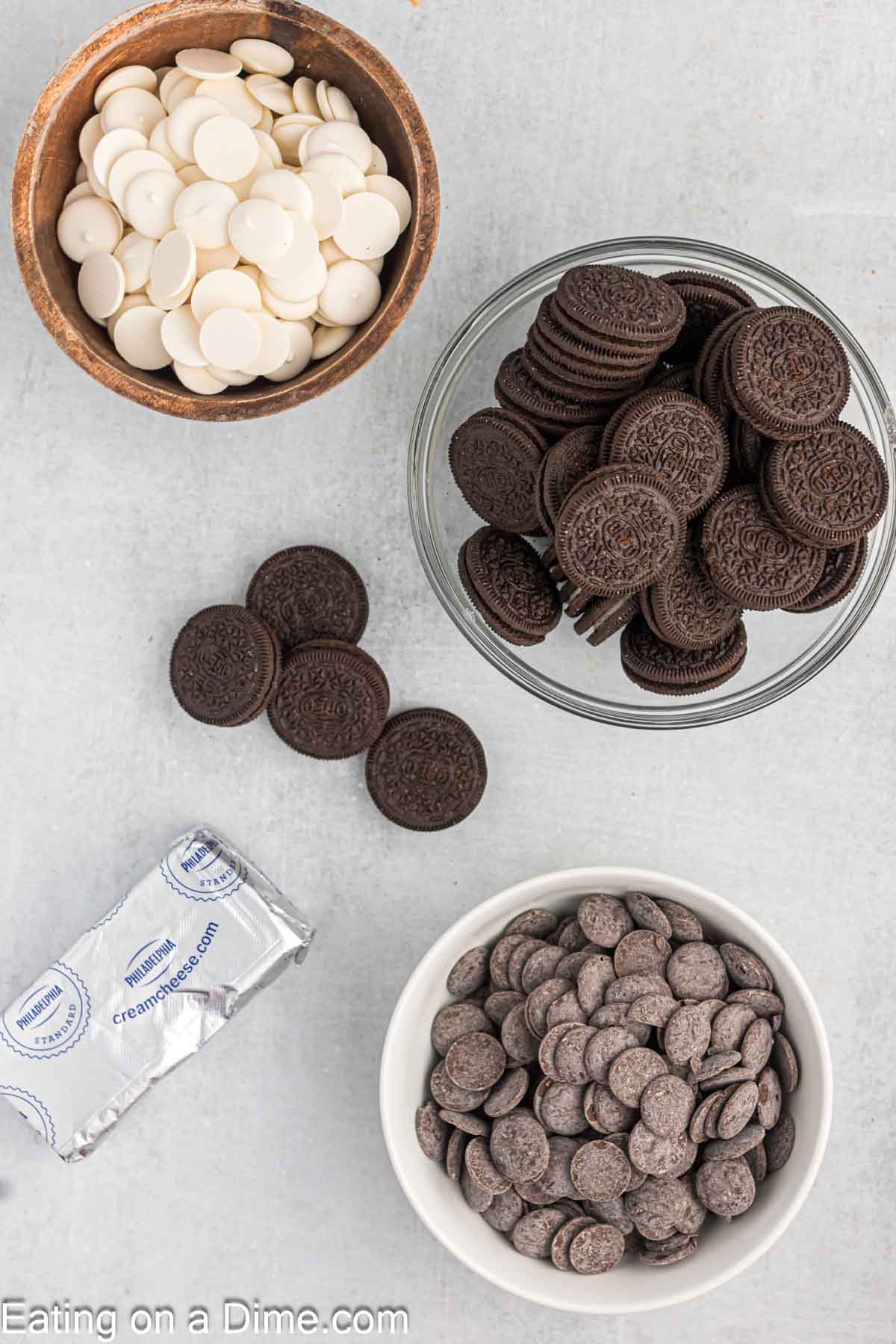 Ingredients
Oreos – I love using the regular Oreos for this recipe. You don't need anything fancy and I don't recommend the double stuff as it's too much cream for this recipe.
Cream Cheese – Do not use the reduce fat cream cheese and let the cream cheese soften at room temperature. Usually sitting at room temperature for 2-3 hours works perfectly.
Melting Chocolate – Melting chocolate, baking chocolate or chocolate chips all work great to make the candy coating for these Oreo balls.
For the full list of ingredients and recipe, scroll to the bottom for the recipe card.
Variations Ideas:
Change up the Chocolate. – This recipe would be great with dark, milk or white chocolate for the candy coating on these Oreo balls. You can also do a mixture for more variety for serving.
Use Different Types or Oreos. – I use traditional Oreos for this recipe but there are a variety of Oreos that you can choose from. Peppermint Oreos would be perfect for Christmas and Vanilla Oreos would be great with white chocolate.
Use different type of Sprinkles – You can easily make these for any holidays with different type of festive sprinkles. These are perfect for any event or holiday because they are always a crowd pleaser.
Make Mint Truffles. – Add some peppermint extract to the Oreo and cream cheese mixture. Then top with crushed up candy canes to make delicious Mint Truffles.
How to Make Oreo Truffles
Step 1 – First I like to line a baking sheet with wax paper or parchment paper for easy clean up.
Step 2 – Finely crush the package of Oreos in a food processor. I prefer the Oreos to be crushed into fine crumbs as they mix easier for this recipe.
Step 3 – Then put Oreo cookie crumbs in a large mixing bowl and add the softened block of cream cheese. You'll want the cream cheese to be softened so that it'll combine well with the Oreos
Step 4 – Once the Oreos and cream cheese are thoroughly combined, roll small amounts into individual 1-inch balls.  I use a small cookie scoop to assist in creating the mixture into the ball shapes.  Then place the Oreo balls on the prepared lined cookie sheet and freeze for about 30 minutes.
Step 5 – During this time melt the chocolate. Heat the chocolate in the microwave in 30 second intervals (stirring after each interval) until the chocolate is fully melted.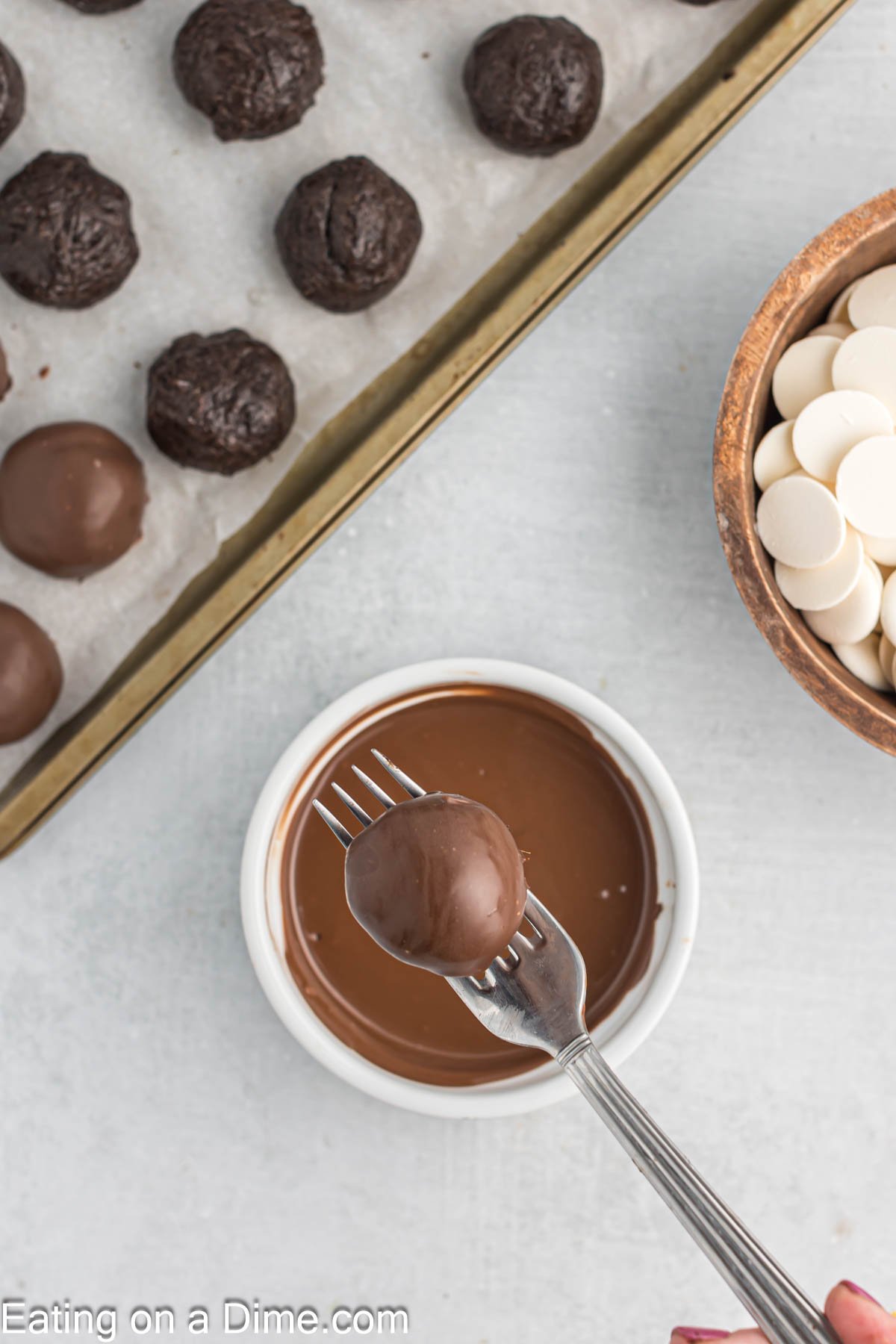 Step 6 – Then remove the Oreo crumb balls from the freezer and dip them into the melted chocolate. Use a fork to dip them into the chocolate and allowed the excess chocolate to drip off of the fork.
Step 7 – Then place the Oreo balls back on the baking sheet. Then drizzle the truffles with your favorite sprinkles or additional crushed up Oreos. Place the Oreo balls in the refrigerator until the chocolate sets (usually around 15 minutes to 20 minutes).  Then they are ready to enjoy!
Expert Tips:
Cream Cheese – Don't use light cream cheese, the full fat one is the best option for this recipe.
Freeze – Be sure to freeze the Oreo balls before attempting to dip them in the chocolate.
Food Processor – Use a food processor or a blender to crush the Oreos so that they blend more evenly with the cream cheese. However, if you don't have a food processor, you can crush the Oreos in a ziplock bag with a rolling pin.
Harden Chocolate – If the chocolate begins to harden while you're using it put it back in the microwave for 5-10 seconds.
How to Store:
Refrigerate these no bake Oreo balls in an air tight container for up to 1 week. You can keep them at room temperature for 2-3 hours when serving.
Can you Freeze these Oreo Balls?
Yes, these Oreo truffle balls can be frozen in an air tight freezer safe container or bag for up to 2-3 months. Defrost them out in the refrigerator overnight and then they are ready to be enjoyed.
More Oreo Desserts: 
We love hearing from you. If you make this 3 ingredient Oreo dessert, please leave us a comment or a star review.
3 Ingredient Oreo Truffles Recipe
Try this easy Oreo Truffles Recipe this year. How to make Oreo balls. These no bake oreo balls are easy and are the best oreo chocolate truffles.
Ingredients
8

oz

softened Cream Cheese

14.5

oz

Oreo Cookies

14

oz

Chocolate Dipping Chips

Candy Decorations

optional
Instructions
Line a cutting board or baking sheet with parchment paper.

Finely crush Oreos in food processor.

Combine cream cheese and crushed cookies until well blended.

Form mixture into 1″ balls and place on prepared sheet.

Place in freezer for 30 minutes.

Heat chocolate by microwaving for 1 minute stirring and repeating until melted.

Using a fork dip each ball into chocolate to completely coat. Shake off excess and return to tray.

You can optionally decorate with candy decorations.
Recipe Notes
This dessert is a hit no matter where you take them. They will likely be devoured in minutes.
Nutrition Facts
Serving
1
g
,
Calories
99
kcal
,
Carbohydrates
12
g
,
Protein
1
g
,
Fat
5
g
,
Saturated Fat
2
g
,
Cholesterol
6
mg
,
Sodium
50
mg
,
Potassium
14
mg
,
Sugar
8
g
,
Vitamin A
80
IU
,
Vitamin C
0.1
mg
,
Calcium
17
mg
,
Iron
0.3
mg