Satisfy your pumpkin craving with only 3 ingredients. Make these super easy and delicious Pumpkin cake mix cookies. They are effortless and so easy!
Easy Pumpkin cake mix cookies Recipe
I love making homemade cookies,. but sometimes I just don't the time to make a complicated recipe. This easy pumpkin cake mix cookies recipe solved that.

What do you do when you are craving dessert but don't have many ingredients or time?
Make these pumpkin cake mix cookies with just 3 ingredients. You can have the cookies made in 20 minutes. It does not get any simpler than this.
It all starts with a cake mix and the results are the best cookies. They are soft and fluffy.
You won't believe how so few ingredients can turn out so fabulous. These cookies so simple but taste amazing.
Ingredients
can of pumpkin – Make sure you use the pure pumpkin and not the pumpkin pie filling.
spice cake mix – I have made these before with a white cake mix and a yellow cake mix. They are good but the spice cake mix is so much better so use that if you can.
powdered sugar – This is optional but I think it gives a nice sweetness to the cookie so I think it's worth it.
How to make pumpkin cake mix cookies:
First, go ahead and preheat the oven to 350 degrees.
Second, get out a large bowl. Mix together the cake mix (unprepared) and the can of pumpkin.
Now, the batter will be thick but this is normal.
Finally, use a cookie scoop to make the cookies. You should be able to scoop about 24 cookies.
Then roll each cookie into the powdered sugar and put on a cookie sheet. Try to space the cookies about 2 inches apart.
Just bake for about 13 to 15 minutes.
Allow the cookies to cool for a few minutes before removing from the pan. Then let me finish cooling on a wire rack.
Recipe Notes:
If you cannot find a spice cake mix, use a yellow cake mix and mix in ½ teaspoon of pumpkin pie spice mix into the cookie batter.
Kitchen tools you need:
Baking sheet- You will need a good cookie sheet. This will impact how your cookies turn out.

Cookie scoops– We use these to make lots of cookies and even meatballs. You can quickly scoop a bunch and it makes it so easy to get them all the same size.

Cooling Rack- Great for baking and handy to have for this recipe.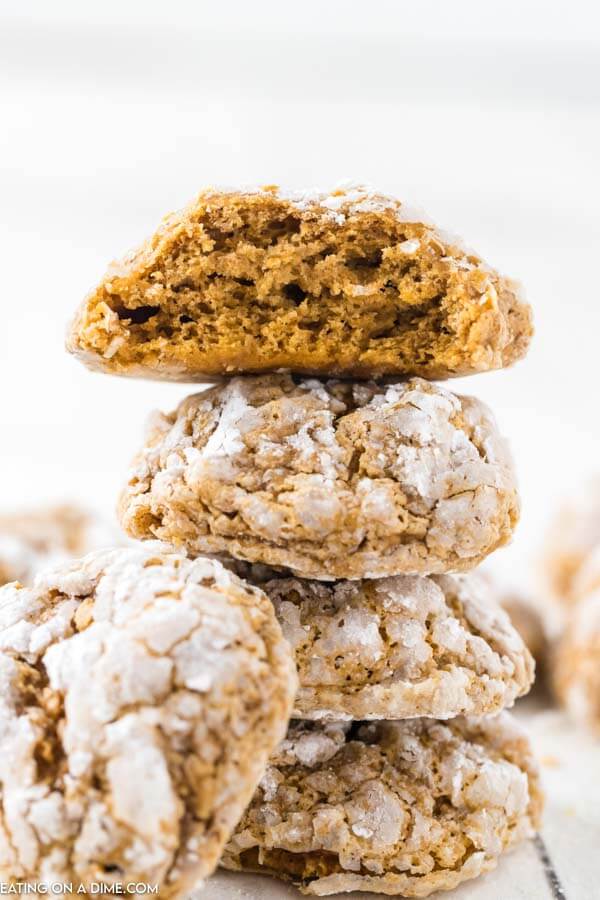 Tips:
The batter will be thick so I recommend mixing the batter by hand instead of using a mixer.
If the batter is too sticky, refrigerate the dough for 30 minutes before scooping.

Make sure to allow the cookies to cool slightly on the baking sheet before moving to the cooling rack. If you rush this step, the cookies may crumble.

Save money and make Pumpkin Puree. This is super easy and a great idea if you make a lot of pumpkin recipes.

If the batter is sticking to the cookie scoop, consider spraying the cookie scoop with nonstick spray first.
How to store:
Allow the cookies to cool until room temperature. Then keep the cookies inside an airtight container. This is optional but I like to use parchment paper to put in between the cookies to prevent sticking.
How to make cake mix cookies soft?
Generally, cake mix cookies are very soft and moist. The secret is to not over cook them. Watch them closely as they bake to ensure that they don't get overcooked.
Keep a piece of white bread in the container with the cookies to keep the cookies soft.
Variations to try:
Cake Mix – We used spice cake mix but other ideas include: yellow cake mix and white cake mix. Any of these would be great.

Chocolate – Toss in a handful of semi sweet chocolate chips to the cookie batter. The combination of pumpkin and chocolate is delicious.

Frosting – If you are feeling decadent, top the cookies with cream cheese frosting. Buttercream icing is also yummy.

White Chocolate chips – Mix in 1-2 cups of white chocolate chips. The white chocolate chips combined with the pumpkin makes for a delicious flavor combination.
You will love 3 ingredient pumpkin cookies.
From after school snacks to Thanksgiving dessert, these easy cookies do not disappoint. I love simple recipes like this because they don't take any effort.
Plus, they are so inexpensive to make. Since you only need 3 ingredients, it is very frugal.
You can easily make a batch to feed a crowd. It is a crowd pleaser and so delicious.
Let the kids help and see how easy and fun this is. I think you will love it. My kids ask for these all the time.
We normally make them together and have a blast.
How to freeze pumpkin cookies
You have two options to free pumpkin cookies. You can either freeze the batter or you can freeze them after they are cooked.
How to Freeze pumpkin cookies batter – We actually have a very good post on How to Freeze Cookies for Baking. It will teach you how to freeze the batter so you can quickly make homemade pumpkin cake mix cookies without all the work.

How to Freeze cooked pumpkin cookies – Another great idea is to freeze the cooking after they are cooked. Simply place the cookies in a freezer bag and freeze. They will stay fresh for up to 3 months in the freezer.

When you want a cooke, you can thaw it on the counter, or you can microwave the cookie to give you that warm fresh baked cookie flavor.
Print this recipe for Easy pumpkin cookies with cake mix:
Pumpkin Cake Mix Cookies
Satisfy your pumpkin craving with only 3 ingredients. Make these super easy and delicious Pumpkin cake mix cookies. They are effortless!
Ingredients
1

15 oz can of pumpkin

1

box spice cake mix

½

cup

powdered sugar
Instructions
Preheat oven to 350

In a medium size bowl mix together the cake mix (unprepared) and the can of pumpkin. Batter will be thick.

Use a cookie scoop to scoop the cookie dough. Roll into the powdered sugar and then place on a cookie sheet 2 inches apart. if the batter is too sticky, refrigerate for 30 minutes before scooping.

Bake for 13-15 minutes. Allow to cool slightly on the sheet before moving to a cooling rack.

Makes 24 cookies
Nutrition Facts
Calories
108
kcal
,
Carbohydrates
20
g
,
Protein
1
g
,
Fat
3
g
,
Saturated Fat
1
g
,
Sodium
142
mg
,
Potassium
134
mg
,
Fiber
1
g
,
Sugar
13
g
,
Vitamin A
1509
IU
,
Vitamin C
2
mg
,
Calcium
24
mg
,
Iron
1
mg
More easy pumpkin desserts:
More cake mix cookies: