Slow Cooker Candied Pecans is loaded with cinnamon and sugar flavor. This easy sweet and delicious recipe is perfect for snacking or to top your ice cream.
Slow Cooker Candied Pecans Recipe:
One of our tradition every year is to make holiday treats for family and friends. This slow cooker candied pecans are always on the list. Every one always loves it because of the sweet and salty flavoring.
We love making this recipe because these cinnamon and sugar filled pecans can cook while I am making something else. The ingredients are staple pantry ingredients so this recipe is budget friendly.
This crunchy flavorful treat is coated with a cinnamon sugar mixture that makes your home smell amazing. Cooking these Candied Pecans in the slow cooker allows you to make a large batch which is perfect for sharing.
What are Candied Pecans?
Candied Pecans are usually made and served during the holidays. They are pecans that have been covered with an egg white and vanilla mixture. Then brown sugar, sugar and cinnamon are mixed together and then mixed with the pecans.
You can either place them on a baking sheet and bake or cook them in the crock pot. Either way this holiday treat is addicting and can be served many different ways.
Ingredients:
Pecans Halves
Large Egg White
Vanilla Extract
Granulated Sugar
Brown Sugar
Ground Cinnamon
Water
Non Stick Cooking Spray
How to Make Crockpot Candied Pecans:
Mix egg white and vanilla – In a large mixing bowl, whisk together the egg whites with the vanilla extract until the mixture is combined and frothy (1-2 minutes). Then pour egg white mixture on pecans until they are evenly coated.
Stir sugars and cinnamon – In a separate large bowl, stir together the sugar, brown sugar and ground cinnamon until well combined.
Mix with Pecans – Pour this cinnamon and sugar mixture on top of the pecans and toss so that the pecans are fully coated with the sugar mixture.
Spray Slow Cooker with Non Stick cooking spray – Spray the crock pot with non-stick cooking spray and then add the pecan mixture to the crock pot.
Cook candied pecans – Cover and cook on low for 3 hours, stirring every 30 minutes.
Stir in Water – Stir the water into the crock pot for the last 30 minutes of the cook time to make the outer shell nice and crunchy.
Cool pecans on baking sheet – Then spread the candied pecans out on a baking sheet and allow them to cool for 20-30 minutes. Then the pecans are ready to serve, store or enjoy!
Crock Pot Candied Pecan Tips:
Slow Cooker – We used a 6 quart crock pot for this recipe. But you can any size that you have.
Crockpot liners – Make clean up a breeze when you use crock pot liners. This allows you to just toss the liner away and very little clean up is needed. We sprayed the crock pot with cooking spray so you can do either one.
Allow to cool – The pecans need ample time to cool completely. Rushing or skipping this step can result in soft pecans that are not crunchy.
Prepare the baking sheet – I recommend lining the baking sheet with parchment paper before placing the pecans to cool. This will help to prevent sticking and also make clean up much easier.
Why are my Candied Pecans Sticky?
If your candied pecans are sticky, that probably means that they did not cook long enough. To achieve that crunchy coat on the pecans, the pecan mixture needs to get hot enough and cook for the entire time.
We recommend keeping the lid close on the slow cooker so it cooks at the right temperature the entire time.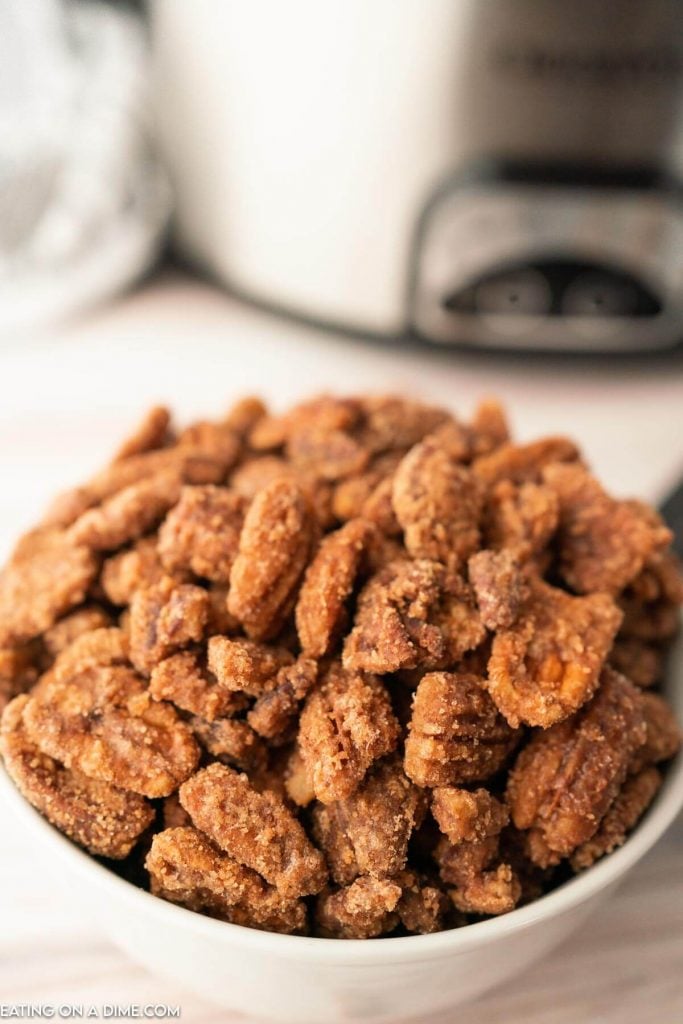 How to serve:
Snacking – Candied Pecans are delicious served alone as a snack. I usually keep a jar on the counter for an easy snack.
Charcuterie – Add candied nuts to a meat and cheese board. They compliment each other well. We love the combination of the meat, cheese, crackers and sweet pecans.
Oatmeal and Cereal – These sweet and crunch pecans make a delightful topping for oatmeal and cereal. The cinnamon and sugar coating is so tasty.
Salad – If you like sweet and savory, add a spoonful of candied nuts to your salad. These are really good on spinach salad.
Ice Cream – Top ice cream with candied pecans for a crunch and sweet treat.
How Long will Candied Pecans Keep:
Store any leftover pecans in an airtight container at room temperature for up to 1 week. I like to make these about once or twice a month as they are can be used with many different recipes.
Variations:
Change the Nuts – You can use different kinds of nuts. Try almonds, walnuts or cashews. These candied nuts will all turn out so flavorful and cook perfectly in the slow cooker.
Spicy. Change the flavor in this recipe and make sweet and spicy pecans. The extra heat and combination with the sweet is delicious. Just add ¼ teaspoon cayenne pepper to the brown sugar mixture.
Sea Salt – You sprinkle sea salt on the tops of the candied pecans while they are cooking. This gives it so much sweet and salty flavoring.
Easy Holiday Gift Giving:
This easy recipe is so versatile and effortless to make. I like to make a large batch to keep on hand to use all week long. We grab a handful for a quick snack as we head at the door.
During the holidays, I often make a double batch. These make great gifts for neighbors and friends.
Everyone loves candied pecans. I usually wrap in a holiday bag or mason jars with some other treats. The perfect budget friendly gift.
Candied nuts are pricey to buy so making these at home will save you a lot of money. Try this recipe today for an easy treat without much work in the slow cooker.
Print Recipe for Slow Cooker Candied Pecans:
More Easy Candy Recipes: