Candied Pecans Stovetop recipe is easy to make on the stove. Melted brown sugar and salt covers the pecans for a perfect snack or to top your salad.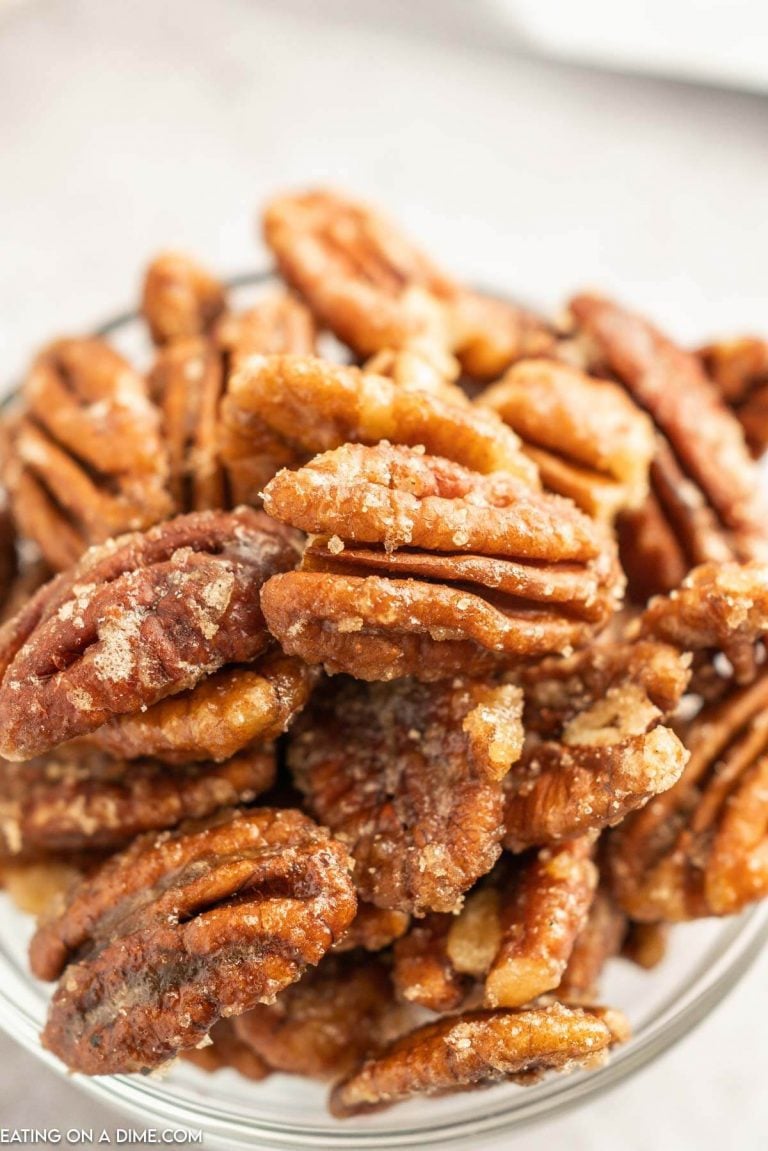 Candied Pecans Stovetop Recipe:
We love making stovetop candied pecan recipe for a sweet and salty treat. These candied pecans are addicting and perfect for a snack or to top your favorite salad. They are easy to make on your stove and require only 3 additional ingredients.
We love to make dessert trays for the holidays. They are always loaded with cookies, brownies and cake. But we love added a small bowl of these caramelized pecans to balance everything out.
These gluten free candied pecans can be customized to be spicy, add pumpkin seasoning or cinnamon. If you are looking for a sweet and salty treat that is budget friendly and an easy recipe, make candied pecans.
You might also like Banana Pecan Bread Recipe or Pecan Bread Recipe.
Ingredients:
Pecan Halves
Brown Sugar
Salt
Water
How to Make Candied Pecans on Stovetop:
Boil Ingredients – Heat the water, brown sugar and salt in a skillet over medium heat until the mixture starts boiling and the sugar has dissolved.
Add Pecans to Mixture – Then add in the pecan halves and cook for 3-4 minutes stirring to coat the pecans in the brown sugar glaze.
Place on Baking Sheet – Then move the pecans to a baking sheet lined with parchment paper. Place them on the baking sheet in a single layer.
Allow Pecans to Cool – Separate the pecans with a fork if needed and allow them to cool at room temperature to cool completely.
Serve and Enjoy – Once they are cool, they are ready to serve and enjoy!
Caramelized Pecan Tips:
Melting Ingredients – When you are heating up the water, brown sugar and salt, make sure you do not let this mixture burn. Watch closely so you don't have to start over.
Adding Pecans – Once the mixture has melted, add pecans immediately. Coating the pecans with the brown sugar mixture so it doesn't burn.
Line Baking Sheet – Place coated pecans on a lined baking sheet. This allows you to clean up the pan easily.
Holiday Gifts – Make these candied pecans as holiday gifts.
Candied Pecans Variations:
Change the Nuts – Use other types of nuts such as walnuts, cashews, peanuts and almonds. Any of these would make a delicious substitute.
Sweet and Spicy Pecans. If you like spicy, add ¼ teaspoon of cayenne pepper with the brown sugar. You can adjust this according to preference.
Cinnamon Pecans. Add ¼ teaspoon to the brown sugar mixture. The combination of cinnamon and sugar is so tasty.
Salted Caramel Pecans. While the pecans cool, top with a generous sprinkle of sea salt.
Pinch of Salt – While the pecans of cooling, add pinches of salt to the coated pecans.
Pumpkin Pie Spice – If you love pumpkin flavored desserts, sprinkle some pumpkin pie spice in the mixture.
Why are my Candied Pecans Sticky?
After your pecans have been covered in the mixture they will be slightly sticky. But as the cool they will be less sticky and easier to manage. If they are still sticky after cooling on the baking sheet, then it could be because the brown sugar mixture did not get hot enough.
The high temp is responsible for the brittle like coating on the outside the pecans should have. If they are still really sticky once cooked, continue to cook them in the skillet for a couple of extra minutes. Stoves can vary in how they cook and the heat.
After this, if you find they are still sticky, bake them for a few minutes at 325 degrees until they harden. I would start with 5 minutes and check them.
Continue to bake them in 5 minute intervals until they are no longer sticky. It should not take any longer than 15 minutes.
How to Serve Candied Pecans:
There are many ways to serve these candied pecans. They are quick to make and add so much sweet and savory flavor to many different things. These are some of our favorites:
Top your Salad – Combining the flavors of all the salad ingredients and then adding this sweet and crunching topping, makes the best salad.
Cheese Board – If you love making a cheese board or charcuterie board, add these candied pecans for added flavor.
Add To Cookies – If you want to jazz up your favorite chocolate chip cookie, chop up some of these candied nuts.
Ice Cream – Serve ice cream with candied pecans as a topping.
How Long do Candied Pecans Last:
These candied pecans do not last long with my family. But if stored properly the pecans will last about 1 week at room temperature. If you freeze them, they will last about a month.
Do Candied Pecans have to be Refrigerated?
Candied Pecans do not need to be refrigerated. They will last about a week longer if placed in the refrigerator in an air tight container.
How to Store:
Store in an airtight container at room temperature. These sugar pecans will last about a week if stored properly.
Print Recipe here for Candied Pecans Stovetop:
More Easy Candy Recipes: