Banana Pecan Bread is a delicious and moist bread that is made with mashed bananas and pecans. Simple to make banana bread recipe.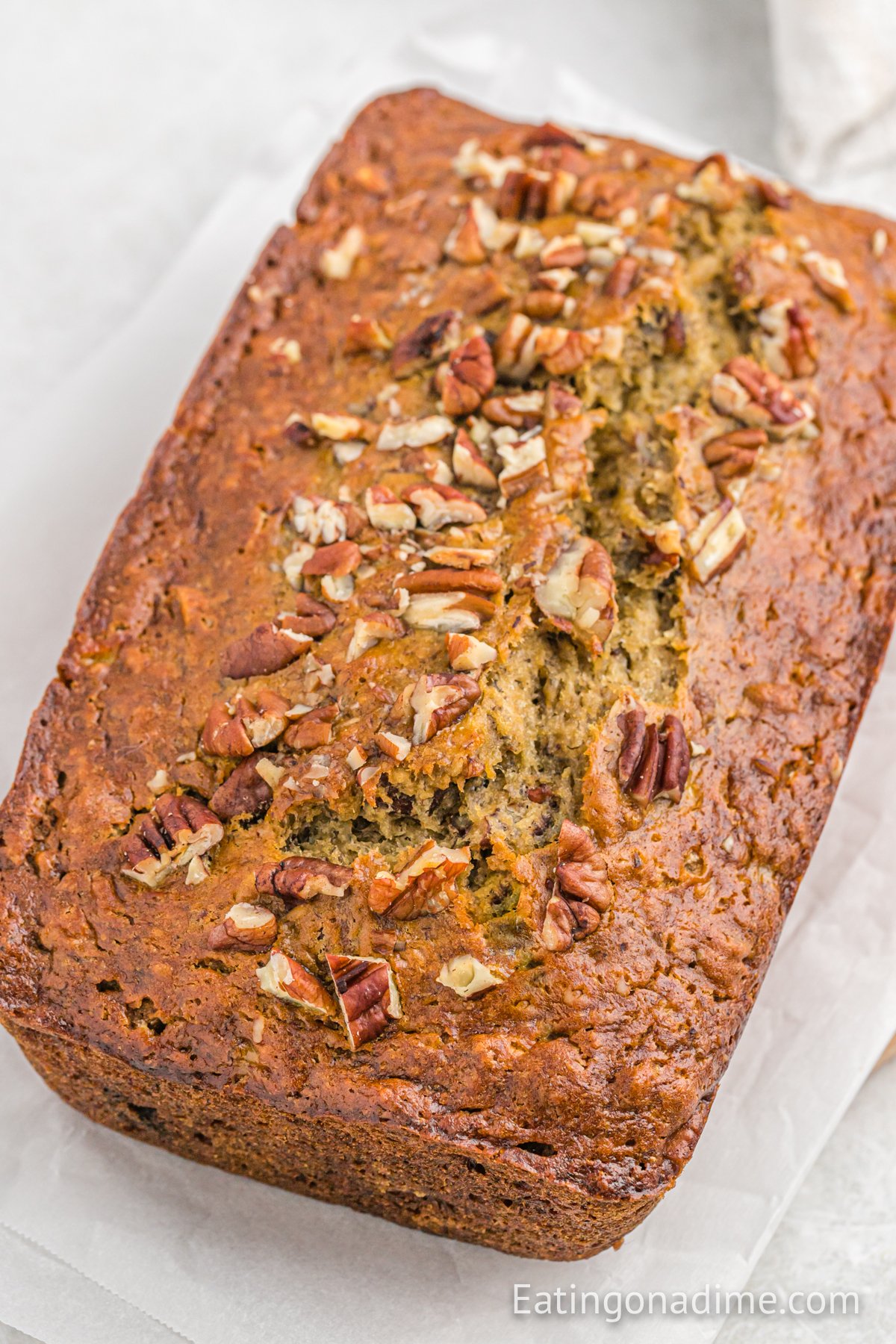 Banana Pecan Bread Recipe:
Homemade Banana Pecan Bread is a light and fluffy, delicious, soft bread that is full of banana and pecan flavor. It is easy to make and a great way to use up overripe bananas. This pecan banana bread is perfect for breakfast, brunch, or an afternoon snack.
If you love Super Moist Banana Bread, then you must try our Easy Moist Banana Bread Recipe. It is a classic banana bread and full of flavor. This fool proof banana bread recipe can easily made, whether you are a baker or not.
Banana Nut Bread Recipe is simply amazing and easy recipe to make. You probably already have the majority of ingredients on hand. This banana pecan nut bread recipe is also perfect to wrap up for a holiday gift.
How to Mash Bananas:
Overripe bananas is the key ingredient in this recipe. It adds sweetness and moisture to the bread recipe. The riper the banana is the better the banana bread will taste.
When you are preparing your ingredients for this recipe, you need mash the bananas so they mix well with the other ingredients.
Peel Banana and slice into large pieces.
Place in a bowl and use a potato masher or a fork to mash the bananas. You can also use a mixer to mash the bananas.
The consistency of the mashed bananas will be chunky.
The riper the bananas the easier it is to mash.
Then mix the mashed bananas with the other ingredients.
Ingredients:
All Purpose Flour 
Sugar 
Brown Sugar 
Butter, softened at room temperature
Ripe Bananas 
Large Eggs 
Vanilla Extract 
Baking Soda 
Salt 
Pecans, chopped 
How to Make Banana Pecan Bread: 
Prepare oven and loaf pan – Preheat the oven to 350 degrees F and spray a 5X9 loaf pan with a non-stick cooking spray. 
Mash Bananas – Peel and mash the bananas in a large mixing bowl with a fork or a potato masher.  
Mix with other ingredients – Then mix in the butter and sugar, eggs, brown sugar, vanilla extract, baking soda or baking powder and salt.  Blend with a hand held or stand up mix until well combined.  
Add in dry ingredients – Add in the 1 ½ cups of flour and mix on low speed until just combined.  Be careful not to over mix.  
Add Chopped Pecans – Then gently fold in 1 cup of the chopped pecans with a spoon or spatula.
Pour into Pan – Pour the batter into the prepared loaf pan. 
Add More Pecans – Top the batter in the pan with the remaining chopped pecans.  
Bake Bread – Bake for 50-60 minutes until a toothpick inserted into the center of the golden brown bread comes out clean. 
Cool – Let the bread sit for 10 minutes in the pan and then transfer the bread to a wire rack to cool completely. 
Slice and Enjoy – Then the bread is ready to slice and enjoy.
Tips for Easy Banana Bread with Pecans:
Parchment Paper – For ease of removing the banana bread from the loaf pan, you can also line it with parchment paper.
Prevent Top from Burning – To prevent the top of the banana bread from burning, you can place a piece of aluminum over the top. This allows the bread to remain cooking without burning the top.
Over Mixing Batter – Just mix ingredients until well blended. The banana batter will be a little lumpy.
Cool Completely – We recommend letting the bread cool completely before slicing.
Pecan Banana Muffins – If you prefer muffins over bread, line a muffin pan with cupcake holders. Then evenly divide the banana pecan bread batter in each of the cups. Bake the muffins at 350 degrees for about 20 minutes.
Ripped Bananas – Make sure your bananas are extra ripped. It adds moisture and a sweeter flavor.
Variations for Banana Nut Bread:
Change the Nuts – Instead of pecans, change the nuts to walnuts. You can also add in some slice almonds.
Add Chocolate – If you are a chocolate lover like me, add some chocolate to change the flavor of the banana bread.
Chocolate Chips – Banana Bread and Chocolate chips go perfectly together. You can use milk chocolate or dark chocolate chips for amazing chocolate flavor.
Healthier Option – If you prefer to cut calories and sugar, you can use honey instead of sugar. Also change the flour to whole wheat flour. Still amazing flavor but healthier.
Dried Fruit – Add in some dried fruit to the mix. We suggest raisins or dried cranberries. Delicious holiday bread.
Top Bread – We love to top the bread with butter or Nutella. It is the perfect bread to serve with your morning coffee.
How Long do you Leave Bread in the Pan after Baking?
We recommend leaving the baked banana bread in the pan for about 10 minutes. This makes sure that it finishes cooking and it allows it to cool in the pan. After this time, place on a wire rack to finish cooling.
How do you Keep Banana Pecan Bread moist?
To keep your Pecan Banana Bread moist after baking, is make sure that it covered while storing. You can use wax paper, plastic wrap or paper towels. This blocks the moisture from releasing from the bread.
How to Freeze Banana Bread:
Banana Bread is one of the best things to freezer. It freezes well and you can enjoy it for up to 3 months if stored properly.
Slice cooked banana bread in individual slices. You can freeze the whole loaf but we like to freeze slices so it is easier to thaw.
Wrap the slices in plastic wrap and foil and place in an air tight freezer container or bag.
Date the bag so that you can eat it in a timely manner.
Thaw on the counter or in the refrigerator and you can enjoy freshly made bread all year long.
How to Store Leftover Banana Pecan Bread:
Wrap the leftover bread in plastic wrap and store at room temperature for up to 5 days. You can also store in the refrigerator and just heat in the microwave when you are ready for a slice. This banana bread is perfect for breakfast or dessert.
We also love wrapping up and giving as gifts for the holiday. Neighbors, friends, kids teachers all love receiving homemade bread. It is delicious, budget friendly and easy to make.
Print Recipe here for Banana Pecan Bread:
More Quick Bread Recipes: