This post may contain affiliate links. If you make a purchase through links on our site, we may earn a commission.
It is so easy to make this delicious and tasty Snow Ice Cream Recipe. Kids go crazy over this simple treat and it is a blast to make.
Snow Ice Cream Recipe:
We are going to talk about how to make ice cream from snow with this simple Homemade Snow Ice Cream recipe. This vanilla snow ice cream recipe is so fun to make during the cold winter months.
If you are lucky to live somewhere with snow, you will want to make this sweet treat with minimal ingredients. Your kids will love bringing the fresh clean snow in and enjoy topping it with the favorite sprinkles.
This recipe for snow ice cream on requires a few simple ingredients that you probably already have. If you are stuck in house for a snow day, make this simple recipe and impress your kids. It is the perfect winter activity.
How Much Snow do you need for Snow Ice Cream?
The amount of snow you need depends on what kind of snow you got. If it is extra wet and heavy then you probably need about 6-8 cups. If your fresh snow is dry and fluffy then you will probably need a little more.
The snow should be a little thinner than normal ice cream but should be able to form a scoop. You probably want to add more. I always tend to get more than I need so I can always add more.
What is Snow Ice Cream Made of?
Our kids devour it and ask for it immediately every time snow begins to fall, so I thought it was finally time for me to take a minute to show you how to make snow ice cream.
If you are not already making this, eating snow ice cream will soon become a family tradition after you start to make it. It is just so easy and a great treat.
The snow ice cream is made with simple ingredients. I like to always have these ingredients on hand during the winter as we never know when the snow is going to fall here in Oklahoma.
Is Snow Ice Cream Safe?
Yes, it is. Just use precaution in the snow you get to make the snow cream. You obviously do not want to get snow that has dirt in it or debris.
We tend to grab the fluffy snow right after it falls. We make sure that it is bright white, so we make sure that it doesn't have debris or any other color of snow.
Ingredients for Snow Ice Cream:
Regular Milk (any kind will do) – You can use evaporated milk also.
Sugar
Vanilla extract
CLEAN snow
Sprinkles (optional)
How to Make Snow Ice Cream:
Step 1 – First, in a large bowl, add milk, sugar, and vanilla. Mix together.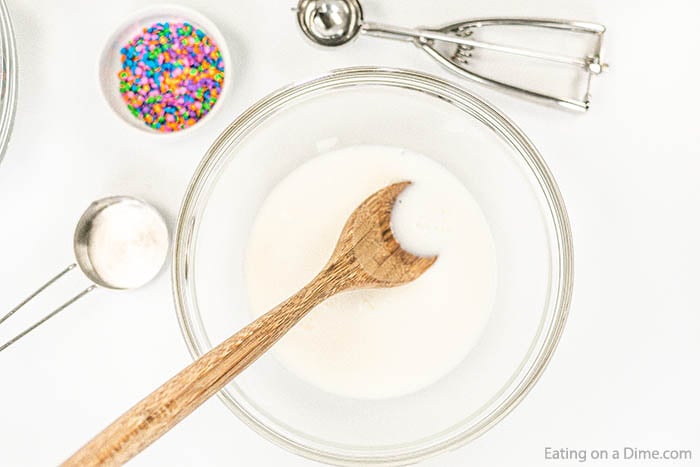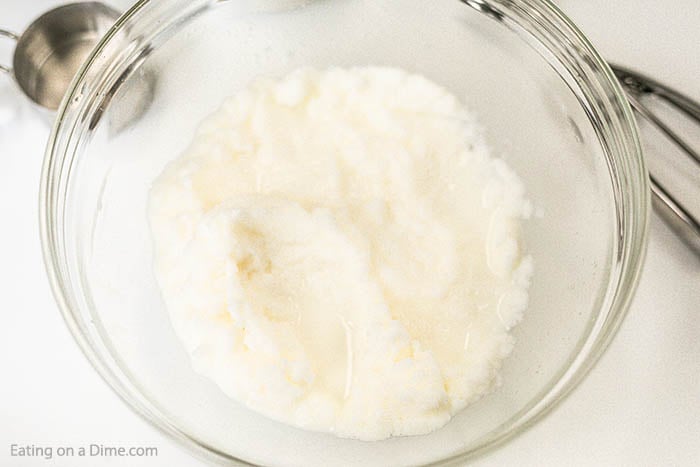 Step 2 – Next, slowly mix in the clean snow. We start with 8 cups but usually end up with 10 cups of snow to get the consistency that we want.
Step 3 – Keep adding until you get the desired consistency you like.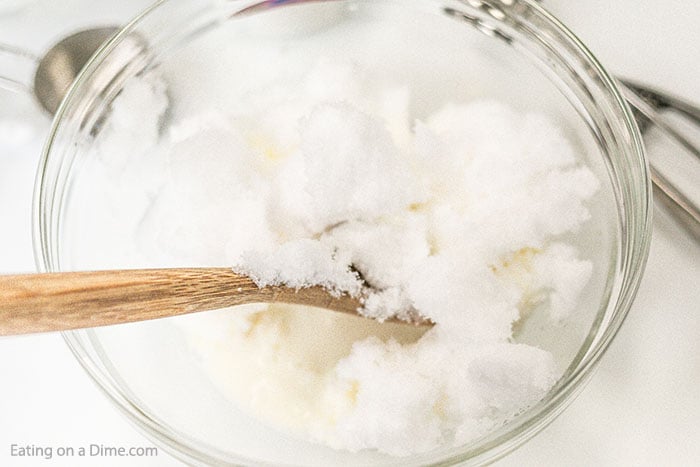 Step 4 – Add sprinkles in the big bowl if you want and eat immediately before it melts. It melts quickly so you don't want to delay enjoying this yummy treat.
The sprinkles are totally optional but sure add a festive touch. Plus, kids love sprinkles so it is just extra fun.
It seems we always have leftover sprinkles in the cabinet from one of our baking days. I let the kids choose which ones they want to use and it is even more special.
Tips for Snow Ice Cream:
Amount of Snow – The texture of the snow will determine how much snow you need. Once you make it a few times, you will figure out the texture that you like.
Milk Mixture – Make sure you add the milk mixture a little at a time. We try to get the consistency of homemade ice cream.
Let the kids help – Since we have made it so many times, my kids are always willing to help make this sweet treat.
Variations – Use sweet condensed milk and vanilla instead of milk and it turns out great.
Snow Cream Topping Ideas:
Anything that you put on your store-bought ice cream you can top with this snow ice cream. Here are some of our favorites:
We love any kind of sprinkles
Make Homemade Caramel Syrup with only 5 Ingredients.
Homemade Hot Fudge Syrup is so easy to make.
Top it with chopped nuts.
Chop up some candy bars and sprinkle them on your ice cream.
We have even done an snow ice cream bar with the neighborhood kids. It turned out so fun and the kids still talk about it.
Can you Freeze Snow Ice Cream?
Yes, you can. You can put the snow cream in the freezer to get the desired consistency as well.
Recipe Variations:
Use Sweetened Condensed Milk and Vanilla instead of Milk.
Add Food Coloring
Use Different Colors of Sprinkles
Print Easy Snow Cream Recipe below:
Snow Ice Cream Recipe
How to make ice cream from snow. Enjoy some winter fun by making this quick and easy snow ice cream recipe. The kids love it!
Ingredients
Instructions
In a large mixing bowl, add milk, sugar, and vanilla. Mix together.

Slow mix in the clean snow. We start with 8 cups but usually end up with 10 cups of snow to get the consistency that we want.

Add sprinkles if you want and eat immediately before it melts.
Recipe Notes
It takes us less than 5 minutes to make this simple snow ice cream recipe and the kids can make it all on their own.
Nutrition Facts
Calories
69
kcal
,
Carbohydrates
13
g
,
Protein
1
g
,
Fat
1
g
,
Cholesterol
4
mg
,
Sodium
34
mg
,
Potassium
53
mg
,
Sugar
13
g
,
Vitamin A
65
IU
,
Calcium
56
mg
Find more Easy Ice Cream Recipes: