You no longer have to spend time and money to enjoy your favorite Frappuccino treat. This Starbucks Vanilla Bean Frappuccino Recipe is easy to make and tastes just like the one from Starbucks.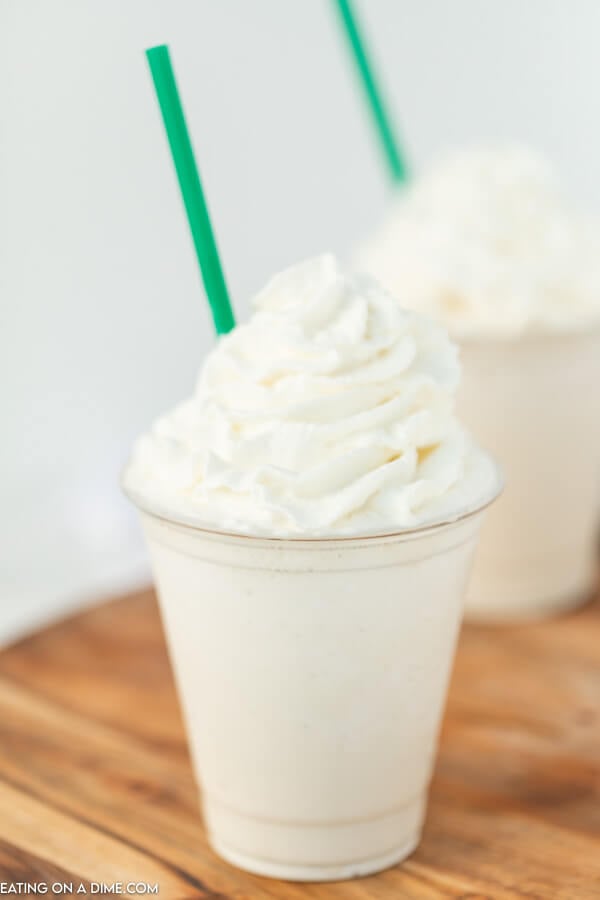 What is in the Vanilla Bean Frappuccino at Starbucks?
A Frappuccino is a term that was created by Starbucks but now I think it's used by everyone.
A Frappuccino is a cold blended coffee drink that is made with either coffee or a crème base (like ice cream). So you can make a coffee Frappuccino or a crème Frappuccino.
This Vanilla Bean Frappe is a crème base Frappuccino as it's made with ice cream and not made with coffee so I don't feel guilty when I give these to my kids.
Starbucks Vanilla Bean Frappuccino Recipe is easy!
I love copycat Starbucks recipes so that I can enjoy my favorite foods for less money but they still have all the great flavors of the original.
You'll love my other copycat recipes from our copy cat Chick fil A Lemonade to our copycat Starbucks Passion tea lemonade, and our KFC chicken pot pie. I just know you will love this recipe too.
Obviously trying to recreate a recipe at home will save you money.
Today I'm sharing with you a new Starbucks Vanilla Bean Frappuccino recipe. This copy cat recipe is so easy to make and tastes amazing!
Ingredients:
I was surprised by how simple this drink was to create. It's just a few ingredients and I have heard of them all! I promise, it really is easy to make.
You don't even need the Frappuccino syrup that Starbucks offer that I thought would be needed.
Here is what you'll need to make this amazing copycat Starbucks drink.
Milk and Ice
Vanilla Bean Ice Cream
Sugar
Vanilla Extract
Whipped Cream (This is optional but definitely recommended because whipped cream is amazing!)
How to make Starbucks Vanilla Bean Frappuccino Recipe.
First, blend all ingredients except whipped cream until blended. Then transfer to serving glass and top with whipped cream.
Serve immediately with your favorite straw! I love giving my kids all a different color straw so they can easily know which drink is theirs.
Tip: If you need a blender, I highly recommend a Vitamix Blender. It does cost more than an average blender, but it's definitely the best blender I have ever used.
If you're wanting something a little cheaper, I have this Waring blender as well and it works great. They are really nice and very affordable. I just love mine.
My kids love this!
I really love a delicious Starbucks drink every now and then. Sometimes we like to splurge and I take my kids to Starbucks with me. They all usually order a Vanilla Bean Frappuccino because they are delicious!
It's a fancy drink but doesn't actually have coffee in it so I don't have to worry about the extra caffeine in their drink.
However, the cost can really add up when you have a lot of kids like I do (eight if you are counting). Now, we can make these delicious treats at home for my family to enjoy which saves a small fortune if you have a lot of kids like me!
What does the vanilla bean Frappuccino taste like?
Like I said before, my kids love these. I think they taste like a vanilla milkshake but not quite as sweet as a traditional milkshake.
The vanilla bean adds a great vanilla flavor to this recipe.
Can you make a Vanilla Frappuccino without ice cream?
When I make this at home, I usually use vanilla bean ice cream because it's easy and it gives this copycat Starbucks Vanilla Bean drink a delicious flavor.
However, you can create it without the ice cream as well. I would recommend blending heavy whipping cream with vanilla bean powder so you get that delicious vanilla bean flavor for this recipe.
Can you freeze the leftovers?
When I make these for my family, we drink them pretty quickly because they are so tasty. However, if you do have leftovers, I recommend freezing them in mason jars in your freezer.
Then when it's time to serve your leftover Vanilla Bean Frappe, take them out of the freezer and put them some place warm for approximately 20 minutes to defrost and allow time for the drink to soften.
After this time, they will be ready to drink and enjoy!
Enjoy!
I hope you try this easy and delicious recipe with your family soon. You can easily have the indulgence of a Starbucks treat without spending a ton of money.
I hope you try them soon and please leave us a comment to let us know what you think!
Print Starbucks vanilla bean frappuccino recipe:
More Copycat recipes: