This post may contain affiliate links. If you make a purchase through links on our site, we may earn a commission.
We are making Chocolate Zucchini Muffins today and you are going to love them! Yes, I said zucchini but I promise they are amazing and even your kids will go crazy over these muffins.
Chocolate Zucchini Muffins
Once you try these decadent Chocolate Zucchini Muffins, you will see why we love them so much. They are amazing!
Have you been loving our recent muffin recipes? My family loved the double chocolate muffins and even the delicious applesauce oatmeal muffins.
We have a new one for you today that we think you are going to love – Chocolate Zucchini Muffins! What? Did I say zucchini?
Why yes, yes I did. If you have ever baked with zucchini (like zucchini bread) then you know the zucchini takes on the taste of what you are making, so chocolate zucchini muffins taste like… you got it, chocolate! Now have I got your attention?
Zucchini chocolate chip muffins are delicious and easy!
You probably have everything you need at home to make these muffins today – no fancy ingredients required. Plus, they are super moist and your family never has to know about our secret ingredient…. a vegetable. 🙂
Make sure you have a good pan to make double chocolate zucchini muffins.
If you don't already have a set, we love this silicone muffin pan, I highly suggest them. I love baking in mine (and they are still holding up after years of use).
You can use what you prefer but just make sure you have a good pan. I have found a good pan is the start to a good recipe.
I have the Rachael Ray muffin pans here. There are several other options of muffin pans and many are on sale!
Another idea is to use a mini-muffin pan. Mini muffins are fun to eat and another tasty option for breakfast or brunch. Maybe even a snack.
Keep in mind the smaller size will take less time to cook and the total cooking time will need to be adjusted. They are faster to cook and easier to eat.
I love my Wilton mini muffin tins, but for just a few dollars more you can get a silicone pan. These are great because the mini muffins just pop out so much easier.
What ingredients do you need to make chocolate zucchini muffins recipe?
flour
cocoa powder
baking soda
baking powder
salt
egg whites
canola oil
granulated sugar
brown sugar
vanilla
zucchini
chocolate chips
How to make chocolate zucchini muffins:
First, preheat the oven and spray the muffin pans with cooking spray.
Next, mix together the dry ingredients that include flour through salt in a bowl. Set aside.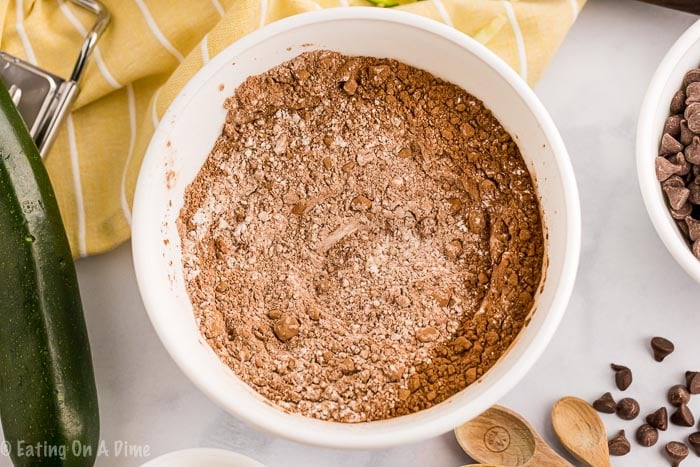 Now it is time to combine the eggs, oil, sugar and vanilla until mixed together.
Add in the grated zucchini and mix well.
Gradually add the dry ingredients until everything is mixed together thoroughly.
Bake until a toothpick inserted comes out clean.
Do you peel zucchini before shredding?
No need to peel the zucchini first. Just wash and shred. Easy!
How do you store zucchini muffins?
I like to use an air tight storage container to keep the muffins in. This is a simple way to store them and keeps them fresh.
How to freeze chocolate zucchini muffins:
The nice thing about these muffins is that they freeze great. Just place them (after they have cooled) into a freezer bag and freeze. When you are ready to eat, you can microwave for a few seconds for delicious warm muffins.
I like to place my frozen muffins in the fridge the night before so they reheat much faster.
These will keep for months but we eat them much faster. You can then pull just one or 2 out if you want and reheat them in the microwave for a delicious and easy breakfast idea.
This is a great recipe to freeze if you have guests coming. You can have homemade muffins to serve.
We also like to freeze the muffins and take them when we are traveling. They are perfect for road trips, vacation and more.
Save money with chocolate zucchini muffins.
The savings adds up and they are so easy to make and freeze. You will love having them on hand for quick meals. Save time and money!
It is so easy to double or even triple this recipe to make some specifically for the freezer. We do this all the time and having great food in the freezer helps to keep our expenses down.
We are less tempted to grab meals and snacks on the go if we have such easy and delicious food in the freezer. This is the perfect grab and go idea!
Everyone will love chocolate zucchini muffins!
This is a very simple muffin recipe and I am happy to report that everyone in my family loved these. Make these Chocolate Zucchini Muffins today and see what your family thinks.
I have a feeling they are going to love them, too! We have even added extra chocolate chips. Yum!
Since these are healthy chocolate zucchini muffins, you can add extra chocolate right? 🙂 Another idea is to sprinkle sugar on top of each muffin.
Not only does it look like you bought it from a bakery but it tastes amazing. This muffin recipe is really awesome.
You can use gluten free flour, wheat flour or coconut oil to suit your families needs. This also makes delicious chocolate zucchini bread.
Everyone will love chocolate zucchini muffins recipe and they are just so easy to make.
You can easily adapt these to suit your needs or what you have on hand.
Easy recipes like this keep my family happy and my grocery budget in good shape. This is how I keep our grocery budget reasonable.
By shopping when things are on sale I save money on groceries and it really helps our budget. Everyone loves this delicious recipe so it is on our permanent menu plan rotation for breakfast.
This great recipe has a ton of flavor and it is sure to be a hit with the entire family. I can't wait for you to try it!
I typically always have the ingredients on hand. You can even freeze zucchini in the summer when it is plentiful or your garden is overflowing. It is so handy for muffins during the year.
Pro tip- To make baking easier, I always use baking scoops. I love these! I use the largest baking scoop for muffins and cupcakes.
You really need to get yourself some stainless steel scoops! They are so handy and will get lots of use.
I have had mine for several years and I use them for all types of baking. I bought the 3 pack and used the smallest of the 3 scoops for cookies and the larger ones for muffins.
The other sizes are perfect for recipes such as meatballs and more. Trust me, they will get lots of use and are well worth the small investment.
We have even used an ice cream scoop but I do prefer using cookie scoops. Get a set today and you will not regret it!
Here is the super easy chocolate zucchini muffin recipe:
Chocolate Zucchini Muffins
You have to try these easy Chocolate Zucchini Muffins next time your kids are begging for homemade breakfast. They are easy to make and taste amazing.
Ingredients
1 1/2

cup

flour

1/2

cup

cocoa powder

1/2

teaspoon

baking soda

1/2

teaspoon

baking powder

1/4

teaspoon

salt

2

egg whites

1/2

cup

canola oil

1/2

cup

granulated sugar

1/2

cup

brown sugar

2

teaspoons

vanilla

1

cup

zucchini

(grated)

1

bag

chocolate chips
Instructions
Preheat oven to 350. Spray muffin cups or muffin liners.

Mix together dry ingredients, flour through salt. Set aside.

Combine eggs, oil, sugars and vanilla until mixed thoroughly. Add in grated zucchini and mix well.

Gradually add in dry ingredients until everything is well incorporated.

Fill prepared muffin cups ¾ full.

Bake at 350 F for 20-24 or until toothpick inserted in center comes out clean.

Serve warm.
Recipe Notes
Best part about this muffins besides being delicious…your kids will never know they have vegetables in them.
Nutrition Facts
Calories
181
kcal
,
Carbohydrates
25
g
,
Protein
2
g
,
Fat
8
g
,
Saturated Fat
2
g
,
Cholesterol
2
mg
,
Sodium
63
mg
,
Potassium
67
mg
,
Fiber
1
g
,
Sugar
17
g
,
Vitamin A
40
IU
,
Vitamin C
1
mg
,
Calcium
28
mg
,
Iron
0.8
mg
Make Double Chocolate Chip Muffins for the perfect excuse to enjoy chocolate for breakfast.
Make sure you also try some of our other delicious muffins recipe:
Try these other quick breakfast recipes: