This post may contain affiliate links. If you make a purchase through links on our site, we may earn a commission.
Here are The Best Fresh Basil Substitutes when you are out. Basil is hard to replace because of its unique flavors, but these substitutes should help.
Best Basil Substitute:
Fresh Basil is a hard ingredient to replace because of its appearance and flavor. We recommend to grow or find the real thing if possible. Finding the best substitute for this strong flavor is hard, but we have gathered some options so you don't ruin your recipe.
There are many options to choose from some are for specific recipes rather it is a herb or a plant. Fresh Basil is delicious on our Creamy Tomato Basil Soup or our Crock Pot Creamy Basil Chicken.
Fresh Basil Substitute:
If you are looking for the best substitute for fresh basil is Oregano would be our first choice. The flavor profile is slightly different but it would work if you need something quick.
Easy Substitute for Basil:
An easy basil alternative, would be fresh spinach. It is similar in texture and color but it is milder in taste. But if you are making some pesto, add spinach and some garlic and your pesto will taste amazing.
How to Substitute Dried Basil for Fresh?
To substitute dried basil for fresh herbs use ⅓ dried herbs basil to 1 cup of fresh basil. An easy ration to go with when making the substitution is 3 parts fresh equals to 1 part dried.
The reason for the difference is that dried basil has been compressed for a more concentrated flavor. Basil is made up of about 90 % of water so when it is dried, the water is removed. Therefore, not a lot of basil is needed because it is more concentrated.
Fresh and Dried Basil the flavor of basil is hard to be replaced.
1. Oregano:
Oregano is the closest substitute for Basil. Because of its texture, color, and flavor. We recommend adding in small amounts as similar to basil, it can overpower the dish.
You can substitute equal parts of fresh oregano for basil.
2. Spinach Leaves:
Spinach is a great substitute because of its bright green color leaves and texture. If you are one that doesn't like basil, we would recommend using spinach leaves instead. You can also use celery leaves.
3. Tarragon:
Tarragon is a good substitute for dried basil. It has a similar flavor profile but slightly different. It is a good replacement when you need something in a pinch.
Substitute equal parts of Tarragon for dried basil.
4. Italian Seasoning:
Italian Seasoning is a popular herb and it is always in my spice cabinet. Since dried basil is part of the Italian season blend, it is a great substitute.
Different Varieties of Fresh Basil:
There are a variety of basil that offered different flavors to your dishes. They are as follows:
Sweet Basil – This basil is probably one of the most popular basil that is used in pasta sauces. It has large green leaves and a bit of sweetness. It still gives the minty, lemon, peppery flavor that we love with basil.
Thai Sweet Basil – If you are looking for the right basil to add to your Asian dishes, use Thai Sweet Basil.
Holy Basil – This is referred to as the Hot Basil because of its peppery flavor.
Lemon Basil – Lemon Basil is a lot like sweet basil as it offers the lemon flavor but still has the peppery, mint family flavor.
How to Use Fresh Basil:
If you cook a lot and make Pesto, Basil is the main ingredient. It can also be found in infused oil, desserts and beverages. Basil has a unique flavor that is why it is hard to replace. It offers so many flavors including, lemon, pepper and mint.
To use basil, cut a leave from the plant. Wash gently and let it dry on a paper towel. The leaf is usually the only part of the plant that is used. Chop the leaf with a knife and add it to your favorite recipes.
We have gathered some of our favorite recipes that calls for basil.
Recipes with Basil:
1. Creamy Tomato Basil:
Creamy Tomato Basil soup
Creamy Tomato Basil Soup Recipe is so delicious for a flavor packed soup everyone will love. This healthy creamy tomato basil soup is so easy and tasty.
See the Recipe
2. Slow Cooker Tomato Basil Chicken:
Slow cooker tomato basil chicken
Slow cooker tomato basil chicken is so creamy with the best tomato sauce. The crockpot makes it easy and it's great with rice or pasta
See the Recipe
3. How to Dry Basil Leaves:
4. Skillet Bruschetta Chicken: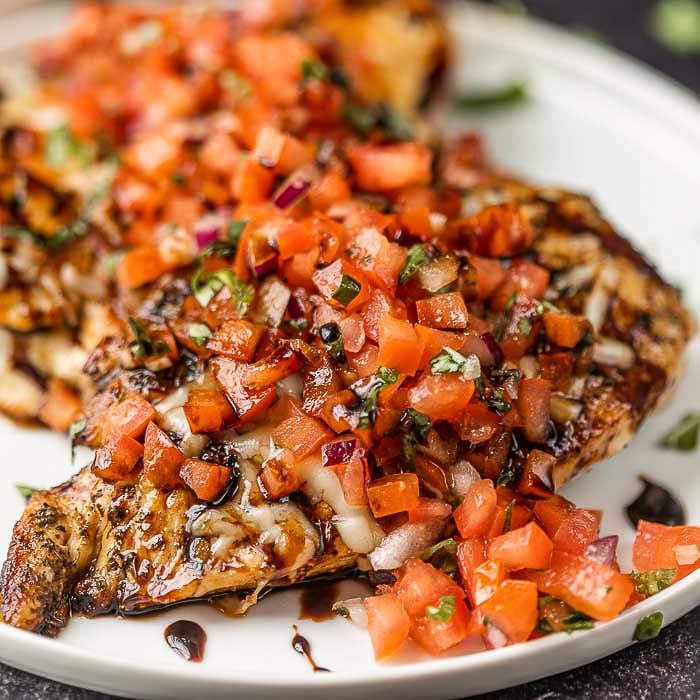 Skillet Bruschetta Chicken
Your family will go crazy over this easy Bruschetta Chicken Recipe! It's simple and so delicious.Try this Bruschetta Chicken Pasta Recipe. You will love it.
See the Recipe
More Ingredient Substitutions: