Air Fryer Apples is an easy way to enjoy apples that are covered in a cinnamon sauce. These apples are cooked tender in the air fryer.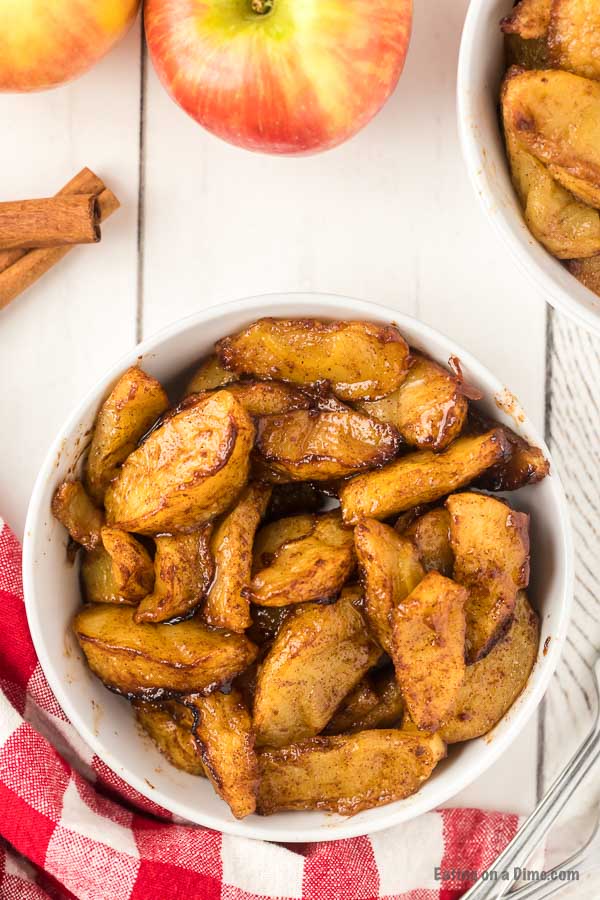 Air Fryer Apples Recipe:
Air Fried Apples are a delicious recipe that is an amazing dessert. We love the way the air fryer makes them so tender, juicy, and flavorful. The apples are covered in a butter, cinnamon sauce that is the perfect topping for these sliced apples.
We love cooking apples in many different ways. You can bake these apples or soften them in your skillet. They perfect with some ice cream or as a side for brunch. Delicious and tender these apples are perfect for all your fall desserts.
They tasted great, had minimum cooking time and the house smelled like apple pie. I think you will be a fan as well. They are so decadent and really easy thanks to the air fryer. This recipe is versatile and so amazing.
Easy Air Fryer Apple Recipe:
These cinnamon flavored apples are cooked perfectly in the air fryer. You can easily make this recipe if you are craving something sweet. Make a batch of air fried apples or an individual serving. They turn out perfect every time.
It takes less than 15 minutes to make this easy side dish. Serve them at breakfast, dinner or as a dessert. We love that the ingredients can be changed and you can serve them many different ways.
Ingredients:
Sweet Apples (Honeycrisp or Gala work great)
Melted Butter
Maple Syrup
Brown Sugar
Ground Cinnamon
How to Make Air Fryer Apples:
Prepare Apples and Ingredients – Peel, core and slice the apples with a sharp knife. Place the apples and all of the other ingredients in a large bowl.
Cover the apples in the sauce – Toss to coat the apples well.
Place in Air Fryer Basket – Then place the apples in a single layer in the air fryer.
Cook until apples are soft – Cook the apples in the air fryer at 400 degrees. Cook for 13-16 minutes until the apples are soft and have browned slightly.
Remove from Air Fryer – Then remove the apples and let them sit for a few minutes. The coating will thicken as they sit.
Serve and Enjoy – Serve warm and enjoy!
Tips for Air Fryer Apple Slices:
Single Layer – When placing the apple slices in the air fryer, make sure they are placed in a single layer. This ensure that all sides are cooked.
Cutting Apples – We recommend cutting the apples about the same size. This will make sure that they cook evenly and are all done about the same time.
Prevent Brown Apples – To prevent the apples from turning brown, cut them right before you are ready to cook. Then mix with the melted butter ingredients. This prevents them from turning brown.
Cooking Apples – You want to make sure that you do not overcook the apples. This will prevent the apples from being mushy.
Air fryer cooking times vary – Individual air fryers often cook differently. I recommend checking on the apples often to make sure that you are not overcooking them.
More Saucy – If you want your apples to have more sauce on them, add in 2 tablespoons of melted butter.
How to Serve Air Fryer Baked Apples:
There many delicious ways to serve this Air Fryer Apples. Here are some of my favorites:
Ice Cream – I love to serve the warm apples over vanilla ice cream.
Pancakes or French Toast – Instead of drizzling syrup over your pancakes or french toast top them with air fryer apples.
Side Dish – This apples would be perfect side to your pork chops or grilled steaks.
Afternoon Snack – Need a snack idea for yourself or the kids, make the budget friendly air fryer apples.
Substitutions and Additions Ideas:
Coconut Oil – If you prefer a healthier alternative to butter, make the sauce with butter.
Sauce – Drizzle the apples with chocolate or caramel sauce.
Change the apples – Try combining a tart apple such as Granny Smith with a sweeter apple like Gala. The combination is delicious. Pink Lady or golden delicious are also a great apple to use with this recipe.
Add Nuts – Once the apples are done cooking, add nuts to the apples for added crunch. We suggest chopped pecans or sliced almonds.
Baked – The oven can be used instead of air fryer. Bake at 375 degrees for 25 minutes.
Skillet – You can easily cook this in the skillet over medium heat.
Peeling – You do not have to peel the apples. However, we prefer them without and picky children often do as well.
Spicy – If you like heat, you can add red pepper flakes to the cinnamon sugar mixture before coating the apples.
How to Store Leftovers:
Store the leftover apples in an airtight container in the refrigerator for up to 5 days.
When ready to enjoy, reheat in the microwave for 30 seconds and stir. Continue to cook in 30 minute intervals until heated through.
You can freeze the apples up to 2 months. Place them inside a freezer container or bag. Once you thaw and reheat, more melted butter can be added if needed based on preference.
Print Recipe here for Air Fried Apples:
More Air Fryer Recipes: