This post may contain affiliate links. If you make a purchase through links on our site, we may earn a commission.
Can you freeze cranberry sauce? Learn the best tips and tricks to freeze cranberry sauce this holiday season.
Can you freeze cranberry sauce?
You might be wondering if you can freeze this and the answer is yes. However, homemade cranberry sauce freezes better than the canned variety.
Keep reading for all the details and information you need to freeze these leftovers.
Can You Freeze Homemade Cranberry Sauce?
Yes, you certainly can. It freezes really well. Make sure the cranberry sauce is cool and put inside an airtight freezer container.
You can use bags or containers. If you are short on freezer space, I suggest using freezer bags because they take up less room. The bags can stack and lay flat.
It can be frozen up to 3 months.
Can You Freeze Canned Cranberry Sauce?
It is not recommended. This type of cranberry sauce from the grocery store separates and the jellied texture changes. You will find it hard to slice and eat as a side dish.
However, it is still good to use in recipes with cranberry sauce. I just don't suggest eating it alone.
Cranberry Orange Crock Pot Pork Tenderloin is a tasty example of how to use frozen cranberry sauce. Since it is mixed into another dish, it would be fine using it from the freezer.
If you decide to freeze canned cranberry sauce to use in recipes, make sure to use an airtight container to prevent freezer burn. It will keep up to 2 to 3 months.
If frozen over a longer period of time, it will start to lose flavor.
How to thaw cranberry sauce?
Defrost in the refrigerator overnight.
Stir the cranberry sauce once it has thawed. It might separate a little so just be sure to stir it before serving.
Serve cold or warm if desired. If you prefer cranberry sauce warm, just reheat on the stove top on low.
Tips and Tricks:
Make sure it is completely cool before freezing. It should be room temperature.
Freeze in small portions for using in recipes. This will help reduce waste and prevent you from thawing out too much.
Mark the date on the bags or freezer safe containers. You can easily keep up with how long it will last this way.
Get the air out. Try to get out as much air possible in the plastic bag.
How to use frozen cranberry sauce?
Appetizer. Pour cranberry sauce over a block of cream cheese. This is a delicious snack.
Leftover turkey sandwiches. Add cranberry sauce to turkey sandwiches, sliders or quesadillas.
Ice cream. It is delicious as a topping for ice cream.
These are just a few suggestions for leftover cranberry sauce. The ideas are endless. I think you will agree how easy and delicious it is.
We love saving money this way and it helps to reduce waste. Plus, friends and family get to enjoy even more delicious meals.
Give it a try. Let us know how you plan to use it. See Leftover Cranberry Sauce Recipes.
Try one of our Cranberry Sauce Recipes: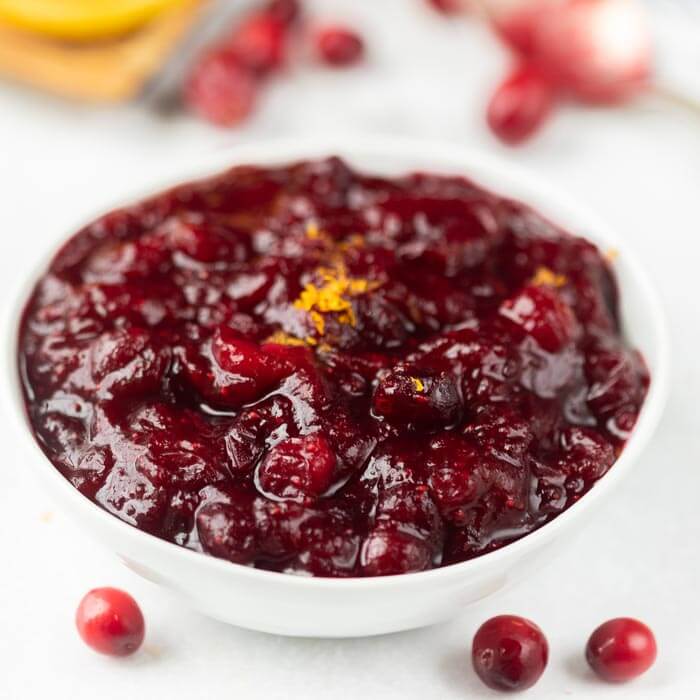 Cranberry sauce
Cranberry sauce is so easy to make with just 3 ingredients. It is tangy, sweet and perfect for your holiday meal.
See the Recipe
Crock pot Cranberry Sauce
Crockpot Cranberry Sauce is so easy in the slow cooker and delicious. With only 4 ingredients and hardly any work, you will love it.
See the Recipe
More Cranberry Recipes to Make