Cranberry sauce is so easy to make with just 3 ingredients. It is tangy, sweet and perfect for your holiday meal. Try it today for an easy side dish.
Cranberry sauce
This is a must try and super easy. Cranberry sauce is one of those dishes that is a must for Thanksgiving or anytime you have turkey and stuffing. They just go hand in hand to me.
I love to get a little bite of each. The cranberries brings it all together. It just isn't complete if this dish is missing from the table.
If you have been purchasing this at the grocery store, stop and make this instead. It is so easy to make homemade instead.
I could not believe how easy it was to make. Plus, I promise it tastes better than anything store bought.
More Easy Cranberry recipes to try:
Ingredients:
Fresh Cranberries: we have also used frozen and it works great

Sugar: Regular granulated sugar

Orange Juice: any kind will work

Water
How to make cranberry sauce
First, add cranberries and the other ingredients in a sauce pan. Stir everything to combine it really well.
Next, heat the saucepan over medium heat. Continue heating it until the cranberry mixture is simmering.
Finally, let this continue to cook uncovered for 10 to 15 minutes stirring occasionally. You want most of the cranberries to have popped and the everything starts to thicken. Do not cook on high heat. If you are not careful, it could burn.
Tip: Be careful not to overcook this. It continues to thicken as it cools..
The last step is to take the pan off the heat and let it cool completely for 30 to 45 minutes. You want to allow it to come to room temperature.
Then put in the fridge covered until you are ready to serve.
Tips and Variations:
Keep the full sugar: I don't recommend reducing the amount of sugar. The ½ cup sugar helps the sauce to thicken so you really need to use all of it.

If you do not like orange juice: Substitute pomegranate juice instead. It will provide a similar taste to the recipe without using citrus.

Add orange Zest: Add a little bit of orange zest from an orange peel before you cook it to bump up the citrus flavor.

Maple Syrup: Cut the sugar in half and then add in maple syrup to a slightly different flavor.

Cinnamon Stick: You may like the flavor of a cinnamon stick in your cranberry sauce. Stir with a cinnamon stick while the sauce is cooking.

Fresh or Frozen Cranberries: We have made this recipe with fresh or frozen and it works great.
How to store:
Cranberry sauce is perfect to make ahead of time. Since it is served chilled, just place it in an air tight container in the fridge until ready to serve.
We just love that this cranberry sauce is so light and refreshing since all the Thanksgiving food can be so heavy.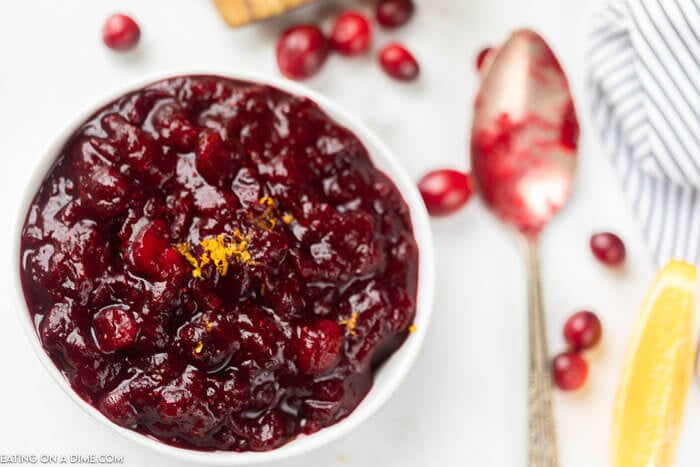 How far ahead can you make it?
This easy recipe is great to make in advance. It will keep in the refrigerator for 3 days prior to serving.
It is so helpful to make this ahead of time. The container does not take up much room and cuts down on the cooking you have to do the day of.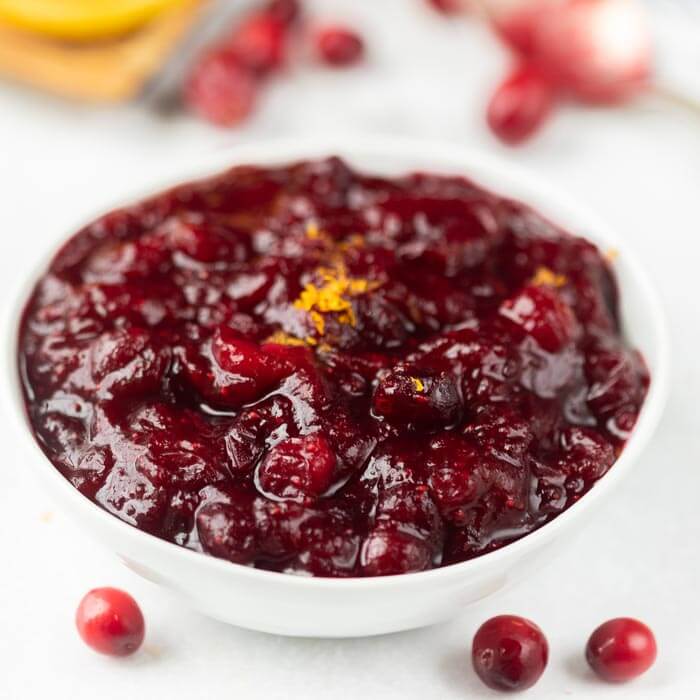 Can you freeze cranberry sauce?
Yes! We like to stock up on fresh cranberries' when we start seeing them in the store. Cranberries are good for other uses throughout the year, such as adding them to your favorite smoothie recipe. So we make sure we have plenty to last us.
Cranberries can be stored in the freezer up to 2 months. Just make sure to use a freezer container with lid. This is a great way to do it if you plan to make a big batch and freeze for Thanksgiving and Christmas.
Serving ideas:
Cranberry sauce is traditionally served around Thanksgiving or Christmas.
Can you Freeze Cranberry Sauce?
Yes, you actually can freeze cranberry sauce. Freezing homemade cranberry sauce recipe is a great way to enjoy it later. Check out our Can You Freeze Cranberry Sauce post.
How to use leftover cranberry sauce
Appetizer or snack idea: Get a block of cream cheese and pour cranberry sauce over it. If you like nuts, sprinkle a handful of walnuts or pecans on top. This is so good served with crackers. This turns out similar to a cranberry relish.

Sandwiches- Try Turkey sandwiches with cranberry sauce. We also like to make sliders for the kids.

Yogurt: Yes, top your favorite yogurt with leftover sauce and some granola. It is a delicious combination.

Breakfast: Top your pancakes and waffles with leftover cranberry sauce. It is a great substitution for maple syrup or combined with maple syrup.

Homemade cranberry sauce is also delicious stirred into a hot bowl of oatmeal.

Top it on an English muffin or a toast. Skip the jelly and try leftover cranberry sauce instead. See Leftover Cranberry Sauce Recipes.
Homemade cranberry sauce is the best!
It is so easy and comes together with very little work. You can really taste the difference in this homemade recipe. I doubt you will ever buy store bought again after you make this delicious recipe.
Print this easy cranberry sauce recipe: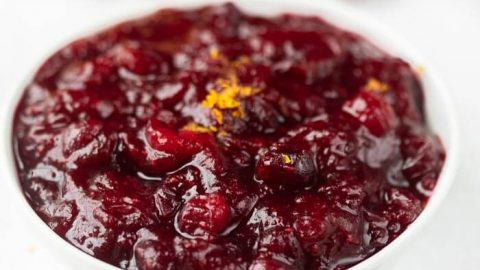 Cranberry sauce
Cranberry sauce is so easy to make with just 3 ingredients. It is tangy, sweet and perfect for your holiday meal.
Ingredients
12

oz

Fresh Cranberries

1/2

cup

Sugar

1/2

cup

Orange Juice

1/2

cup

Water
Instructions
Place all the ingredients in a sauce pan and stir to combine.

Heat over medium high heat until the mixture is simmering.

Continue to cook uncovered for 10-15 minutes until all or most of the cranberries have popped and the sauce has slightly thickened.

Remove from heat and let the mixture cool for 30-45 minutes. Refrigerate covered until you are ready to serve.
Nutrition Facts
Calories
100
kcal
,
Carbohydrates
26
g
,
Protein
1
g
,
Fat
1
g
,
Saturated Fat
1
g
,
Sodium
2
mg
,
Potassium
90
mg
,
Fiber
3
g
,
Sugar
21
g
,
Vitamin A
75
IU
,
Vitamin C
18
mg
,
Calcium
8
mg
,
Iron
1
mg
More holiday side dish recipes:
Try These Cranberry Recipes