This post may contain affiliate links. If you make a purchase through links on our site, we may earn a commission.
If you are wondering, Can you Freeze Stuffing. These tips and tricks will help you save your leftover stuffing without wasting it.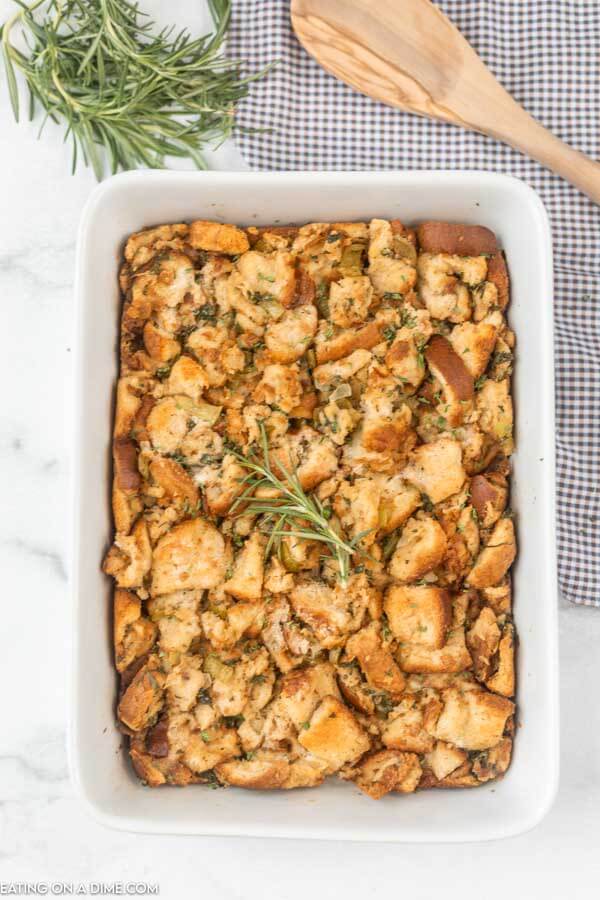 Easy Homemade Stuffing Freezer Tips:
When we making stuffing for the holidays, there always seems to be so much leftovers. Freezing stuffing has a time saver because I can easily prepare the stuffing ahead of time and freeze it.
If you want to jump start your holiday season cooking, make your Thanksgiving stuffing ahead of time. Follow these easy tips how to freeze cooked and uncooked stuffing.
What is Stuffing?
Stuffing is a side dish to serve for a holiday meal. Stuffing can be made in a variety of ways. It is usually seasoned with chicken broth, celery and bread cubes made from sourdough bread.
Poultry seasoning is also added for flavor. Stuffing can easily be cooked in about 20 minutes for a delicious side served with turkey and ham. Stuffing is a classic side dish that is served with gravy, sweet potato casserole and cranberry sauce.
Can you Freeze Stuffing?
Yes, stuffing is one of those side dishes that freezes well. After you have prepared your cornbread dressing in the baking dish, then you can easily freeze it.
How to Freeze Cooked Stuffing:
These steps will help you freeze your leftover cooked stuffing to keep the texture from getting mushy. Don't throw out your leftover cooked stuffing, freeze it.
Make sure the stuffing has cooled to room temperature.
Divide the stuffing into individual servings or the amount you need to feed your family.
Place the divided stuffing into ziplock freezer bags and make sure to release any excess air from the bag. You can also place in freezer-safe containers or airtight container.
Label the bags by dating it so you know how long it is good for.
How to Freeze Uncooked Stuffing:
You can also freeze uncooked stuffing which is great option to prevent it from drying out when reheating.
Prepare the stuffing by adding in the garlic, fresh herbs, salt and pepper and onion. Combine the ingredients in a large bowl and transfer to a oven-safe dish. We recommend freezing in the dish you are going to bake it in.
Cover the dish with several layers of plastic wrap and aluminum foil
Label the dish with the date and place in the freezer.
Tips for Freezer Stuffing:
Freezing Stuffing – If we plan on freezing the stuffing because we are doubling the recipe, we recommend freezing uncooked. This prevents it from drying out.
Uncooked Stuffing – If you placed your uncooked stuffing in the oven safe baking dish. You can take it from the freezer to the oven without thawing it.
Tightly Wrap – Make sure to completely cover the baking tray when storing in the freezer. This prevents air and freezer burn on the stuffing. We cover with foil and plastic wrap.
How Long Can Stuffing Be Frozen:
Uncooked and cooked stuffing can be frozen for about 3 months in the freezer is stored properly. Frozen stuffing can last a little longer, but the texture and taste may change when thawing.
You also run the risk of freezer burn.
How to Thaw Stuffing:
If you have cooked stuffing that you are ready to serve, place the stuffing fridge overnight. This allows it to thaw and then you can reheat on the stovetop in a saucepan or skillet over medium heat. You can also reheat in the microwave.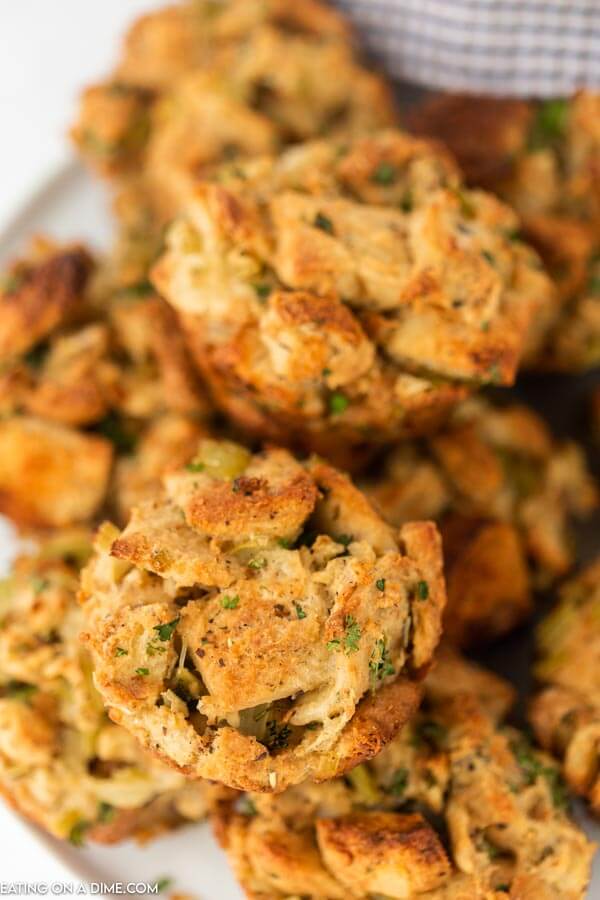 Best Stuffing Recipes:
Make one of these easy stuffing recipes for your holiday meal. If you make to much, feel free to freeze with these tips.
1. Homemade Stuffing
Make this easy homemade stuffing recipe and skip the boxed stuff. Simple ingredients makes this a holiday staple.
Homemade Stuffing
Learn how to make this easy stuffing recipe and never buy the boxed stuff again. Homemade stuffing is much better and actually very simple.
See the Recipe
2. Cornbread Sausage Stuffing:
We love the combination of the sausage and cornbread stuffing. It is a simple dish and but has a rich and savory flavor.
Cornbread Sausage Stuffing
Cornbread Sausage Stuffing is the ultimate holiday side dish. It is rich and savory and made with simple ingredients. A favorite Old-Fashioned Cornbread Recipe.
See the Recipe
3. Crockpot Stuffing:
Save oven space this holiday and make stuffing in your slow cooker. The same ingredients but the slow cooker does all the work.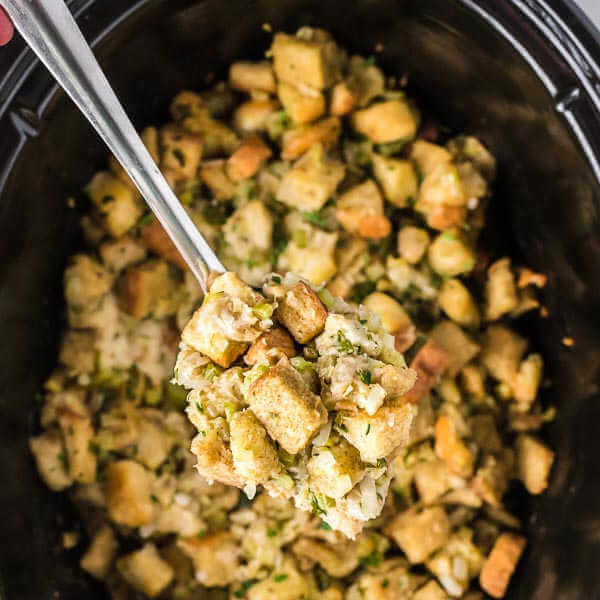 Crockpot stuffing
Crockpot stuffing is so simple to make and will be everyone's favorite side dish during the holidays. The slow cooker does all of the work!
See the Recipe
4. Sausage Stuffing:
If you are looking for a hearty stuffing recipe, make this sausage stuffing. It takes your classic stuffing to the next level with this recipe.
Best Sausage Stuffing
This easy Sausage stuffing is hearty and delicious. The sausage gives it a ton of flavor for the best sausage stuffing recipe
See the Recipe
5. Stuffing Muffins:
Making stuffing muffins makes for an easy side dish for the holidays. The ingredients are mixed together and then easily placed in a muffin tins.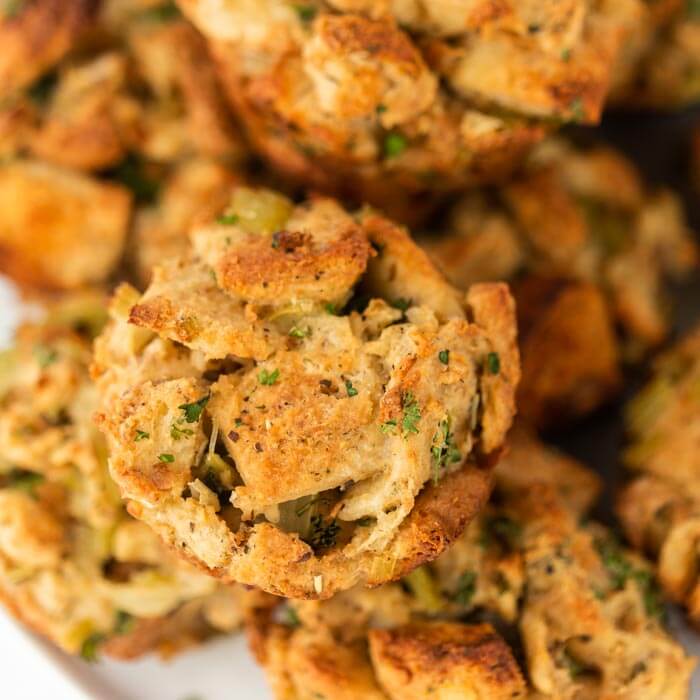 Stuffing Muffins
Turn pantry staples into stuffing muffins that are flavorful and delicious. They are so easy to make and always a hit.
See the Recipe
More Freezer Tips: