Learn how to make this easy stuffing recipe and never buy the boxed stuff again. Homemade stuffing is much better and actually very simple.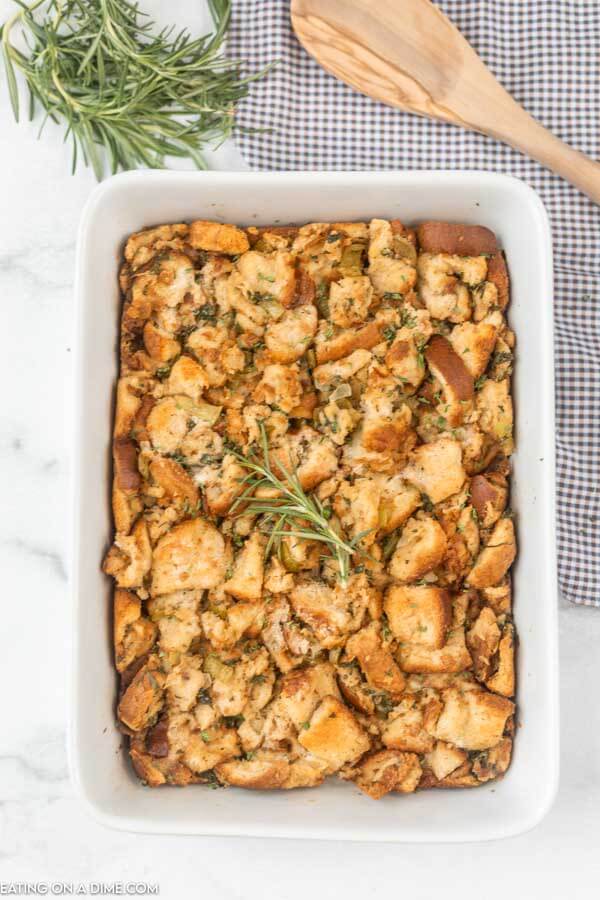 Easy stuffing recipe
Stuffing goes hand in hand with turkey and it's so easy to make from scratch. If you have been making the boxed stuffing, make this instead and taste the difference.
The flavor is richer and we all agree it is so delicious. Plus, it's not hard at all.
Don't be intimated by making this recipe from scratch. It is quick and easy. Promise!
How to make stuffing
The entire process is easy. Prep the bread by baking it in the oven so it is slightly toasted.
Next comes a delicious butter mixture with herbs and seasoning.
Everything gets tossed together and coated with chicken broth. So much flavor!
This yummy mixture is baked to perfection. It really is that simple.
Ingredients:
Bread
Onion
Celery – diced
Butter
minced garlic
Dried Thyme Leaves
salt and pepper
Fresh Parsley – chopped
Chicken Broth
How to Make Turkey Stuffing
First, preheat the oven to 350 degrees. While the oven is heating up, start slicing the bread into small pieces.
I normally do about 1 inch pieces. Once the bread is all cut, spread it on a large baking sheet. Let this bake for 20 to 25 minutes so the bread can dry out.
Make sure to stir occasionally while the bread is cooking.
Second, melt the butter in a large pan. Once melted, add the onion and celery.
Allow the veggies to cook until they are tender. This usually takes about 10 to12 minutes.
Once the veggies are cooked, stir in the minced garlic, thyme, salt, pepper and fresh parsley. Stir until well combined and heat for 2 to 3 minutes.
Finally, put the bread in a large mixing bowl and add the onion mixture. Stir this all together and pour the broth over the mixture.
It is best to gradually add the broth and stir as you go. The goal is to have the bread moist and not overly soggy so you may not need to use all of the broth.
You will need a 9X13 baking pan and make sure to spray with a non-stick cooking spray. Add the stuffing mixture and bake covered with foil for 30 minutes.
During the last 15 minutes, uncover the dish so the top can brown slightly.
Enjoy! This traditional stuffing recipe is so delicious and will make Thanksgiving dinner extra special.
Tips and Tricks:
I used thyme in this recipe but you can also use rosemary or sage as well.
Substitute vegetable broth for the chicken broth.
Vegetables- Celery is great but you can also try adding water chestnuts and carrots as well. Water chestnuts are my favorite and I love the crunch it adds.
Fruit- Cranberries and apples are really good in this recipe. We have even used raisins.
bread- Try using French bread, Italian bread, leftover rolls, loaf bread or anything you have.
Can you make stuffing with fresh bread?
Yes, you can use pretty much any type of bread to make stuffing. However, while fresh bread can be used, I love to use stale bread because it's a great use of ingredients.
Instead of throwing away the bread, make stuffing!
How To Freeze Stuffing
It is very easy to make this ahead. Prepare the casserole as directed, cover in foil and freeze.
Let the casserole dish sit at room temperature and then bake as directed.
WHAT IS THE DIFFERENCE BETWEEN STUFFING AND DRESSING?
Many people use the words interchangeably. However, technically stuffing refers to a mixture that goes inside something such as turkey.
Whereas dressing is cooked in a baking dish or pan and not inside a turkey.
Print this easy stuffing recipe below:
Homemade Stuffing
Learn how to make this easy stuffing recipe and never buy the boxed stuff again. Homemade stuffing is much better and actually very simple.
Keyword:
Homemade Stuffing
Ingredients
1

loaf of Bread

1

Onion

diced

4

stalks of Celery

diced

1/2

cup

Butter

1

Tbsp

minced garlic

1/2

tsp

Dried Thyme Leaves

1/2

tsp

black pepper

1/2

tsp

salt

1/4

cup

Fresh Parsley

chopped

2-3

cups

Chicken Broth
Nutrition Facts
Homemade Stuffing
Amount Per Serving
Calories 165
Calories from Fat 81
% Daily Value*
Fat 9g14%
Cholesterol 20mg7%
Sodium 482mg21%
Potassium 122mg3%
Carbohydrates 18g6%
Protein 4g8%
Vitamin A 354IU7%
Vitamin C 6mg7%
Calcium 57mg6%
Iron 1mg6%
* Percent Daily Values are based on a 2000 calorie diet.
More easy side dish recipes: