This post may contain affiliate links. If you make a purchase through links on our site, we may earn a commission.
We have gathered the Best Bread for Stuffing for your traditional stuffing recipe. Take you classic stuffing recipe to the next level and change up the bread.
We always make a batch of Thanksgiving stuffing every holiday. Stuffing pairs well with mashed potatoes, sweet potato casserole and green bean casserole.
Thanksgiving recipes are not complete with turkey, ham and stuffing. It can be made with different types of bread and seasoning. The flavors and texture cook perfectly in the oven and prep time is very minimal.
The ingredients are combined and placed in a casserole dish or baking dish and cooks to perfection.
What is Stuffing?
Stuffing is a side dish to serve for a holiday meal. Stuffing can be made in a variety of ways. It is usually seasoned with chicken broth, celery and bread cubes made from sourdough bread.
Stuffing is best made with made with small holes and bread with a tight crumb. We recommend using stale bread for the best stuffing recipe.
Poultry seasoning is also added for flavor and added eggs. Stuffing can easily be cooked in about 20 minutes for a delicious side served with turkey and ham.
Best Bread for Stuffing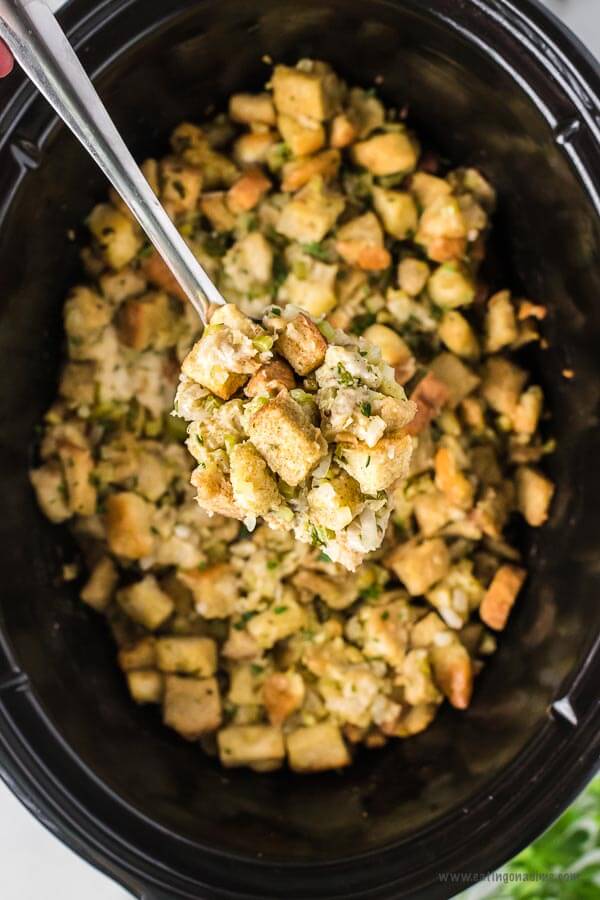 1. White Sandwich Bread
White bread is a great option but we do recommend using day-old bread. The texture is better and the loaf holds up better when mixing with the other ingredients.
Mixing white bread with fresh herbs such as parsley, rosemary, fresh thyme and fresh sage. Season with salt and pepper with chopped onion makes for the perfect stuffing recipe.
2. Baguette
Baguette is also a great bread to use for stuffing. We think it is the best choice because of the tight crumb texture. Combine the ingredients in a large bowl and place in a baking dish.
Everyone always enjoys the stuffing so much more when I make it with chopped baguette.
3. Sourdough Bread
Sourdough bread is a great option when making stuffing. We have bake homemade sourdough bread to make stuffing from scratch. It has amazing taste and combines easily with the other ingredients.
4. Cornbread
When I use cornbread to make stuffing, I like to add in a protein such as chocolate. With the sausage added with the corn bread and the other ingredients it makes for a rich and savory stuffing recipe.
Homemade Cornbread Recipe
Looking for an easy homemade cornbread recipe? This is the best corn bread recipe where you can make cornbread from scratch easily.
See the Recipe
5. Brioche
If you are looking for a slight sweetness to your stuffing recipe, use brioche bread. It has a neutral flavor, tight crumb, and flavor. We love the texture of this bread and it makes a good stuffing.
If you need to dry your bread, it can be placed on a baking sheet and dried in the oven. Leave in the oven for about 60 minutes for the best results on a low temperature.
6. Challah
Like the brioche bread, challah is another good choice for stuffing. It is also on the sweet side but has a tight crumb. You want to make sure that you use this fluffy texture bread when it has dried out.
The juices that are mixed with the bread help to softened while baking in the oven. You can easily find this kind of bread at the grocery store or at the bakery.
7. French Bread
This French Bread can also be used to make stuffing. It is an open crumb bread so you want to make sure that you dry it out. You want to make sure the bread is mixed with the simple ingredients and that is combines easily.
8. English Muffin
Using English Muffin bread is very similar to white. This is recipe is a homemade English Muffin recipe and can be used for stuffing. It is probably my last option when making stuffing.
But you can also mix it with other breads for delicious stuffing.
Easy Homemade English Muffin recipe
If you can't get them on sale, english muffins are expensive. However, they are delicious. Try this easy English Muffin recipe and make them at home!
See the Recipe
9. Martin's Stuffing Cubes
This stuffing cubes is sure option in making stuffing. It is the perfect size and is seasoned for amazing stuffing. Combine the stuffing mixture with stuffing cubes for the delicious side dish.
Other Stuffing Bread Options:
Stuffing can be made with a variety of breads. Feel free to use your own. We have even tried wheat bread, ciabatta bread, and focaccia bread.
I usually use what I have on hand for a delicious stuffing recipe.
Best Stuffing Recipe: