We love making this Copycat Olive Garden Salad Recipe. It is one of our favorites restaurant salad and I am glad I can make this salad at home.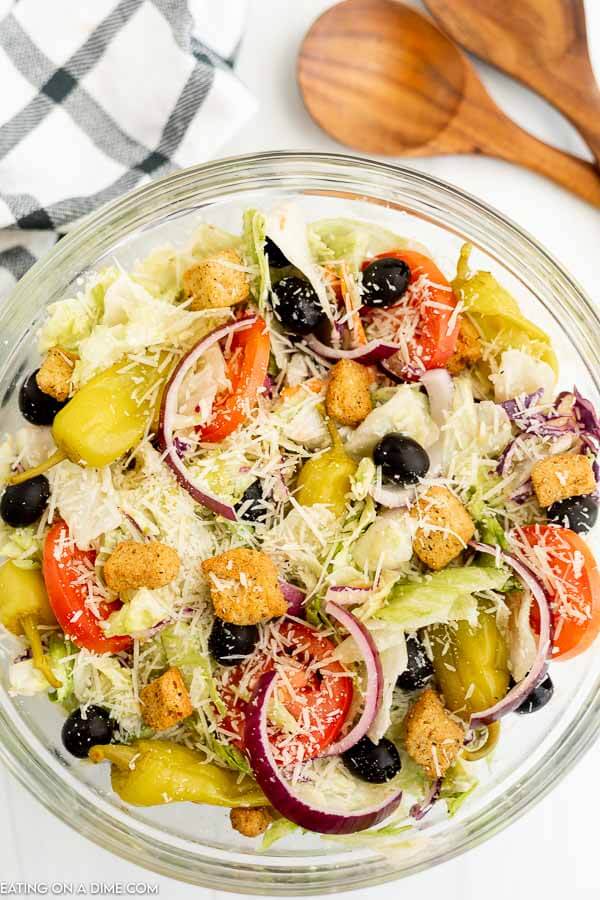 Copycat Olive Garden Salad Recipe:
Olive Garden is one of our places to eat Italian Food. The pasta dishes are always delicious but they always begin with their amazing breadsticks and their salad.
The Olive Garden Salad is always served fresh, crisp and full of flavor. The colors are always so vibrant and it is top with a salad dressing that is delicious.
I love serving this salad even if we are not serving Italian. It is just a really good salad and easy to make with simple ingredients. We love this salad.
What is an Olive Garden Salad?
Even if you are not a salad fan, this Olive Garden Salad is loved by all. We love the simplicity of the salad. It starts with a garden salad, then topped sliced tomatoes, red onions, and black olives.
Pepperoncini Peppers are added and my family always fights over who gets them. Shredded parmesan completes this salad with their amazing salad dressing.
What kind of Cheese does Olive Garden use for their salad?
The cheese that Olive Garden uses on their salad is Parmesan Romano Cheese. They also add in olive oil, with an Italian Seasoning blend.
We used Shredded Parmesan Cheese and it still tasted just like Olive Garden's Recipe.
Ingredients:
Garden Salad Mix
Medium Sized Roma Tomatoes, sliced
Pepperoncini Peppers, drained
Red Onion, peeled and sliced
Large Black Olives, whole
Croutons
Shredded Parmesan Cheese
Olive Garden Salad Dressing
How to Make Olive Garden Salad Copycat Recipe:
Mix Together Bag Salad and Dressing – In a large bowl, toss together the bag of salad mix and the salad dressing until the lettuce is well coated.
Add in the Additional Ingredients – Then gently toss in the sliced tomatoes, Pepperoncini peppers, sliced onions, black olives and croutons. Top with the shredded parmesan cheese and enjoy!
Can I make Olive Garden Salad ahead of time?
This salad is best served immediately. You can easily add in your favorite salad items or remove items based on your preference.
If want to prepare ahead of time, prepare all the ingredients but do no add the pepperoncini, croutons and the salad dressing. This will keep these ingredients fresh and not turn soggy.
Then when you are ready to serve, toss in these ingredients.
Olive Garden Salad Tips:
Salad Options – You can use a bag salad that has iceberg lettuce or you can add in romaine salad greens. We like using iceberg lettuce because of the crisp and fresh leaves and holds up good with the salad dressing.
Pepperoncini Variations – We all the whole pepperoncini on the Olive Garden salad, but not every one does. You can use the slice pepperoncini and add them throughout salad for variation.
Cut Red Onion – When slicing the red onion, thinly slice them. This makes them easier to eat. It also works perfectly if someone is not a big onion fan.
Tomato Options – We used Roma Tomatoes in our salad, but you can use grape or cherry tomatoes. This makes it easy to eat and easier to add to the salad.
Spicier Options – If you want a spicier option, sprinkle in some red pepper flakes.
Can I make my own Salad Mix?
If you cannot find the Garden Salad Mix you can easily make your own by mixing together 6 cups iceberg lettuce (chopped), 1 cup shredded carrots and 1 cup shredded red cabbage.
What's the Best Salad Dressing to use?
What to serve with Olive Garden Salad?
This salad will go with just about anything. We have served it with our grilled burgers to our favorite soups. You can even pair with one of these Copycat Olive Garden Recipes.
Olive Garden Salad is a Crowd Pleaser:
Just one salad and a meal can cost a small fortune at a restaurant. Plus, add other family members and you have already spent a ton. Save money and make this Olive Garden Salad Copycat Recipe at home.
Eating out gets expensive and isn't always that fast or good. Recipes like this delicious salad save so much money and allow our family to eat really well for less.
We actually prefer making this salad at home because it is just so good and very easy to make.
It is one of those salads, that you will make all the time once you try it. With easy ingredients, it really is very quick and easy to make. It is so delicious.
How to Store Leftovers:
If you prepare your salad completely, it will become soggy if stored in the refrigerator. So we do not recommend storing leftovers.
If you believe that you will have some leftover, you can keep the croutons on the side and then store the rest of the salad in the refrigerator. It will last about a day and then the ingredients will get soggy.
Print Recipe here for Olive Garden Salad:
More Salad Recipes: