Give this Creamy Chicken Alfredo Recipe a try for a quick and delicious meal. It is so cheesy and creamy with lots of tender chicken everyone will enjoy.
Creamy Chicken Fettuccine Alfredo Recipe:
We were craving some Chicken Alfredo in our house, so I whipped this one up. All at the table were pleasantly surprised with this dish. Creamy, cheesy and super delicious. Your family will love this tasty meal.
Skip the store bought Alfredo sauce and make it at home. It tastes so much better and is actually very simple! This Super Creamy Alfredo Sauce mixed with cooked chicken makes this one pot meal so easy to make.
Add some bread and a salad and you will have a quick dinner with easy ingredients. This meal is the ultimate comfort food.
Best Chicken Alfredo Recipe:
This delicious recipe is loaded with chicken, pasta, and creamy sauce for a meal that is out of this world. No need for a bunch of different side dishes and complicated recipes. Put a little freshly grated parmesan on top and you are ready for the best meal.
We love this easy homemade weeknight meal. It has become one of our favorite ways of eating chicken alfredo. The cream sauce makes this traditional pasta recipe a quick and easy dish.
Chicken Alfredo with Broccoli is perfect for busy schedules:
We are running from work and school to endless activities so my life is very busy. This meal can be thrown together in just minutes. Your family can enjoy a delicious meal around the table with very little effort.
Pick up a loaf of French bread or make this easy Garlic Bread Cheese Sticks Recipe to go with this meal. We love to dip the bread in the Alfredo sauce. Yum!
Let's get started making Skillet Chicken Alfredo!
This meal is so quick and easy. Your family will love this tasty skillet meal.
Ingredients for Creamy Chicken Alfredo Recipe:
Chicken Breasts
Fettuccine
Butter
Minced Garlic
Heavy Whipping Cream (or Half and Half)
Grated Parmesan Cheese
Salt and Pepper
How to make Creamy Chicken Alfredo Pasta:
Heat Pasta Water – Prepare pasta according to package directions in a large stock pot to al dente.
Melt Butter – Place 1 Tablespoon of the butter in a large skillet over medium heat.
Begin Cooking Chicken – Add the chicken and season with the salt and pepper. Sauté the sliced chicken in the butter until slightly browned and cooked through in the pan over medium high heat. It usually takes around 7-10 minutes to thoroughly cook chicken.
Add in Garlic – Add the minced garlic and cook for 1 minutes until the garlic is fragrant.
Remove the chicken – Once the chicken thoroughly cooked, remove from the pan and set aside.
Add butter – Add the remaining butter to the pain. Heat on medium low heat and melt.
Mix in Cream – Add the heavy whipping cream to the melted butter while whisking.
Heat Mixture – Simmer for 3 minutes while whisking and be careful not to boil the mixture. Be sure to stir occasionally.
Add in Cheese – Remove the sauce from the heat and add in the cheese, a handful at a time, whisking thoroughly until it is completely melted in the sauce. Continue doing this until all the cheese has been added in the sauce.
Add in the pasta – Toss the fettuccine noodles and the chicken into the sauce in the pan.
Serve and Enjoy
How do I spice up bland Chicken Alfredo?
We suggest adding in nutmeg or a spicy seasoning to add in a kick. A sprinkle of red pepper flakes is another excellent choice.
You can also try Chicken Alfredo pasta bake!
Sometimes for a change we will bake this meal. I put everything in a casserole dish and top with extra cheese.
Usually about ¼ cup cheese is perfect but you can you more if you like. Bake until all the cheese is melted and yum!
This pasta recipe is the best!
What to serve with Chicken Alfredo?
This Chicken Alfredo is great served on it own. But I like to serve with a few sides.
Do you have to use Fettuccini Noodles?
You can use any kind of noodles. We usually make this with fettuccini noodles, but any kind that you have will work. Linguini or penne noodles is always a good option.
Tips for the Best Chicken Alfredo:
Cook Pasta – Make sure to cook pasta to al-dente. Once I am done cooking the pasta, I remove it from the stove so the pasta doesn't overcook.
Heavy Cream – You can use Half and Half or Heavy Whipping Cream. I don't use the low fat version.
Chopped Parsley – Before serving we like to sprinkle some chopped parsley over the top of the cooked chicken alfredo.
Cooked Chicken – If you already have cooked chicken, this is a great recipe to use it in. We love cooking a bunch of chicken at the beginning of the week and use it in many different recipes.
Add in Broccoli – If you are trying to get your family to eat more vegetables, I love to add in chopped broccoli. I make sure that it is cut in small pieces so it is easy to eat.
This is how I meal prep chicken alfredo!
Meal prepping has saved me so much time and money. This is a great meal to meal prep with. Put it all together that morning or the night before and when you get home all you need to do is bake it!
I cut our grocery bill by 50% off by following these 8 Tips for for Saving Money on Groceries by Menu Planning! Save that money for a family vacation or maybe just some wiggle room in the budget.
Easy recipes like this keep my family happy and my grocery budget in good shape. This is how I keep our grocery budget reasonable and my family well fed and happy.
Better than store bought Alfredo Sauce!
The flavor is wonderful and the Alfredo sauce is better than anything you could buy. I love that you can use any kind of pasta. We love making this alfredo from scratch. I know exactly what we putting in the sauce and it taste so much better.
Just use what is on sale or you have in your pantry. It is tasty with any kind of pasta.
Can you make sauce creamier again?
When serving your chicken alfredo for a second time your alfredo sauce may not be as creamy. If this happens, simply put your chicken alfredo leftovers in a microwave safe dish and heat for about a minute.
Remove it from the microwave and then add in a few drops of water to help the sauce get creamy again. You might need to heat another minute, but it will be like eating chicken alfredo fresh again.
How can I make Chicken Alfredo for one?
We portion the Chicken Alfredo into individual portion sizes and they are great for lunches or quick meals for one. We rarely have leftovers but if we do I love to do this.
My husband loves when he gets to have this for lunch the next day. It is easy to heat up in the microwave.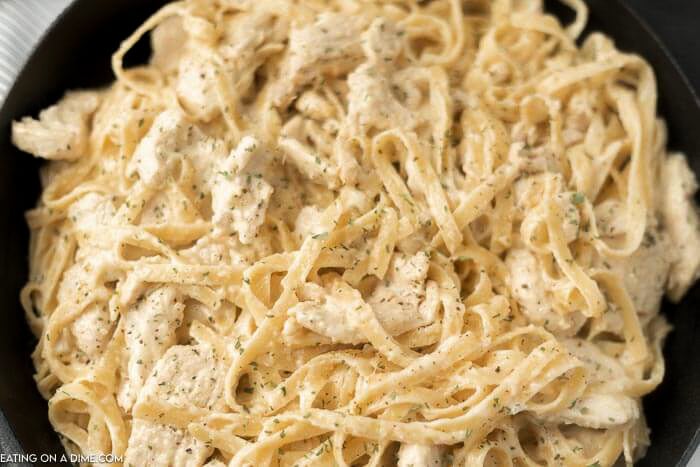 How to store leftovers:
Storing leftovers is easy to do. Simply place your leftover chicken alfredo in an airtight container once it has cooled to room temperature. Then place in the refrigerator.
Chicken Alfredo will still good for about 3 – 5 days. I do not recommend freezing this recipe.
Print Recipe here for Creamy Chicken Alfredo:
More Pasta Recipes: