Enjoy delicious Crock pot chicken corn chowder recipe with hardly any work. Come home to the best comfort food that will satisfy even the biggest appetites.
Crock pot chicken corn chowder recipe
Corn chowder is so delicious and this recipe is packed with lots of tender chicken for a great meal. I love that the slow cooker does all of the work for this fabulous meal. It is so nice in the middle of a busy week to come home and share dinner with my family.
This recipe is a must try and I think you will all love it. Everyone enjoyed our Crock Pot Mexican Chicken Corn Chowder Soup Recipe and this new recipe is sure to be another family favorite.
Let's get started!
Slow cooker chicken corn chowder ingredients:
2 boneless skinless chicken breasts
1 can corn
1 can cream style corn
¼ cup butter
½ lb potatoes fine diced
½ green bell pepper fine diced
2 celery stalks fine diced
2 carrots fine diced
½ onion fine diced
1 tbsp minced garlic
½ tsp thyme
1 tsp salt
1 bay leaf
6 slices bacon, cut into small pieces
5 cups chicken broth
1 cup cream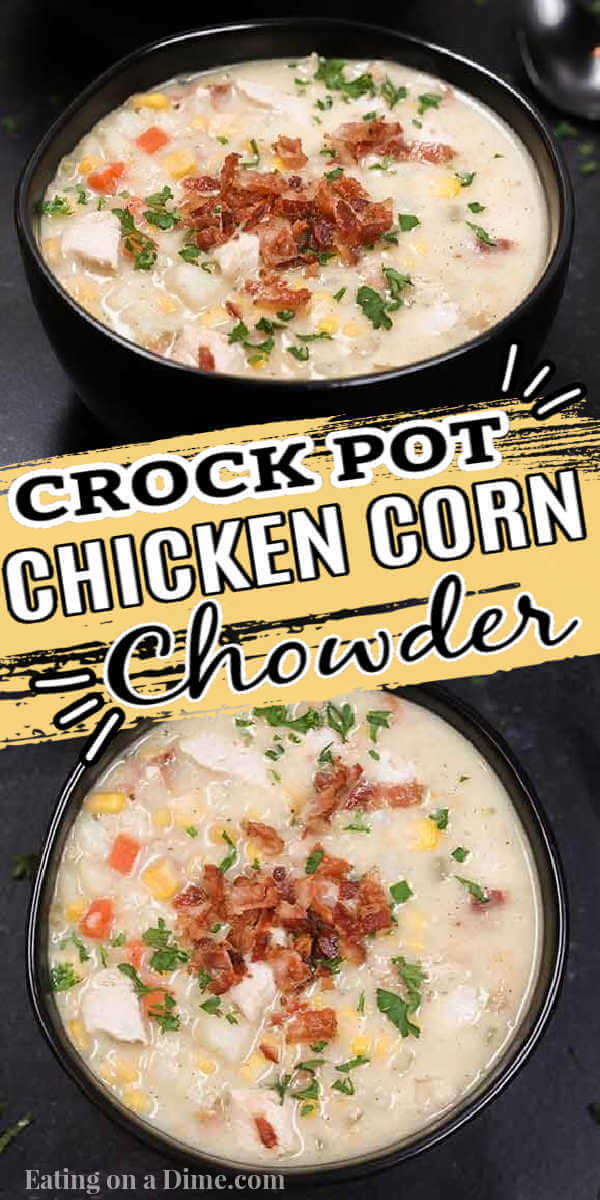 How to make chicken corn chowder in the crock pot:
Everything goes into the slow cooker expect the cream.
Cook on low for 8 hours or on high for 4 hours.
Remove the chicken and shred.
Remove the bay leaf and mix in the heavy whipping cream. Stir to combine
Easy!
Can you put heavy cream in a crock pot?
Yes, you can but only at the end. You do not want to put the cream in initially.
Just add before serving and combine with the other ingredients in the slow cooker.
Make sure you have a good crock pot to make this delicious chicken corn chowder.
If you are in the market for something new, I really love my Ninja cooker. The nice thing about this is you can brown the meat in the same slow cooker for recipes that call for that.
It is so handy to just have the one pan to clean. It has become of my favorite kitchen appliances.
I also really like this crockpot as well. I use this all the time and it's great.
My favorite feature is that you can lock the lid down. This is awesome for when you need to take the crockpot somewhere.
I often use the slow cooker to take dishes to potluck events and this feature is amazing! There are several others on sale here.
Another favorite is this programmable crock pot for when I am am not at home all day. I love coming home to a nice meal ready and waiting!
I also like to use crock pot liners to make clean up a breeze. These are worth every penny and save a ton of time.
Tips for chicken corn chowder recipe:
We love to make things even easier. This recipe is already simple but you can save even more time with these tips.
I use a small food chopper or processor to quickly and easily dice the onions. If you do not have one of these, I highly recommend them.
They are such a time saver.
I usually just chop the entire vegetable and freeze what I don't need. It's so nice to be able to just take diced onion or bell peppers out of the freezer for recipes.
This is how I meal prep. It's so quick and easy and helps get dinner on the table fast.
Learn how to freeze peppers and how to freeze onions and you will save so much time in the kitchen!
Slow cooker chicken corn chowder is budget friendly!
Feed your family for less when you make this easy meal. It is also perfect to serve a crowd without much effort of expense.
You can easily substitute chicken thighs for the chicken breasts or even a mix of both. We are big fans of using what we have or can grab on sale at the grocery store.
Try using ears of corn instead of canned corn if that is what you have. This recipe is so easy to make work for what you have at home.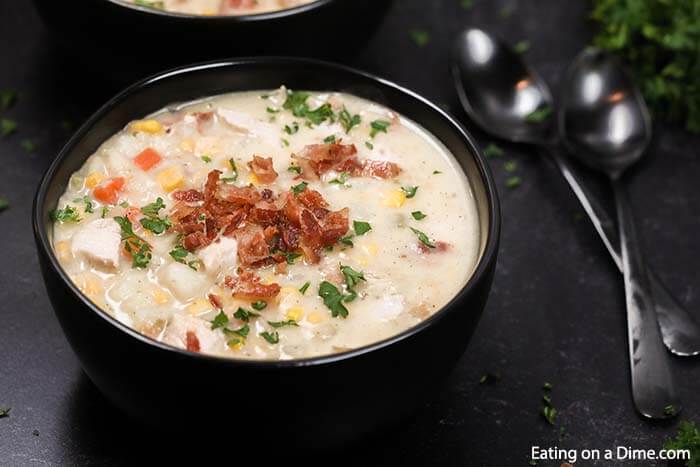 By cooking like this, it really helps me to save money on groceries. It is a huge help to our budget.
I cut our grocery bill by 50% off by following these 8 Tips for for Saving Money on Groceries by Menu Planning!
Save that money for something else! Amazing meals like green chili chicken corn chowder make saving money easy!
Try it today!
This is the best comfort food and slow cooker chicken corn chowder is so easy. Each bite is absolutely delicious. Try this corn chowder recipe for a great meal that is super easy.
Print this crock pot chicken corn chowder recipe below:
Crock pot chicken corn chowder
Enjoy delicious Crock pot chicken corn chowder recipe with hardly any work. Come home to the best comfort food!
Ingredients
2

chicken breasts

1

can corn

1

can cream style corn

1/4

cup

butter

1/2

lb

potatoes fine diced

1/2

green bell pepper fine diced

2

celery stalks fine diced

2

carrots fine diced

1/2

onion fine diced

1

tbsp

minced garlic

1/2

tsp

thyme

1

tsp

salt

1

bay leaf

6

slices

bacon

cut into small pieces

5

cups

chicken broth

1

cup

cream
Instructions
Everything goes into the slow cooker expect the cream.

Cook on low for 8 hours or on high for 4 hours.

Remove the chicken and shred.

Remove the bay leaf and mix in the heavy whipping cream.  Stir to combine
Nutrition Facts
Calories
569
kcal
,
Carbohydrates
35
g
,
Protein
28
g
,
Fat
36
g
,
Saturated Fat
18
g
,
Cholesterol
137
mg
,
Sodium
882
mg
,
Potassium
930
mg
,
Fiber
3
g
,
Sugar
4
g
,
Vitamin A
1028
IU
,
Vitamin C
14
mg
,
Calcium
48
mg
,
Iron
2
mg
Try these other crock pot soup recipes:
Try these other easy crock pot chicken recipes: