Crock Pot Chuck Roast is a delicious, classic comfort recipe that is easy to make in the slow cooker. The roast comes out tender, juicy and so flavorful.
Crock Pot Chuck Roast Recipe:
Crock Pot Chuck Roast is a family favorite meal, especially Sunday. The roast comes out so tender, juicy and full of flavor. There is no need for a seasoning packet with these simple ingredients.
Combining the seasoning with the broth and garlic gives this mouth watering roast so much flavor. We add in chopped carrots and potatoes for a complete meal. There is no need to seer the roast, just add to the slow cooker with the easy ingredients for easy meal idea.
Crock Pot Roast is a meal that is tender, flavorful, hearty and delicious. We love making it on Sunday but it is great any day of the week. Add a side of rolls and you are serving your family a comfort food recipe but classic meal.
Can I only use Chuck Roast?
We love the flavors of a chuck roast. Plus making it in the slow cooker makes it fork tender that I can barely get it out of the slow cooker.
You could also use a rump roast or round roast. Whatever cut of meat you choose to use will be so tender after slow cooking.
Ingredients:
Chuck Roast 
Olive Oil 
Salt 
Black Pepper 
Dried Thyme Leaves 
Yellow Onion, peeled and cut into large pieces 
Minced Garlic 
Beef Broth 
Worcestershire sauce (Homemade Worcestershire Sauce Recipe)
Small Yellow Gold Potatoes 
Carrots, peeled and cut into large pieces 
Cold Water 
Cornstarch 
Fresh Parsley, chopped 
How to Make Chuck Roast in the Crock Pot:
Prepare Skillet with Oil – Heat the olive oil in a large skillet over medium high heat.
Season – Season the chuck roast with the salt, pepper and dried thyme leaves.
Brown Roast – Brown the roast in the skillet. Cook it for 4-5 minutes per side.
Add in vegetables and roast to slow cooker – Then add in the onions, carrots and potatoes (leave the potatoes whole) to a crock pot. Then place the browned beef roast on top.
Top with garlic, broth, and worcestershire – Then add the minced garlic, beef broth and Worcestershire sauce into the crock pot.
Cook Roast – Cover and cook on low for 8-10 hours or on high for 4-5 hours until the chuck roast is tender. Cooking time will vary.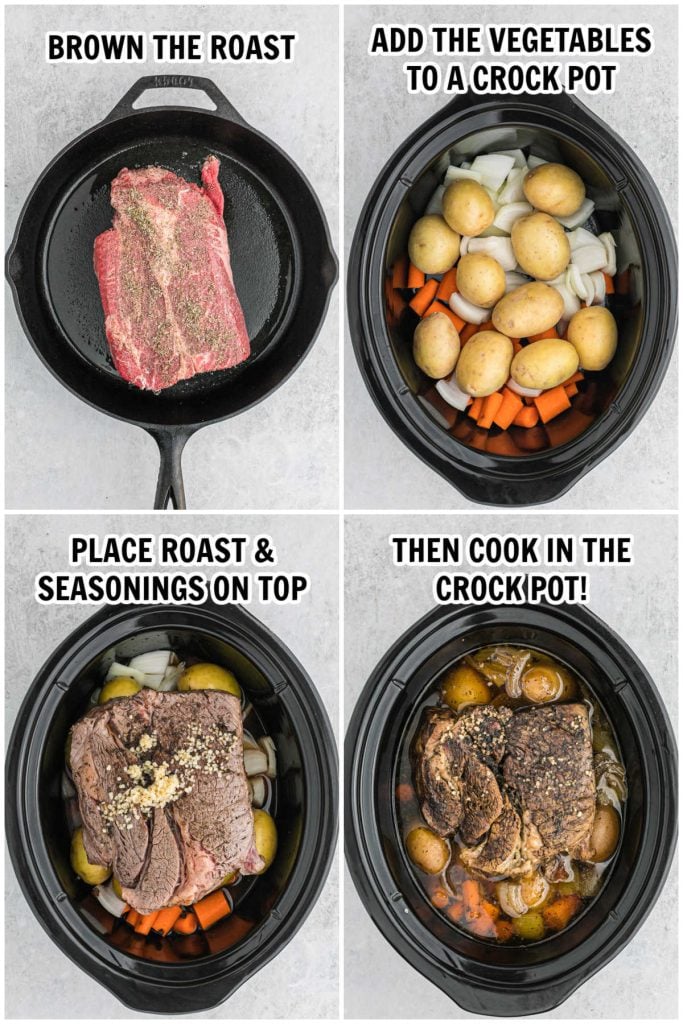 Shred Roast – Remove the roast from the crock pot and shred. Then remove the vegetables from the crock pot as well.
Prepare Broth – Remove the broth from the crock pot and place in a saucepan. You can strain out any vegetables from the broth if needed. Heat the broth over medium high heat and bring it to a low boil.
Mix Water and Cornstarch – In a small bowl, whisk together the cold water and cornstarch. Whisk this mixture into the saucepan. Continue to cook and whisk for 30-60 seconds until the sauce thickens.
Serve and Enjoy – Serve the roast and vegetables topped with the gravy from the saucepan and topped with the fresh parsley. Enjoy! Make sure to seasoned with salt and pepper before serving.
How Long to Cook Chuck Roast in the Crock Pot:
We prefer our roast to cook on low for 8-10 hours depending on how your crock pot cooks. However, you can cook the roast on high as well. If cooking on the high setting, 5 hours will be plenty of time for the roast to cook and be super tender.
You can cook this recipe on low or high but we prefer to cook this crock pot chuck roast recipe on low as the beef is more tender.
While cooking, we try to not to lift the lid to keep the moisture in. We believe that this results in a tender roast.
Should Chuck Roast be Covered in Liquid in Crock Pot?
When cooking the roast in the slow cooker, you do not need to cover the roast in liquid. When pouring in the broth, we recommend it being about the half mark on the roast.
The roast will still be juicy as it cooks.
Chuck Roast Crock Pot Tips:
Cutting Vegetables – Make sure to cut the carrots and onions into large pieces or they will get too soft in the crock pot.
Keep Lid Closed – Keep lid close on the slow cooker. There is no need to stir the ingredients. If you open the lid the steam escapes which takes longer to cook the roast.
Picking Roast – We recommend picking a roast that has a lot of fat marbling. This cooks into the roast which gives it so much flavor.
Crock Pot – You will need a good crock pot for this recipe. I have been using a multi-cooker and I love it. You can brown the beef, slow cook the dinner and make the gravy all in the same pot.
Defrost the Beef – Make sure that the beef is fully defrosted before adding to the crock pot. This will ensure that the beef cooks evenly and is more tender.
Don't use Flour for the Gravy – I have found that cornstarch instead of flour works best to make the gravy for this roast. Cornstarch is flavorless so it thickens without changing the flavor of the droppings from the crock pot.
Potatoes – My family loves mashed potatoes, so occasionally I will make mashed potatoes instead of putting the potatoes in the slow cooker.
Variations:
Carrots – You can use baby carrots or peel and cut large carrots. I like using baby carrots as you can just dump the package in the slow cooker.
Potatoes – I used gold potatoes in this recipe, but you can use russet potatoes or use what you have. We have even used red potatoes and they turned out so good.
Onion Soup Mix – To skip some of the seasoning, you can easily add in a packet of onion soup mix.
Add Wine – You can add in ½ cup of red wine for added flavor.
Garlic – We used minced garlic in this recipe, but you use garlic cloves or garlic powder if you prefer.
Bay Leaf – If you prefer, you can add in a bay leaf when adding in the other ingredients. Be sure to remove before serving.
Dutch Oven – You can also make this chuck roast in your dutch oven.
Tomato Sauce – Add in some tomato sauce for added flavor to the shredded beef.
Worcestershire Sauce – If you have Worcestershire Sauce, you can add in a tablespoon to the mix for some added flavor.
What to Serve with Chuck Roast:
Mashed Potatoes – We love making homemade mashed potatoes when I make roast. Potatoes and carrots and roast just go together.
Homemade Rolls – Serving rolls with this slow cooker roast recipe is a must. My son likes to make roast sandwiches with the rolls. They also good to dip in the gravy.
Other Ideas – We have gathered the best sides to serve with your roast. They are all easy and delicious and pairs perfectly with your slow cooker roast.
How to Make Roast Gravy:
Slow Cooking the roast is just as important is the juices that are released from the roast to make the gravy. Roast gravy is easy to make and only requires a few extra ingredients to make it thick and tasty.
All you will need is cornstarch, water and the liquid after the roast is finished cooking.
Remove the Roast and Vegetables from the crock pot.
This leaves the broth in the slow cooker and I like to strain it into a sauce pan, so I just have the liquid.
Place the sauce pan on the stove top and begin to heat.
Combine cornstarch and water together in a bowl.
Then slowly pour this mixture in the saucepan to thicken up the gravy.
Heat to a boil or until the sauce thickens.
Pour the gravy in a sauce pan to serve with the roast, potatoes and carrots.
How Long do Leftovers Keep:
If you store you leftover roast properly, it will last about 3 to 4 days. Place the leftovers in air tight container in the refrigerator. I like to store in individual containers so it is an easy lunch the next day.
How to Use Leftover Shredded Roast:
There are many ways to use leftover roast. Slow Cooker pot roast cooks so tender that there are many use to serve it as a completely second meal.
Roast Pot Pie – This is my favorite to use the roast. I like to save the gravy, potatoes and carrots and mix everything together and refrigerate. Once you are ready to serve, heat the roast mixture and top with homemade biscuits then bake.
BBQ Beef Sandwich – Mix the shredded beef with some BBQ sauce and make BBQ Beef Sandwiches. This would be a perfect meal to feed a crowd.
Shredded Beef Tacos – Heat the shredded beef and make tacos, burritos, or quesadillas.
Serve over Noodles – Make a batch of egg noodles, and pour the beef and gravy over the top.
French Dip Sandwiches – Mix together beef broth and onion soup mix in a small bowl and pour of the beef to make a the best French Dip Sandwiches.
Print Recipe here Crock Pot Chuck Roast:
More Easy Crock Pot Beef Recipes: