We have the best side dishes for pot roast that are easy to prepare. Learn what to serve with pot roast for the best complete dinner.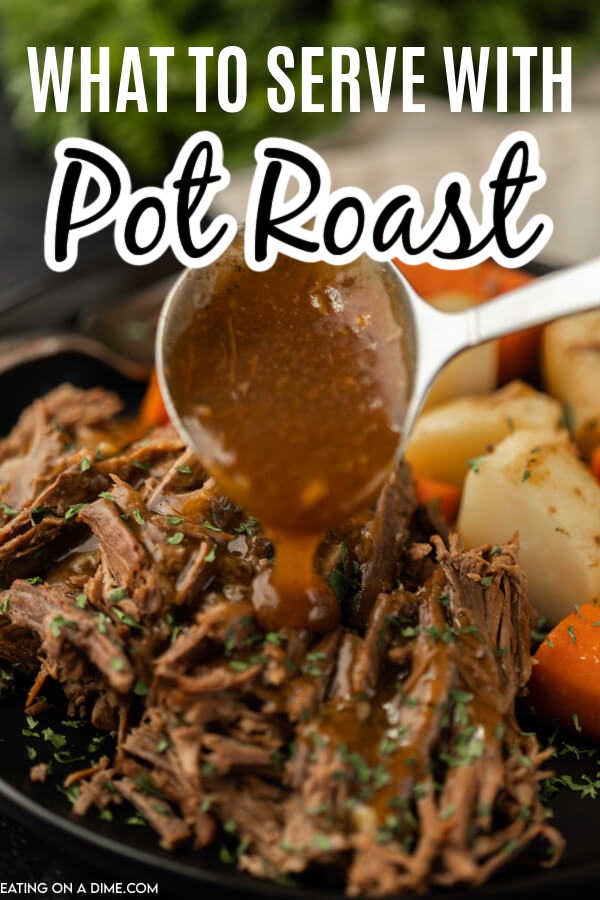 What to serve with pot roast
Pot roast is so tender and delicious. It is the perfect meal for a big family dinner. If you are looking for side dish ideas, you have come to the right place.
The best pot roast sides
We have included everything you need for a delicious but easy dinner. From creamy mashed potatoes to roasted carrots, we have everything you would expect in a delicious comfort food meal.
The best side dishes for pot roast
These are the best side dishes and super easy to make. From comfort food to healthier options, there is something for everyone.
Give these pot roast sides a try. Everything will come together for the perfect meal with your family.
All of these ideas are easy enough for busy weeknights but will taste like you spent all day cooking. Pot roast and delicious sides are not just for Sunday lunch anymore. You can easily make this any night of the week.
1. Mashed potatoes
Pot roast is perfect with mashed potatoes and you can drizzle gravy from the roast. They also make delicious open faced sandwiches the next day with leftovers. Here are two of our easy mashed potato recipes.
2. Roasted Potatoes
If you prefer a crispy potato, roasted potatoes are the way to go. They are tender on the inside and crispy on the edges. Here are two of our favorite roasted potato recipes.
3. Homemade Rolls
Dinner isn't complete without the bread. Homemade dinner rolls are very easy to make. They are soft and fluffy and perfect for dipping into gravy from the roast.
4. Baked potatoes
Another delicious potato option is to bake them. Whether you prefer a traditional baked potato or a stuffed one, all of these options will be tasty with roast.
5. Twice baked potatoes
Everything you love about a loaded potato is stuffed into these twice baked potatoes. Lots of cheese, bacon, sour cream and green onion make these delicious. If you are wondering what to serve with pot roast, everyone will love twice baked potatoes.
6. Mashed Sweet Potatoes
Sweet potatoes are very easy to mash but not often served this way. Change things up and make these creamy sweet potatoes. We love sweet potatoes and also enjoy sweet potato fries.
7. Bacon Wrapped Green Beans
While this looks fancy, bacon wrapped green beans make an easy side dish. The bacon gives the green beans the best flavor.
8. Egg Noodles
You can make homemade noodles very easily. Season to your liking and serve with roast for the best homecooked meal.
9. Roasted Asparagus
Asparagus only takes a few minutes to cook and pairs nicely with roast. If you need a veggie in minutes, this is the one to try. We made these in the oven but you can also use the air fryer.
10 . Baked Mac and Cheese Recipe
Southern style mac and cheese never disappoints. This dish is rich and creamy with the best crumb topping.
11. One Pot Macaroni and Cheese Recipe
For those super busy nights, whip up this one pot mac and cheese. You only need 15 minutes to enjoy this homemade side dish.
12. Roasted Carrots
Every roast needs carrots with it. These are roasted to perfection for a light and savory side. You can drizzle a little olive oil.
13. Caesar Salad
Toss together a salad in minutes. This light and crispy salad provides a light side dish with roast that is very easy.
14. Brown Sugar Glazed Carrots
If you have kiddos that do not like carrots, make brown sugar glazed carrots to change their mind. They are sweet and buttery and delicious.
15. Scalloped potatoes recipe
You will never buy store bought scalloped potatoes once you try this easy dish. They are so rich and creamy and make roast even better.
16. Steamed Broccoli
Keep things light with this easy microwave steamed broccoli. You only need 3 minutes. It is optional but I like to sprinkle Parmesan cheese on top.
17. Cheesy Potato Casserole
If you love Cracker Barrel's hash brown casserole, this cheesy potato casserole is a must try. It is simply amazing with pot roast.
18. Keto Loaded Cauliflower
Low carb followers will enjoy this keto option. Loaded Cauliflower casserole is so creamy and cheesy that no one will miss the carbs. This is a great side dish for a keto dinner.
19 . Cornbread Muffins
Whip up a batch of cornbread muffins to serve with roast. They are so filling and make an amazing option for bread. Sometimes I use butter milk and they are so moist.
20. Oven Roasted Brussel Sprouts
Brussel sprouts in the oven are crispy and golden brown. The texture changes completely and even the kids will enjoy this easy brussel sprouts side dish with roast.
21. Baked Sweet Potatoes
It doesn't get any easier than sweet potatoes being baked. The sweetness combines with the savory roast for a great meal. Top with butter and add a dash of cinnamon. Kids will love a few marshmallows on top.
22. Glazed Carrots
Carrots are always a must have side dish for roast. Next time, try our brown sugar glazed carrots. This is one vegetable no one will complain about eating.
23. Potato Salad
Potato salad is actually one side that goes well with almost anything!
What to serve with roast
With so many delicious choices, the hardest part might be choosing only one. My favorites are roasted potatoes or mashed potatoes.
If you have a few extra minutes, make sauteed mushrooms. They are so tasty with pot roast.
I often just let people salt and pepper to taste. This way everyone is happy.
Make this delicious comfort food today. Your family will be so glad you did.
You will also make lots of great memories around the dinner table. I think that is the best part of all.
Try one of our favorite roast recipes
Roast is very simple to make and we have slow cooker and instant pot recipes. Whether you need to slow cook the roast or make it quickly, these recipes will be a hit.