This post may contain affiliate links. If you make a purchase through links on our site, we may earn a commission.
You can make this delicious Instant Pot Roast Dinner Recipe quickly with your pressure cooker. It's so tender and packed with a ton of flavor.
The veggies add even more yummy flavor. This is the best pot roast recipe for the Instant Pot.
Instant Pot Roast and Potatoes
There isn't anything better than a yummy roast. You will love the Best Pot Roast Recipe for the Instant Pot.
It literally just falls apart it is SO tender! You can cut it with a fork.
The potatoes and carrots are so flavorful and even your non veggie eaters will love it. The gravy is amazing and I pour it on everything.
My kids don't complain about eating vegetables with this delicious gravy. I could just spoon it over everything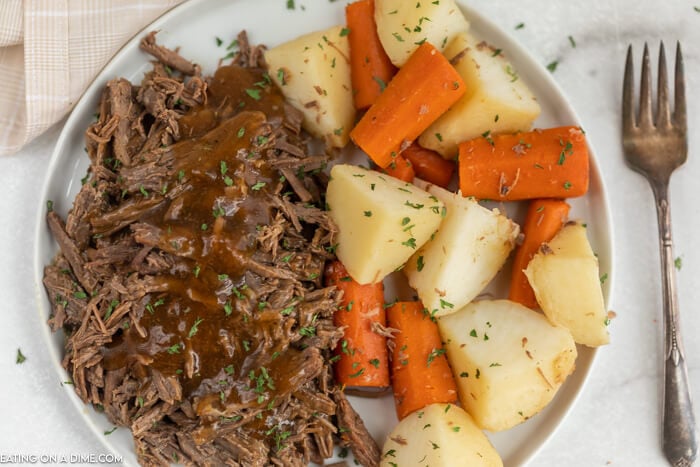 It's delicious and a must try dinner idea. This entire recipe is so tasty.
Pressure cooking gets dinner on the table in a fraction of the time. You can get that slow cooked flavor in a fraction of the time.
Ingredients:
Rump Roast – Save money and use an inexpensive cut of meat. It will still turn out tender because of being pressure cooked. Roast that has good marbling will ensure a tender cut of meat after cooked.
Potatoes – Russet, red, Yukon gold or baby potatoes work great in this recipe.
Carrots – Use Whole carrots or baby carrots based on preference.
Onion – I cut in large chunks so you can pick them out if someone does not care for them.
Beef Broth or Beef Stock
Minced Garlic – Garlic powder can also be used.
Italian Seasoning
Salt and black Pepper
Water (for the gravy)
Cornstarch
How to make Instant pot Roast
The first step is to add the roast to the Instant Pot.
Next, add all of the seasonings to the roast. Just a few ingredients gives this roast amazing flavor.
Then, pour the beef stock on top.
Add the lid and set it to sealing. Set the timer for 50 minutes and do a slow natural release.
The next step is to prepare the vegetables. I like to cut them up while the roast cooks. Cut the carrots and potatoes into large chunks so they won't get mushy.
When the roast has finished cooking, remove it from the instant pot and shred the beef.
Then, add the potatoes and carrots to the instant pot. Cook them on high pressure for 10 minutes with a quick release to release pressure.
Remove as soon as finished cooking. The meat will be fork tender and full of flavor.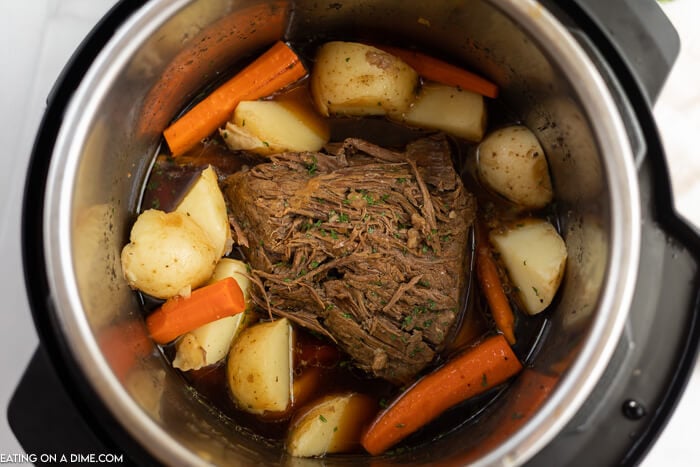 How to make a delicious gravy
Let's make the gravy. Get out a small bowl and whisk together the water and the cornstarch.
Once the gravy mixture has been mixed together, change the instant pot setting to the sauté feature.
Add the water and cornstarch mixture in with the beef juice and bring to a boil.
Stir this frequently for a few minutes until it starts to thicken. Keep in mind that it will thicken more as it cools.
The last step is to just drizzle the gravy all over the roast, potatoes & carrots. It is the best.
Salt and pepper to taste.
What to serve with:
If you have a few extra minutes, whip up a batch of Homemade Biscuits or Homemade Dinner Rolls. And you guessed it, go ahead and put a little gravy on that yummy bread.
Sometimes, I like to make a platter of The Best Deviled Eggs Recipe. These deviled eggs are so creamy and delicious. They go perfectly with this yummy roast.
Try some of our other What to Serve with Pot Roast ideas.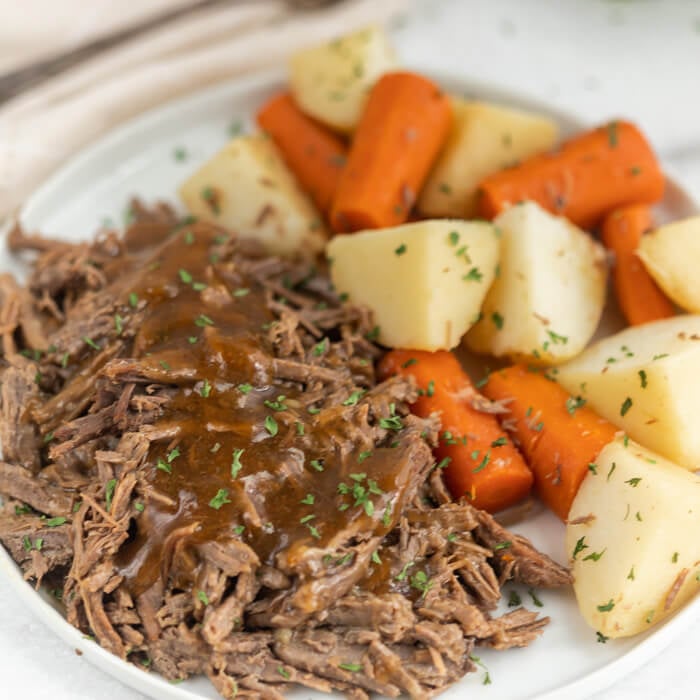 Tips for the Best pot Roast
You will need an electric pressure cooker for this recipe. I am using an 8 quart Instant pot but you can use a 6 quart if you prefer.
If you don't have an instant pot then try our delicious slow cooker version. It is the Best Slow Cooker Pot Roast Recipe.
Make sure to add the vegetables after the roast has finished cooking in the pressure cooker. This will prevent them from getting mushy.
Make sure to use a tougher type of meat that will hold up. Try using rump roast, chuck roast, brisket or round roast. The pressure cooker will make it tender.
It is not necessary but you can sear the roast prior to cooking. Just use the saute setting and put the roast inside with about a tablespoon of oil. Sear for a couple of minutes per side until it is browned.
Look for a roast that has a lot of marbling. This will result in a tender finished product.
If you are short on time, cut the roast into pieces. I would suggest 2 to 3″ pieces and reduce the cooking time to 40 minutes.
What if the roast is frozen?
No problem! Just cook a frozen roast as normal but increase the cooking time to 30 minutes per pound.
For example, a 2 pound roast would take 60 minutes to cook.
This is so handy for those days when you forget to take something out of the freezer. Skip the drive thru or takeout and make this yummy roast instead.
Compared to slow cooking, this is still pretty quick and the meat is so tender. It will literally fall apart because the meat is that tender.
Everyone will think you slow cooked it all day when it was made quickly in the instant pot.
I love to pressure cook for this very reason. It takes the temptation from getting something out to eat.
Plus, we all get a much better meal at home. Save time and money with this recipe even if it is frozen.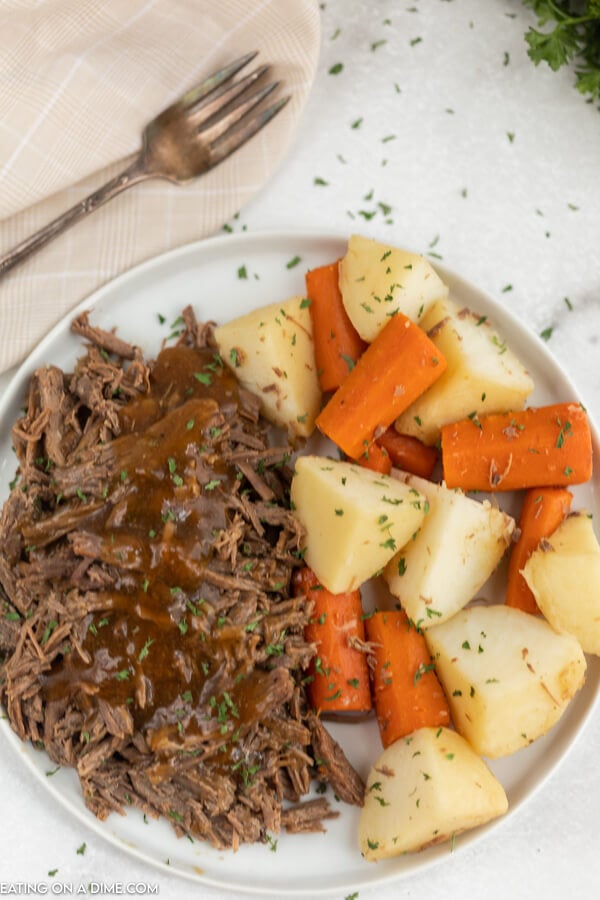 Variations ideas
Change the flavor by adding 1 cup of red wine or cooking wine to the beef broth.
Add a small can of tomato paste and whisk into the beef broth before cooking.
Worcestershire sauce will give the roast a different flavor. It does not take much and I would add 1 tablespoon to the pressure cooker.
Try adding a ¼ cup prepared horseradish sauce to the broth mixture. This is a very distinct flavor but it pairs well with roast.
To save more time, use small baby yellow potatoes so you do not have to cut them. It saves me a few minutes. Baby red potatoes are also amazing with this roast as well.
You can use normal size potatoes and cut them up if you prefer.
Another time saver is to use baby carrots so you just toss in and go. I only had regular carrots in my fridge this time but it would have saved a few minutes to use baby carrots.
How to store leftovers
Put the leftovers in the fridge up to 3 to 4 days. Just make sure to put inside an air tight container.
The broth with the roast will help to prevent it from drying out. It is really delicious the next day and we all enjoy eating the leftovers.
However, we rarely have any left because everyone loves this recipe so much. Once you try it, you will understand why we all fight over who gets the leftovers.
They are loaded with flavor.
Ideas for leftovers:
If you have any leftovers, it's really delicious to mash the potatoes with a little bit of the broth. Top with some of the gravy and it is the best comfort food. Go ahead and put some of the gravy on the veggies too.
Make Open Faced Roast Sandwiches. This is another yummy recipe for leftovers. You can use sandwich bread or some of those leftover biscuits and just create a little sandwich but with the bread open. Serve with mashed potatoes and gravy on everything.
Sliders are also delicious. Add shredded beef to sliders and top with cheese if you prefer. Broil a few minutes until the cheese melts. This is great for school lunches, parties and more.
This is the Best Pot Roast.
Do you see why we love it so much? It's incredibly simple and everyone just loves it. It's rare to find a meal my entire family will eat and love.
Once I do find something, I put it on the menu plan rotation frequently.
Even the veggies are gobbled up. If you have someone in your family that is not a big meat eater, they can make a meal out of these delicious potatoes and carrots.
You will be amazed at how much flavor it has. No need to use those fancy seasoning packs that can be expensive. This roast is amazing with just a few simple ingredients.
Give it a try.
Who is ready to try this yummy roast? I am getting hungry just thinking about this tender roast and yummy veggies.
It is SO good that your family will ask for this over and over again. It's so easy that you will gladly make it for them.
This recipe is the perfect Sunday lunch but easy enough for during the week. Your family will love getting to enjoy flavor packed meals like this even on busy weeknights.
Give it a try and let us know how it turned out. We love to read comments letting us know how your family liked it.
Print this Instant Pot Roast Dinner Recipe Here:
Instant Pot Roast Dinner Recipe
This Instant Pot Roast Dinner Recipe is amazing! It is truly the best Pressure Cooker Pot Roast Dinner recipe. The gravy is so delicious. You will see why it's the Best Pot Roast Recipe for the Instant Pot. The veggies are packed with flavor! Yum!
Ingredients
2 to 3

lbs

roast

1.5

lbs

any potatoes of your choice

cut into chunks (I used small baby yellow potatoes so there was not cutting)

4

carrots peeled and cut into chunks

1/2

onion cut into chunks

4

cups

beef stock or broth

one carton

1

teaspoon

minced Garlic

1/2

teaspoon

Italian Seasoning

1/2

teaspoon

salt

1/2

teaspoon

pepper

1/4

cup

water

for the gravy

2

tablespoons

cornstarch
Instructions
First, add your roast to the Instant Pot. 

Then add all your seasonings.

Next add in the beef stock.

Put the lid on and set it to sealing. Cook on the high pressure setting for 50 minutes and do a slow (natural) release.

While the roast is cooking, cut all your vegetables into large chunks. You want them to be bigger so they will not turn into mush. 

After this cooking time, remove and shred the beef.

Next add your vegetables to the instant pot (with the beef juices) and cook on high pressure for 10 minutes with a quick release.  Remove the vegetables from the Instant Pot after this cooking time. 

Now, time to make the gravy. Change the instant pot setting to the sauté feature.

In a small bowl whisk together the ¼ cup of water and the cornstarch.

Whisk in the water and cornstarch mixture in with the beef juice in the instant pot.

Bring to a boil, stirring frequently for 3-5 minutes until it begins to thicken. It will thicken as it cools as well.

Drizzle the gravy over the roast, potatoes, and carrots and enjoy!
Nutrition Facts
Calories
436
kcal
,
Carbohydrates
23
g
,
Protein
56
g
,
Fat
11
g
,
Saturated Fat
3
g
,
Cholesterol
140
mg
,
Sodium
678
mg
,
Potassium
1681
mg
,
Fiber
4
g
,
Sugar
3
g
,
Vitamin A
6795
IU
,
Vitamin C
16
mg
,
Calcium
108
mg
,
Iron
9
mg
More easy instant pot recipes