This post may contain affiliate links. If you make a purchase through links on our site, we may earn a commission.
Try mashed sweet potatoes for a fun twist on classic mashed potatoes. Each bite is sweet and buttery and the recipe is so easy to make.
Mashed sweet potatoes
Who loves mashed potatoes? Haha! That's a funny question, isn't it. Mashed potatoes are pure comfort food. Who doesn't love them?
Well, I wanted to try using sweet potatoes and the recipe was a big success. The entire family declared it a hit. If you are looking for a new side dish that is easy and tasty, give this a try!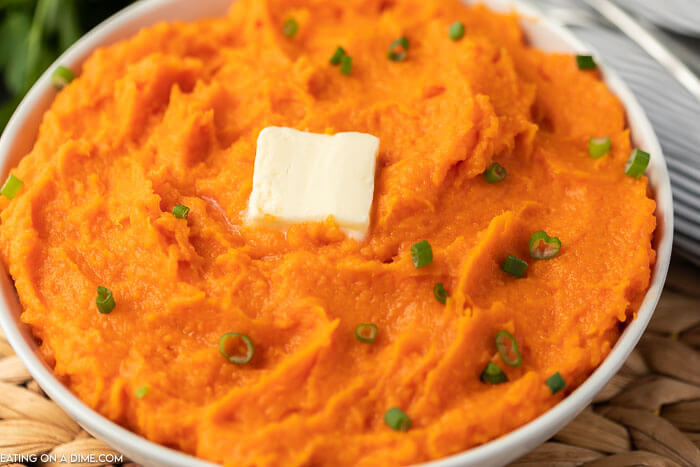 If you enjoy these mashed sweet potatoes as much as I think you will, try my Pan Fried Potatoes and Sweet Potatoes recipe. But you also might love Garlic Mashed Potatoes, or Instant Pot Mashed Potatoes.
Mashed Sweet Potatoes recipe is delicious!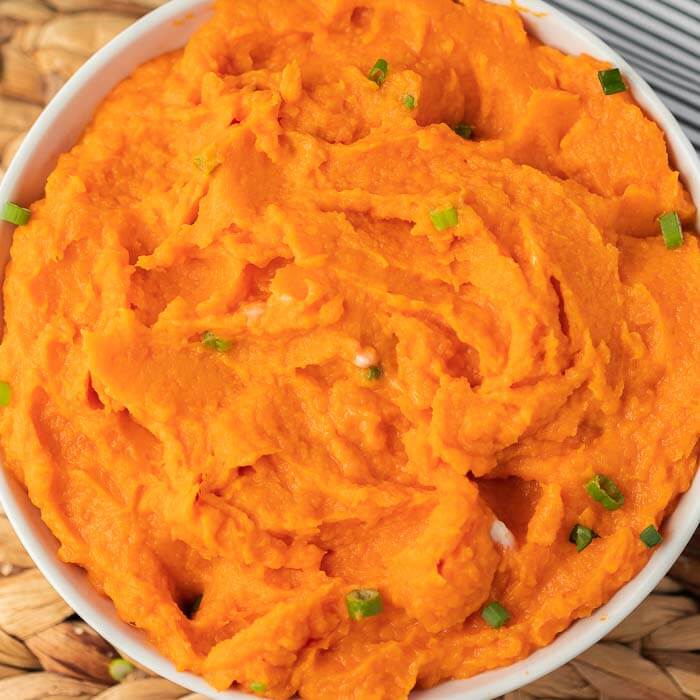 Ingredients:
sweet potatoes
milk
butter
salt
How to make mashed sweet potatoes?
First, peel and dice the sweet potatoes.
Second, put the diced sweet potatoes in a large pot full of water. I like to use a large stockpot so that there is enough water to cover the potatoes and it does not boil over. Cook until the potatoes are tender.
Next, drain the potatoes and let them sit a few minutes so any excess water can evaporate.
Finally, put the potatoes back in the stock pot or you can use a bowl and add the butter. Use a hand mixer or potato masher to blend everything together. Slowly add the milk as you mix the potatoes until they are the consistency you like.
This is optional but sometimes I also add a little bit of maple syrup or brown sugar to the sweet potatoes. It is so good and my kids go crazy over it.
Sprinkle with salt and serve. I told you this recipe was easy! When will you be making this delicious side dish?
Do you peel sweet potatoes before boiling?
Yes, peel the potatoes before boiling. If you like the texture that the peelings add to mashed potatoes, you can certainly leave them on. However, we prefer to peel them and have a smooth consistency in the mashed potatoes.
How to make mashed potatoes dairy free?
If you need an alternative to milk, try using coconut milk for a tasty dairy free option.
Mashed sweet potatoes recipes are so delicious!
I can't wait for you to try it. It is easy, frugal and always a hit. Let us know once you try it and how your family likes it.
How do you prepare sweet potatoes?
Sweet potatoes get a bad wrap, but not in my family. Try this other sweet potato recipe we have made: Pan fried Sweet potatoes.
You might also like this Crock Pot Cheesy Potato Casserole Recipe! It's another yummy potato recipe that is great with just about anything!
Print this Mashed sweet potatoes recipe below: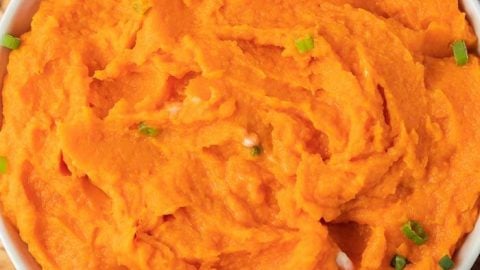 Homemade Mashed Sweet Potatoes
Needing an easy side dish recipe? Try this mashed sweet potatoes recipe! Making mashed sweet potatoes is easy and delicious!
Ingredients
Instructions
Place potatoes in a stockpot filled with water. Make sure there is enough water to cover the potatoes. Cook over medium-high heat for 15-20 minutes until the potatoes are tender.

Drain the potatoes and let the potatoes sit for a few minutes to make sure all the water evaporates off the potatoes.

Put the potatoes back in the pot and add in the butter. Mix with a hand held mixer. Then gradually add in the milk as you mix until the potatoes are the consistency that you prefer.

Season with the salt and serve warm. Enjoy!
Recipe Notes
I used ⅓ cup of milk to make these potatoes but more or less may be needed based on the consistency that you prefer for your mashed potatoes so make sure to add the milk in gradually for this recipe.  
Nutrition Facts
Calories
291
kcal
,
Carbohydrates
47
g
,
Protein
4
g
,
Fat
10
g
,
Saturated Fat
6
g
,
Trans Fat
1
g
,
Cholesterol
27
mg
,
Sodium
604
mg
,
Potassium
794
mg
,
Fiber
7
g
,
Sugar
11
g
,
Vitamin A
32500
IU
,
Vitamin C
5
mg
,
Calcium
94
mg
,
Iron
1
mg
More sweet potato recipes to try: