Beef and Broccoli Crock Pot Recipe is a great meal idea that is healthy and delicious and the slow cooker does all the work. You can enjoy a delicious meal as soon as you get home packed with tender beef and flavorful broccoli.
Beef and Broccoli Crock Pot Recipe
If you love beef and broccoli take out, this recipe is a must try. You will save a ton of money and it is so simple to make.
The beef has the best flavor and the broccoli is amazing. This recipe works for the entire family and is sure to be a hit.
Serve it over rice and you have a such an easy meal for your family to enjoy. The broth soy sauce brown sugar and other ingredients taste amazing over the rice.
Take out will be a thing of the past once you try this meal. It is better than take out, much cheaper and so easy to make!
Make this meal even easier when you learn how to freeze rice. It is so handy to just grab the rice from the freezer for meals like this one.
Schedules are crazy around here so anything I can do to save time I am all for.
We do this for lots of meals and it helps put together a quick meal. If you are not freezing rice, it is a great time saving trick.

Skip the rice and enjoy Keto beef and broccoli recipe!
If you are eating low carb or keto, just omit the rice to have a meal you can enjoy. This meal is great because it makes it so easy for the entire family to enjoy.
No need to make separate meals for dinner when you can make this amazing recipe. Just skip the rice and you are set!
Life is busy and no one has time for making separate meals. I know I don't!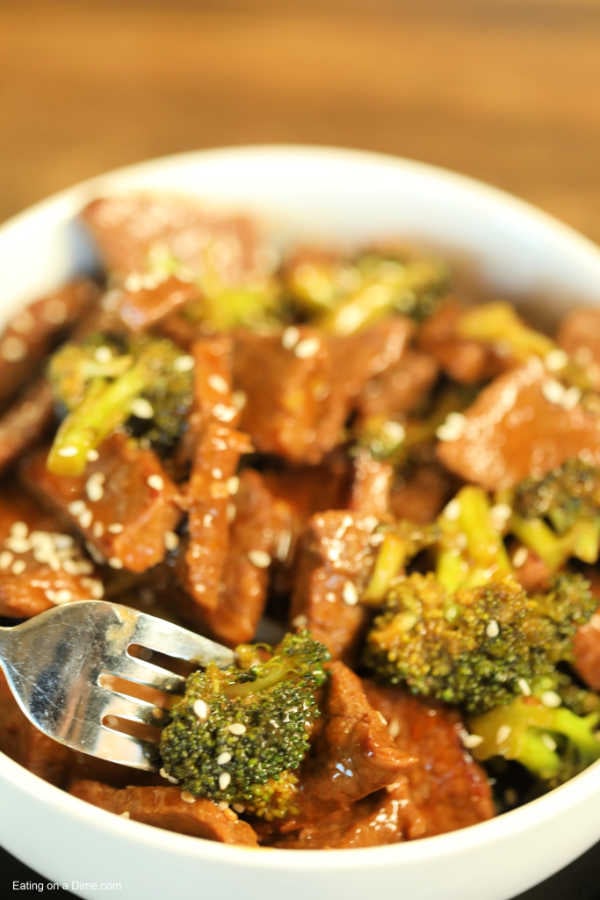 What all do I need to make Easy Crock pot Beef and Broccoli Recipe?
round steak
beef stock
low sodium soy sauce and oyster sauce
seasoning
brown sugar
sesame oil
cornstarch
fresh broccoli florets
\sesame seeds for topping but that is optional
You also need a good slow cooker to make this delicious Beef and Broccoli crock pot recipe.
If you are in the market for something new, I really love my Ninja cooker. The nice thing about this is you can brown the meat in the same slow cooker for recipes that call for that.
It is so handy to just have the one pan to clean. It has become of my favorite kitchen appliances.
I also really like this crockpot as well. I use this all the time and it's great.
My favorite feature is that you can lock the lid down. This is awesome for when you need to take the crockpot somewhere.
I often use the slow cooker to take dishes to potluck events and this feature is amazing! There are several others on sale here.
Another favorite is this programmable crock pot for when I am am not at home all day. I love coming home to a nice meal ready and waiting!
How do I make Easy beef and broccoli crock pot recipe?
It is so easy! Everything but the broccoli, cornstarch, and the sesame seeds get tossed into the crock pot. Add the beef or add the steak and prepare for the most tender meat.
The slow cooker does all the work and you have tender and amazing steak just 5 hours later. The steak is tender and delicious and so tasty with the soy sauce brown sugar and more.
The sauce is so delicious. You can easily make this by taking part of the liquid from the crock pot and whisking with cornstarch.
When to add broccoli to slow cooker?
Stir everything back into the crock pot and stir in the broccoli until everything has thickened. Easy!
You can top with sesame seeds if you prefer and serve over rice. Sometimes we also add fresh ginger and red pepper flakes to the crock pot when cooking.
This is the best beef and broccoli crock pot recipe!
It truly can work for everyone and that is what makes this recipe so great.
You can also try using frozen broccoli but our family prefers fresh broccoli. Even my kids that are not fans of broccoli gobbled this up when served with yummy beef broth soy sauce flavor.
Try making Slow Cooker beef and broccoli paleo.
No need to make things complicated when your family can easily enjoy one meal.
Try Slow Cooker Beef and Broccoli Flank Steak.
This recipe is just as tasty with flank steak instead of round steak. The crock pot slow cooks it all to tender perfection.
You can use what you like best if your family has a preference. We love them all and tend to just use what I already have in the freezer or what is on sale that week.
We save a ton and no one cares what cut of meat we used. The meat comes out so tender and amazing that it is always a crowd pleaser.
This Easy Beef and Broccoli Crock Pot recipe is budget friendly!
Saving money is not difficult with delicious meals like this that you can easily adapt to what is on sale. This tasty meal is on our regular menu plan rotation because everyone goes crazy over this meal.
I cut our grocery bill by 50% off by following these 8 Tips for for Saving Money on Groceries by Menu Planning! Save that money for a family vacation or maybe just some wiggle room in the budget.
Easy recipes like this keep my family happy and my grocery budget in good shape. This is how I keep our grocery budget reasonable.
Plus, being able to throw this together quickly and easily really helps to avoid the temptation of getting take out. Everyone is much happier with a delicious home cooked meal anyway.
Take out these days is not that fast and costs a small fortune. It is even more if you have 8 kids like I do.
We often use what we have in the freezer or what is on sale that week.By shopping when things are on sale I save money on groceries and it really helps our budget. Saving money and feeding a big family can be accomplished.
Print this Slow Cooker Beef and Broccoli recipe below:
Easy Crock pot Beef and Broccoli Recipe
Beef and Broccoli Crock Pot Recipe is a great meal that is tasty and easy. Forget take out when you can enjoy tender beef and broccoli in the slow cooker.
Ingredients
2

pounds

round steak

cut into bite size pieces

1

cup

beef stock

1/2

cup

soy sauce

1

Tablespoon

minced garlic

1/3

cup

Oyster sauce

1/3

cup

brown sugar

2

Tablespoons

Sesame oil

2

Tablespoons

cornstarch

2

heads of broccoli

cut into bite size pieces

1

tablespoon

sesame seeds

optional – for topping
Instructions
Place everything in the slow cooker except the broccoli, cornstarch, and the sesame seeds. Stir to combine.

Cook on low for 5 hours or until steak is tender.

Remove ¼ cup of the cooking liquid and whisk in the cornstarch.

Slowly stir in the mixture into the slow cooker.

Stir in the broccoli and cook on low for about 30 minutes or until sauce is thickened and broccoli is tender

Sprinkle with sesame seeds and serve immediately over rice.
Nutrition Facts
Calories
362
kcal
,
Carbohydrates
21
g
,
Protein
39
g
,
Fat
12
g
,
Saturated Fat
3
g
,
Cholesterol
95
mg
,
Sodium
1622
mg
,
Potassium
868
mg
,
Fiber
1
g
,
Sugar
13
g
,
Vitamin A
380
IU
,
Vitamin C
54.1
mg
,
Calcium
93
mg
,
Iron
4.5
mg
We love crock pot recipes!
If you are looking for an easy but delicious crock pot dinner idea then this Crockpot Pepper Steak Recipe is for you!
Crock Pot Beef Barbacoa Recipe is a tasty dinner idea with tender beef seasoned to perfection.
Try these other crock pot beef recipes:
Try these other easy keto recipes: