This post may contain affiliate links. If you make a purchase through links on our site, we may earn a commission.
I have the best Sausage Balls Recipe to share with you. This is one of my favorite appetizers to cook for parties, holidays and more. These are super easy to make and delicious too.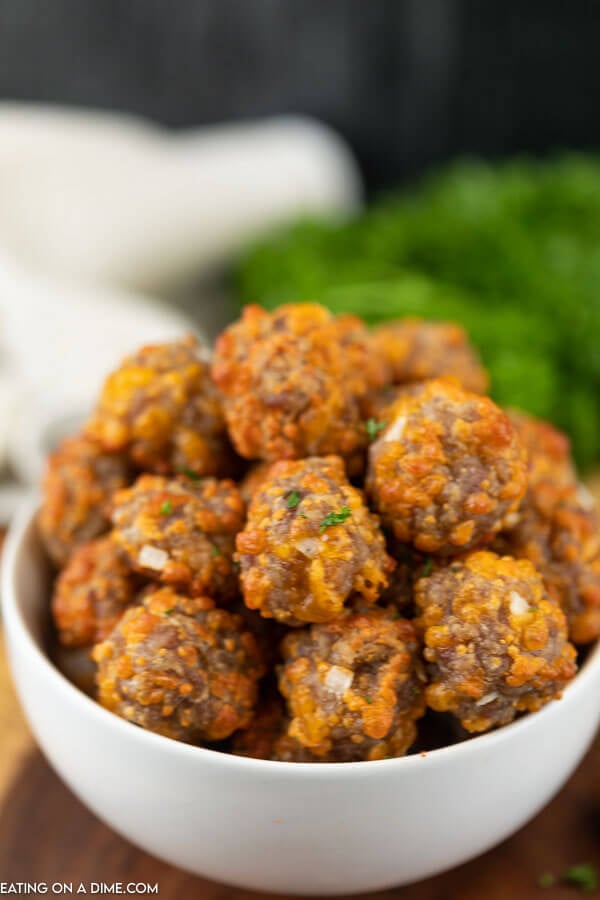 Whenever we have a get-together, the first food item that is on the list are these Easy Sausage Balls. My family and friends just expect them to be served along with my Little Smokies.
Sausage Balls are good anytime of the day You can serve them for breakfast, lunch, or as a snack. You may also like to serve these Slow Cooker Grape Jelly Meatballs for another easy appetizer.
Why This Recipe Works:
Appetizers are fun to make for family and friends get-together or sometimes, my kids like it when I serve different appetizers for dinner.
Sausage Balls are made with simple ingredients and can easily be made ahead of time.
Ingredients:
Flour
Baking Powder
Salt
Italian sausage roll or pork sausage
Shredded Sharp Cheddar Cheese
Diced Onion
Garlic Powder
For the full list of ingredients and recipe, scroll to the bottom for the recipe card.
Variations
Here are a few ways that you can change up this recipe to make it work for your family!
Spicy – If you like spicy, make these sausage balls with hot sausage and shredded pepper jack cheese. Using these ingredients add a delicious kick to this recipe.
Gluten Free – This recipe can easily be made with 1:1 gluten free flour to make these sausage balls gluten free.
Turkey Sausage – You can also make these with turkey sausage for a healthier option as it lowers the fat and calories in these sausage balls.
Bisquick – Feel free to make Bisquick Sausage Balls instead of using flour.
Favorite Dipping Sauce – Serve with BBQ Sauce, Ranch Dressing or Honey Mustard.
How do you make Sausage Balls from scratch?
Step 1 – Preheat oven to 375. Line large Baking Sheets with Foil.
Step 2 – In a small bowl, add flour, baking powder and salt and mix well.
Step 3 – Add flour mix, sausage, shredded cheese, onion and garlic powder to a large bowl. Start combining with a spoon and then finish with your hands.
Step 4 – Form sausage mix into 1-inch balls and place onto a baking sheet.
Step 5 – Bake, uncovered, for 15- 20 minutes or until golden brown in the preheated oven.
Recipe Tips:
Cookie Scoop – For best results we recommend using a use baking scoops to make the uncooked sausage balls.
Baking Sheets – For easy cleanup, I like to place parchment paper down. Line Baking sheets with parchment paper makes it so easy to get the dishes done.
Combining Ingredients – Make sure that you mix all your ingredients together thoroughly. I use my Kitchen Aid stand mixer and it mixes everything nicely therefore it prevents them from getting dried out.
Why are my Sausage Balls Crumbly?
Sausage Balls will dry out quickly if there is a lot of flour and baking soda compare to the sausage. Make sure to follow the recipe so that your ratio's are correct.
You can add a little less flour if they seem to be crumble. I have also tried adding a little cream cheese to the mix as well to help the mixture stay together.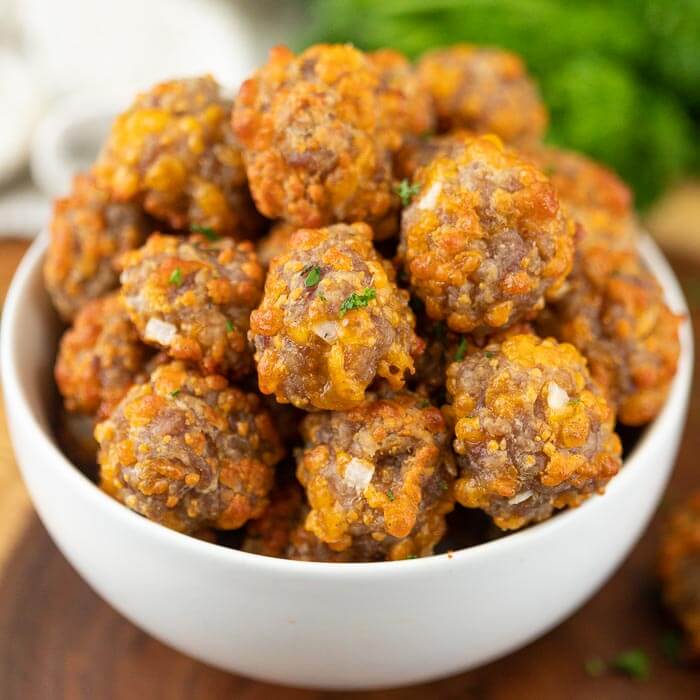 How to Freeze Sausage Balls:
There are a couple of ways you can freeze sausage balls. The first way is to freeze them uncooked. You combine the ingredients and then roll them in a ball.
Place each sausage ball separately on a cookie sheet and place in the freezer. Once frozen then you can place them in a bag and place back in the freezer.
Once you are ready to cook some, simply place them on a cookie sheet and defrost them before cooking them.
The second way you can freeze sausage balls, is to freeze the cooked sausage balls and then just reheat them in the microwave and they become an instant snack.
How to Store and Reheat:
Sausage Balls are great leftover. You can store them in an airtight container in the refrigerator for up to 3-4 days. You can reheat in the microwave or in the oven set at 350 degrees F.
My kids loving having these leftovers as they are a quick snack as they head out to practice.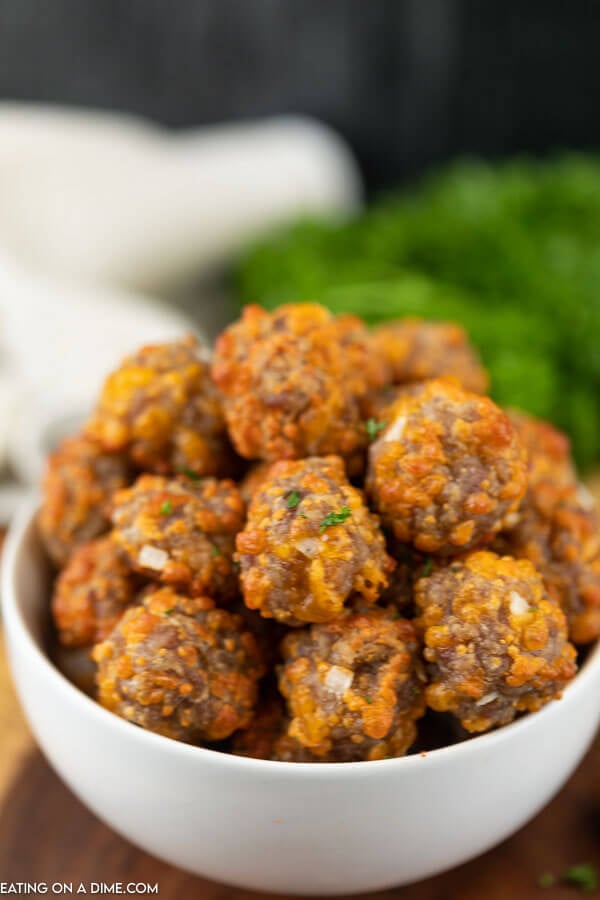 More Easy Appetizer recipes:
More Easy Sausage Recipes:
We love hearing from you. If you make this easy recipe for sausage balls, make sure to leave us a comment.
Easy Sausage Balls Recipe
Everyone will love this easy Sausage Balls Recipe! Sausage Cheese Balls Recipe is the perfect appetizer.Try this yummy Sausage Balls Recipe for parties!
Instructions
Preheat oven to 375.

In a small bowl, add flour, baking powder and salt and mix well.

Add flour mix, sausage, cheese, onion and garlic powder to a bowl. Mix well. I like to start with a spoon and then finish with my hands. You may initially think the ratio of ingredients are way off. There will be lots of cheese that doesn't seem to mix into the sausage. But if you continue to mix with your hands, it will eventually all come together.

Form sausage mix into 1″ balls and place onto a baking sheet.

Bake, uncovered, for 15-17 minutes or until golden brown.
Recipe Notes
Refrigerate leftovers in an air tight container for 5-7 days.
Nutrition Facts
Calories
82
kcal
,
Carbohydrates
2
g
,
Protein
3
g
,
Fat
6
g
,
Saturated Fat
2
g
,
Cholesterol
16
mg
,
Sodium
147
mg
,
Potassium
49
mg
,
Vitamin A
65
IU
,
Vitamin C
0.3
mg
,
Calcium
51
mg
,
Iron
0.4
mg