This post may contain affiliate links. If you make a purchase through links on our site, we may earn a commission.
If you love cornbread as much as I do, you have to try this Homemade Cornbread Mix Recipe. It's so easy to make and takes better than anything store bought!
This copycat cornbread mix recipe is easy to make and delicious!
Oh my… have you ever had homemade cornbread? Not the kind that came out the box, the kind that you make from scratch. It so delicious and better than any box stuff.
My sister was telling me that she didn't like cornbread and then I realized she was still using the boxed stuff from the grocery store! I immediately made her some of my cornbread with my homemade cornbread mix and it changed her mine. She does like cornbread!
There is something about it that just melts in your mouth. We make cornbread on a regular basis in my house, especially during soup and chili season.
However, I hate to make a big mess in my kitchen and flour, cornmeal, and sugar can make a big mess. I love the convenience of using boxed cornbread mixes, but after making my own homemade cornbread I just couldn't go back. So… I decided to make my own cornbread mixes to store in my pantry.
It is so easy to make 5 or even 10 mixes in a matter of minutes. Store them in baggies and you can whip up a batch of delicious homemade cornbread in no time! Now I have the convenience of a store bought mix, but the tastiness of homemade cornbread.

Tips for making this recipe:
You can store your homemade cornbread mix in gallon storage bags or containers. I usually use storage bags as I can write on them and they're easy to store in my pantry.
I love using these bag holders to ensure that the storage bag stays opened while I'm adding in all my ingredients.
Also, you write on the bag what needs to be added when you're ready to make cornbread or make sure that the recipe is easily accessible in your kitchen or pantry so you'll always know what is needed to turn this easy cornbread mix into delicious homemade cornbread!
Homemade Cornbread Mix Ingredients:
You only need 5 easy pantry ingredients to make this homemade cornbread and I bet you already have most of them in your pantry.
These are the ingredients that you'll need:
Flour
Yellow Cornmeal
White Granulated Sugar
Salt
Baking Powder
That's all you need to make this copycat cornbread mix recipe!
How to Make Cornbread Mix:
First, place the flour, cornmeal, sugar, baking powder and salt in a storage bag or storage container. Seal the bag or the container tightly and then shake thoroughly to combine all the ingredients.
That's it. I usually make 5-10 of these at at time since I already have all the ingredients out and then I store my homemade cornbread mix in my pantry so I can easily make cornbread any night in no time at all!
I love having this easy cornbread box mix on hand so I can easily make cornbread whenever my family or I am craving it.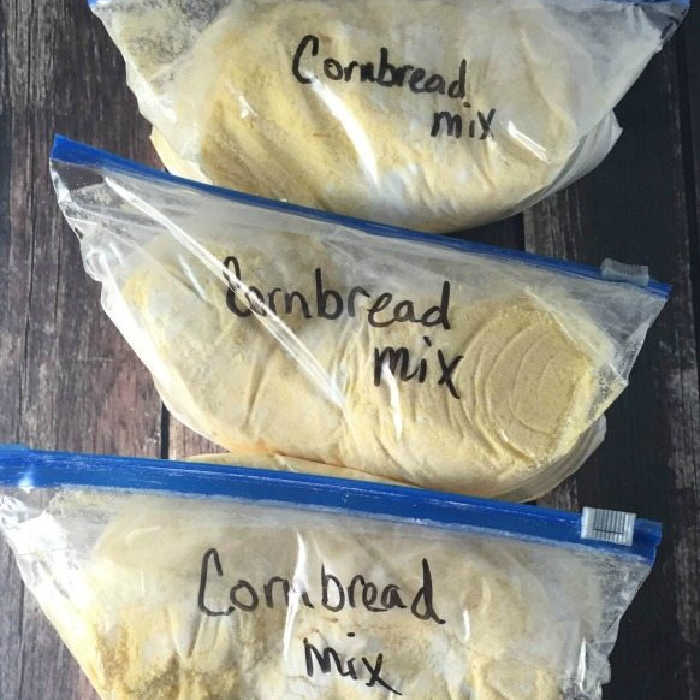 How to make corn bread with this cornbread mix?
When you are ready to make cornbread with this best cornbread mix recipe, first preheat oven to 400 degrees F. Then lightly grease a 9X9 baking pan by spraying it with a non-stick cooking spray or you can line the pan with parchment paper.
Then add the mix to a large bowl. Next add in 1 egg, 1 cup milk and ⅓ cup vegetable oil to the mixing bowl as well. Stir well to combine all the ingredients.
Pour the batter into the prepared pan and bake uncovered for 20-25 minutes. Allow the cornbread to cool in the pan for 5-10 minutes, then cut and serve!
That's it! It really is that easy to make this sweet cornbread!
You can also use this recipe to make cornbread in muffin tins, you can find the step by step instructions on this Cornbread Muffins Recipe.
Note: You can also make this recipe is an 8-9 inch cast iron skillet. Ensure that you butter the skillet before adding the mixture and bake covered for 20-25 minutes.
What can you add to cornbread mix?
The best part about this Copycat Jiffy Cornbread mix is that you can easily add in different ingredients to make different types of cornbread when you prepare your cornbread mix.
Here are a few ideas of ingredients to stir in before adding the cornbread mixture to the baking pan:
Diced Jalapeños and approximately 1 cup of shredded cheddar cheese to make a jalapeño cheddar cornbread
Crumbled Bacon with approximately 1 cup of shredded cheddar cheese to make a more savory cornbread
2 tsp of Honey to make a delicious sweet honey cornbread
These are just a few ideas but I love how versatile this mx is, so you can still in your favorite ingredients and still create a unique and delicious cornbread in no time at all.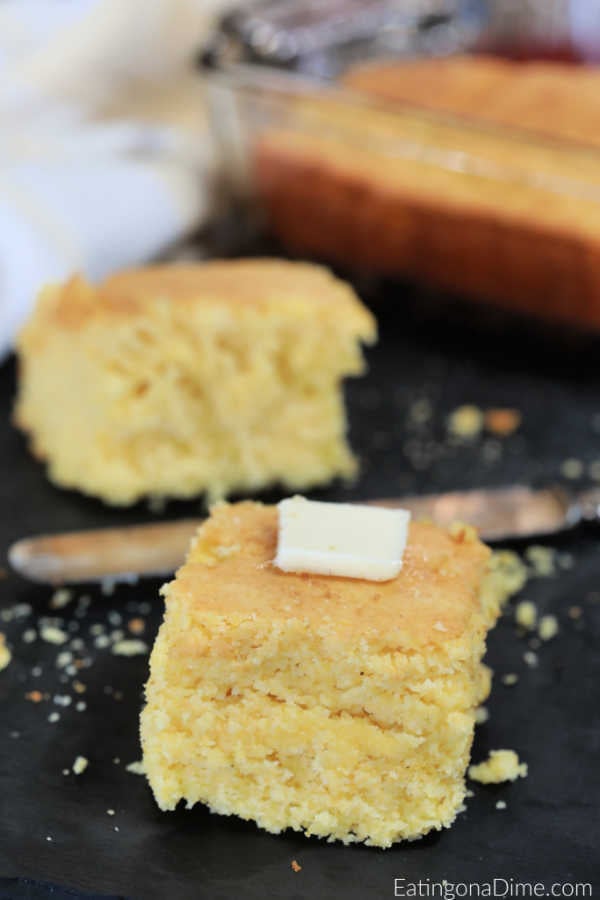 What goes with cornbread
I like to serve Easy Crock Pot Chili Recipe or a delicious soup. Check out all our What Goes with Cornbread ideas.
Print this Copycat Cornbread Mix Recipe below:
Homemade Cornbread Mix
See how to make homemade cornbread mix. It is so easy to make and will save you 50% or more than store bought. Plus this cornbread tastes better too.
Ingredients
1

cup

all-purpose flour

1

cup

yellow cornmeal

1/2

cup

white sugar

1

teaspoon

salt

3

teaspoons

baking powder
Instructions
Place all the ingredients in a bag. I will make 5 to 10 at a time. Make sure you write "Cornbread Mix" on the bags. Then store in your pantry.

To bake your cornbread:

Add 1 egg, 1 cup milk, and ⅓ cup vegetable oil to your mix.

Bake in 400 degree oven for 20 to 25 minutes.
Recipe Notes
Cornbread mix is a staple in our house, especially during soup and chili season. You will love having this mix on hand.
Nutrition Facts
Calories
191
kcal
,
Carbohydrates
27
g
,
Protein
3
g
,
Fat
7
g
,
Saturated Fat
5
g
,
Cholesterol
15
mg
,
Sodium
209
mg
,
Potassium
186
mg
,
Fiber
1
g
,
Sugar
9
g
,
Vitamin A
55
IU
,
Calcium
70
mg
,
Iron
1
mg
Make sure you try some of our other frugal homemade mixes:
And check out some of our other cornbread recipes: