This post may contain affiliate links. If you make a purchase through links on our site, we may earn a commission.
I'm so excited to share the recipe for Easy Low Calorie Cupcakes. They are light and fluffy and only 80 calories!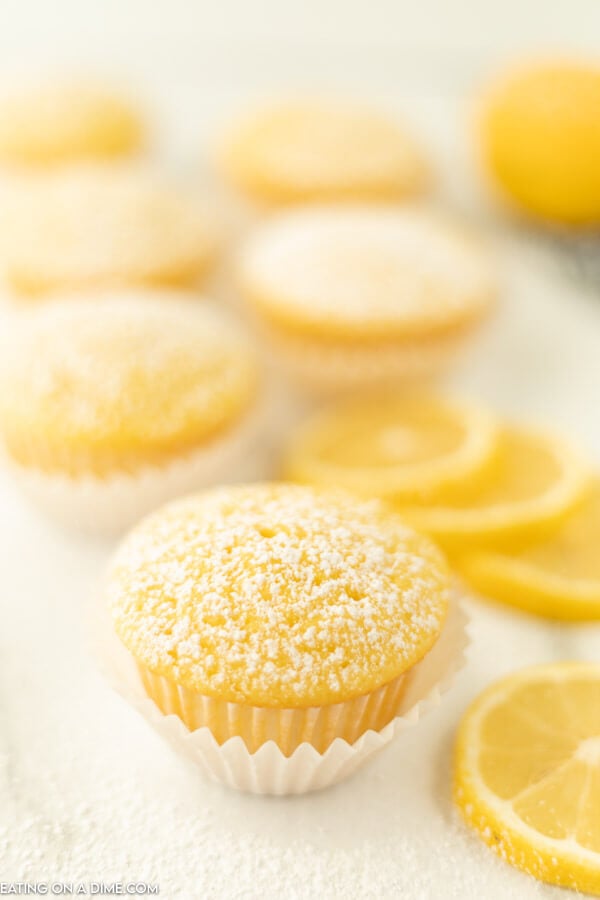 Low Calorie Cupcake Recipe:
I have seen these all over Pinterest but didn't really believe that they would be good. However, Low Calorie Lemon Cupcakes were SO amazing! They were a huge hit and absolutely delicious. A vanilla cupcake recipe would be yummy with a vanilla cake mix.
I highly recommend you try it. The entire family will enjoy the lemon flavor! It's a tasty way to enjoy a treat without any guilt. With only 80 calories in each cupcake, you can enjoy two.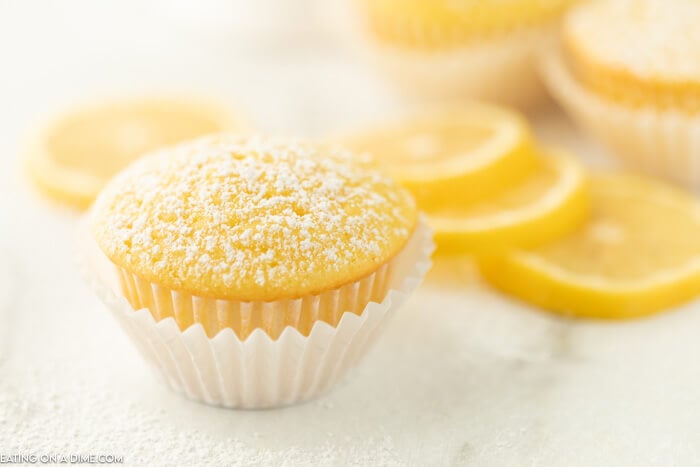 2 Ingredient Cupcakes:
I have a sweet tooth. But I also try and stay on track with my healthy lifestyle. So when I discovered that I can make a cupcake with only 2 ingredients, I knew I had to try it.
You only need a Sprite Zero and a cake mix. I used Betty Crocker Lemon Cake Mix, but I think strawberry, funfetti, and cherry chip would also be delicious.
This healthy recipe did not disappoint. It has really helped me to stay on track of eating healthy. I can enjoy a treat without ruining my diet or feeling guilty.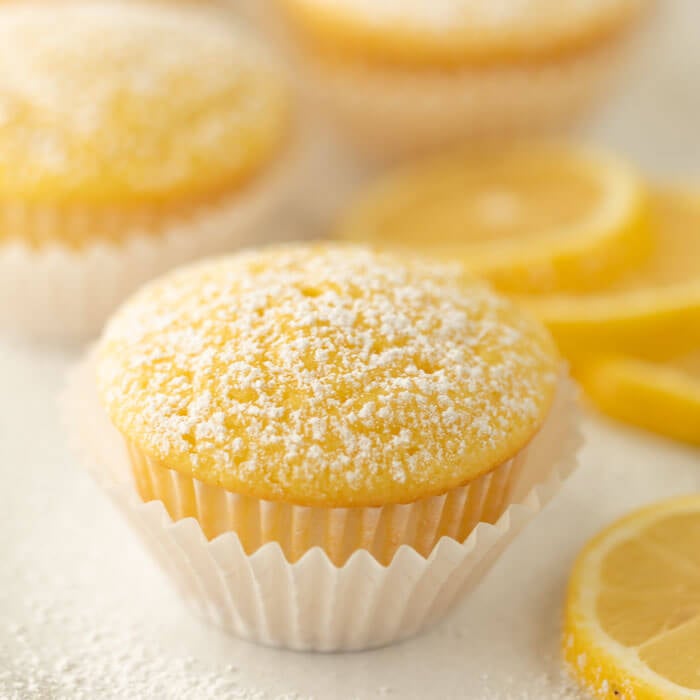 Let's make this easy Low Calorie Dessert!
Ingredients:
Sprite Zero

Lemon Cake Mix
You can also use other flavors of cake such as white or strawberry. It is best to use fruit-flavored soda such as orange, grape, or strawberry.
How to make Low calorie lemon cupcakes:
Preheat the oven to 350 degrees F.
Combine the sprite and the cupcake in a bowl. Stir to combine.
The cupcake batter will fizz a lot, so don't be alarmed. I was worried at first. Continue stirring it until the lumps are out.
Pour in the cupcake pan lined with cupcake liners to make 20 cupcakes. To make it easy to put the batter into the cupcake pan, I use a ¼ cup or ½ cup measuring cup. I scoop up the batter and pour in the cupcake pans.
Bake for 17-20 minutes or until they start to brown. Make sure a toothpick inserted in the middles comes out clean to make sure they are cooked completely.
Allow to cool completely to room temperature on a wire rack. Serve as it or top with a little bit of powdered sugar so they look cute!
How to make a Low Calorie Cake:
If would rather have a low calorie cake, just pour your cake batter in a 9×13 pan. The cake still comes out so moist.
If you need it to be a gluten-free, you can still mix the sprite with a gluten-free cake mix.
Skinny cupcakes are low calorie!
An entire batch of these cupcakes is 1600 calories. However, I made 20 cupcakes so they are only 80 calories each! Woohoo!
This is a delicious treat for under 100 calories. Of course, if you made 24 cupcakes, they would only be 66 calories each. I didn't think my batter would make it to 24 cupcakes, so I am happy with 20 delicious cupcakes for very little calories.
You could even try making mini cupcakes! We didn't frost the cupcakes to save on calories but you certainly could do so if you desired. A cream cheese frosting would be really good on these cupcakes.
Need some new cupcake pans?
If you are in the market for new pans, there are several regular size and mini muffin tins here. I recently had to update most of my pans and was thankful to get them on sale.
Make sure you try some of our delicious cupcakes. I know you will find more your family will love. This lemon dessert is so tasty. Everyone loves this cupcake recipe.
I'm going to try using strawberry cake mix next time. Yum!
Diet desserts taste amazing!
Now, I thought these were good, but I was nervous about the kids? I mean would they notice the no eggs and no oil in there? I was surprised that they didn't notice. They all had two and begged for a third!
I also gave one to my baking friend. She is the master of baking everything. She ate one and couldn't believe that there wasn't any egg or oil in these cupcakes.
If she enjoyed them, they will definitely be a hit with everyone!
Budget friendly cupcakes!
We like to save money when we can, especially in my food budget. So I try and look for good deals and make recipes based on these ingredients.
Well I got the cupcake mix for $.25 with a coupon when it was on sale. Then the Sprite zero was $1. I used less than half, but we will say $.50 for even math. That means I paid $.75 for a fun and "healthy" treat.
Not only are these treats healthy but they are budget friendly. They also take very little time to make. It's a win all around. It's so nice to have recipes that I can make and stay on track with my diet.
Try these Low Calorie Cupcakes!
You don't have to avoid sweets and treats while trying to eat healthy. Make a batch of these cupcakes to enjoy dessert without the guilt.
I also like to take these to parties, BBQ's and more. That way I know I am guaranteed to find a dessert I can enjoy without tons of calories. No one ever knows they only have 80 calories in the cupcakes. Once I tell people, they are shocked.
Great for Parties too!
As you know I have a large family. We celebrate big for birthday parties. I let the kids pick their favorite dessert. It is usually a homemade cake or homemade cookie cake.
I try and make a dessert for the adults that might not want the high calorie dessert. You know what, the kids and the adults ate these lemon cupcakes. They were all gone at the end of the party.
These cupcakes are guaranteed to be a hit with everyone!
Print the recipe for Low calorie lemon cupcakes below:
Low Calorie Lemon Cupcakes (only 80 calories!)
Low calorie lemon cupcakes are the perfect treat. You will love this skinny cupcakes recipe. You can enjoy this yummy treat without guilt.
Ingredients
1

box

lemon cake

1 1/2

cups

Sprite zero
Instructions
Preheat the oven to 350 degrees F.

Combine the sprite and the cupcake in a bowl. Stir to combine

Pour in the cupcake pan to make approximately 16-20 cupcakes.

Bake for 17-20 minutes or until they start to brown slightly.

Allow to cool slightly. Serve as it or top with a little bit of powdered sugar so they look cute and enjoy!
Recipe Notes
*Store the leftovers at room temperature for up to 5-7 days. 
*The powdered sugar is not calculated in the nutritional information.  
Nutrition Facts
Serving
20
g
,
Calories
95
kcal
,
Carbohydrates
21
g
,
Protein
1
g
,
Fat
1
g
,
Saturated Fat
1
g
,
Polyunsaturated Fat
1
g
,
Monounsaturated Fat
1
g
,
Trans Fat
1
g
,
Sodium
189
mg
,
Potassium
13
mg
,
Fiber
1
g
,
Sugar
11
g
,
Calcium
55
mg
,
Iron
1
mg
More low calorie desserts under 100 Calories: