This skinny chocolate cupcakes recipe is delicious! Coming in at only 80 calories each, they'll become your new favorite treat! They are so moist, you don't even need icing which makes them that much easier to make!

After I tried my first version of Skinny Cupcakes with Sprite Zero, I just had to try a chocolate version. Let's just be honest here, I am a woman, so I have to have chocolate, even if I am trying to drop a few pounds.
Sprite Zero mixed in with chocolate seemed just plain weird to me, so for my skinny chocolate cupcake recipe I used a Diet Coke. The result was absolutely amazing!
These Skinny Chocolate Cupcakes are a winner!
Everyone, including the kids and the husband didn't want to eat just one. Good thing 2 skinny chocolate cupcakes is still less calories than one regular cupcake! Instead of having over 200 calories like a normal cupcake, this baby only has 80 calories in it! Can you really go wrong?
Not only do these diet coke cupcakes have less than 100 calories each — there's only 2 ingredients!Guys, these are probably the easiest cupcakes ever which means no guilt all around!
2 Ingredients:
Diet Coke
Chocolate Cake Mix
I love using a cake mix to make these easy cupcake recipe. You don't have to worry about how much flour or baking soda to use, it's already all included in the cake mix!
How to make Skinny Chocolate Cupcakes:
First you need to preheat your oven to 350 degrees.
Next, in a medium bowl. Add the dry chocolate cake mix to the bowl and add in the diet coke. Really, just about any dark diet soda will work here if you don't like Diet Coke.
Just like in my first version of the skinny cupcake, when you pour in the soda with the cake mix, it will fizz. Don't let that freak you out, it will look like regular cupcake batter after you mix it.
Then whisk the ingredients together until combined.
After the cake is mixed together, p

lace paper liners in a muffin pan. If you do not want to use liners, that is okay! Just make sure that you spray the muffin cups with cooking spray so that your skinny chocolate cupcakes do not stick!

Pour the cake batter into the liners, filling them up approximately ¾ of the way full. This is usually about ¼ cup of batter. You should get roughly 20-22 cupcakes.

Next, bake the cupcakes for 17-20 minutes or until a toothpick comes out clean.
After the cupcakes are finished baking, remove them from the oven and allow them to cool. Enjoy them as is or dust the tops with powdered sugar.
After doing the math…..
An entire batch of these cupcakes is 1600 calories. However, I made 20 cupcakes so they are only 80 calories each!
Woohoo! Of course, if you made 24 cupcakes, they would only be 66 calories each. However, I'd rather tack on a few extra calories for a bigger cupcake. Just sayin'!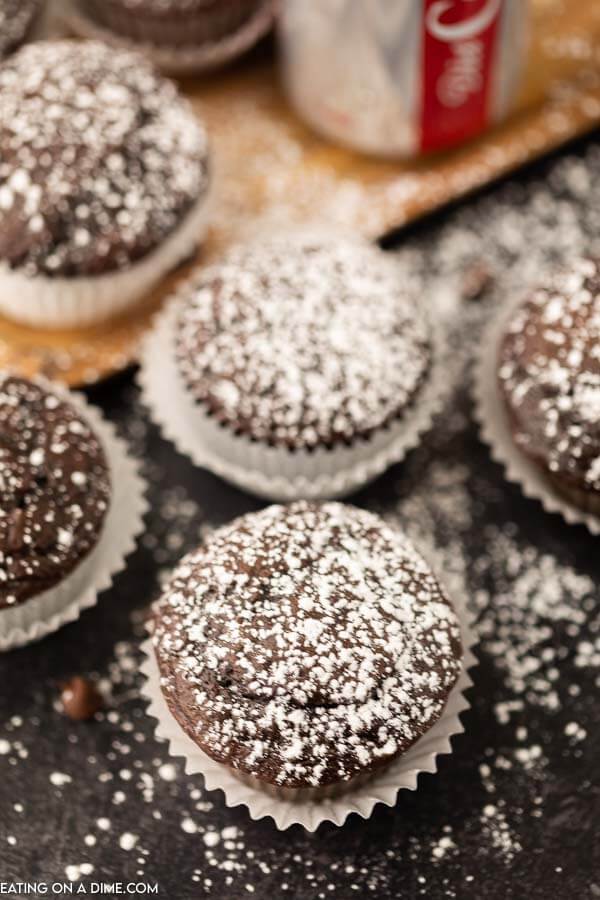 Make sure you try some of our delicious cupcakes. I know you will find more your family will love and are also easy to make in no time at all.
Skinny Cupcake Variations:
Add dark chocolate chips to the cupcake batter before baking for a double chocolate skinny cupcake! To still keep them under 100 calories you might try a sugar free chocolate chip.
Love vanilla? Add 1 tsp vanilla extract. Take it up another notch by using Diet Cherry Coke for Skinny Cherry Vanilla Chocolate Cupcakes!
No diet coke? No problem! Instead of using diet soda, you can still create skinny cupcakes by using a 5.3oz of vanilla Greek yogurt and one cup of water. Simply combine the dry ingredients and wet ingredients in a large bowl and mix until blended together.
Print your Skinny Cupcake Recipe below:
Skinny Chocolate Cupcakes
This skinny chocolate cupcakes recipe is delicious! It only has 80 calories each, but you won't even notice. They are so moist, you don't even need icing.
Ingredients
1

chocolate cake mix

1

Can of Diet Coke

(12 oz.)
Instructions
Preheat the oven to 350 degrees F.

In a large mixing bowl, stir together the can of diet coke and the cake mix until well combined.

Place cupcake liners in a cupcake pan. Pour the batter into the liners, filling them up approximately ¾ of the way full. The batter will make 20-22 cupcakes.

Bake for 17-20 minutes or until they start to brown and rise slightly.

Allow the cupcakes to cool slightly. These are delicious served as it or top with a small amount of powdered sugar. Enjoy!
Recipe Notes
You can also top these with Reddi-whip for a good low calorie topping option. 
Nutrition Facts
Calories
84
kcal
,
Carbohydrates
14
g
,
Protein
1
g
,
Fat
3
g
,
Saturated Fat
1
g
,
Sodium
162
mg
,
Potassium
66
mg
,
Fiber
1
g
,
Sugar
8
g
,
Vitamin A
1
IU
,
Calcium
30
mg
,
Iron
1
mg
More low calorie cupcakes:
More easy cupcake recipes: