My kids go crazy over funfetti cupcakes and this recipe for Homemade funfetti cupcakes is super easy. It is so simple that I almost didn't share it. Your kids will love this!
Homemade funfetti cupcakes
We are going to show you how to make funfetti cupcakes in minutes. This super easy idea is a breeze to make. Let the kids help and create lots of memories!
You can use a store bought frosting or we love this easy vanilla buttercream frosting recipe. It is really simple to make and tastes amazing!
Do your kids love funfetti cake and cupcakes just as much as mine?
Well my kids were asking for sprinkle cupcakes the other day and I didn't have any in my pantry. What is a mom to do?
Make your own of course. It is SO easy!
In fact, it was a bit TOO easy that is almost seems ridiculous to even post this. Keep reading to see how easy this really is!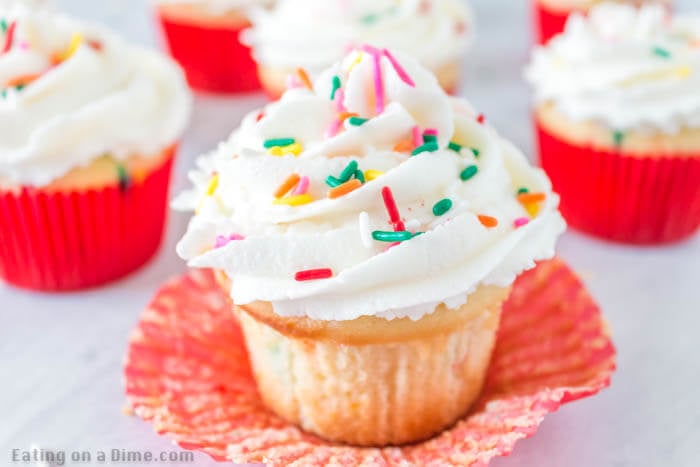 Homemade funfetti cupcakes ingredients:
1 Cake Mix
⅛ cup of sprinkles – any kind will do. The bigger sprinkles will do better but just use what you have.
Just 2 ingredients! It is SO easy!
How to make funfetti cupcakes:
Mix the cake mix (vanilla is best) according to directions.
Once Combined, fold in the sprinkles. Do not over mix, because then you will end up with rainbow swirls instead of sprinkles.
This is probably one of the easiest ways to get the Mom award from your kids. 😉 My kids were in awe!!
They thought it was pretty awesome that everyone could still enjoy a funfetti cake even though we were out. Just make your own and enjoy!
Tips:
Save time and use a cookie scoop! The larger size is perfect for scooping the cupcake batter into the tins.
I have a set of stainless steel cookie scoops that I love and they make baking so much easier. You can order a set here.
They really are a time saver. If you love baking, I recommend that you keep these in your kitchen.
I don't even consider myself a baker and I use them all the time. I use the largest size to scoop the cupcake batter and it makes it so easy.
The smaller scoop I use for cookies and to make meatballs. You will definitely get your money worth out of these little scoops.
It is really important to not overfill the cupcake liners. You don't want them to overflow!
I like to use a disposable decorator bag. It makes the cleanup a breeze and the cupcakes turn out so pretty.
Make sure you have a good muffin tin to bake the cupcakes in. If you buy a good set, they will last forever.
We also like these silicone muffin pans. They are just so easy to use because of the silicone.
Also, you certainly can use a hand mixer but we love our stand mixer. It gets a ton of use and to this day is such a good investment.
We bake a lot so it is so handy and we love our mixer.
Stock up when cake mixes go on sale!
I like to buy several cake mixes when I spot a good sale at the grocery store. We tend to have lots of last minute baking needs and having this in the pantry means it not a problem!
It seems we always need to bring some sort of baked good to this event or that function. Since you don't need many ingredients, they are so easy to mix up on the spur of the moment.
We can easily make these to take to a get together or event on a moments notice. The kids have even had a bunch of friends over and we made these quickly.
I love saving money and giving my family treats to enjoy. It is a win all around.
Try this delicious funfetti cupcakes recipe today!
This is such a fun and easy recipe. We love to make cupcakes but you can just as easily make a layer cake. Just do what you prefer.
The colorful sprinkles look amazing and kids always love this type of cake. You can't go wrong with a funfetti cake.
Try this easy cake today. No need for cake flour or anything special. Just grab a cake mix and some sprinkles!
Each bite is light and fluffy and delicious. Try it and let us know what you think!
From birthday parties to holidays, this is a great recipe to make. It is so easy and the kids love to help. Plus, it tastes pretty yummy too. 🙂
Make sure you try some of our delicious cupcakes. I know you will find more your family will love.
Print this easy homemade funfetti cupcakes recipe below:
Funfetti Cupcakes
My kids love funfetti cupcakes and this recipe for Homemade funfetti cupcakes is so easy. It is so simple that I almost didn't share it.
Ingredients
1

Vanilla Cake Mix

I used a Betty Crocker Cake Mix but any will work

***Ingredients to make the Cupcakes based on the back of the box

1.25

cups

Water

1/3

cup

Vegetable Oil

3

Eggs

1/8

cup

Multi-Colored Sprinkles
Instructions
Mix up the cake mix based on the back of the package instructions.

Then gently fold in the sprinkles. Do not over mix or it will cause the sprinkles to run in the batter.

Bake cupcakes based on the time listed for the cupcakes on the back of the cake mix box (I baked mine for 14-19 minutes).

Top with your favorite frosting and enjoy!
Nutrition Facts
Calories
130
kcal
,
Carbohydrates
11
g
,
Protein
5
g
,
Fat
8
g
,
Saturated Fat
4
g
,
Cholesterol
113
mg
,
Sodium
161
mg
,
Potassium
89
mg
,
Fiber
1
g
,
Sugar
6
g
,
Vitamin A
164
IU
,
Calcium
38
mg
,
Iron
1
mg
We love to bake and cupcakes are always a good idea. 🙂 Try some more delicious cupcake recipes below.
Try these other easy cupcake ideas: