Crockpot French Onion Soup is easy to make and everyone will love the rich and savory broth. Each bowl is topped with a French baguette for the best comfort food.
Crockpot French Onion Soup
No need to buy the canned stuff at the grocery store! Make this easy and delicious crock pot French Onion Soup for a great meal. If you can toss a few things in the crock pot, you can make this simple soup.
The flavor is amazing. Once you try it, you will never go back to store bought soup. It is so tasty!
The broth is amazing from being slow cooked all day. Your family will love this delicious soup.
Check out this easy how to video!
We also love this Crock Pot French Onion Chicken Recipe. Yum!
Slow cooker french onion soup ingredients:
3 lbs Sweet Onions, Sliced into approximately 1/4″ thick slices
1 tsp Dried Thyme Leaves
3 Tablespoons Butter, melted
2 tsp Brown Sugar
1 tsp Salt
1 tsp Pepper
1.5 cup Shredded Asiago Cheese
1 Bay Leaf
6 cups Beef Broth
1 Tbsp White Dry Wine
1 (12 oz.) French Baguette, Sliced into approximately 1″ slices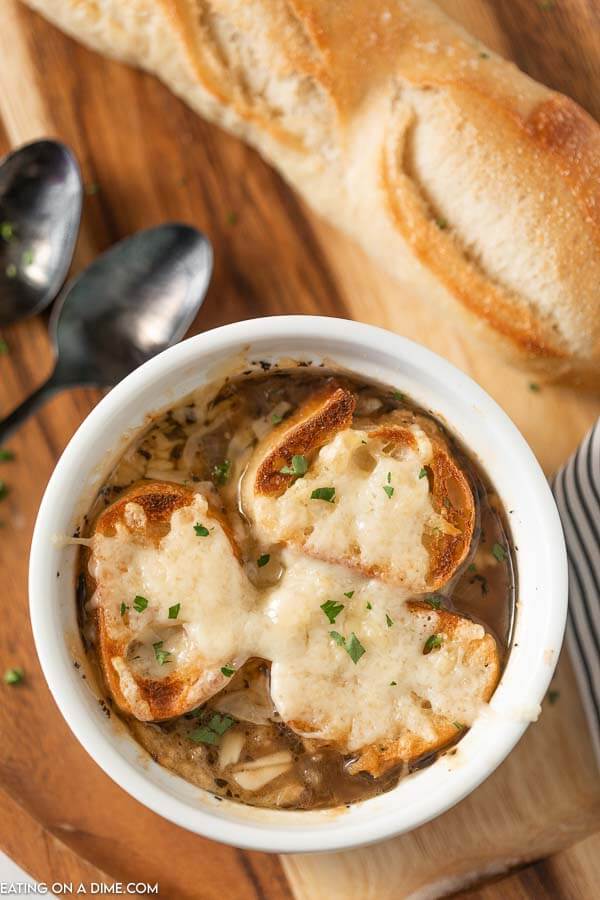 How to make crockpot french onion soup:
Place the onions, butter and brown sugar in a large non-stick sauce pan. If you have a Ninja cooking system, you can do it all in the same pan.
Stir together and cook over medium low heat until the onions are brown and caramelized (approximately 30-45 minutes). Stir frequently during this time so that the onions do not burn at the bottom of the pan.
Once the onions are caramelized, place them in a 6 quarter slow cooker. Add the salt, pepper, thyme, bay leaf, beef broth and white wine to the crock pot as well.
Cover and cook on low for 6-8 hours or on high for 3-4 hours.
Meanwhile, slice the baguette into 1 inch thick slices. Bake the slice at 350 degrees F for 5-7 minutes to heat and brown slightly.
Then spoon the soup into small oven safe bowls, top with the baguette (I did 2-3 slices per bowl) and then top with the approximately ¼ cup of the shredded cheese.
Place the bowls on a baking sheet and broil for 3-5 minutes until the cheese has melted and is slightly brown.
Serve immediately and enjoy!
Equipment you need:
It is really handy to have oven safe bowls for this soup. You can top each bowl with a baguette and cheese and put directly in the oven to broil. We bought our bowls on Amazon here for a good price.
Also, make sure you have a good baking sheet to put the bowls on. This will help with any spills and keep it on the pan and not in your oven.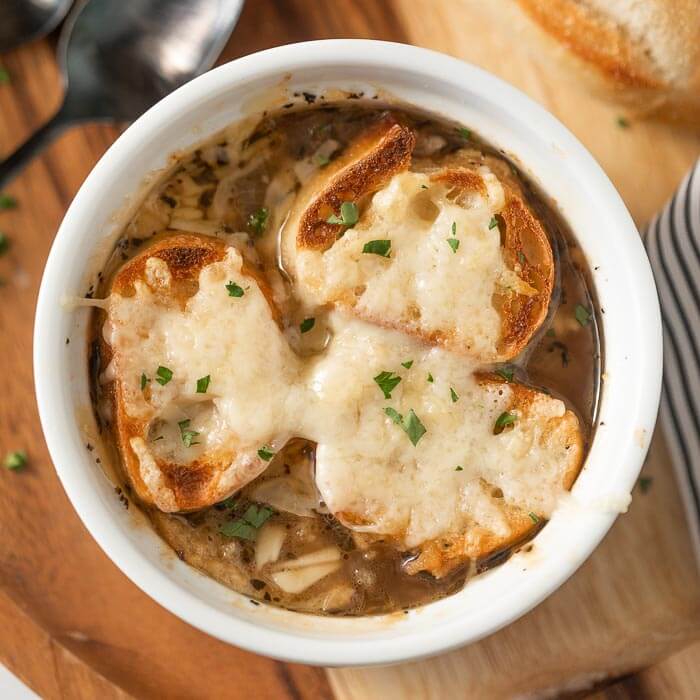 Make sure you have a good crock pot!
Now you definitely need a crock pot for this recipe. I have two favorite crock pots.
I love my Ninja cooking system. It is pretty awesome because you can brown your ground beef or whatever meat you are cooking in the pot and then let it slow cook all day.
That means one more less pan to cook for most recipes. This has become my new favorite crock pot just because of that one feature!
I am all about making things easier around here and having less dishes to clean up! You can make this in the instant pot if you prefer.
I also love this programmable 6 quart crock pot. It is awesome and very nice on the budget.
I love that it will seal closed so you can transport it for parties and tailgates. This is such an awesome feature if you take your crock pot places.
Another time saving tip is to use Crockpot liners. They make clean up a breeze.
Instead of scrubbing and washing the pot, you can just toss the liner. It is practically no clean up.
Try this delicious slow cooker soup today.
This soup recipe is so easy to adapt based on what you have on hand. It calls for sweet onions but we have used red onions before and it was still delicious.
You can also use any type of French bread if that is what you have on hand. Gruyere cheese is also tasty and pairs well with French onion soup.
The beef broth is delicious and you will want the bread to dip into it. We love to get every last drop of this soup.
Slow cooker French onion is so easy and much better than store bought. Try this easy soup recipe today.