Sweet Cream Pancakes are thick, heavy, sweet and creamy. Take you classic pancake recipe to the next level with a simple creamy ingredient.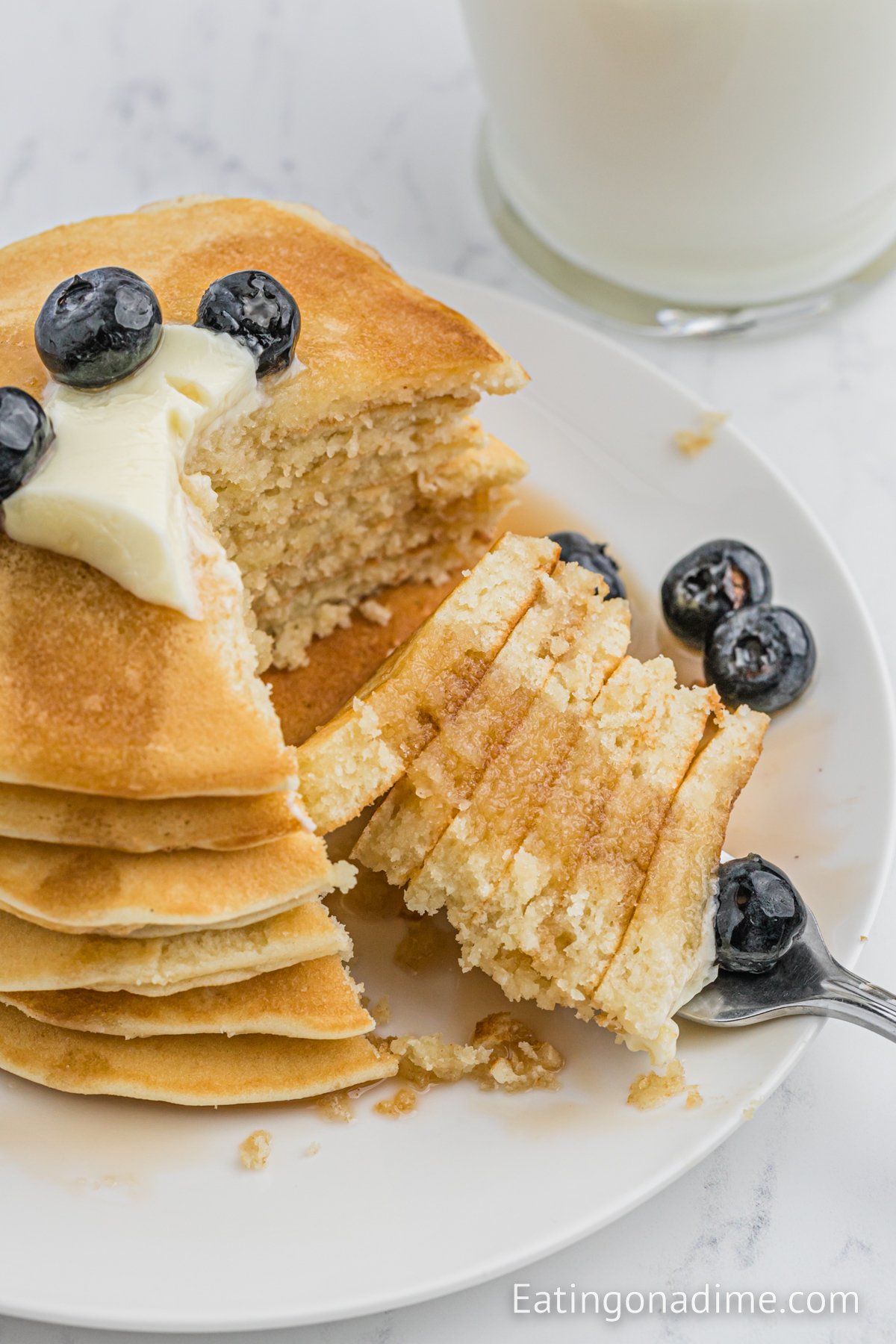 Sweet Cream Pancakes Recipe:
Pancakes are one of my favorite breakfast foods to make. They require simple pantry ingredients and they are perfect for my large family. The great thing about pancakes is your can top them with many different toppings.
I tried Sweet Cream Pancakes and fell in love how sweet and creamy the pancakes were. I knew I had to make them at home for a change to our classic pancake recipe. To give these pancakes that sweet flavor, I added in heavy cream to my classic recipe.
These pancakes are so dreamy and sweet that most of the time, I don't even add syrup. My family loves the new pancake recipe and now is my go-to recipe. Perfect breakfast, brunch or dinner.
What are Sweet Cream Pancakes?
Pancakes can be made in many different ways. Some are made thin, super thick and other are made fluffy and other might have more of a chew. But sweet cream pancakes have more of a cake like texture.
Because of the heavy cream that is added, these are the most softest and fluffiest pancakes you will ever make. They melt in your mouth and full of flavor pancakes that can be topped with your favorite topping or eaten by itself.
Ingredients for Sweet Cream Pancake Mix:
All Purpose Flour
Baking Powder
Baking Soda
Salt
Granulated Sugar
Large Eggs
Heavy Cream
Vanilla Extract
How to Make Sweet Cream Pancakes:
Combine wet Ingredients and dry ingredients together – Stir all the ingredients together in a large mixing bowl by hand until just combined. Be careful not to over mix the pancake batter.
Prepare Griddle – Preheat a griddle or a skillet or a cast iron skillet over medium high heat. Grease with a non-stick cooking spray or a small amount of butter.
Add batter to griddle – Add the batter to the pan in approximately ¼ cup scoops.
Flip and Cook both sides – Cook for 2-3 minutes until small bubbles start to appear at the top of the pancake. Flip the pancake and finish cooking for 2-3 more minutes until golden brown.
Layer pancakes on a plate – Transfer the pancake to a plate and continue this process until all the batter is used.
Serve and Enjoy – Then serve warm topped with your favorite pancake toppings and enjoy!
How to Serve Sweet Cream Pancakes:
We like to serve sweet cream fluffy pancakes with traditional sides and topping. As soon as we are done cooking the pancakes, we place them on a platter. Then we serve with or favorite sides:
Additions to Sweet Cream Pancakes:
These pancakes are perfect on its own. But you can always change up the taste and add in your favorite ingredients. Here are some of our favorites:
Chocolate Chips
Zest of a Lemon
Blueberries or Strawberries
Nuts
If you are adding in chocolate chips or nuts, we recommend pouring about a little less of than a ¼ cup of batter to the griddle first. Then top with the chocolate and nuts. You may need to add a little more batter to the top.
Topping Ideas:
Toppings are my favorite part of these pancakes. Host a pancake bar for a baby shower and have these different toppings set out. These pancakes are the perfect brunch item.
Fruit – We love serving these pancakes with fresh fruit. Strawberries, blueberries and bananas are my favorites.
Maple Syrup – We love the classic taste of a maple syrup. You have not purchased real maple syrup, I recommend serving it with these pancakes.
Butter – These pancakes are perfect served with butter.
Chocolate Spread – My kids love Nutella as a spread for their pancakes. So I always have that available for a topping.
Powdered Sugar – Sprinkle the top with powdered with a side of fruit is one of my favorite ways to eat these delicious pancakes.
Peanut Butter – My son loves peanut butter as a topping. It doesn't matter if I make pancakes or waffles, peanut butter is his topping of choice.
Cooking Pancake Tips:
Prepare Pan – Make sure to preheat skillet or griddle and melt butter on the skillet before adding pancake batter.
Hot Skillet – Prior to adding the batter on the skillet, make sure it is hot. We like to wait until the butter is sizzling.
Pouring Batter – When pouring the batter on the skillet it may not make a perfect circle. I usually let the batter spread naturally on the pan. It makes for the perfectly fluffy pancake.
Ready to Flip – Once bubbles start appearing on the top of the pancake, then it is ready to flip. It usually takes about 2 minutes before it is ready to flip. It will depend on your skillet how long it takes.
Golden Brown – Your pancake will be golden brown once it is finished cooking and ready to serve.
Serving – I like to make all the pancake batter before serving. This way we can eat as a family. Place the finished pancakes on a platter until all the batter is made.
How to Store:
Leftover pancakes store great. Refrigerate them in an airtight container for up to 5-7 days. I like to make a batch at the beginning of the week as it makes it easy to eat and serve as my kids are getting ready for school.
How to Freeze:
Freezing pancakes is a perfect way to save time and money. These pancakes can be stored in freezer safe container and placed in the freezer. They will last about 3 months if stored properly.
If you want more tips and tricks on How to Freeze Pancakes and Waffles, you can find all the information here.
Print Recipe here for Sweet Cream Pancakes:
More Pancake Recipes: