This post may contain affiliate links. If you make a purchase through links on our site, we may earn a commission.
Cheesy potato casserole recipe is a super easy side dish and perfect for any holiday, family dinner and more. Tons of cheese, creamy potatoes and more combine for the absolute best cheesy potatoes.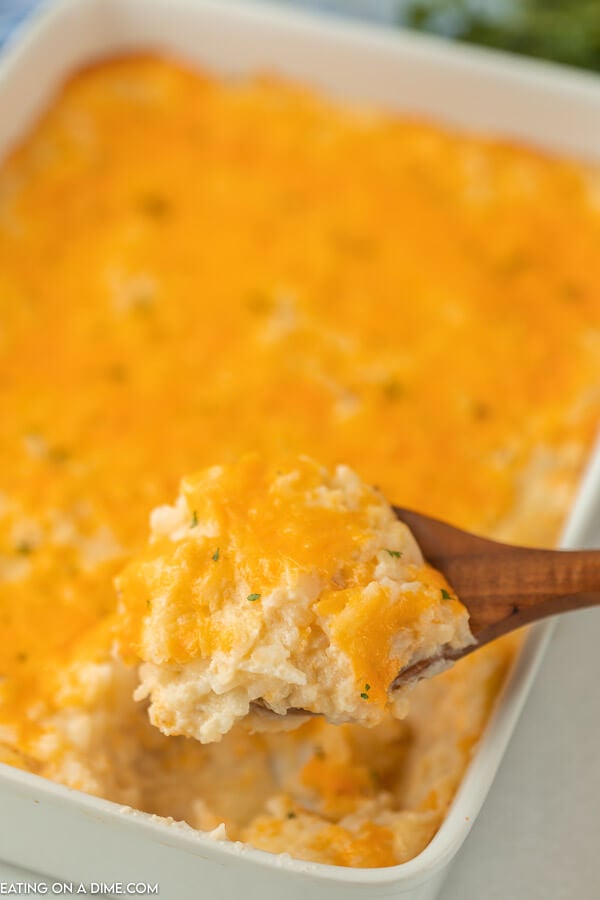 Are you ready for a delicious cheesy potato casserole recipe?
Once you try this cheesy potato casserole, you will love it! Our family serves this at just about every holiday, family gathering or big dinner we host.
Once bite of these cheesy potatoes and you will understand why. I brought it to one holiday dinner and now it is requested year after year.
Now, it isn't the healthiest dish in the world, but it is delicious! It is also very EASY to make
No peeling or chopping, because I use frozen hash brown potatoes! If you can mix and dump, then you can make this cheesy potato casserole.
We even have a slow cooker version and you can make crockpot cheesy potatoes for another option.
You might hear this recipe called Funeral Potatoes.
This cheesy potato casserole is also called funeral potatoes. Why you ask?
It is an easy and tasty dish to bring to someone after a loss in the family. Particularly in the South, casseroles are dropped off at someone's home.
Cheesy potatoes are a popular choice hence the name funeral potatoes.
Ingredients:
frozen hashbrowns. We used shredded but diced would work just as good.
cream of chicken soup. Cream of mushroom is a great substitution. I think cream of vegetable would be good too.
milk
onion. Even if your family does not care for oven, add it anyway. It gives the dish great flavor and blends into the potatoes. Onion powder is another option.
cheddar cheese. Sharp or mild cheddar work great.
sour cream. Now isn't the time to use light. Full fat is best.
This all comes together for an absolute amazing side dish!
How to make Funeral Potatoes
First, preheat the oven to 350 degrees.
Next, spray a 9×13 pan with cooking spray.
Take your bag of frozen hash browns and break them up in the bag. You don't want any large pieces.
Get out a large mixing bowl and combine the onion, cheese, milk, cream of chicken and sour cream. Make sure this is well combined.
Finally, mix in the hashbrowns until everything is coated.
The last step is to pour everything into your baking dish. Then sprinkle with the remaining cheese.
Bake until golden brown. It is that easy!
Jump to the full recipe below.
The best cheesy potato casserole with diced potatoes.
My favorite part is how easy it is to make. Since you are not peeling or slicing real potatoes, you can have this in the oven in under 10 minutes.
Plus you can also combine it the day before, so all you have to do is plop it in the oven the next day.
Next time you are needing a delicious dish for Easter, Christmas, Thanksgiving or any potluck, remember this recipe.
Cheesy Potato casserole with diced potatoes
You don't have to stick with hash browns. I also like to use diced potatoes.
Any type of potatoes would be delicious.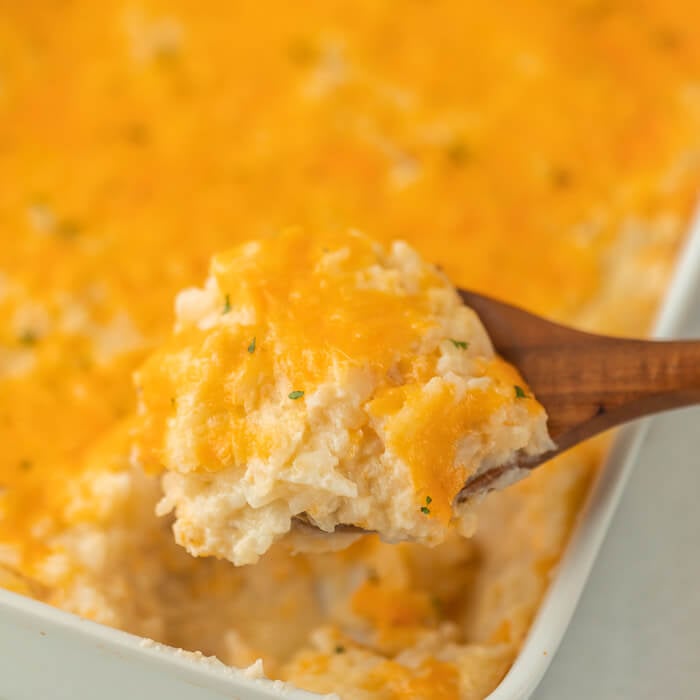 Variation ideas
Top with bacon. Bacon makes everything better.
Mix in a packet of ranch mix. This gives the potatoes even more flavor.
Top with crushed corn flakes on top.
Top with crunchy fried onions on top just like you do on green bean casserole.
Add bell peppers
Use different types of potatoes- shredded, diced or even the ones with veggies in the mix.
Diced green onion on top tastes great and look pretty.
Cornflake topping. Add 3 cups cornflakes and ¼ cup melted butter to the top of the casserole before baking. If the cornflakes seem to dry, add another tablespoon of butter.
What to serve with easy cheesy potato casserole?
Since we normally make cheesy potatoes around the holidays, we often make this easy 4 Ingredient Crock pot Ham Recipe to go with the potatoes. It is yummy and so simple in the slow cooker.
The ham is tender and flavorful with very little work. Plus, the cheesy potatoes are amazing with the ham!
I also like to serve with this Crock Pot Green Bean Casserole.
This is a favorite to serve on Thanksgiving. See our 50 Easy Thanksgiving Dinner Recipes.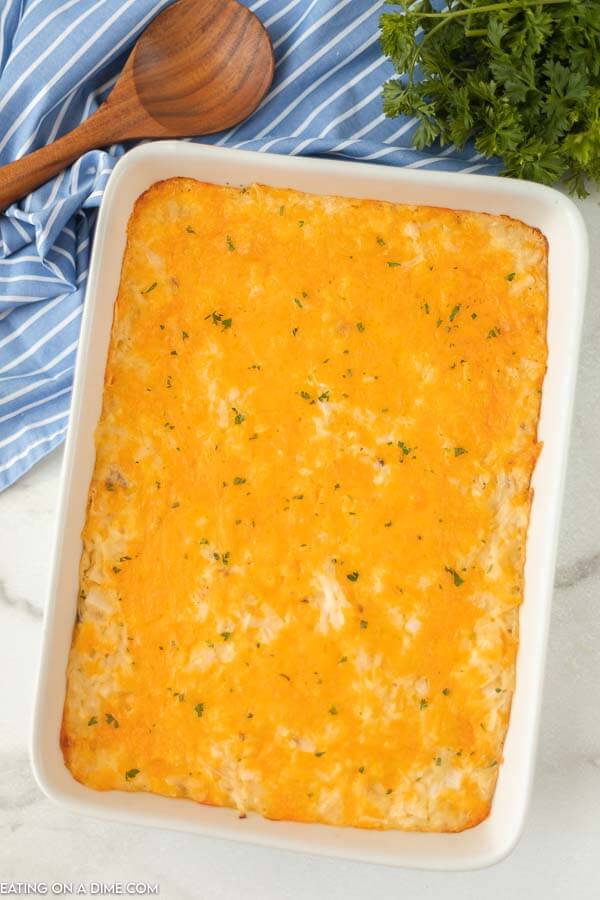 Tips for the Best Cheesy Potato Casserole
One of our favorite time saving tips is to use a small food chopper or processor to quickly and easily chop the onions. I also freeze onions and peppers to use in recipes like this.
Make ahead to save time the day of the event. You can actually make this 2 days in advance and put in the fridge. Just bake it when you are ready to serve.
Freeze this casserole up to 2 months. Make the recipe as instructed and freeze without baking in a casserole dish or disposable pan. Thaw in the fridge overnight when ready to eat and bake as instructed.
Try cheesy potatoes this week!
It is the best comfort food and your family will love this easy potato casserole. We love to top with green onion and it just looks so pretty!
The hash brown potatoes are so amazing and cheesy. Once you make this, you will love it.
I made it once and now everyone asks for it again and again. It is my most requested dish at holidays, family gatherings and more.
Plus, it is so simple and easy so I do not mind at all making it. It is also very budget friendly to feed a large crowd.
Let us know once you try it and how you like it. I have a feeling these party potatoes will be a huge hit.
Print this Cheese potato casserole below:
Cheesy Potato Casserole recipe
Are you ready for a tasty Cheesy Potato Casserole recipe? Look no further than these cheesy potatoes with hash browns baked in a casserole. Yum!
Instructions
Preheat oven to 350 degrees F.

Spray a 9×13 pan with nonstick spray.

Break the frozen hash browns up in the bag.

In a large bowl combine the onion, 1 cup of cheese, milk, cream of chicken soup and sour cream. Stir to combine.

Mix in the hasbhrowns and stir to coat.

Pour into a 9×13 pan. Top with the remaining cheese.

Cover with foil and bake in the preheated oven for 45-50 minutes.

Remove the foil and bake for 5-10 minutes to brown the the cheese is slightly.
Recipe Notes
This casserole can be assembled before hand, covered and store in the refrigerator for 3-4 days.  Then bake according to the recipe. 
*Leftovers can be stored in the refrigerator for up to 5-7 days.  
Nutrition Facts
Calories
277
kcal
,
Carbohydrates
22
g
,
Protein
10
g
,
Fat
17
g
,
Saturated Fat
9
g
,
Polyunsaturated Fat
1
g
,
Monounsaturated Fat
5
g
,
Cholesterol
45
mg
,
Sodium
447
mg
,
Potassium
391
mg
,
Fiber
1
g
,
Sugar
3
g
,
Vitamin A
514
IU
,
Vitamin C
8
mg
,
Calcium
255
mg
,
Iron
2
mg
More easy potato recipes