Cinnamon Pie is the perfect holiday pie. Creamy and delicious, this pie is made with simple ingredients and is easy to make.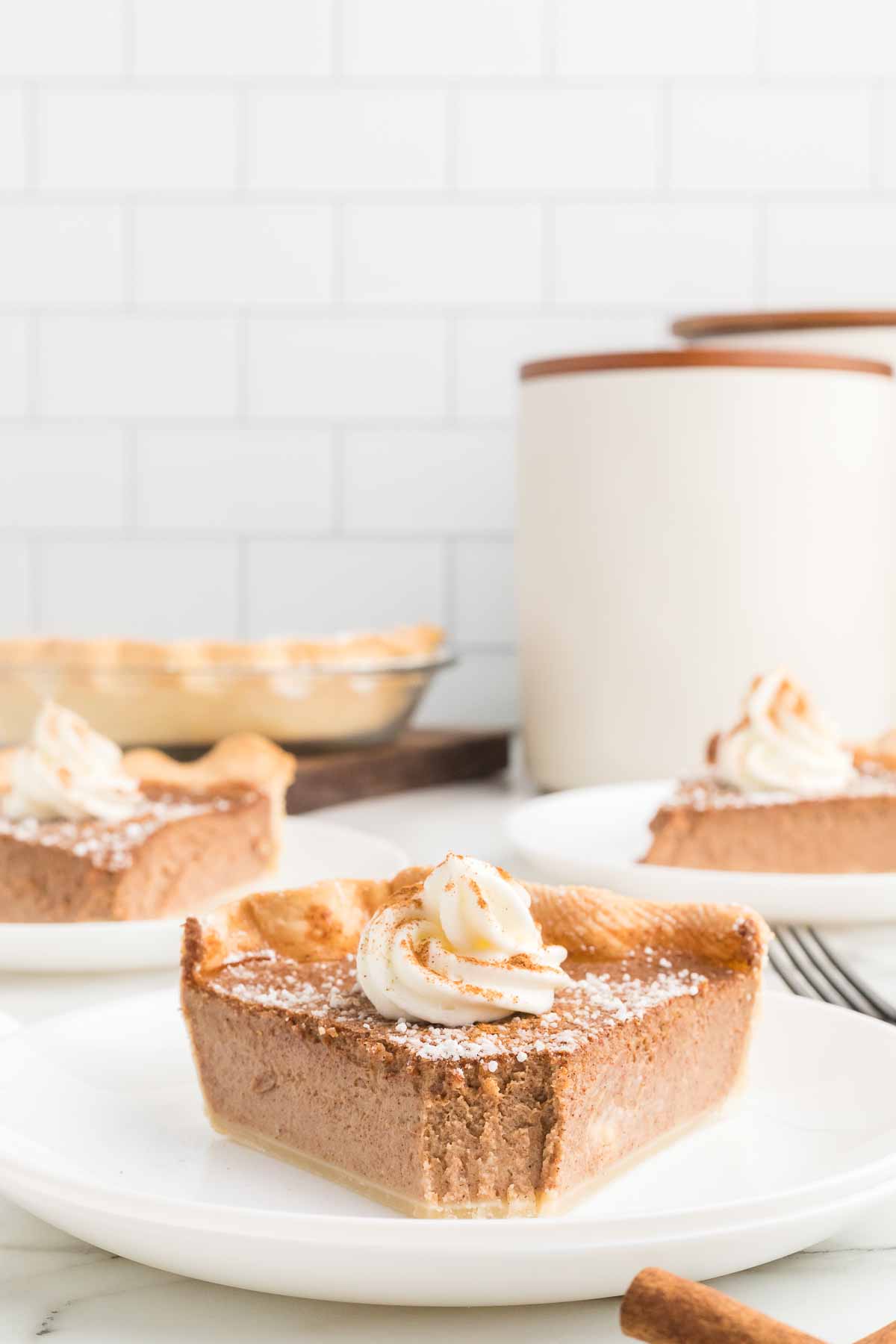 Cinnamon Pie Recipe:
We love this spice filled Cinnamon Pie Recipe. It is rich, creamy and delicious which makes it the perfect holiday pie. Cinnamon, cream cheese, and half and half combined makes this a decadent holiday pie.
Any recipe that includes cinnamon, I know I will love it. This spice ingredient is why I love making Cinnamon Roll Apple Pie and Cinnamon Roll Cake. Cinnamon creates bold and warm flavors, the perfect seasoning for the holidays.
This Cinnamon Pie filling is silky, creamy and light. It is baked in a premade pie crust that cooks flaky and delicious. You can easily make this pie ahead of time and it will be requested year after year.
What is Cinnamon Pie?
Cinnamon Pie is a creamy pie with a base of cream cheese, cinnamon, brown sugar and more. These ingredients are blended together to make an amazing silky pie filling.
The filling of the pie looks similar to pumpkin pie but the similarities end there. The flavor is much different.
This is a type of spiced pie and really delicious with a dollop of whipped cream on top. While this type of pie is not as common as pumpkin pie or pecan pie, it is absolutely amazing.
It will become a traditional pie that will be requested year after year. If you have ever been to a cinnamon festival, this pie was likely on the menu. It is so fabulous.
Ingredients:
Premade 9" Pie Crust, unbaked
Cream Cheese, softened at room temperature
Brown Sugar, packed
Large Eggs
Half and Half
All Purpose Flour
Ground Cinnamon
Vanilla Extract
Salt
Powdered Sugar (for serving)
How to Make Cinnamon Pie:
Step 1 – Preheat the oven to 350 degrees F and place the pre-made pie crust in a 9 inch pie plate. Crimp the edges of the pie crust and place it in the refrigerator while you prepare the filling.
Step 2 – Beat together the brown sugar and cream cheese in a large mixing bowl until the mixture is light and fluffy (3-4 minutes). Then beat in the eggs, one at a time until all are combined.
Step 3 – Then on low speed, mix in the half and half, flour, cinnamon, teaspoons of vanilla extract and salt until the mixture is combined and smooth.
Step 4 – Pour the filling into the pie crust and bake for 35-40 minutes until the edges are set. The center will still be jiggly but it will continue to set as the pie cools.
Step 5 – Let the pie cool completely at room temperature on oven rack. Then cover the pie and chill for at least 2-4 hours.
Step 6 – When you are ready to serve, let the pie sit at room temperature for 1 hour. Dust the top of the pie with the powdered sugar, then the pie is ready to slice, serve and enjoy!
Cinnamon Pie Toppings:
Whipped Cream
Powdered Sugar
More Cinnamon
Chocolate Syrup
Caramel Syrup
Ice Cream Cream
How to Store Leftovers:
This pie can easily be made the night before serving. Refrigerate any leftover pie covered for up to 5 days.
Cinnamon Pie Tips:
Ingredients – We recommend the cream cheese and eggs come to room temperature before mixing with other ingredients. They mix better when they are at room temperature.
Homemade pie crust – For the sake of time, we used a store bought pie crust. However, feel free to use homemade if you prefer.
Graham Cracker Pie Crust – Substitute this for the traditional pie crust. It is another great option with the rich filling.
Allow the pie to set – Before serving pie, we recommend letting it set for in the refrigerator for at least 2 hours. You can even prepare and place in the refrigerator overnight.
Don't overbake the pie – The pie will be jiggly but resist the urge to continue baking it. The pie will continue to set as it chills. Overbaking the pie will make it rubbery.
Serving Pie – Once we you are ready to serve, bring to room temperature for about an hour.
Baking Sheet – To prevent any of the pie spilling over while baking, we place the pie pan on a baking sheet.
Heavy Cream – You can use heavy cream instead of half and half.
Can Cinnamon Pie be Prepared ahead of time?
This pie can easily be made the night before serving or up to 2 days in advance. This is a great way to ensure the pie has sufficient time to set. This is one of the reasons I make this pie around the holidays.
We think it taste better once it has time to chill for a few hours.
Print Recipe here for Cinnamon Pie:
More Easy Pie Recipes: