This post may contain affiliate links. If you make a purchase through links on our site, we may earn a commission.
This easy Cinnamon Roll Cake Recipe is everything you love about a cinnamon roll, but without all of the work! You'll be sharing this recipe will all of your family and friends! They will be impressed that you made this from scratch.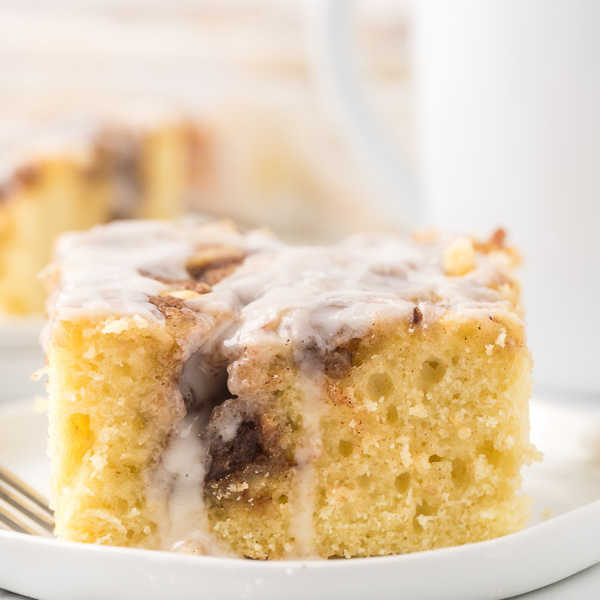 If you love cinnamon rolls, get ready for your life to be changed! There is no denying that we love cinnamon rolls around here, but boy are they a lot of work. Just like our Cinnamon Bundt Cake Recipe, you get all the flavors without all the work in this recipe for cinnamon roll cake.
If you love this cake, you must try this Christmas Coffee Cake Recipe.
Ingredients
Ingredients For the Cake:
For the Cinnamon Topping:
Butter, melted

Brown sugar

Flour

Cinnamon
For the Glaze:
How to make Cinnamon Roll Cake:
Step 1 – In a large bowl, mix everything, including the dry ingredients, together for the ingredients of the cake. I like using my stand mixer.
Step 2 – Pour batter into prepared pan.
Step 3 – For the streusel topping, mix all of the cinnmamon topping ingredients well in a small bowl.
Step 4 – Drop spoonfuls of cinnamon sugar mixture on the remaining batter
Step 5 – Swirl the topping around with a knife. If your topping isn't runny, you can still swirl it around and it will still taste great!
Step 6 – Bake in preheated oven for 30 to 35 minutes. Cake is done when toothpick inserted or knife comes out clean.
Step 7 – Meanwhile whisk together the glaze ingredients and drizzle glaze over warm cake.
How to serve
You can serve cinnamon roll cake warm or at room temperature.
How do I tell when cake is done?
The easiest way to figure out when the cinnamon roll cake is done by inserting a knife in the center of the cake. If it comes out clean then you can is done.
We love serving the cake warm. The warm and gooey brown sugar makes this cake irresistible!
Can I substitute with a boxed cake mix?
If you would rather use a boxed cake mix instead of making your own, you can absolutely use a boxed cake mix instead. You will need a white cake mix and all of the ingredients the instructions call for.
Simply mix the cake mix up according to the package directions, then mix up the cinnamon mixture and the glaze following the recipe below. Pour the cake batter into your prepared pan and drop the cinnamon filling by spoonfuls on the top. Using a knife, swirl the cinnamon filling into the cake.
Bake at 350 degrees for 15 minutes, or until a toothpick comes out clean. Spread the glaze on top of the cake while it is still warm.
This cake is ready to enjoy in about 30 minutes!
Tips + Tricks:
When swirling the cinnamon mixture into the cake, make sure you push the knife all of the way to the bottom of the pan so that you get the cinnamon swirl mixture infused through the whole cake.

We usually devour this cake as soon as it is glazed and ready, but if you need to make this ahead of time you can certainly do so! I wouldn't bake the cake any more than 24 hours in advance and don't glaze it until you need it. When you're ready to serve the cake, warm the cake up and top with the glaze while the cake is still warm.

While most cake recipes want you to wait until the cake is cool to put on the icing or glaze, this one works best if the cake is still warm. The glaze melts right into the cake and makes it taste just like warm cinnamon rolls!

Frequently Asked Questions
Can you make this in a Bundt pan?
Yes! You would pour half of your batter in the greased and flour pan, then swirl in your cinnamon topping. Then pour in the in the remaining batter.

Bake for 30-45 minutes and cool on a wire rack. Then you cake is ready to glaze.
Can I add nuts to cinnamon roll cake?
Yes! Nut added to this recipe would be amazing. You can mix them in while mixing the batter or you can just sprinkle ½ of a cup on top.
Does Cinnamon Roll Cake need to be refrigerated?
Yes, I would refrigerate the leftovers by covering with plastic wrap. Then when you are ready for a piece, just reheat in the microwave. I like to put a little butter on top and have it melt within the cake.
Can you make this cake ahead of time?
Yes you can! Just make the cake the day before and then the next day, reheat in the oven. Then it is ready to glaze.
What's the difference between a cinnamon roll and a king cake?
A King cake is a blend of cinnamon rolls and a coffee cake. The king cake is a Mardi Gras tradition.
Can you freeze Cinnamon Cake?
This cake is perfect for freezing in individual servings so you don't eat the whole pan at once! Once the cake is cooled, wrap in plastic wrap, then foil for up to 3 months. When you want a quick slice, unwrap, and warm up in the microwave. Enjoy this warm cinnamon cake with a cup of coffee.
More Easy Cinnamon Roll recipes:
Cinnamon Roll Cake
Here is a fun twist on a coffee cake recipe. This easy cinnamon roll cake recipe is the best. Get the taste of homemade cinnamon rolls without all the work.
Instructions
Preheat oven to 350 degrees F (175 degrees C). Spray a 9 x 13 pan with non stick spray.
Cake:
In a large bowl, mix everything together for the ingredients of the cake.

Pour batter into prepared pan.

For the topping, mix all of the ingredients well in a small bowl.

Drop spoonfuls of topping on the batter and then swirl it with a knife.

Bake in preheated oven for 30 to 35 minutes.

Drizzle glaze over warm cake. (You can reduce the glaze and the cake would still be yummy.)
Nutrition Facts
Serving
6
Ounces
,
Calories
353
kcal
,
Carbohydrates
59
g
,
Protein
5
g
,
Fat
10
g
,
Saturated Fat
6
g
,
Cholesterol
54
mg
,
Sodium
155
mg
,
Potassium
230
mg
,
Fiber
1
g
,
Sugar
32
g
,
Vitamin A
365
IU
,
Calcium
118
mg
,
Iron
1.9
mg