It doesn't get any easier than these Cinnamon Rolls in Waffle Maker! They are quick and easy and oh so delicious! Your family will ask for these again and again! These cinnamon rolls are amazing!
Cinnamon Rolls in Waffle Maker
If you loved the Cake mix waffles recipe then you are about to be in love! Today we are baking cinnamon rolls in a waffle iron. Yes, you read that right!! Waffles made out of refrigerated cinnamon rolls. The Results?? We are in love!! The entire family absolutely loved them and asked for more! It's just so fun making these in the waffle maker.
There is no need to wait for the oven to heat up and then wait for your cinnamon rolls to cook. Now you can eat your cinnamon rolls in only 4 minutes!! This could be a bad thing for my waist size. 🙂 You might find yourself just making these on the spur of the moment for a snack. They are that good.
If you have a waffle maker and a can of cinnamon rolls, then you just have to make this recipe. If you don't have them… Well, I think it is time to invest in a waffle maker. 😉 I purchased my waffle maker on Amazon and I use it all the time. You can find several waffle makers on sale here. I use mine for traditional waffles, Cinnamon Roll Waffles, Cake Mix Waffles and more!
I actually make a ton of waffles and freeze them! This is perfect for busy mornings and saves me a lot of money from buying tons of boxes of waffles! You can also freeze pancakes so you might want to try our Pumpkin Pancakes Recipe. Yum! It is SO good.
How to make cinnamon roll waffles:
Step 1: Heat up your waffle maker and spray with nonstick spray.
Make sure to use cooking spray so you don't have a sticky mess.
Step 2: Put Cinnamon Rolls into waffle maker
Place one cinnamon roll in the center of the waffle maker and cook until golden brown.
Step 3: Cook for 3-4 minutes.
Keep a watch on them as they may not need the entire 4 minutes.
Step 4: Top with Icing!
Make sure to to do this while they are hot. The icing goes on much smoother and easier.
Cinnamon bun waffles really are that easy!
I love that these are much faster than cooking them the traditional way, and that the kids were thrilled that their cinnamon rolls were silly looking. 🙂
You will absolutely love these Cinnamon Roll Waffles! They are such a quick and simple breakfast and taste so good. It's crazy how simple these are!
What are you waiting for… go make some Waffle Maker Cinnamon Rolls! 😉
Print your Cinnamon Rolls in a Waffle Maker Recipe below:
Cinnamon Roll Waffles
Learn how to make Cinnamon Roll Waffles. These cinnamon rolls in waffle maker are so easy! The icing just drizzles down the cinnamon bun waffles. Yum! Try these Cinnamon rolls in a waffle maker today. Your family will love them!
Keyword:
Cinnamon Roll Waffles
Ingredients
1

pkg

Refrigerated Cinnamon Rolls

Non Stick Cooking Spray
Instructions
Heat up your waffle maker and spray with nonstick spray.

Put Cinnamon Rolls into waffle maker

Cook for 3-4 minutes.

Top with Icing!
Recipe Notes
Freeze these for a quick school morning breakfast!
Nutrition Facts
Cinnamon Roll Waffles
Amount Per Serving
Calories 213
Calories from Fat 81
% Daily Value*
Fat 9g14%
Sodium 440mg19%
Carbohydrates 30g10%
Protein 2g4%
Iron 1mg6%
* Percent Daily Values are based on a 2000 calorie diet.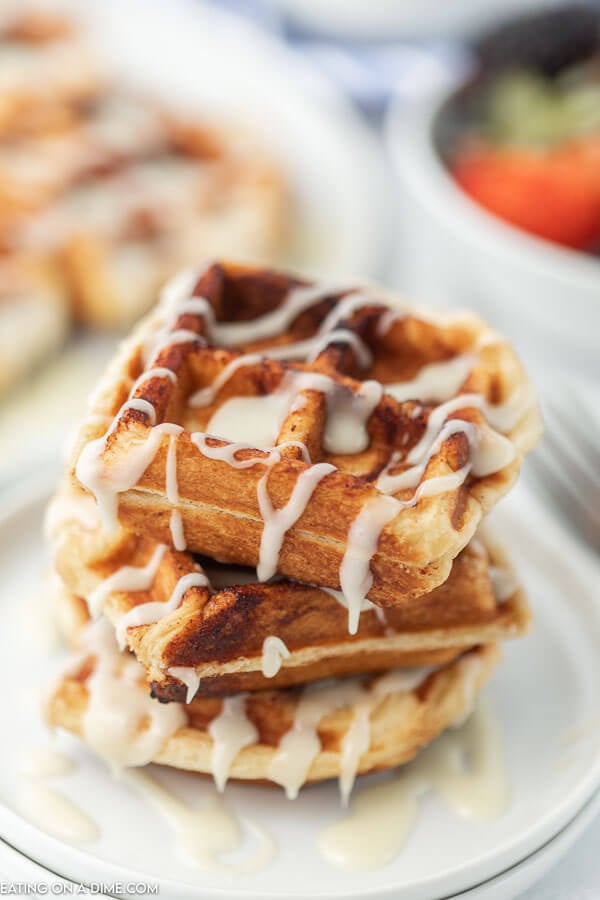 What do you bake cinnamon rolls in?
Whether you bake them in the oven or use a waffle maker, no doubt cinnamon rolls are yummy! The icing just runs down the fresh cooked cinnamon rolls for an amazing breakfast. We actually have had these for dinner before with sausage or bacon. We love having dinner for breakfast!
Using a waffle maker is just so convenient. There is no need to heat up the oven. Just heat up a waffle iron in minutes! The cinnamon rolls are cooked and ready in no time! If you have never cooked cinnamon rolls this way, give it a try! You will love how quick and easy it is. The kids will think it's so cool seeing them cooked on a waffle maker. They have a fun shape and kids love it! It's amazing how something so simple can bring such big smiles to the kid's faces! I bet they will remember for years to come those "cool" cinnamon rolls that Mom made. 🙂 I have such fond memories of family meal time as a child. I love that I'm making the same special memories with my children.
How do you clean a waffle iron?
It can be tricky to get every nook and cranny clean in the waffle iron. Don't let this deter you from making cinnamon rolls in the waffle maker though! Once I learned the easy way to clean a waffle iron, it only takes a minute to get it perfectly clean! The key to getting it really clean is to wipe it down before it completely cools. You don't want it hot but just warm. Unplug it and let it sit a few minutes. Use the damp paper towel method and let it sit a few seconds and you are done!
We just love using our waffle maker for recipes. I'm going to try this Clean Eating Waffle Iron Omelets Recipe next. I love how it is topped with cheese and diced tomatoes.
What all have you tried cooking in your waffle maker? Share any ideas in the comments. I love trying new things.
Have you been hesitant to make homemade donuts? We have an easy Homemade Donut Recipe that is absolutely delicious and very simple. These little donuts are soft and fluffy and amazing!
Make these easy Mini Cinnamon Rolls that are frugal and delicious. They are bite size and perfect for breakfast any day of the week.
For another quick and delicious idea, try this Easy banana bread recipe!
Learn how to make this Easy Monkey Bread Recipe for a quick and delicious breakfast idea your family will love.
We have deemed this the BEST Homemade Pancake Mix and Waffle mix that there is.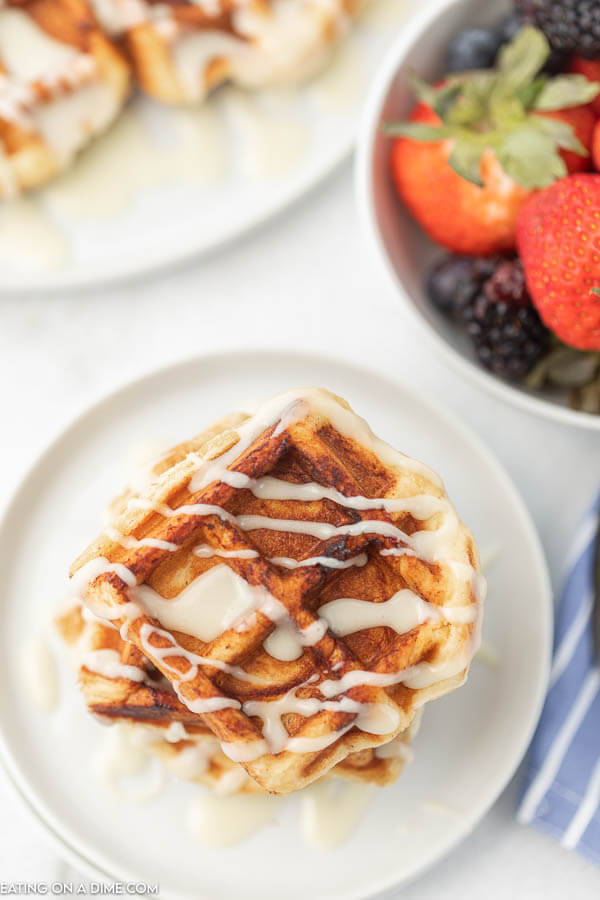 Make sure you try these other easy and delicious breakfast ideas: