This post may contain affiliate links. If you make a purchase through links on our site, we may earn a commission.
It doesn't get any easier than these Cinnamon Rolls in Waffle Maker! They are quick and easy and delicious too. Your family will ask for these again and again!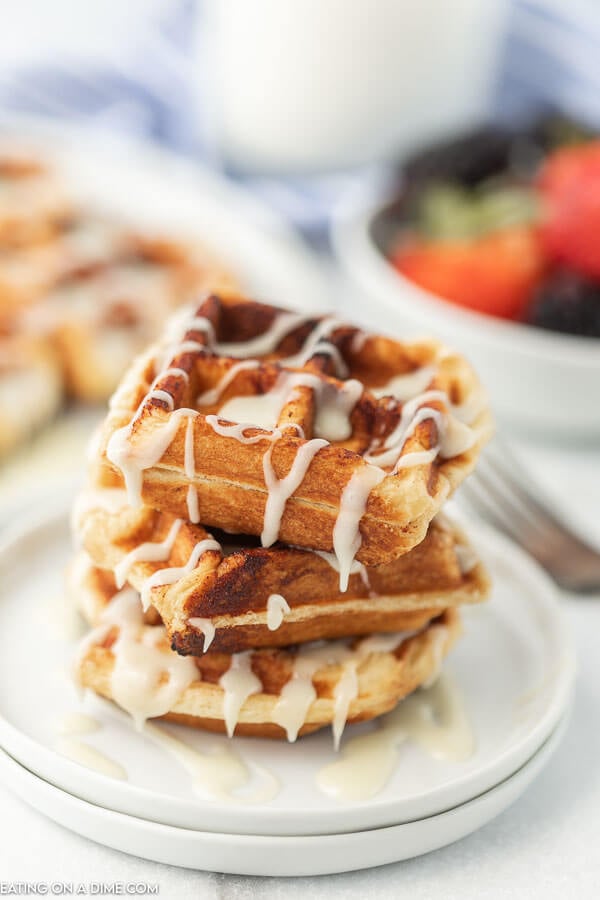 Cinnamon Rolls in Waffle Maker
If you loved the Cake mix waffles recipe then you are about to love this easy breakfast recipe! Today we are baking cinnamon rolls in a waffle iron.
Waffles made out of canned refrigerated cinnamon rolls. The entire family absolutely loved them and asked for more! It's just so fun making these in the waffle maker.
You may also love this Cinnamon Roll Cake Recipe.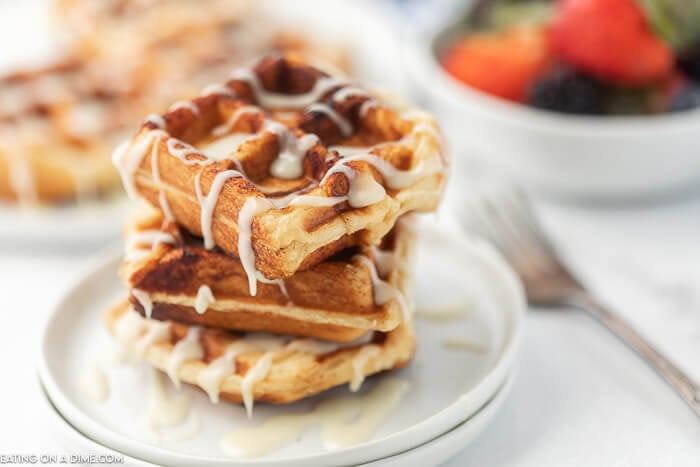 There is no need to wait for the oven to heat up and then wait for your cinnamon rolls to cook.
Now you can eat your cinnamon rolls in only 4 minutes! This could be a bad thing for my waist size.
You might find yourself just making these on the spur of the moment for a snack, breakfast or dessert. They are that good.
You will need a Waffle Iron for this Recipe:
The only equipment you need for this recipe is a waffle maker. If you don't have them… Well, I think it is time to invest in a waffle maker.
They are usually pretty affordable, last a long time and we use ours all the time. We love making homemade pancake and waffles but love making this recipe in it as well.
Ingredients:
You only need 2 ingredients to make this easy breakfast recipe.
Canned Cinnamon Rolls – Any of your favorite brands will work great. I generally use Pillsbury Grands but any type should work great.
Non Stick Cooking Spray
How to make Cinnamon Roll Waffles: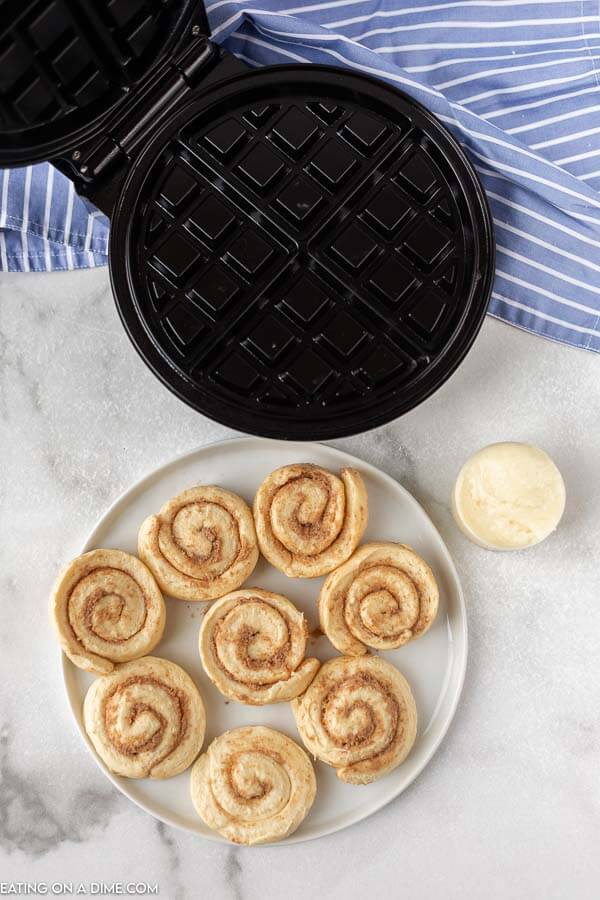 Step 1: Preheat waffle iron and spray the waffle iron with nonstick spray. I usually use Pam but you can use a spray olive oil or canola oil as well.
Make sure to use cooking spray so you don't have a sticky mess.
Step 2: Put Cinnamon Rolls into waffle maker. Just place one in each quarter of the waffle iron. You do not need to press them down. All you have to do is lay them on top of the waffle iron.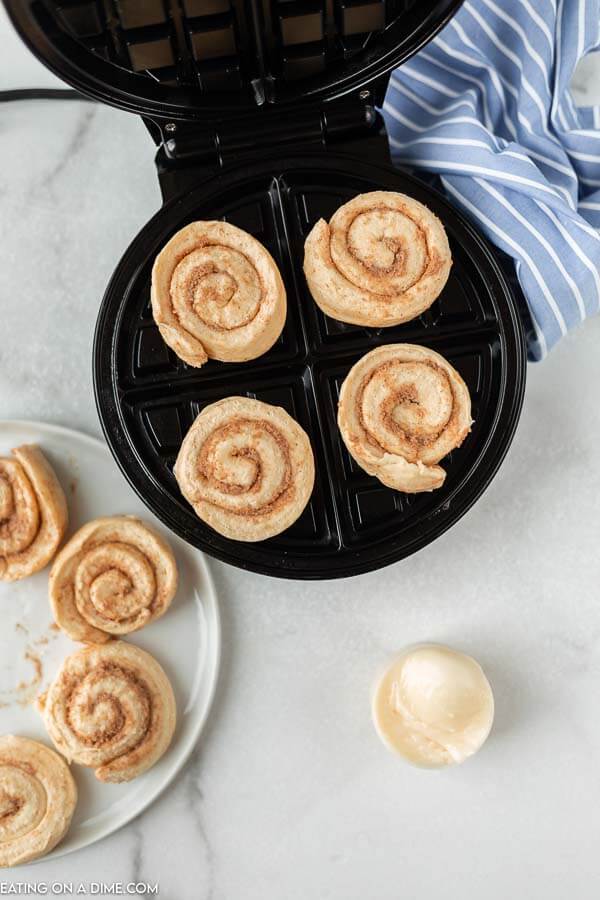 Step 3: Shut the waffle iron and cook for 3-4 minutes until the cinnamon rolls are golden brown.
Keep a watch on them as they may not need the entire 4 minutes.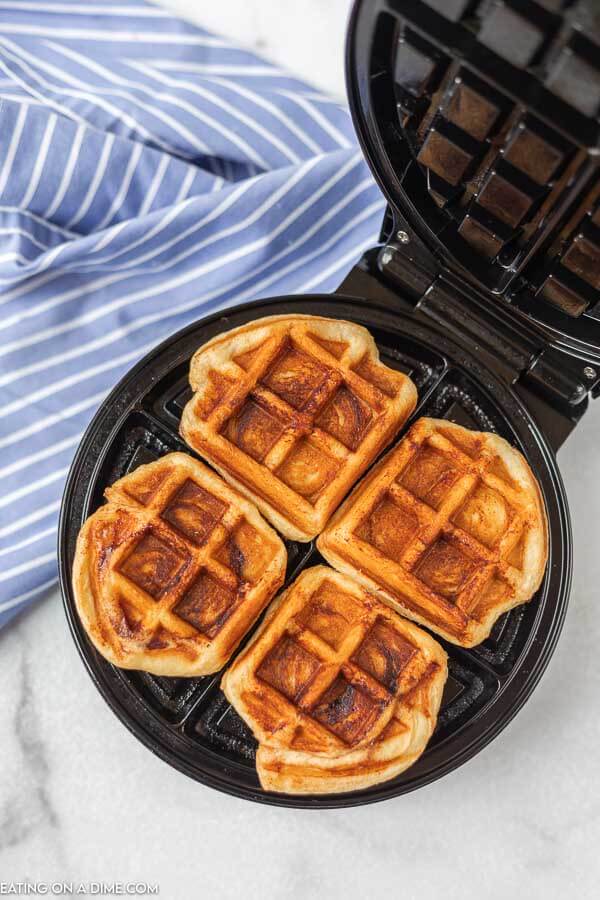 Step 4: Then top with your favorite icing and enjoy!
Make sure to to do this while they are hot. The icing goes on much smoother and easier.
Tips for this Recipe:
Make sure to use a non-stick cooking spray to make this recipe. If you don't have this, put oil on a paper towel and rub it on the waffle iron for easy clean up.
Get the kids involved in making these waffles. This recipe is fun to make and safe for the kids to make too.
Watch the rolls closely as they cook. Each type of cinnamon rolls cook differently, so watch them closely so that they don't over cook. They are ready when the waffles are golden brown.
Move to a wire rack after the cook time to prevent the waffles from getting soggy after they have been cooked.
What to top on Cinnamon Bun Waffles:
Generally, we top these waffles with the icing that comes with the canned cinnamon rolls.
Here are some other options you can try as well:
Cream Cheese Icing
Sprinkle the top with Brown Sugar, Powdered Sugar or a Sugar and Cinnamon Mixture
Maple Syrup
Fresh Fruit
Whipped Cream
Also, you can stir in some maple extract or vanilla extract into the pre-made icing to give it a slight maple flavor before topping it on the waffles.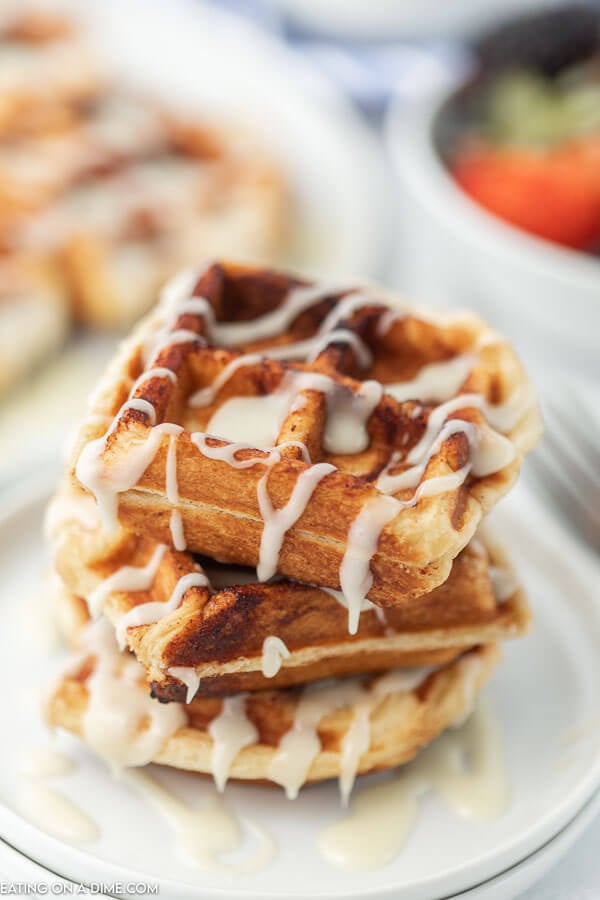 What to serve with these waffles:
These are great to serve with your favorite types of eggs and bacon or sausage for a delicious breakfast meal.
I love making these for breakfast but they are also great served as a snack or dessert. When serving as a dessert, I serve them by themselves.
Since they are quick to make, you can easily make these after school or after dinner for an easy sweet treat for the entire family.
How to Store:
We usually don't have any leftovers. However, if you do make extra, store them at room temperature in an air tight container for up to 5 days.
Make sure that you store the leftovers without the toppings so that they don't get soggy.
Can you freeze Waffles?
Yes, waffles freeze great. Freezing waffles is easier than you think. Place all the cooked waffles on a baking sheet. Place the sheet in the freeze for at least 1 hour.
After this time, store the waffles in a freezer bag for up to 2-3 months.
To defrost out, place 1 in the microwave for 20-30 seconds until warm.
I love making a large batch of these waffles on the weekend so my kids can heat them up during the week for a quick and easy breakfast.
Check out all our tips for freezing pancakes and waffles.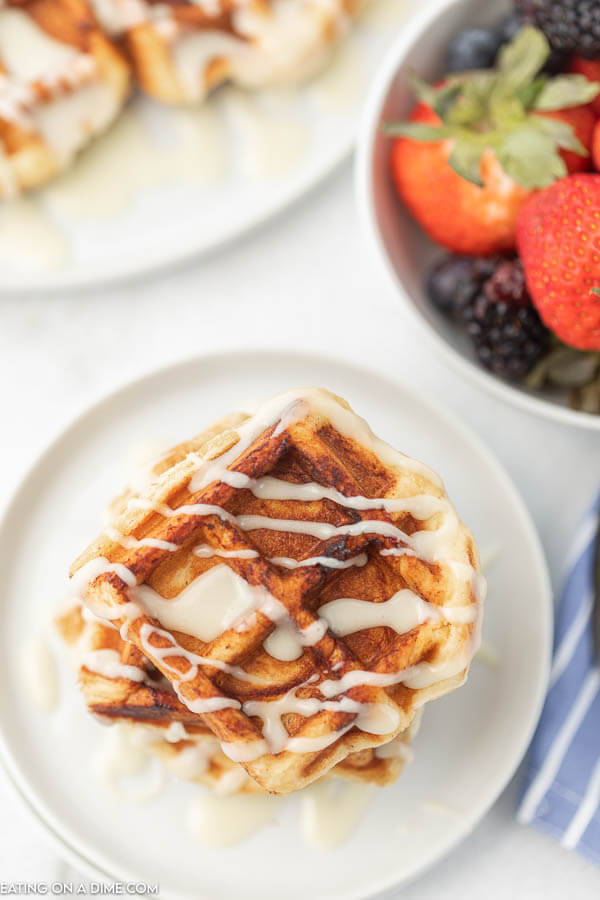 Can you refrigerate uncooked Cinnamon Rolls?
Once you open the canned cinnamon rolls, you can refrigerate the uncooked rolls for up to 1 day.
I find it's best to cook them all immediately once opened and store any leftovers cooked rather then storing the uncooked rolls.
What to add to store bought cinnamon rolls?
Also, you can unroll the cinnamon rolls, add in some ingredients and re-roll before cooking. This is a great way to a mix up this recipe to change up the flavor on these cinnamons rolls.
Here are a few things that would be delicious to add in the rolls in this recipe:
Cinnamon
Nutmeg
Pumpkin Pie Spice
Chopped Nuts: Pecans or walnuts would be great
Chopped up chocolate pieces
How do you clean a waffle iron?
It can be tricky to get every nook and cranny clean in the waffle iron. Don't let this deter you from making cinnamon rolls in the waffle maker though. The key to getting it really clean is to wipe it down before it completely cools.
You don't want it hot but just warm. Unplug it and let it sit a few minutes. Use the damp paper towel method and let it sit a few seconds and you are done.
What all have you tried cooking in your waffle maker? Share any ideas in the comments. I love trying new things.
Print your Cinnamon Rolls Waffles Recipe below:
Cinnamon Roll Waffles
Learn how to make Cinnamon Roll Waffles. These cinnamon rolls in waffle maker are so easy! The icing just drizzles down the cinnamon bun waffles. Yum! Try these Cinnamon rolls in a waffle maker today. Your family will love them!
Ingredients
1

pkg

Refrigerated Cinnamon Rolls

Non Stick Cooking Spray
Instructions
Heat up your waffle maker and spray with nonstick spray.

Put Cinnamon Rolls into waffle maker

Cook for 3-4 minutes.

Top with Icing!
Recipe Notes
Freeze these for a quick school morning breakfast!
Nutrition Facts
Calories
213
kcal
,
Carbohydrates
30
g
,
Protein
2
g
,
Fat
9
g
,
Saturated Fat
3
g
,
Sodium
440
mg
,
Sugar
13
g
,
Iron
1
mg
Try these other easy breakfast ideas: