This post may contain affiliate links. If you make a purchase through links on our site, we may earn a commission.
Learn how to make the fluffiest Gluten free waffles that will have your kids begging for more! Crispy on the outside and fluffy on the inside while being gluten free and dairy free.
Gluten Free Waffle
My kids have declared these the best Gluten free waffles. They are so light and fluffy on the inside with just the right amount of crispiness on the outside. It is a winner all around!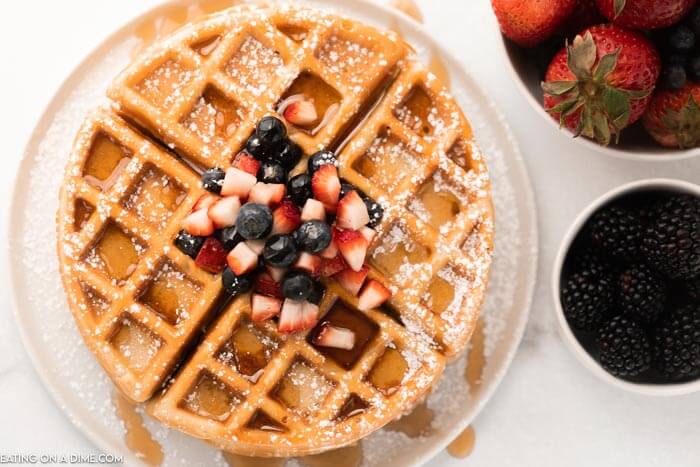 My waffles have always had a tendency to be a little heavy when I tried them in the past. Not anymore!
Did I mention my kids are REALLY picky? This says a lot if my kids are asking for seconds.
It is win for sure around here!
We are a big family and with that comes A LOT of activities. I'm always looking to make breakfast easier and streamline the day.
This recipe is super easy and everybody enjoys these waffles. You might also like to try Gluten Free Pancakes.
Ingredients you need:
Gluten-Free Flour Blend
Sugar
Vegetable Oil (Coconut Oil is another good option.)
Eggs
Vanilla Extract
Baking Powder
Salt
Milk
How to make Gluten free waffle mix
First, preheat your waffle iron and spray it with a non-stick cooking spray.
Second, add all the ingredients together in a large mixing bowl. Whisk until the ingredients are just combined. You do not want to over mix.
Next, pour about 2/3-¾ cup of the batter into the waffle iron. Let the waffles cook until they are golden brown.
Finally, take the waffles out of the waffle maker and keep cooking until you have used all of the batter. It is so easy!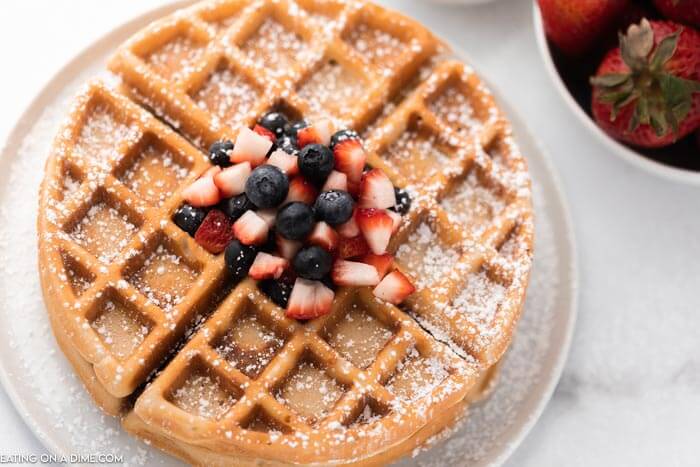 Try some of these variations for these Gluten free waffles:
Top with berries. We love Strawberries and Blueberries.
Top with maple syrup. Yum!
Top with peanut butter.
Just put a dab of butter and eat on the go.
My favorite way to eat these delicious Gluten Free Waffles is with warm syrup and blueberries. Yum!
How long can you store the mix?
You can store the dry mix up to 3 months. I like to mix up a batch to keep on hand. It helps during busy weeks to be able to just grab the mix and add the wet ingredients when you want to make waffles.
CAN I MAKE GLUTEN-FREE WAFFLES DAIRY-FREE?
Yes, just substitute any dairy free milk. We like almond milk and my kids love when I use vanilla almond milk!
Coconut milk is another good dairy free option.
Your entire family will be impressed with gluten free waffle mix.
It is a recipe that everyone can enjoy. We all love waffles and they are budget friendly too.
I am always on the lookout for something my entire family will eat, doesn't cost a fortune or take hours to meet. These waffles meet that criteria and will be on the permanent menu plan rotation.
The kids even asked for breakfast for dinner one night. With healthy waffles like these, why not!
You are going to be so excited how delicious they turn out. Plus, the recipe is super easy to make.
More ideas:
You can also try using rice flour and coconut milk to make waffles. If using egg whites just make sure to beat until peaks form.
Can you freeze Gluten free waffles?
Yes! I often make a big batch and put them in the freezer.
This is perfect for busy mornings and all I have to do is pull what I need from the freezer and reheat them. Make sure to cool the waffles completely before freezing them.
You don't want them to get stuck together so it is very important they are completely cool. I store mine in the large gallon bags in the freezer.
It is so easy to just grab one and go! Breakfast is so easy with just a few minutes of planning and making these ahead of time.
Reheat in the microwave. If you prefer a crispier waffle, you can use the oven or toaster oven.
Print this Gluten free Waffles Recipe: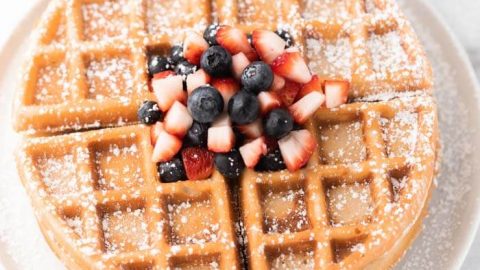 Gluten Free Waffle Recipe
Learn how to make the fluffiest Gluten free waffles that will have your kids begging for more! This easy Gluten free waffle recipe is also dairy free.
Instructions
In a medium size bowl, mix together the dry ingredients: flour, sugar and baking powder.

Then whisk in the eggs, oil, vanilla and milk. Stir until all the ingredients are just combined and be careful not to over mix.

Preheat a waffle iron and spray it with non-stick cooking spray.

Pour in 2/3-¾ cup of batter evenly into the waffle iron and cook until golden brown.

Remove the waffle from the hot iron, place on a pan and continue to follow this process until all of the batter is used (ours made approximately 3 large whole waffles).

Top with your favorite toppings and enjoy!
Recipe Notes
This recipe can easily be doubled or tripled to make waffles for your entire family. 
Refrigerate the leftover waffles in an air tight container for up to 5-7 days.  You can also freeze leftover waffles in a freezer safe bag or container.  
Nutrition Facts
Calories
340
kcal
,
Carbohydrates
43
g
,
Protein
8
g
,
Fat
17
g
,
Saturated Fat
12
g
,
Trans Fat
1
g
,
Cholesterol
62
mg
,
Sodium
996
mg
,
Potassium
117
mg
,
Fiber
4
g
,
Sugar
13
g
,
Vitamin A
194
IU
,
Calcium
586
mg
,
Iron
3
mg
More gluten free recipes to try: