This post may contain affiliate links. If you make a purchase through links on our site, we may earn a commission.
Crockpot chicken and dumplings make dinner time a breeze thanks to the ease of the slow cooker. Enjoy delicious chicken and dumplings with hardly any effort at all and get dinner on the table fast!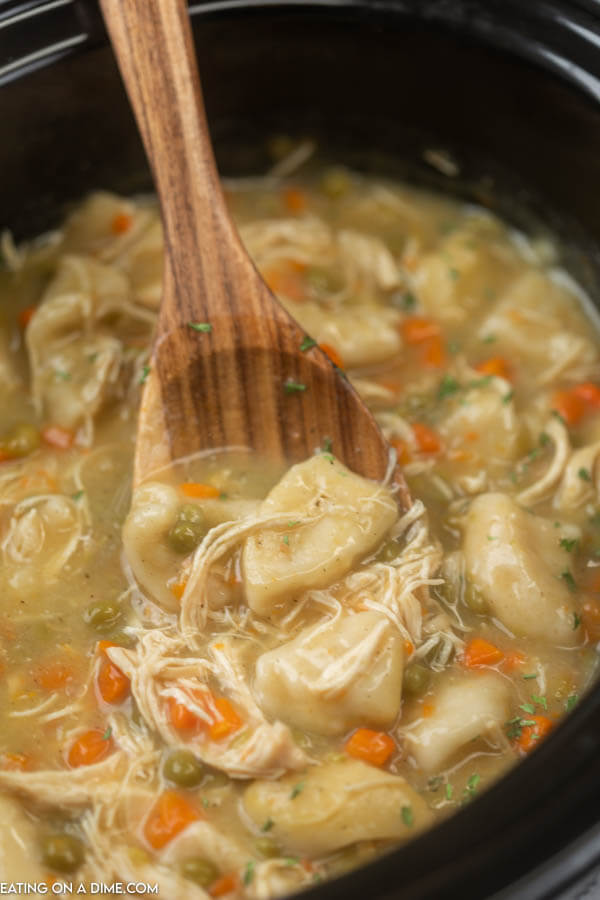 Crockpot chicken and dumplings
I'm so excited to share with you our family's new favorite comfort food – easy crock pot chicken and dumplings. I know many of you love our Crock pot Chicken pot pie recipe and this new recipe will not disappoint either!
It is the best crock pot chicken and dumplings with biscuits recipe you will find and so very simple to make. If you are in the mood for some easy but serious comfort food, then try this recipe out.
My kids loved it and said it was the best dinner. I would call that a success. If you want an even faster version, try our Instant Pot Chicken and Dumplings.
By the way… are you following me on pinterest? Make sure you follow me so you don't miss another money saving recipe.
Our favorite comfort food!
We love this recipe as it is the best comfort food. When it is a cold and winter day, it is the perfect meal to serve.
All ingredients go into the crockpot. I love one pot meals and this meal is next level. There isn't a lot of recipes that you get a complete meal without dirtying up a lot of dishes.
My kids love this recipe. I have some picky eaters, but when they know this is on the menu, my kids can't wait for dinner.
This recipe has everything you love about homemade chicken and dumplings but with some shortcuts. I love recipes that has less ingredients for my busy family but still taste great.
This is the perfect set it and forget it recipe. Very little prep work and the crock pot does all the work.
Rather I am making this for a weeknight meal or when we have a get together, everyone always love it. It is also budget friendly.
When should I put my dumplings in a slow cooker?
Now you cook the chicken, cream of chicken soup, water, and the veggies in the crock pot all day. Then in the last two hours, you toss in the cut up canned biscuits.
Let it cook on high for one hour or on low for 2 hours. I was nervous at first, but it really did work.
The biscuits came out to be the most delicious dumplings. Next time, I might add in another 10 ct of canned biscuits with some more water, because my kids loved them so much.
This chicken and dumplings made with biscuits will not disappoint!
Ingredients:
Boneless Skinless Chicken breasts – Chicken can be frozen. You can either cut before putting in the crockpot or just shred it after it is cooked.
Frozen mixed veggies – We like using peas and carrots. You can also add in some celery, or fresh carrots.
Onion – Dice the onion in small pieces so the kids won't notice. I love the flavor of the onion.
Cream of Chicken Soup – You can also use cream of celery.
Chicken broth – Adds flavor and just enough liquid.
Garlic salt – I add garlic salt to just about all my recipes.
Poultry Seasoning – I love how this adds flavor to the dumplings.
Salt and Pepper
Canned Biscuits – The cheap ones work just as good. But you can use what you have or your favorite brand.
How to make crockpot chicken and dumplings:
First, get your slow cooker out. If you work all day, you may want to

invest in

a programmable crockpot. They are awesome because you can set them

to start

later, or to stop and switch to warm once dinner is ready.
I also use a crockpot liner. They are so handy and make cleanup really easy.
Now that your crockpot is ready to go, add the chicken and veggies to it.
Next, add in the cream of chicken soup and seasonings. Pour the water and broth over the top. It really is so simple to make.
Let this cook on low for 6 hours or high for 3. The chicken will be so tender.
Once the chicken has finished cooking, take it out of the crock pot and shred the chicken. Then put the meat back in the crockpot.
Now it is time for the biscuits to go in. Cut up the biscuits and place on top of the mixture in the slow cooker. I like to use a pizza roller or kitchen scissors to cut the biscuits up.
Finally cover and cook, and allow the biscuits dough to cook on high for 60 to 90 minutes or reduce heat to low for 2 to 3 hours. Make sure to stir twice during that time.
That is all you do. I told you it was so easy.
Do you need it to be thicker?
You can mix a couple of tablespoons of corn starch with some warm water. Then add this mixture to the the crockpot and mix together.
After about 15 minutes your sauce should be thicker with your crock pot set on high.
What to serve?
We typically do not serve anything with chicken and dumplings. But if you are wanting to stretch your servings, you can always add a side of vegetables such as green beans, corn on the bob or a nice green salad.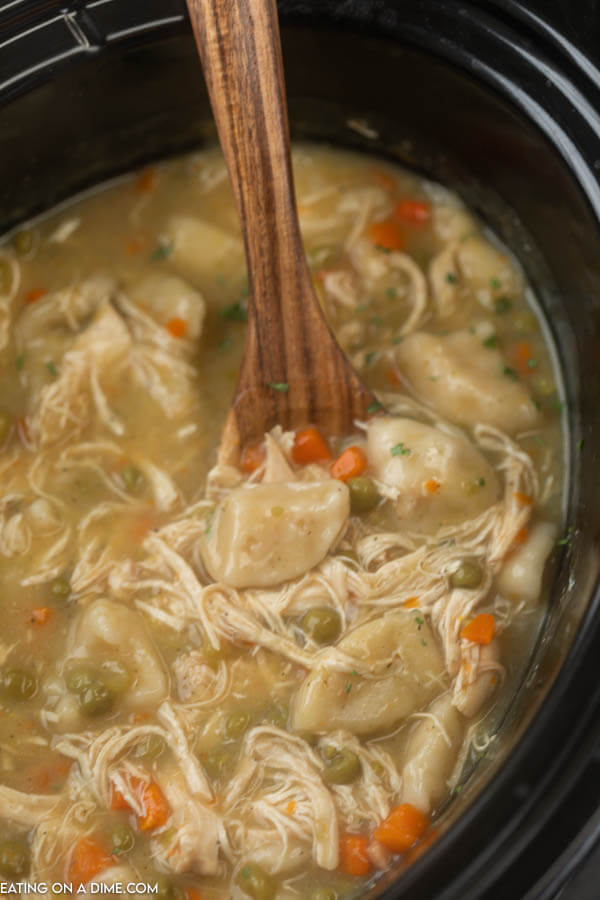 Tips for the best Chicken and Dumplings:
My biscuits cooked perfectly after about 60 minutes, but cooking time could vary.
Make sure to not open the lid often. This could cause the biscuits to not cook it properly and it lose heat quickly.
Your biscuits will be done once they have a dough-like texture.
I like to wait until my vegetable mixture is bubbling before adding the texture. I could it on high to make sure the mixture is very hot.
I like using the cheap biscuits. Buttermilk or homestyle our my favorite types of biscuits to use.
Add in more chicken broth to make a dumpling soup.
Can you use something other than canned biscuits?
You can always use the bisquick recipe that is on the back of the box for dumplings instead of canned biscuits.
If you have the time, try making chicken and dumplings for scratch.
We have used crescent rolls before and they have turned out great. Just follow the same process.
If you forgot to pick up and don't want to run to the store, you can always use flour tortillas.
Get the kids involved!
I love getting my kids involved when making this meal. They love using a pizza cutter to cut the biscuits, which it just so easy to do.
I like to cut our biscuit into size pieces, but you can do what your family likes. Another great thing about this recipe is you can use what you have on hand.
Crockpot Chicken and Biscuit variations:
I had some fresh carrots and fresh green beans, so I used those. However, canned veggies (drained) or frozen veggies will work too.
You can change up the veggies as well. We have made it with peas, carrots, and celery and it was just as delicious!
If for some reason you do not want the vegetables, you can always just omit them.
Feel free to substitute chicken thighs for chicken breasts. I have also mixed them together and it was good.
If you have rotisserie chicken you can use it for this recipe. White or dark pieces will work. Just dice it up and following the recipe. This is an easy shortcut.
You can also use leftover over turkey. This would be a great recipe to use up any leftover Thanksgiving Turkey.
Adding in some potatoes for creamy bites of potatoes. We love the texture that it gives the dumplings.
How to store leftovers:
We love this homemade chicken and dumplings leftover. We store it in individual containers and it make a quick lunch for my husband and I. This homemade chicken and dumpling is good for 2-3 days.
If you are heating it at home, I like to reheat on the stovetop. This ensure that it is thoroughly heated.
Can you freeze it?
If you would like this is a great meal to make ahead and freeze. But I would freeze without dumplings. Just make everything else, then once you are ready to eat, put in the crockpot. Then once your chicken mixture is heated, put in your biscuits.
We love having this to be able to reheat on a busy night.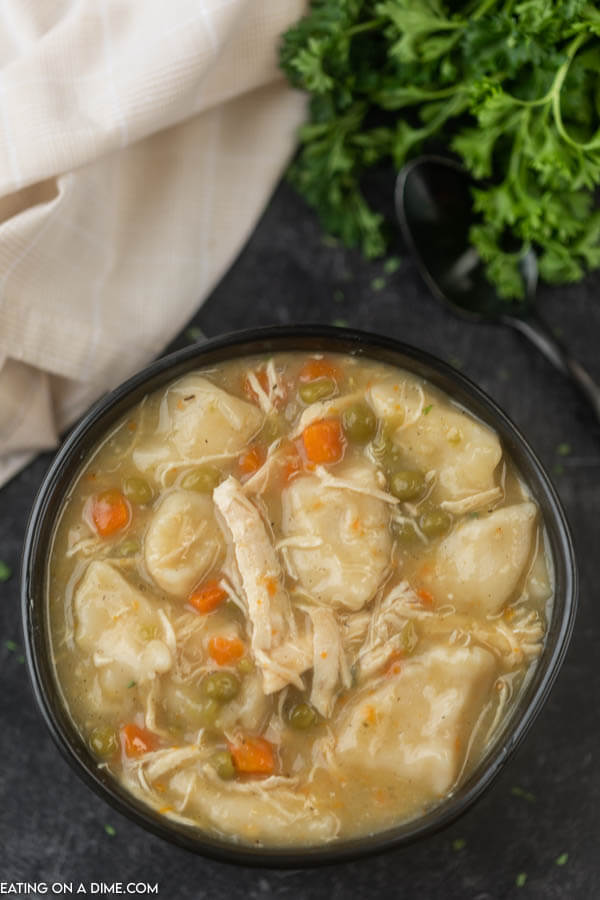 Cost of this easy crockpot chicken and dumplings?
2 Chicken breasts – probably $1.50
canned biscuit – $.50
Carrrots and green beans – $1
Cream of chicken soup and seasonings – maybe $1.00
Water – nothing
Total cost – $4.00 – so more or less about $4 to feed my family of 6. Now my kids are starting to get bigger and we scraped the crock pot clean. I'll probably need to make this 50% more next time to feed these hungry kiddos.
Everyone really loved this comfort food dish. I think you will love this recipe too.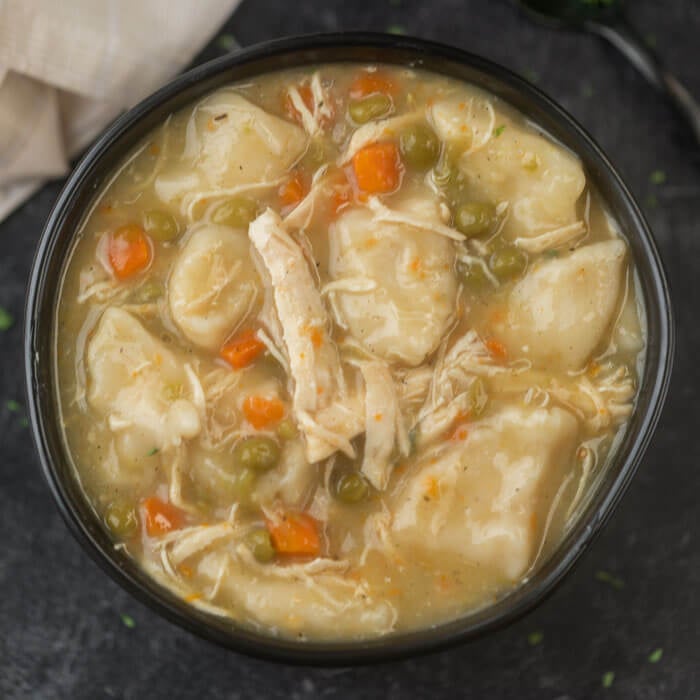 Print this Slow Cooker Chicken and Dumplings recipe:
Crock pot Chicken and Dumplings
This easy crock pot chicken and dumplings recipe is delicious! It is the best chicken and dumplings with biscuits that you can make. The best comfort food!
Instructions
Place the chicken and veggies in the crock pot.

Add in the cream of chicken soup and seasonings.

Pour the chicken broth over the top.

Cook on low for 6 hours, or high for 3.

Once cooked through shred the chicken and place back into the crockpot.

Cut up the biscuits into quarters and place on top of the other ingredients in the crock pot.

Cover and cook on high for 60-90 minutes until the biscuits are cooked through (stir occasionally during this cook time).
Recipe Notes
Feel free to modify this recipe with what veggies you have on hand. I have used fresh carrots and fresh green beans, peas, carrots, and celery. And of course, canned veggies (drained) or frozen veggies will work as well. 
Refrigerate the leftovers in an air tight container for up to 5-7 days. 
Nutrition Facts
Calories
482
kcal
,
Carbohydrates
54
g
,
Protein
22
g
,
Fat
21
g
,
Saturated Fat
4
g
,
Trans Fat
1
g
,
Cholesterol
45
mg
,
Sodium
2594
mg
,
Potassium
631
mg
,
Fiber
3
g
,
Sugar
4
g
,
Vitamin A
3090
IU
,
Vitamin C
13
mg
,
Calcium
79
mg
,
Iron
5
mg
More easy crockpot chicken recipes: