This post may contain affiliate links. If you make a purchase through links on our site, we may earn a commission.
Crock Pot Zuppa Toscana Recipe is so delicious and the slow cooker makes it so easy. If you love Olive Garden's Zuppa Toscana, you are going to go crazy over this tasty recipe.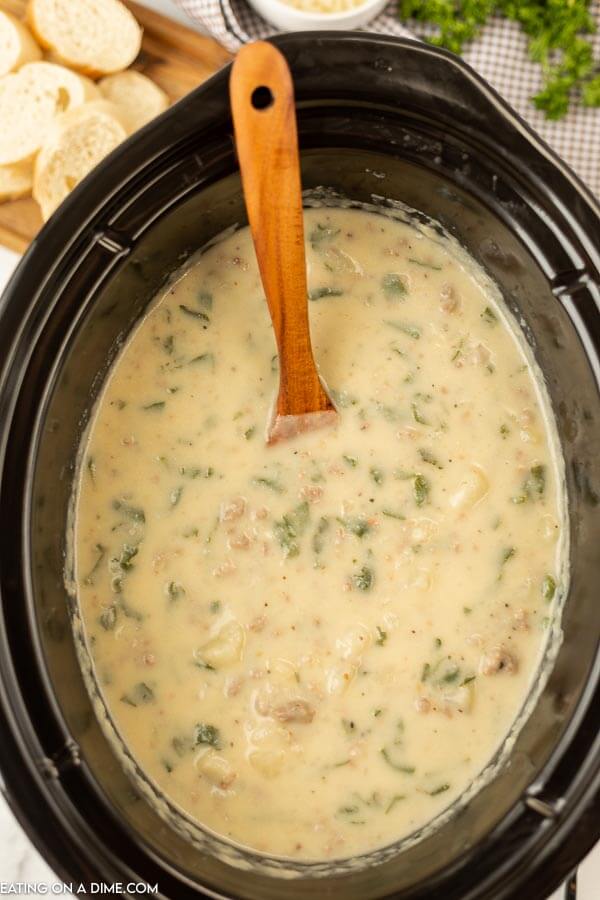 Zuppa Toscana Crock Pot Recipe
There is something so comforting and satisfying about eating a warm bowl of soup. The creaminess of this copycat Olive Garden Zuppa Toscana Soup crockpot recipe can't be beat.
This soup is rich and creamy but not so heavy that you can't enjoy it year round. The kale helps to lighten it up and make it the perfect soup to enjoy even in the warmer months.
The Italian sausage makes this soup hearty and delicious so that even those with big appetites will love this soup. You know the ones that turn their noses up at soup? Well, even they will love this soup.
Copycat Olive Garden Zuppa Toscana Recipe:
We love using our crockpot. We love to come home with the aroma of dinner cooking and this soup is no exception. The combination of the sausage, potatoes and kale make this copycat Olive Garden Zuppa Toscana soup so amazing. Really all of Olive Garden Soups are amazing.
Our version taste so much better. I love remaking soups that I have at restaurants. We try to simplify the recipe with less ingredients. It just makes me feel better knowing what is in the soup recipe.
Ingredients needed for Zuppa Toscana Soup:
Ground Italian sausage
Minced garlic
Onion
Russet potatoes
Salt and pepper
Chicken broth or Chicken Stock
Kale
Heavy cream
Parmesan cheese
How to make Crock Pot Zuppa Toscana:
First you need to brown the ground sausage before putting in the crock pot. Go ahead and add the onion and garlic to sausage. Make sure you drain the sausage on a paper towel to soak up the grease. This keeps the soup from getting to greasy.
Next, put the seasonings and potatoes in the crock pot with the cooked sausage.
Make sure everything is combined really well by stirring occasionally and cook on low.
About 30 minutes before serving, add the whipping cream and chopped kale.
It is optional but we love to top with Parmesan Cheese.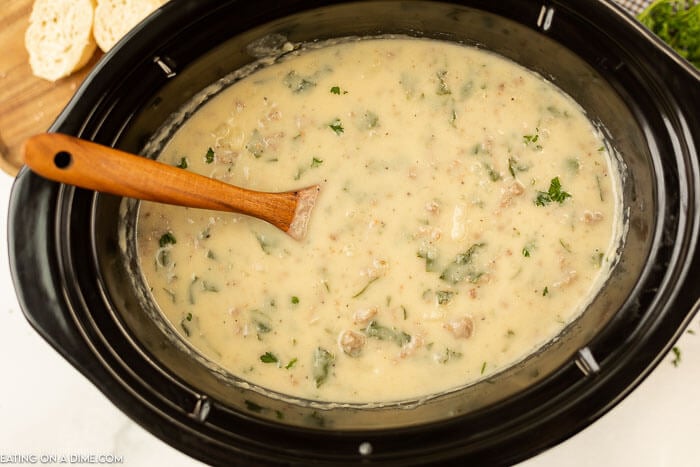 Variations to Zuppa Toscana Soup:
We like to add small pieces of cooked bacon for even more flavor.
It reminds me of potato soup but heartier thanks to the sausage. You can even try using hot Italian sausage with crushed red pepper flakes for a little more heat. Most of the time, I will do half hot and half mild sausage.
I prefer using the crock pot but you can make this on the stove top in a large pot over medium high heat if you prefer. Our family loves this soup!
You can also make this soup in the instant pot.
If you like a thicker soup, you can add more potatoes and once they are cooked mash some of them and add it back into the soup. You can also mix about a tablespoon of cornstarch with about two tablespoons of heavy cream and stir it in when you are adding the cream.
Don't want to chop or peel potatoes, you can use frozen potatoes instead.
Do you have to use Kale?
You definitely do not have to use Kale. Even though kale isn't everyone's favorite it is actually delicious in this soup.
But if you prefer, you could use fresh spinach instead. I have used spinach before and it turned out just as good.
What to serve with Zuppa Toscana Soup?
You definitely want something to dip into this amazing soup. We also love this Garlic Bread Cheese Sticks Recipe. They are perfect for dipping and so yummy. You can get every last drop of that delicious soup.
If you don't have time to make bread sticks, grab some french bread from the bakery. Yum!
Make a big italian salad. I love having soup and salad for dinner.
You can also serve with some roasted vegetables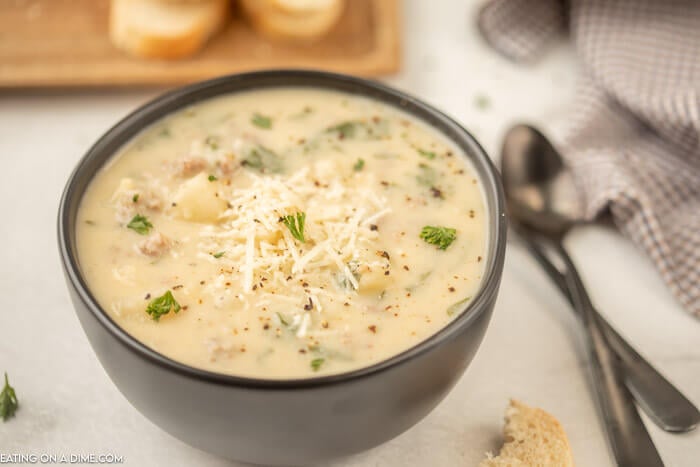 How long is Zuppa Toscana good for in the refrigerator:
We love leftover soup. In my opinion it is even better the next day. If you store the soup in a sealed container, it can typically last 3-4 days in the refrigerator. To reheat, place soup on the stove top over low heat until heat thoroughly.
We love having soup leftover for lunches. Especially when it is cold outside.
Can you Freeze Zuppa Toscana?
Yes, you can. We do not often have leftovers but when we do, I love to freeze it. We have found that because this soup has dairy it does tend to separate.
So if you plan on making this ahead of time, you can make the soup but don't add the kale and cream. Just add the kale and cream once you have thawed the soup and it will turn out perfectly.
Soup is one of our favorite recipes to freeze. You can learn how to freeze soup and it will be life changing.
Is this soup healthy?
This soup has some healthy ingredients in them that are loaded with vitamins and minerals. It also contains sausage and heavy cream. My rule it is all about moderation when making food choices.
If you would prefer to try and cut down on the fat, you can substitute the heavy cream with half and half. The soup won't be as think and rich, but you it is still enjoyable. You can swap out the potatoes for chopped cauliflower.
We love recipes that you can adjust the ingredients to meet you dietary needs.

Tips for Crock pot Zuppa Toscana:
This recipe like many calls for diced onions. Another time saving tip is to use a small food chopper or food processor to quickly and easily chop the onions. If you do not have one of these, I highly recommend them. They are such a time saver and you can get the veggies really fine if you have children that are picky.
I usually just chop the entire vegetable and freeze what I don't need. It's so nice to be able to just take the diced onion out of the freezer for recipes. This is how I meal prep. It's so quick and easy and helps get dinner on the table fast.
Sometimes, I sauté the onion in a little olive oil before putting in the crockpot but that is optional.
Print this Zuppa Toscana Crock Pot Recipe below:
Crock Pot Zuppa Toscana Recipe
Crock Pot Zuppa Toscana Recipe is so tasty and the crockpot makes it simple. If you love Olive Garden's Zuppa Toscana, you are going to really enjoy this.
Instructions
Brown the ground sausage in a large skillet and drain off any remaining fat from the pan.

Add the ground sausage to the slow cooker. I

Place in the minced garlic, onion, potato, salt, pepper, and broth.

Stir to combine.

Cook on low for 5-6 hours on low or on high for 2.5-3 hours until the potatoes are cooked through.

Stir in the whipping cream and the chopped kale. Cover and cook on low for 30 minutes or on high for 15 minutes until the kale is cooked through.

Stir and serve.

Top with parmesan cheese when serving and enjoy!
Recipe Notes
*Refrigerate any leftovers in an air tight container for up to 3-4 days. 
Nutrition Facts
Calories
563
kcal
,
Carbohydrates
31
g
,
Protein
20
g
,
Fat
41
g
,
Saturated Fat
19
g
,
Cholesterol
115
mg
,
Sodium
1081
mg
,
Potassium
1008
mg
,
Fiber
2
g
,
Sugar
2
g
,
Vitamin A
1565
IU
,
Vitamin C
21.9
mg
,
Calcium
130
mg
,
Iron
2.6
mg
Try these crock pot soup recipes: